By Shazia Anwer Cheema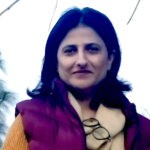 Cordial Bilateral relations of countries are based on several principles including mutual trust, common goals, and cultural commonalities. There is no doubt that Pakistan and Ukraine are situated on two different continents but if someone visit both the countries can find a number of social similarities and cultural commonalities.
There is no doubt that Pakistan Ukraine relations are known in the world for their Military-to-Military relations and for Conventional Diplomacy but the desire of enhancing Public Diplomacy is seen recently as the military and civil leadership of both the countries have expressed wish to work strongly in the fields of trade, economy and people to people contact.
The top military and civil leadership of Pakistan articulates wonderful feelings for their Ukrainian friends. President of Pakistan Dr. Arif Alvi and Chief of Pakistan Army Gen Qamar Bajwa both have spoken in the last four months that Pakistan attaches great importance to further strengthening association with Ukraine in all zones of bilateral relations.
I remember that President Alvi in his meeting with Pakistani Ambassador to Ukraine General (retd) Noel Israel Khokhar at Presidential Office in Islamabad on November 18, 2020, emphasized the need for Pakistan's enhanced cooperation with Ukraine in the areas of trade, economy, and culture.
Related Link: Pakistan wants to further increase its multifaceted cooperation with Ukraine, says President Arif Alvi
Almost the same desire for excellent relations was articulated by the Chief of Pakistan Army, Gen Qamar Bajwa (on March 31, 2021) during his meeting with Ukrainian Ambassador to Pakistan Markian Chuchuk. Both discussed the situation on regional security and issues of mutual interest, including cooperation in the field of defense security, military training of the armed forces of both countries, and military-technical cooperation (MTC).
Related Link: Pakistan attaches great importance to furthering bilateral ties with Ukraine: Army Chief
This is high time both countries can move ahead of Conventional Diplomacy as it is not sufficient for the far-reaching relationships, another drawback in Conventional Diplomacy is being marginal for prevailing the negative propaganda. However direct interactions in the form of Trade Expo, Seminars on mutually relevant issues such as small trade, entrepreneurship, handicraft, and food festivals can bridge the estrangement between both cultures.
I consider it a high time for Ukrainian and Pakistani citizens, both the establishments are trying their level best to smooth the bureaucratic hurdles, like Ukrainian Visa for Pakistanis etc. I hope our Pakistani students will face no more the uncertainty of visa rejection even after reaching Ukraine (to my personal knowledge). Reaching and connecting to each other will give them firsthand knowledge of each other's cultures, norms, and systems. And any malignant hate speech by haters then will not be able to affect both.
According to Ukrainian circles, the Ukrainian Ambassador handed over to General Bajwa letters from the Prime Minister of Ukraine with an invitation to visit Ukraine, where the XVII International Specialized Exhibition "Weapons and Security – 2021" and the International Aerospace Salon "Aviasvit – XXI" will take place on April 27-30, 2021. "This will help identify new promising areas for building the Ukrainian-Pakistani political and economic dialogue at the highest level", the letter of the head of the Ukrainian Government reads.
Historical Perspectives
Pakistan and Ukraine established bilateral relations on 16th March 1992. The relations are described by diplomatic circles of both the countries as 'dynamic, with collaborations are taking place in political, legal, military-technical, economic, and humanitarian domains. There is a multitude of opportunities for joint ventures between Pakistan and Ukraine. The range of possible collaboration goes from the depths of the sea to the extents of space.
Victims of Propaganda
The history of Pakistan-Ukraine military collaboration is as old as the history of independence of Ukraine and the main battle tank of Pakistan "Al-Khalid" is a symbol of the Pakistan-Ukraine relationship.
Since 2020, there was a propaganda campaign against Ukraine – Pakistan relations in anti-Ukraine and anti-Pakistan media aiming to portray that Ukraine and Pakistan have lost directions in the field of military-technical cooperation. This campaign was also picked up by some Ukrainian media. I myself follow Ukraine and Eastern European media while sitting in Prague and I also feel that Ukrainian media is shy to promote Pakistan, Pakistani culture, Pakistan news, and the Pakistan-Ukraine relationship but you can find the majority of news about other South Asian countries except for Pakistan. I believe such media treatment is bad for Ukraine- Pakistan relations at the Public Diplomacy level. Media plays a significant role to bridge or apart any two countries.
When I start gathering data from independent circles, I came to know that during the year 2020, there were more than ten visits of Ukrspetsexport specialists and Ukroboronprom enterprises to Pakistan, and Pakistani military specialists made over 20 visits to Ukraine, and military linkages have increased the dynamics of cooperation and the Ukrainian side is overhauling the IL-78 aircraft of the Pakistan Air Force, won a tender for the repair of another similar aircraft. Let me add that Ukrspecexport is a Ukrainian state-owned arms trading company and part of the state conglomerate Ukrainian Defense Industry.
I also came to know that high-level bilateral meetings between civil and military representatives of the defense industry of both countries took place at International Defense Exhibition "IDEX 2021" (February 21-25, Abu Dhabi, UAE). Ukrainian circles indicate that a contract worth $ 85.6 million was signed for the supply of spare parts for the repair of the first batch of T-80UD tanks.
Bilateral relations beyond third country intervention
Former Ambassador of Pakistan to Ukraine Maj Gen Zahid Mubashir Sheikh says that there can be a misconception in our (Pakistan) foreign office circle that if we get too closer to Ukraine, it will be at the cost of some other friend. To my analysis, Pakistan is in military trade with Ukraine for a long time and during that period, no one had shown any reservation regarding Pakistan Ukraine military relations. Today's world is not of the Cold War era and it is time for multi-alignments for multiple purposes. The primitive Bloc Formation is outdated now because it cannot maintain the ever-rising demand of alignment shifts.
Need of People to People Contact
There is no doubt that both the countries have excellent traditional and conventional diplomatic relations but bilateral trade (except military hardware) is insignificant and other spheres like culture, art, education, and tourism need extensive attention to get the appropriate results. I think it is high time for both countries to move forward to Public Diplomacy instead of standing only in the sphere of the military-to-military relationship. Pakistan and Ukraine share several commonalities and are linked with each other with a thread of mutual trust and respect.
The former Ambassador of Pakistan in Ukraine Maj Gen ® Zahid Mubashir Sheikh believes that the mutual relationship between Ukraine and Pakistan would further be consolidated by enhancing trade between Kyiv and Islamabad. Ambassador Sheikh had a very successful tenure in Kyiv and his initiatives helped a lot to integrate Pakistan and Ukraine at several platforms. Sheikh is of the view that Pakistan and Ukraine can have billions of dollars in bilateral trade as Ukraine produces high-quality steel, sunflower oil, furniture, raw wood, and many more items and Pakistan has a consumer market of 220 million populations. However, he indicated that the visa regime of Ukraine provides fewer opportunities for Pakistani businessmen and traders to visit Ukraine.
"We have a huge market of 220 million people and the sky is the limit if Ukraine can find a market in Pakistan while Pakistan produces textile items and exports to the United States, UK, Germany, Italy but unfortunately export to Ukraine is very low in volume. Some of my Ukrainian friends tell me that the clothes that they have bought from Pakistan they haven't seen such clothes anywhere else. So it is just a matter of exploiting this opportunity," commented Ambassador Sheikh.
In an interview, the Ukrainian Diplomat Vitaliy Zayonchkovsky who spent his time in Pakistan while attending a course at the Diplomatic Academy of Ministry of Foreign Affairs of Pakistan in Islamabad said that Pakistan has (had) rich tourism potentials and bilateral tourism can be developed between Ukraine and Pakistan.
"First of all, we must develop people to people relations. This is a wide range of relationships, starting with the education of Pakistani students in Ukraine, Ukrainian students in Pakistan," commented Vitaliy Zayonchkovsky.
Related Link: Pakistan has rich tourism potentials, says Ukrainian Diplomat Vitaliy Zayonchkovsky
Omer Aamir who is a Research Associate at the Center for Aerospace and Security Studies (CASS) believes the two countries can cooperate in the field of agriculture, and the services industry and Pakistan can take the advantage of skills of Ukrainian youth. Ukraine has the 4th highest number of IT professionals and an extensive space program and it has launched six self-made satellites and developed 101 launch vehicles. It continues to further design spacecraft for export as well as domestic use.
Related Link: Ukraine Pakistan can jointly work in Aviation and Aerospace projects
Senior journalist and Development Observer Agha Iqrar Haroon who has been working in the regions of Central Asia and Eastern Europe and regularly writes about Ukrainian history and culture believes that the biggest impediment both the countries are facing is lack of knowing each other. He believes there are amazing similarities in Ukrainian countryside culture and the culture of Indian and Pakistan Punjab.
"If you visit any heritage museum of Ukraine, you will feel you are visiting some heritage museum in Pakistan. One of the impediments is the Ukraine visa system and very few Pakistanis have the opportunity to visit Ukraine annually. Lack of cultural exchange programs and the absence of Youth exchange programs are also hurdling people-to-people contact. Public Diplomacy needs interaction and this interaction should be enhanced if we really want to get each other closer," Haroon commented.
It is in the news that Pakistan Army Chief has been invited by the Ukrainian Prime Minister to attend the Military exhibition in April 2021. I trust such a visit of Chief of Pakistan Army Gen Bajwa to Ukraine can open new horizons for the Pak-Ukraine bilateral relationship. Pakistan Ukraine relationship needs Top to Down efforts and to my utter satisfaction leaders of both countries think out of the box and very keenly looking forward to a new era of mutually beneficial, and productive future.
Note: The writer Shazia Cheema is an analyst writing for national and international media outlets including the Nation, Pakistan Today, Pakistan Observer, Eurasia Diary, InSight, and Mina News Agency. She heads the Thought Center of Dispatch News Desk (DND). She did her MA in Cognitive Semiotics from Aarhus University Denmark and is currently registered as a Ph.D. Scholar of Semiotics and Philosophy of Communication at Charles University Prague. She can be reached at her: Twitter @ShaziaAnwerCh  Email: shaziaanwer@yahoo.com
Disclaimer:
The views and opinions expressed in this article/Opinion/Comment are those of the author and do not necessarily reflect the official policy or position of the DND Thought Center and Dispatch News Desk (DND). Assumptions made within the analysis are not reflective of the position of the DND Thought Center and Dispatch News Desk News Agency.