DND Special Report
Human dead bodies spreading all over streets while roads and parks are red with human blood—this is what "March Genocide" left behind when over 12,000 Azerbaijanis including women and children were massacred by Armenians.
Azerbaijan today is commemorating the Day of Genocide of Azerbaijanis which is also known as "March Genocide" and also as "March Days" in human history, reports DND News Agency.
The Genocide started on March 30, 1918 and continued unbridled till April 2, 1918 in Baku and at several other places of the then Baku Governorate of the Transcaucasian Democratic Federative Republic.
Armenian armed forces in Baku, Shamakhi, Guba, Goychay, Kurdamir, Salyan and Lankaran butchered over 12,000 innocent Azeri on ethnic and religious grounds. Their only sin was of being Muslims and of being Azeri.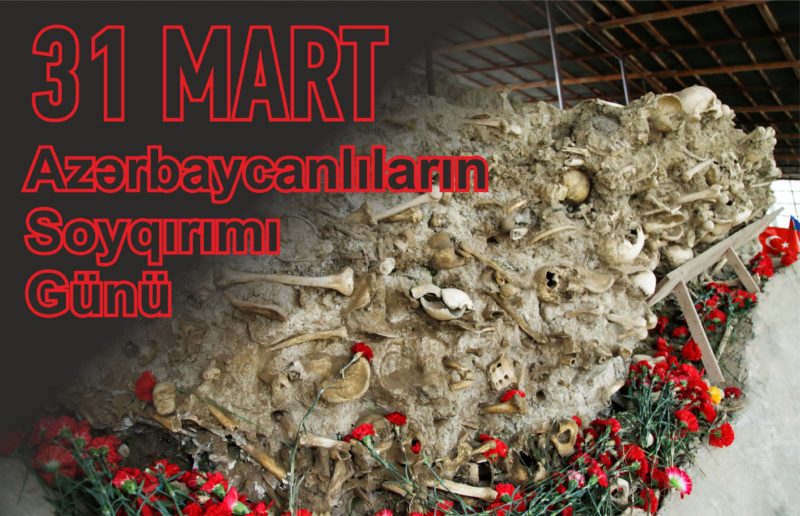 History will never forget those Soviet troops and Armenian Dashnak armed units who planned one of the worst man-slaughtering in recent history when unarmed civilians were slaughtered in Baku, Karabakh, Nakhchivan, Shamakhi, Guba, Khachmaz, Lankaran, Salyan, Zangazur and other areas. Residential settlements were destroyed, historical monuments, mosques and cemeteries were razed to the ground.
This genocide was put under carpet during Soviet Union era and reality about what happened to Azerbaijanis during the Spring of 1918 came only on surface when Azerbaijan got independence and late President Heydar Aliyev released a Decree on March 26, 1998 calling for political-legal assessment of this genocide. Since then March 31 is marked at the state level as Day of Azerbaijanis` genocide, carried out actions of respect of the memory of victims of genocide.
This was not the last genocide Armenia committed in Azerbaijan.
Remember that January 20, 1990 went down in the history of modern Azerbaijan as one of the most tragic and heroic date when 30 years ago, on that horrific night, the courageous sons and daughters of Azerbaijan for whom the freedom, honor and dignity of their native country and people were above anything else, sacrificed their lives and became martyrs.
Related Article: Black January — History of Independence of Azerbaijan
On the night of January 19 to 20, 1990, by order of the USSR leadership, 26,000 soviet troops were deployed to launch an operation called "Strike" (Udar) in Baku and Sumgait, as well as other cities of Azerbaijan. As a result of this military intervention, 147 civilians were killed and 744 were seriously injured. This event went down in the history of modern Azerbaijan as "Black January," the ministry said.
On January 19, 1990, the Chairman of the Supreme Soviet of the USSR, M. Gorbachev, flagrantly violating Article 119 of the USSR Constitution and Article 71 of the Constitution of Azerbaijan SSR, signed a decree declaring the state of emergency in Baku from January 20. However, in order to keep the population unaware of it, the group "Alfa" of the USSR State Security Committee blasted the power unit of the Azerbaijani television and hence broadcasting in the country cut off. Thus, that night the troops entered the city, which was unaware of the declaration of a state of emergency, and ruthlessly persecuted the civilians.
History also remembers what happened on February 26, 1992 in Khojaly.
During the Khojaly genocide, 613 people were killed, 1,000 civilians of various ages became disabled as a result of the bullet wounds received. As many as 106 women, 63 young children, 70 old persons were killed, eight families were completely destroyed, 25 children lost both parents, 130 – one of the parents. On the night of the tragedy, 1,275 civilians were captured, and the fate of 150 of them is still unknown.
One should remember that at the end of the 20th century, Armenia created mono-ethnic state by occupying Nagorno Karabakh and Lachin, Kalbajar, Aghdam, Fuzuli, Jabrayil, Gubadli, outside of the Nagorno Karabakh region and nowadays 20 percent territory of Azerbaijan are under the occupation.
All these territories underwent ethnic cleansing from the Republic of Armenia. As a result of this occupation more than one million Azerbaijanis became IDPs from the occupied territories. In consequence, the occupation policy pursued by Armenians was accompanied by massacres, 20 000 Azerbaijani died, 50 000 persons became disabled getting injuries of various degrees.
Related News: Azerbaijan shall never forget Khojaly Genocide
This design of cleansing Azerbaijanis by the hands of Armenians is still continuing in different formats and Armenia on daily-basis attacks civilian areas of Azerbaijan, resulting regular causalities.