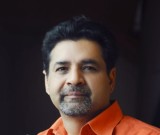 By Agha Iqrar Haroon
Prime Minister of Pakistan Imran Khan is in Beijing to attend 2nd Belt and Road Forum. Just three days ago, he was in Tehran having meetings with the Supreme Leader of Iran and the Iranian President.
Why did PM Khan decide to have such a crucial visit of Iran when US sanctions will be clamped on Tehran from May 1, 2019? Did China play any role in this visit? 
Beijing is one of the biggest buyers of Iranian oil and closest friend of Pakistan in the region while China's Flagship project—- CPEC and its Pinnacle —– Gwadar Port is lit by Iranian electricity and Iranian port Chabahar is very much on China's Belt and Road initiative.
PM Khan and Iranian President Hassan Rouhani during their joint press talks categorically stated that Pakistan and Iran are committed to make their bilateral relations stronger, and no one can affect their brotherly ties. This "No one" could be anyone—let the people guessing who is this "No one"?
PM Khan and Iranian President Rouhani reportedly discussed very sensitive issues but very candidly—so frankly that Pakistan Foreign Office had to release a statement that some talking points by PM Khan were misinterpreted by media regarding cross-border infiltration.
Standing at Saadabad Palace in Tehran, President Rouhani informed media that both the leaders had a conversation regarding border security matters. It is possible that they also discussed the alleged use of Iranian land in the past by Indian agents like Kulbhushan Jadhav against Pakistan and alleged presence of Iranian enemies like Abdul Malik Regi in Pakistan in the past.
Prime Minister Imran Khan said that it is decided that intelligence agencies of both the countries will in constant contact to ensure that no such event would take place in the future between the both countries.
The Iranian Diplomacy is strongly linked with the South North Transport Corridor which is the shortest possible route for India to reach Central Asia and Eastern Europe. The Indian investment in Chabahar Port and other projects like all-weather road networking linking Iran to Afghanistan are also of strategic nature for India and Iran.
On the other hand, Pakistan's relations with Saudi Arabia and historic tilt towards the United States are open secrets. Pakistan's foes are Iranian friends and vice versa. Then what are connotations wishing both the countries for stronger relations? The US and Indian think tanks guessing this situation.
Meanwhile, at home, the Federal Minister for Human Rights Dr Shireen Mazari (who was with PM Imran to his visit to Tehran) has said that strategic coercion in the realm of hybrid warfare imposed by the United States on various countries through economic and military mean has no bases in international laws, whether it was breach of nuclear agreement (Joint Comprehensive Plan of Action) with Iran or backing out from the international agreements (Paris Agreement).
There is no doubt that Pakistan without coming out from diplomatic wedlock with the United States is drifting away from its previous policy of total dependence on so-called western bloc and entering into Eurasian movement (which is yet to be in a form of a comprehensive economic or political bloc). Russia, Iran, Saudi Arabia, GCC and Pakistan are attending the Belt and Road Forum in a big way while India and the United States are again not attending or boycotting the forum.
Iran's Minister of Economic Affairs and Finance Farhad Dejpasand is in Beijing who is accompanied by a high-ranking delegation and is set to hold separate meetings with Chinese officials during his stay in Beijing.
Russian President Vladimir Putin will be one of 5,000 guests from 137 countries including 37 presidents and prime ministers at inaugural ceremony of Forum.
Pakistan believes that Belt and Road Forum provides a platform to countries participating in Belt and Road Initiative (BRI) for exchanging views and experiences on regional connectivity; policy synergy; socio-economic development and trade and commerce.
While India and the United States believe that the Forum is a branding exercise for China's mega Belt and Road Initiative (BRI). The US and India are of the view that BRI is actually being used by Beijing to project its power and it wants to emerge as a countervailing force to the US, particularly in the Indo-Pacific.
Russian and Central Asian regional experts believe that China is a driving force to connect Pakistan again with Iran because Iran is also a crucial linkage of Chinese's vision of international connectivity and energy corridor while Pakistan is the shortest possible passage to Arabian sea.
There is no doubt that economic starvation of Iran and shallow economic situation of Pakistan can make wonders and both neighbours can again become honest friends.
I believe Saudi Arabia and UAE understand Pakistan-China relationship and also understand how much Iranian geopolitical positioning is important for China.
Iran also knows India is now strategic partner of the United States and will follow US sanctions on Iranian oil while China may defy US sanctions because Iranian oil is strategically very important for China.
Reshaping the Region?  Too early to comment—– Wait and See my friends
Disclaimer:
The views and opinions expressed in this article/Opinion/Comment are those of the author and do not necessarily reflect the official policy or position of the Dispatch News Desk (DND). Assumptions made within the analysis are not reflective of the position of Dispatch News Desk.