ISLAMABAD, Pakistan: The Federal Minister for Human Rights Dr Shireen Mazari has said that strategic coercion in the realm of hybrid warfare imposed by the United States on various countries through economic and military mean has no bases in international laws, whether it was breach of nuclear agreement (Joint Comprehensive Plan of Action) with Iran or backing out from the international agreements (Paris Agreement).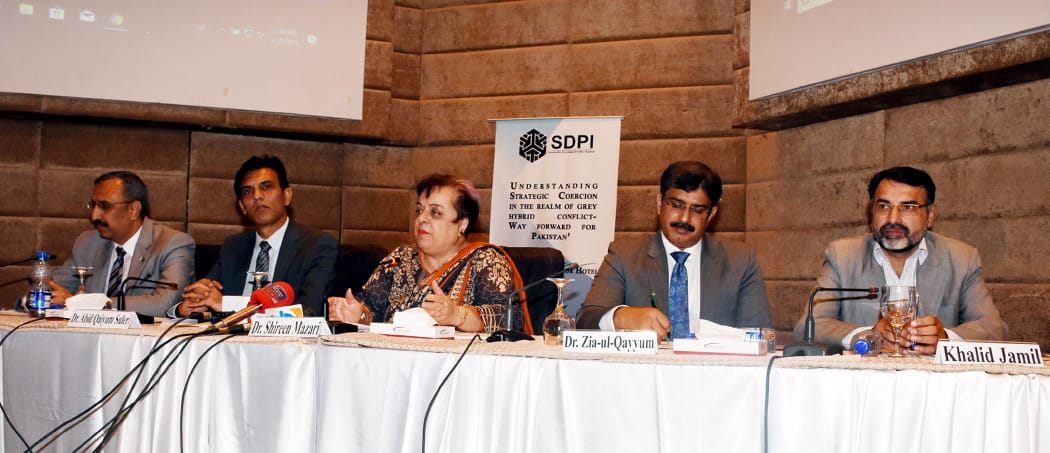 During the seminar titled "Understanding Strategic Coercion in the Realm of Grey Hybrid Conflict-Way forward for Pakistan", organized by the Sustainable Development Policy Institute (SDPI) on Thursday in Islamabad, she said the hysteria about hybrid warfare is not a new phenomenon rather old with changing tools such as fake news, disinformation and propaganda with the purpose of going beyond the truth to disrupt the society.
Dr Shireen Mazari said to counter these new tools and methods of hybrid warfare our state and government have to be truthful to convince the world to accept their narrative. She said our diplomatic statements should be just, truthful and credible. In order to successfully convince the world to take our side, she stressed the need for taking own people on board so that inclusivity in the message or statement can be ensured, she added. Mostly the websites of the different governmental departments are out dated and least presence on social media, she lamented adding that the government departments need to upgrade their websites to catch up with the society. She urged to embrace the new technology and use it intelligently and positively.
The Parliamentary Secretary for Foreign Affairs Andleeb Abbas said around 60 percent news on social media are fake which is negatively influencing and shaping the minds of our young minds.
Besides Chairman, National Assembly Standing Committee on Law and Justice Riaz Fatyana, Executive Director, SDPI Dr. Abid Qaiyum Suleri, Director Policy, SDPI, Dr. Shafqat Munir, Leonid Savin, Editor-in-Chief, Geopolitica ,Rana Athar Javed, Director General, Pakistan House ,Director General, the South Asian Strategic Stability Institute (SASSI), Dr Maria Sultan ,Dr. Zia-Ul-Qayyum, Vice Chancellor, Allama Iqbal Open University,  Dr. Zafar Iqbal, Head of Department, Mass Communication, International Islamic University and Khalid Jamil, defence correspondent, analyst and Executive Director Journalists for Democracy and Human Rights also spoke on the occasion.