By Shazia Anwer Cheema
Those saying that Shahbaz Gill can be anything but not Ghaddar (traitor) or unpatriotic must listen again to what he said on television and should honestly decide that his media talk aired by ARY clearly falls in the parameter of what we term "Ghaddari" or not?
He threatened Pakistan Army in a blatant way and clearly incited the ranks and files of a disciplined force. More so he tells rank and file officers that they must question their superiors in case any order that Shahbaz Gill thinks is not in line with PTI policy, is against Pakistan, against those institutions, and will weaken them. This mantra of PTI is being promoted in the country for a long— Those who are "Not" with Imran Khan are traitors, infidels, and corrupt.
Imran Khan is claiming that all those who are not standing with him are standing with evil, the only and ultimate good lies in him
The narrative that whosoever is against PTI and its Chairman Imran Khan is not patriotic and true Muslim is the most dangerous trend PTI propaganda machinery is injecting into Pakistani society and many writers, academicians, politicians, and journalists have been talking about this dangerous trend but nobody cared till the state and PTI are a head-on collision.
It is always easy to inflict damage with hate speech, it serves two purposes; one it affects the population having no or minimal knowledge of the mechanism of deep and cheap fake, due to their ignorance or innocence, those who take everything as it looks and become victims and later become part of hate-driven propaganda, the second purpose is a deviation from actual problems. I already wrote that PTI is drowning the entire country in the river of blame and shame and Imran Khan is building national rhetoric of not excepting personal flaws and shortcomings but instead blaming something or someone for his twisted tarnished personality. As a nation according to Imran Khan's doctrine blame others for personal vendetta and never consider, admit, repent, and reflect. I believe whatever Shahbaz Gill did is a part of a greater strategy PTI has been working on for a long in Pakistan and I need to submit some material to understand what I wish to say.
Zhongzhi Shi, in "Intelligence Science, 2021" explains that the mental activities of perception, learning, memory, thinking, emotion, and consciousness from the micro, and macro scales are determent of human action. Perception is the key element in the process of people's perception and the perception of objective things. The sensation is the reflection of the human brain on the individual attributes of objective things directly acting on the sensory organs. Perception is the overall reflection of the human brain on the objective things directly acting on the sensory organs. The expression, integrity, organization, and integration of perceptual information are the basic problems of perceptual research, which are the basis of other cognitive levels.
In simple words, human experiences/embodiment is a source of perceptual recognition which create bases for further actions. Whatever we perceive determines our actions and this process is dependent on sense-perception directly linked to sensory organs. The decision-making process takes support from this entire mechanism, and it is a complex system. To act and not to act require higher-order cognitive functions like reasoning, judging evaluation, and decision making, more importantly, action could be based on reflexes and can be considered lesser order cognitive operation but "not acting" is a high-level cognitive process. So, the narrative built up upon the false statement that humans cannot be neutral and must act or choose sides is a linguistic expression nothing more than that. PTI leadership is crafting a bigger narrative that is far more a lie than this one. Meanwhile Chairman PTI  Imran Khan I believe is going through a phase of extreme self-esteem as all cult leaders find themselves at some point in their journey, he is at the crossroads of self-indulgence and self-righteousness.
He is claiming that all those who are not standing with him are standing with evil, the only and ultimate good lies in him, and provocation to act in his accord is directly linked to good vs bad. All cult leaders built their cult on the idea of us vs them. If you are not with us, then you are not among us. Most of the time this us vs them is proposed as synonymous with good vs evil and us are good and them are evil and everyone has to choose between good and evil. Yes, it is as bizarre as it sounds here; a self-claimed goodness and proposed evil a clear divide in between, without a grey area so being neutral is not an option.
Imran Khan is interested in presenting himself as the only goodness that exists in the present day, the only Sheppard who can organize the deserted flock, the messiah the savior the ultimate good. And it is just a matter of days before he will start relating this narrative with heaven and hell. Imran khan is Haq and all those who are still sane are Batil the Haq leads to heaven and Batil is destined to be doomed and hell is there waiting for them. So act and act wisely. He also explained the wise act; which is acting according to him and you will be saved.
History has told us that confrontation under the pretense of good vs evil is always bloodier and catastrophic. He is forcing people to choose a side to create a clear visible divide in society and after achieving that he will then wage a holy war against evil. In the 21st century wars having a backdrop of holy and unholy simply means civil wars. Civilians fighting each other in a sacred war, on one side all those who want peace in the society, and on the other side all non-neutrals fighting for his holiness Imran Khan.
Now the challenge we face is that his cult followers are in process of being blind followers who start acting like zombies to tarnish whatever decides not to act or act against Imran Khan's holy doctrine. Imran Khan has chosen a treacherous and risky path and his fate could be studied in history, he is not the only self-obsessed narcissist available as a textbook example, we can find many of them and their fate too. The concern is to avoid the destruction of individuals, society, and our institutions. We still have time to control the forthcoming epidemic, where the brother will kill his brother in order to become the chosen one.
No political party, worker, or political leader has ever talked about the division in the army. Shahbaz Gill not only spoke about division but divided the army into two groups–officers and soldiers even Javed Hashmi who distributed a letter among journalists refrained from uttering the content of the letter while talking to journalists present there. He said "he got the letter and now sharing it with journalists. He had to spend the best time of his political life in jail for just sharing an alleged fake letter but Shahbaz Gill had been explaining details of this sensitive issue for over 10 minutes live on television which did not stop him until he completed his "could be written" material against Pakistan Army.
Claiming that Lance Naik to brigadier and their families are PTI supporters meaning by more than 95% of the army is with the PTI, clearly negating that Pakistan Army is a national army and abides by Article 17 (2) which forbids any political affiliation. Shahbaz Gill then says that the agenda of Lance Naik to brigadier is the same as that of PTI. He termed evil all those actions which are not in the line with PTI policy and believes that if you won't work as per PTI policy we will be India / US's colony.
He says don't follow blindly your superiors meaning Shahbaz Gill publically negates the very spirit of men in uniform. We have not experienced such things in the history of the military that obeying orders is evil or unjust. Obeying orders is the crux of any military formation, taking that out could leave a herd dis-focus and directionless.  Imagine a geopolitical location like Pakistan having an Army whose ranks and files as per Shabaz Gill's advice decide to stop obeying the orders.
Comments of seasoned journalist Nasim Zehra and Mujeeb-ur-Rehman Shami who have reported in BBC report are worth understanding what is the difference between previous comments passed by politicians about the Army and what is the nature of comments Shahbaz Shabbir Gill had about the Pakistan Army.
Criticizing Army for its role in politics is a norm since 1977 and almost all politicians across the board had gone through this phase but only Javed Hashmi and now Shahbaz Gill meddled with the sensitive issue of injecting divide within the ranks and files of the Pakistan Army— a highly sensitive subject for any disciplined force that cannot be allowed at any cost.
Unfortunate to say that former Prime Minister Imran Khan has not come out with a clear position over this issue and he has been criticizing the government over the legal process linked with the arrest of Shahbaz Gill instead of snubbing what his Chief of the Staff tried to do. It may be mentioned there is no Chief of Staff post in any political party in Pakistan except in PTI. Yes, President of United States Joe Bidden has a political Chief of Staff and even this terminology is borrowed from US political system by a political party in Pakistan that does not stop criticizing the United States. Imran Khan had been the only prime minister of Pakistan who had Special Advisors like Shahbaz Gill who is a US permanent resident having no stakes in Pakistan. He was the only PM who had his Security Advisor popularly called National Security Advisor (NSA) who was also imported from the United States and he was the only PM who appointed the Governor of the State Bank of Pakistan who was a US citizen.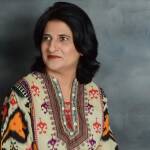 Note: Writer Shazia Anwer Cheema is a Prague-based author, columnist, and foreign affairs expert who writes for national and international media. She is a doctoral student and researcher in semiotics and philosophy of communication at Charles University in Prague. She can be reached at her: Twitter @ShaziaAnwerCh Email: shaziaanwer@yahoo.com
Disclaimer:
The views and opinions expressed in this article/Opinion/Comment are those of the author and do not necessarily reflect the official policy or position of the DND Thought Center and Dispatch News Desk (DND). Assumptions made within the analysis are not reflective of the position of the DND Thought Center and Dispatch News Desk News Agency.