By Shazia Anwer Cheema
Recently a statement has been thrown in the market that "human beings cannot be neutral only animals can be". It seems a well-researched statement due to its boldness so I started researching it and could not find any cognitive experiment which can supplement the claim, on the contrary cognitivist believe that homo-sapiens are the only species that has the ability to not act and can decide to be neutral on the other hand animals are pre-programmed to act in certain ways. The animal cannot evaluate, analyze, and decide that's why they act upon the way they are programmed.
Zhongzhi Shi, in Intelligence Science, 2021 explains that the mental activities of perception, learning, memory, thinking, emotion, and consciousness from the micro, and macro scales are determent of human action. Perception is the key element in the process of people's perception and the perception of objective things. The sensation is the reflection of the human brain on the individual attributes of objective things directly acting on the sensory organs. Perception is the overall reflection of the human brain on the objective things directly acting on the sensory organs. The expression, integrity, organization, and integration of perceptual information are the basic problems of perceptual research, which are the basis of other cognitive levels.
In simple words, human experiences/embodiment is a source of perceptual recognition which create bases for further actions. Whatever we perceive determines our actions and this process is dependent on sense-perception directly linked to sensory organs. The decision-making process takes support from this entire mechanism, and it is a complex system. To act and not to act require higher-order cognitive functions like reasoning, judging evaluation, and decision making, more importantly, action could be based on reflexes and can be considered lesser order cognitive operation but "not acting" is a high-level cognitive process. So, the narrative built up upon the false statement that humans cannot be neutral and must act or choose sides is a linguistic expression nothing more than that.
Imran Khan must not be blamed for this false statement because he is crafting a bigger narrative that is far more a lie than this one. He is going through a phase of extreme self-esteem as all cult leaders find themselves at some point in their journey, he is at the crossroads of self-indulgence and self-righteousness.
He is claiming that all those who are not standing with him are standing with evil, the only and ultimate good lies in him. And the provocation to act in his accord is directly linked to good vs bad. All cult leaders built their cult on the idea of us vs them. If you are not with us, then you are not among us. Most of the time this us vs them is proposed as synonymous with good vs evil and us are good and them are evil and everyone has to choose between good and evil. Yes, it is as bizarre as it sounds here; a self-claimed goodness and proposed evil a clear divide in between, without a grey area so being neutral is not an option.
The entire narrative is standing upon disinformation that neutral can only be animal which is not the fact. Only humans have the ability to be neutral if being neutral means taking a decision not to act or withhold. But Imran Khan is not concerned about scientific facts he is more interested in presenting himself as the only goodness that exists in the present day, the only Sheppard who can organize the deserted flock, the messiah the savior the ultimate good. And it is just a matter of days before he will start relating this narrative with heaven and hell. Imran khan is Haq and all those who are still sane are Batil the Haq leads to heaven and Batil is destined to be doomed and hell is there waiting for them. So act and act wisely. He also explained the wise act; which is acting according to him and you will be saved.
In the next phase he will start using the historical metaphors of the chosen one and the dammed one, the metaphor of boat, well, apple, serpent, darkness, light, and much more. The real battleground on which Imran khan is counting.
History has told us that confrontation under the pretense of good vs evil is always bloodier and catastrophic. He is forcing people to choose a side to create a clear visible divide in the society and after achieving that he will then wage a holy war against evil. In the 21st century wars having a backdrop of holy and unholy simply means civil wars. Civilians fighting each other in a sacred war, on one side all those who want peace in the society, and on the other side all non-neutrals fighting for his holiness Imran Khan.
If his first statement that "animal can be neutral" would have strafe promptly he might not be able to step further on the ladder of being a saint of some kind. Now the challenge will be that his cult followers are in process of being blind followers who will soon start acting like zombies to tarnish whatever decides not to act or act against Imran Khan's holy doctrine. Imran khan has chosen a treacherous and risky path and his fate could be studied in history, he is not the only self-obsessed narcissist available as a textbook example, we can find many of them and their fate too. The concern is to avoid the destruction of individuals, society, and our institutions. We still have time to control the forthcoming epidemic, where the brother will kill his brother in order to become the chosen one.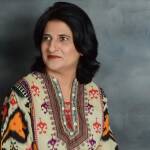 Note: Writer Shazia Anwer Cheema is a Prague-based author, columnist, and foreign affairs expert who writes for national and international media. She is a doctoral student and researcher in semiotics and philosophy of communication at Charles University in Prague. She can be reached at her: Twitter @ShaziaAnwerCh Email: shaziaanwer@yahoo.com
Disclaimer:
The views and opinions expressed in this article/Opinion/Comment are those of the author and do not necessarily reflect the official policy or position of the DND Thought Center and Dispatch News Desk (DND). Assumptions made within the analysis are not reflective of the position of the DND Thought Center and Dispatch News Desk News Agency.