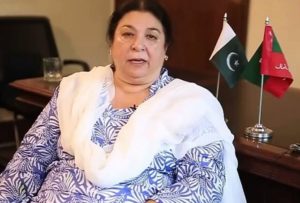 LAHORE, Pakistan: The Punjab Health Dr. Yasmin Rashid has said that we need to try to live with the Coronavirus (COVID-19) pandemic, adding that the provincial government doesn't want to hide anything from the public.
While addressing a Press Conference in Lahore on Saturday, Dr. Yasmin Rashid said that they will share all facts with media and for that purpose, they have also developed a website.
The provincial health minister said that the number of Coronavirus patients in Punjab is increasing day by day.
Dr. Yasmin Rashid said that there are 27,000 beds in Punjab hospitals, adding that 64 Coronavirus patients are currently on ventilators throughout the province.
The minister said that a Corona Control Room has been set up at Mayo Hospital in Lahore.
Furthermore, she said that a task has been assigned to the 1122 Rescue Service, and asked the people to contact 1122 if any of them is tested positive for COVID-19.
The health minister said that efforts are underway across the world to develop a medicine for the Coronavirus patients. She added that there are no Coronavirus experts in the world.