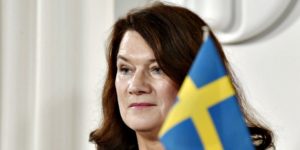 STOCKHOLM, Sweden: Voicing concerns over the continued restrictions in the Indian Occupied Jammu & Kashmir (IOJ&K), Sweden has urged both Pakistan and India to initiate the dialogue process for the political settlement of the long lasting dispute of Kashmir.
"We emphasize the importance of respect for human rights, that an escalation of the situation in Kashmir is avoided and that a long-term political solution to the situation must involve Kashmir's inhabitants. Dialogue between India and Pakistan is crucial," the Swedish Foreign Minister Anne Linde remarked in response to a question by the lawmaker Hakan Svenneling on the Kashmir situation in Riksdag (Swedish Parliament).
The Sweden's foreign minister also stressed upon the need to lift the restrictions in the IOJ&K.
"The situation in Kashmir is worrying and the government is closely following developments. Sweden and the European Union (EU) have had direct contacts with both India and Pakistan on this issue. Together with the EU, Sweden is closely following the changes that have taken place in Jammu and Kashmir's constitutional status and notes information that has emerged about how the development affects the situation for human rights," Anne Linde further said.
Earlier on November 1-2, the German Chancellor Angela Merkel paid a visit to New Delhi wherein she also called for a peaceful solution to the Kashmir conflict.
"We are working for de-escalation and a reduction in tensions and we wish above all that India and Pakistan will be able to find a peaceful solution with each other," Angela Merkel said. "The way the situation is for the people there (Kashmir) is not sustainable and not good," she added.
Meanwhile, life continues to remain badly affected in Indian Occupied Kashmir due to severe military lockdown and internet blackout on 117th Consecutive Day on Friday.