Suzuki Alto is a highly demanded car in Pakistan due to its affordable package. It lies in the category of 660cc vehicles. It is the most- cheap car in Pakistan, with many advanced features that impress buyers. If you are unsure whether to purchase it, here is a detailed Suzuki Alto 2023 660cc Review.
Suzuki Alto 660cc Review 2023
Read this review until the end to decide whether Suzuki Alto is the best pick in 2023 in terms of price, design, performance and fuel average.
Engine
The engine of the Suzuki Alto 660cc is quite impressive as it produces 39 Horsepower. It is powerful enough to drive on all terrains without reducing performance. Alto 660cc is an excellent pick to go on hilly lands that can work as smoothly as Suzuki Mehran with an 800cc engine.
Mileage
Suzuki Alto is the best when it comes to mileage. It gives a fantastic fuel average per litre, making it a cheaper conveyance in the long run. It can drive up to 22-23 kilometres per litre on highways. The standard in the city depends upon the situation you are going in.
If the city is too congested, it gives a mileage of 16-17 km/l. But, if you drive in an urban land with spacious roads, one litre of petrol can take you around 20 kilometres.
Read the detailed Suzuki Alto Fuel average for all models here.
Is it a City Car?
Suzuki Alto is a city car because it is fuel-efficient and compact. The impressively high mileage lets you drive in the city without soaring your pockets. Moreover, the vehicle is close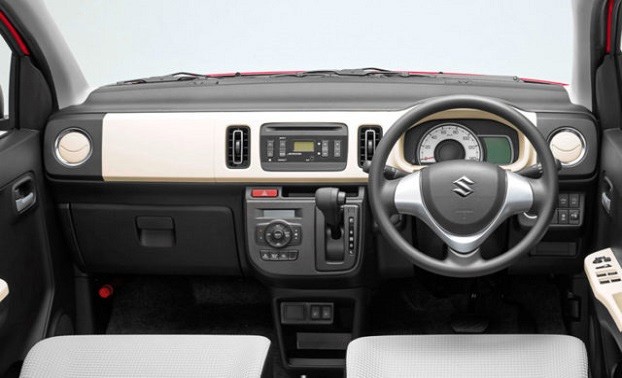 , so it c, can make its way quickly on the traffic-struck roads of Pakistan.
Due to its small size, it is convenient for parking anywhere in the city. In addition to that, the car has a small boot space that provides a small turning radius, making it easy to drive anywhere.
Design
Suzuki Alto is a hatchback vehicle that looks compact from the outside. Its exterior is classical boxy with unique aerodynamic curves on its structure. The size may seem small outside, but the interior is spacious.
A mini trunk at the rear end has 177 litres of boot space. Additionally, it has a massive room compared to many compact cars in Pakistan, like Suzuki Mehran or KIA Picanto. The interior is overall simple and made of durable plastic.
Features
The seats are comfortable for long routes. However, the rear seats do not have headrests; the front ones do. However, the original Suzuki Alto seats are covered with high-quality fabric, which tends to get dirty quickly compared to the leather seats.
There are a lot of features in the Suzuki Alto 660cc, like an air conditioner, cup holders, armrests, AUX and Bluetooth connectivity, folding rear seats, child lock, power door locks, and much more.
Price
Is it worth buying at a price? Well, the features available in the Suzuki Alto 660cc are incompatible with the price that Suzuki is charging. Suzuki Alto's price in Pakistan starts from PKR 2,144,000 for the base variant and goes up to PKR. 2,795,000 for the AGS model. The price is high for this vehicle, but the buyers do not have any other better option in this price range.
This was all about Suzuki Alto 660cc Review 2023. Hope you will like it.