Last Episode Of Yeh Dil Mera Go Viral Globally
Sajal Aly and Ahad Raza Mir have been taking off the charts all over social media with Yeh Dil Mera. The drama aired the second last episode two weeks before, and it finally aired the final episode last week. People were impatiently waiting to see what the end is going to be, and in the midst of this all, we have good news. These two and the entire team of Yeh Dil Mera has made us proud, and we can't be happier to have these fine actors and directors in the Pakistani entertainment industry. Now the last episode of Sajal and Ahad ye dil mera has gone viral globally after it was released last week on youtube.
Yeh Dil Mera Goes Viral Internationally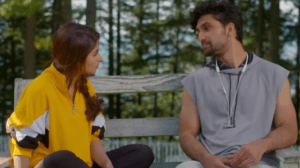 So we have received the best news for today that Yeh Dil Mera has broken the Twitter trends, not only in Pakistan but many countries across the world. Yes, the news is not only huge but indeed a significant indication of the ever-thriving Pakistani entertainment industry. Other than the Twitter trends in Pakistan, the hashtag Yeh Dil Mera has been trending in India and Bangladesh as well.
Let's just say that entertainment is one thing our neighbors from across the border bond on us with, as well.
Sajal Aly Shares The Big News
Sajal is the one who officially shared the news on her Instagram story. It was originally shared by a fan page, but when Sajal noticed the same, she shared it on her Instagram account too. This is what she shared:
As you can see clearly that the drama has been trending in the three countries where Urdu can be understood easily. So, it is not just the Pakistani audience that is eagerly waiting to see what happens but everyone across these three countries is rooting to find out the same.
Yeh Dil Mera Hai's Last Episode
Yeh Dil Mera's second last episode crossed millions of views on YouTube within a few hours after its upload. It crossed a whopping 3 million views within a week. Similarly, the final episode of Sajal and Ahad ye dil mera also went viral when it was uploaded at HUM TV today last week. Within an hour of its upload, it went viral globally, and we could only imagine the Bangladeshi and Indian audience over-eager to see what's going to happen.
The final episode is another installment to the thriller because we saw what would happen once Noor-e-Jahan had been made aware of her father's reality. Is he going to be arrested? Or, death his final awaiting? Well, no need to wait anymore, here is the last episode of the drama.