Sajal Aly is known for her stellar acting, creative art, and cutesy photoshoots. In short, whatever she does is liked by her fans instantly. The young actress is full of potential and immense talent. And she knows this herself as well. This is the reason; Aly never shies away from venturing into new territories and trying out new things. Among many other things she does and is really good at, you would be surprised to know signing is one of them.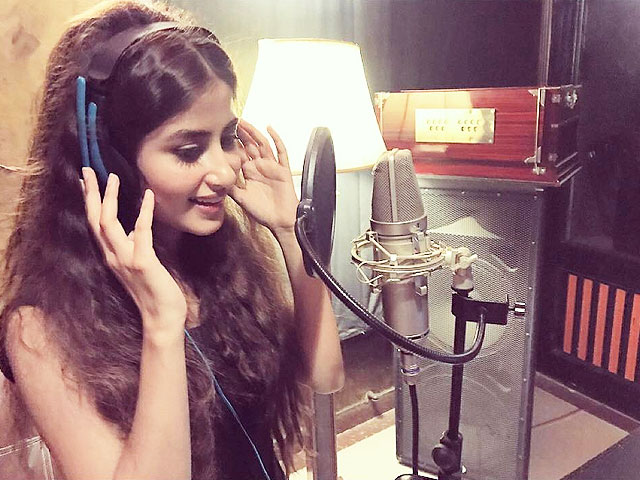 The ace-actress went viral when her first signing video surfaced, but do you know her trying to sing goes way back? I am sure, you do not, and therefore I am letting you in on a very old secret today!
Sajal Aly Singing For The First Time
Sajal, for the first time, sang live on a morning show in fun. Back in 2016, she appeared in an A-Plus morning show with Ahsan Khan for a drama promotion. On the insistence of the show host, she sang a few lines of the popular song, Kabhi Kabhi Mere Dil Mein. These were the early days of her career, which is why, she wasn't exactly popular, and people forgot her signing stint on the Television screens.
Here is the video, if you wish to hear young Aly, full of aspirations and talent, signing on the national television:
Sajal Singing 'O Rangreza' OST
Her big break or let's say her big promotion came when Sajal officially sang the female version of 'O Rangreza' OST. Although this one was not used for drama in the drama itself, it proved to be a widespread promotional medium for the drama. People shared the song and not only that, but they loved Aly signing her heart out. What's more is that this time, you can note that her voice is on-point, the pitch is correct, and the way she sings is absolutely heart-touching. Here is the video of the recording of the soundtrack:
The audience went gaga over the OST, and it was very well-received among the audience and the critics alike. People loved Sajal's attempt at signing and pushed her to try it even more. She once again sang the same song, on the insistence of people, in the HUM Style Awards 2017 award ceremony:
Does She Plan On Singing?
Unfortunately, this was the latest we heard Sajal sing. Though by the sound of it, she has the right amount of talent and grit to take her places even if she wants to try her luck in signing, but it looks like she would not. Right now, she is only focusing on acting projects and has no plans of taking up singing even if for promotions.
Well, I do think that Sajal Aly can give singing a shot even if just for a hobby. Would love to hear her more!