If you're looking for crazy Iftar and Sehri food Deals in Lahore, Karachi or Islamabad, you are at the right place
Looking for the perfect Ramadan deals in your city? Trust me, everyone has been wondering about the kind of food we'll be served in Ramzan since the beginning of the year. Since this year, yet again, we're experiencing Ramzan in summers, our expectations of food and beverages to go with them are different. Most of us want to eat less and drink more. From our favorite sherbets to fresh juices and mixed fruit smoothies; we're looking for anything that will quench our thirst. If you haven't eaten out for Sehr or Iftar yet, here are a few restaurants you may want to try as a beginning:
McDonald's Promises a Happy Meal For Ramadan


This Ramadan, going for mainstream food chains may just be a perfect choice. McDonald's never fails to make us happy by offering deals that are meant to for everyone. Keeping it light and tasty, McDonald's offers two reasonably priced and delicious deals. One deal includes 1 McChicken Burger, 1 chicken piece, Regular fries and a Medium drink. This costs only Rs. 475. The second deal costs Rs. 575 and consists of 1 Spicy McCrispy Burger, 1 chicken piece, 1 Regular Fries and 1 Medium Drink. As you can see, both deals are extremely light, keeping the weather and appetite in mind. Both deals are available throughout Sehr and Iftar. What's better than reliving your childhood memories and enjoying a delicious meal that ensures a smile on your face!
It's Finger-licking Good!
KFC is one of the most popular food franchises in the world. Not only does it live up to the expectations of offering quality food but also promises a comfortable ambiance for the whole family. So if you're looking for a shared Sehr or Iftar, KFC deals are sufficient for up to 4 people in a family. The first deal costs Rs. 1,295 and consists of 2 Krispy Burgers and 2 Zinger Burgers. The deal further consists of 4 krispy chicken pieces, 2 dinner rolls and 2 1.5 liter drinks. Keeping it spicy and crunchy for your iftar appetite to kick in, KFC is offering this deal for both times during Ramadan. The second deal costs Rs. 1,695 and consists of 4 burgers, 1 bucket of fries, 1 bucket of chicken pieces, 1 packet of your favorite Lay's, 4 Cake Ups and 1 2.25 liter of drink. This is a more wholesome deal suited best for those who want to eat more in their iftar.
What's an Iftar without a Pizza?
For most of us, Iftar is more about celebrating the delicious foods than saving them up. For us, pizza happens to be the face of celebration! This is where California Pizza offers its expertise. Keeping the budget as low as Rs. 599, the franchise offers 2 pan pizzas and 2 regular drinks on Iftar and Sehri timings. This is individual or twin-basis deal, depending on your appetite and urge to share! The second deal costs Rs. 1,199 and consists of 1 medium sized pizza, 1 Mexican sandwich with fries and 1 1.5 liter jug of drink. The interesting thing about this deal is its availability from Iftar onward till Sehr. Even if you don't want to eat this much during Iftar, you can always have a midnight snack right before a light Sehr with your favorite flavored pizza!
Keep it Desi, Keep it Delicious!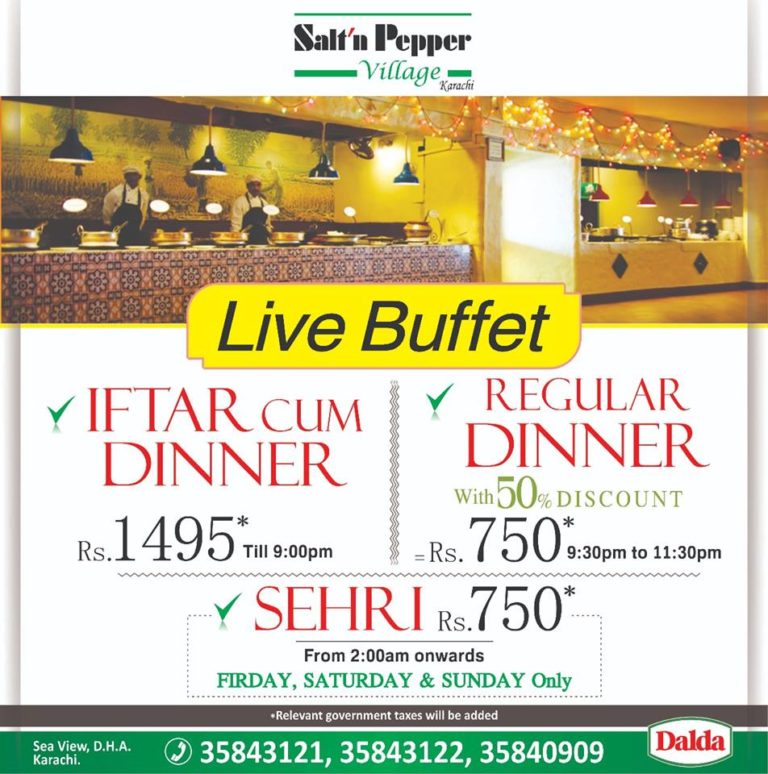 Despite the amazing discounted deals we have on pizzas and burgers, some of us are prone to enjoy continental cuisine more. Salt N' Pepper comes to our rescue! For Sehr, the restaurant is offering a Live Buffet on the weekends from 2 AM onward. The buffet consists of a variety of dishes like HalwaPuri, NaanChanay, Pathooray, Lassi, among other things. And the buffet only costs around Rs. 750. But the restriction is on weekends i.e. from Friday to Sunday.
Another amazing deal the restaurant is offering is of Iftar Cum Dinner. This is also a buffet menu consisting of Chinese and Continental dishes. From your favorite kebabs to Manchurian, everything is absolutely divine. The dinner is also served after Iftar finishes. This is also a live buffet and prepared fresh for all those fasting. This costs around Rs. 1,495.
With all the exciting deals you've read, we're sure you already have a watery mouth! Try one of the deals mentioned now and experience the joy of delicious cuisines being offered across the country! If you want to look for more deals, click here
Some old Deals