With the sole objective of conveying what the last Prophet Muhammad (Peace Be Upon Him) preached throughout His life to Muslims for their betterment in worldly life and afterwards, the annual Tableeghi Ijtema at Raiwind will soon go underway.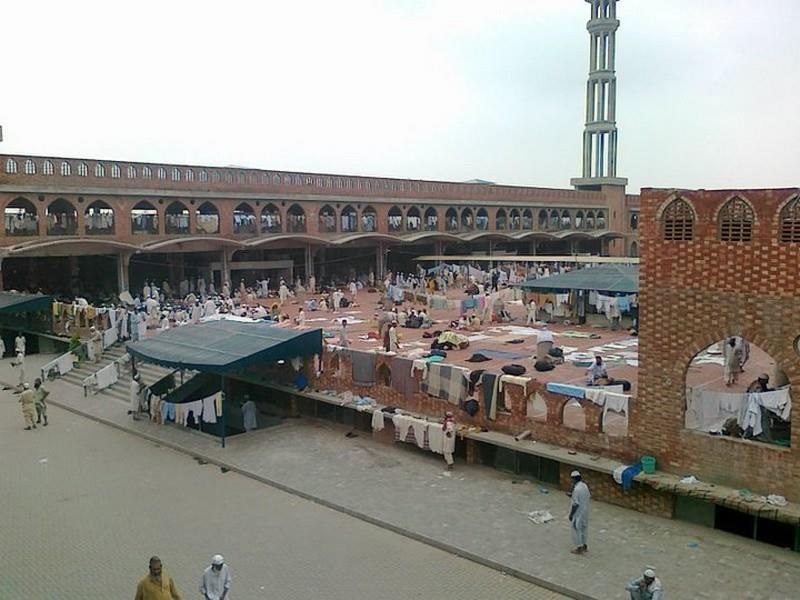 Though one-and-a-half month is still left for the religious congregation to kick off, its schedule has already been issued by the Shura of Raiwind Tableeghi Markaz, about 40 kilometers away from Lahore.
Also read: Faithful throng Raiwind as annual Tableeghi Ijtema begins on November 2
Raiwind Tableegi Ijtema 2017 Schedule:
As per the schedule of Raiwind Tableegi Ijtema 2017, the congregation has been divided into two phases – first phase will take place from November 2 to November 5 whereas second phase will occur from November 9 to November 12.
By and large, there are 18 Halka across Pakistan representing various regions in terms of Tableeghi (Preaching) activities; however, in 2014 the Shura of Raiwind Tableeghi Markaz and Nizamuddin Tableeghi Markaz in Delhi (India) decided to set Halka apart into two – nine each.
Since then, people from nine allocated Halka participate in the annual Tableeghi Ijtema one year while rest of Halka is represented in the event next year. Thus, turns alter each year this way.
This year, out of nine Halka, five including Halka No 12 (which consists of Rawalpindi, Chakwal, Kashmir, Talagang and Attock), Halka No 13 (Bannu, Karak and Lucky Marwat), Halka No 3 (Dir, Chitral and Bajaur), Halka No 5 (Sargodha, Khushab, Bakhar and Mianwali) and Halka No 8 (Sindh excluding Karachi) will participate in Raiwind Tableeghi Ijtema in the first phase.
While rest of Halka including Halka No 2 (Gujranwala, Gujrat, Narowal and Sialkot), Halka No 9 (Gilgit, Kohistan and Baltistan), Halka No 14 (Bahawalpur, Bahawalnagar, Rahim Yar Khan and Lodhra), Halka No 16 (Kohat, Hangu, Kurram agency and Orakzai agency) and Halka No 17 (Mardan, Swabi, Dargai and Malakand) will take part in the second phase.
Each year thousands of people from across Pakistan and also from abroad throng Raiwind with religious reverence and fervour to listen to prominent Ulema such as Haji Abdul Wahab, Maulana Ahmad Bahawalpuri (Indian), Maulana Ahmed Laat (Indian), Maulana Muhammad Saad (Indian), Maulana Yaqoob (Indian), Maulana Tariq Jameel, Maulana Khursheed, Maulana Nazur Rehman, Maulana Ibrahim, Maulana Abdul Rehman, Maulana Ibrahim Dewla (Indian), Maulana Zuhairul Hasan (Indian) and Maulana Ibrahim among others.
On the eve of Raiwind Ijtema, Tableeghi Jamaat itself as well as police take concrete measures to ensure the security of participants. Each entrant has to go through the biometric verification system prior to entering the Main Pandal.
Likewise in a bid to facilitate the participants, a special shuttle bus service is launched between Lahore and Raiwind Tableeghi Markaz.
Lakki Marwat Tableegi Ijtema 2017:
Meanwhile, a three-day Tableegi Ijtema is set to kick off from September 28 in Lakki Marwat, a district of Khyber Pakhtunkhwa.
The Lakki Marwat Ijtema will conclude on September 30 with a collective dua.
Tableeghi Jamaat:
Tableeghi Jamaat – an Offshoot of Deobandi School of Thought and having no political agenda – was founded by Muhammad Ilyas al-Kandhlawi in 1927 in Nizamuddin area of Delhi (India) with an aim to bring about spiritual reformation among Muslims and persuade them to spend their lives in the light of Quran and Sunnah (Acts of Prophet Muhammad).
One aspect which along with Kalima (Belief in the oneness of Allah and Muhammad as His Prophet), Salat (Prayer), Ilm (Knowledge), Ikraam-e-Muslim (Respect to Muslims) and Ikhlas-e-Niyyat (Pure intention) is more emphasized is Dawat-o-Tableegh (Preaching) for which implementation, Muslims are induced to set off on a journey (Having varying tenures) aimed at seeking spiritual guidance and convey messages of Allah Almighty and Prophet Muhammad (Peace Be Upon Him) to fellow human beings.
Source: DND/Raiwind Tableeghi Markaz Facebook Page
Tags: Raiwind, Raiwind Ijtema, Raiwind Ijtema 2017, Raiwind Tableeghi Markaz, Tableegh, Tableeghi Jamaat, Haji Abdul Wahab, Maulana Tariq Jameel, preaching,