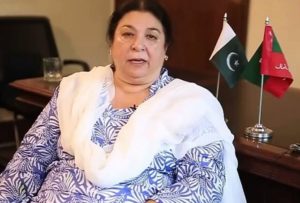 LAHORE, Pakistan: The Punjab government is fully prepared to construct six Mother and Child Care Hospitals in the province, it was told in a high-level meeting on Friday.
The meeting was held to take stock of the status of development programs and funds related to the Health Sector in Punjab.
The Federal Minister for Planning, Development and Special Initiatives Asad Umar presided over the meeting through video link.
In the meeting, Asad Umar was apprised about the constructions of Mother and Child Care Hospitals and other ongoing Health projects in Punjab.
The Punjab Health Minister Dr. Yasmin Rashid apprised the minister of the plan to set up an integrated Communicable Disease Center on the pattern of the National Institute of Health (NIH).
Dr. Yasmin Rashid said that at the time of the COVID-19 pandemic such a Center is a matter of urgency.
The federal minister directed the Punjab administration to upgrade Tehsil and District hospitals under the Public Sector Development Programme (PSDP) and prepare its PC-1.
Asad Umar assured that the federal government would extend all-out assistance to the provincial government in this regard.