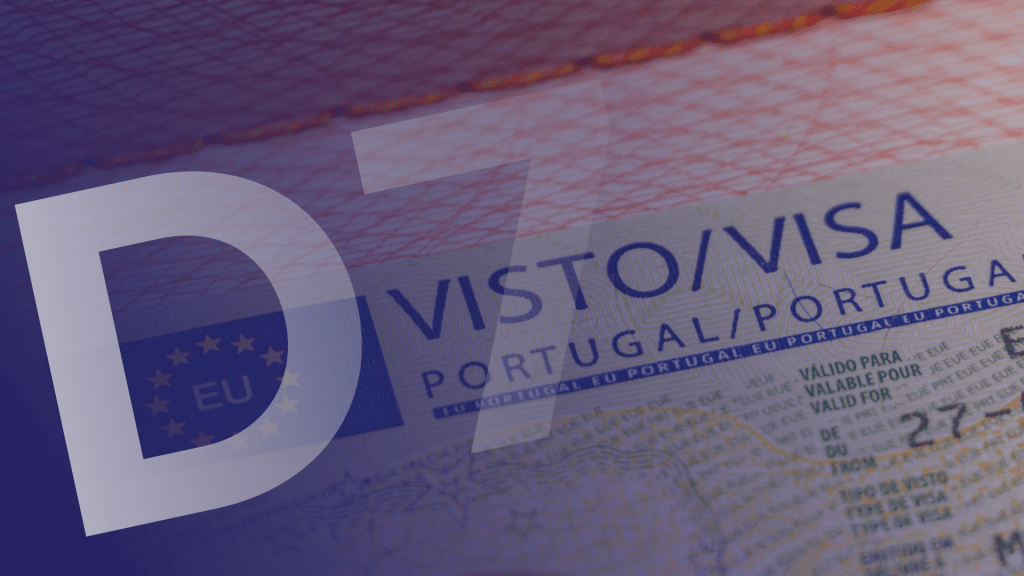 Portugal D7 Visa is a permit for immigrants to reside in the country. People who get this visa could spend their retirement life in Portugal by getting a D7 Visa. It is also known as a Passive Income Visa. So, if you are retired and plan to live your life in Europe, here is how to get a Portugal D7 visa from Pakistan.
It is a long-term visa which lets you stay in Portugal for 5 years. After staying for the allotted period, you can apply for a permanent visa followed by citizenship. There is no academic, income, or language eligibility for getting this visa. Anyone can apply for it. There is only one condition to obtaining this visa. You can also call your family to Portugal on this Visa.
The Fee for this Visa is only 90 Euros all over the world. So, Pakistani could get this in around PKR 20,000.
How To Get A Portugal D7 Visa From Pakistan?
Portugal D7 falls under the category of a long-term stay visa. You can also call it a residence visa. It is suitable for retired people who want to spend the rest of their lives in Portugal. So, it is also known as Retirement Visa. D7 Visa is a Schengen visa that lets you freely travel to 26 countries. Portugal is the only country which allows D7-type visas for foreigners.
Validity and Duration of Stay in D7 Visa
You can get this 4 months visa from Pakistan. After travelling to Portugal, the visa is extended for 2 years. Further extension occurs for 3 years. After five years in Portugal, you can also apply for Pr (Permanent Residence Visa). Later, you can also apply for citizenship and own a Portuguese passport.
Terms and Conditions
No Education Requirement
No Age Limit
No Language barrier
You need a National Tax Number of Portugal. You can apply for it online or you can apply for it through someone in Portugal by giving your attorney to him/her.
You also need to open a bank account in  Portugal.
The visitors must transfer their fund to the account
Benefits of This Visa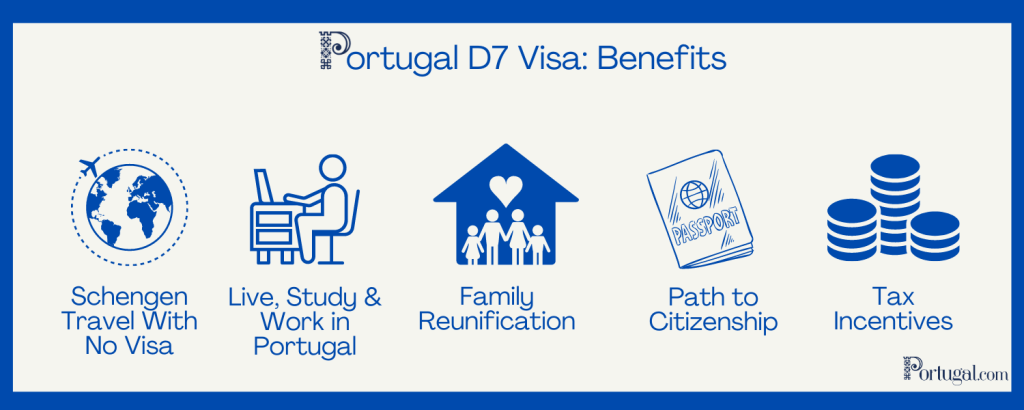 There are several benefits of getting a Portugal D7 visa, including:
You get a free medical health card.
Can get a concession in your children's education.
You can also travel freely to the Schengen countries without a Visa.
People can also do jobs or start a business in Portugal.
Many residents can also avail tax-free income opportunities.
Who Can Apply?
People who can apply to a D7 visa include:
People who are retired.
Those who have a property in Pakistan
People who want to start a business can also apply for a visa.
Process Of Getting a D7 Visa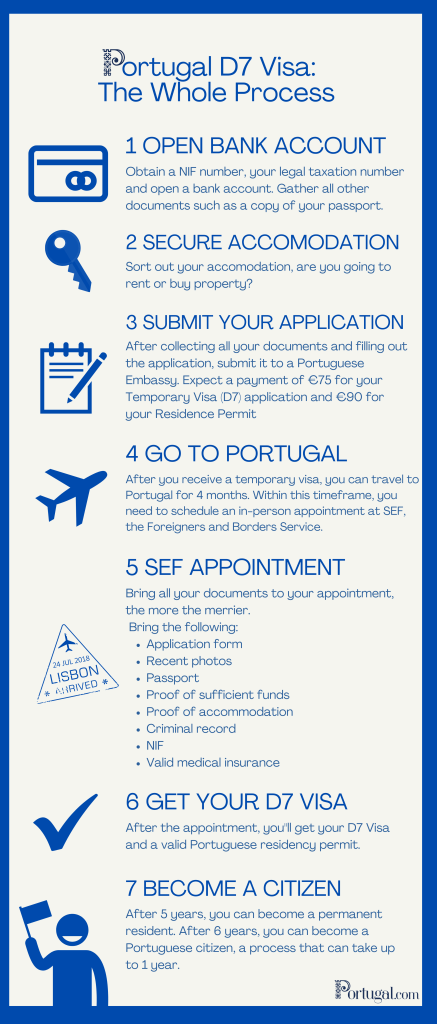 To get your Visa, you must get an appointment from VFS Global.
Submit your Visa application.
You need to provide your digital photo and biometrics.
Pay 90 Euros as a fee.
Else, you also need to pay the VFS fee, which is around 20,000 Rupees.
Your visa application is transferred to Portugal Embassy in your country.
It takes 3 months or 90 days for processing.
Once you get your visa, you can travel to Portugal.
After reaching there, you have to report your arrival to the SEF institution.
You should transfer at least one year of expense money to your Portuguese bank account.
You can ask for the TRC (Temporary Residence Card) upon arrival.
Conditions Of Getting A Portugal D7 Visa
The only condition to apply for a Portugal D7 visa is Passive Income. What is passive income?
There are several ways of getting passive income, including rent from your property, pension, fixed deposit, share dividends, or freelancing income.
Applying for this visa is not acceptable if you have a job or a business. The passive income should be 705 Euro monthly for people applying for D7 Visa. If you call any family members, you must show an extra 70 Euros in your bank account through passive income. For calling your kids, you need to deliver 212 Euros per month.
This income is necessary to build the bank's trust, so they know that you have received an equal amount each month for six months. You must only provide a six months bank statement instead of the actual amount. It is not mandatory to transfer the whole year's expenses to a Portuguese bank account.
Never use any fake document to get residence in Portugal. The visa officer could cancel your request. You can also get blacklisted from travelling to any European country, SO make sure you provide all the correct documents to the embassy.
You can also check out Portugal D2 Visa from Pakistan here.