By Raees Kiyani
Petrified by the embarrassment, Pakistan Muslim League-Nawaz (PML-N) might face upon the return of its leader Nawaz Sharif on October 21, the party has now devised a plan to use a technology featuring the geofencing facility, ensuring that maximum number of people throng to Minar-e-Pakistan in Lahore to welcome him.
After being granted an unprecedented facility of leaving the Country, the convicted Nawaz Sharif left Pakistan for London in November 2019 to seek medical treatment abroad. Though he was allowed to travel to UK for just six weeks under a guarantee provided by his younger brother Shahbaz Sharif to the Lahore High Court (LHC) but it's been nearly four years, neither he has returned to the Country nor he is reported to have ever visited any hospital therein for any 'serious' medical treatment. Rather, he has actively been involved in political activities throughout this period.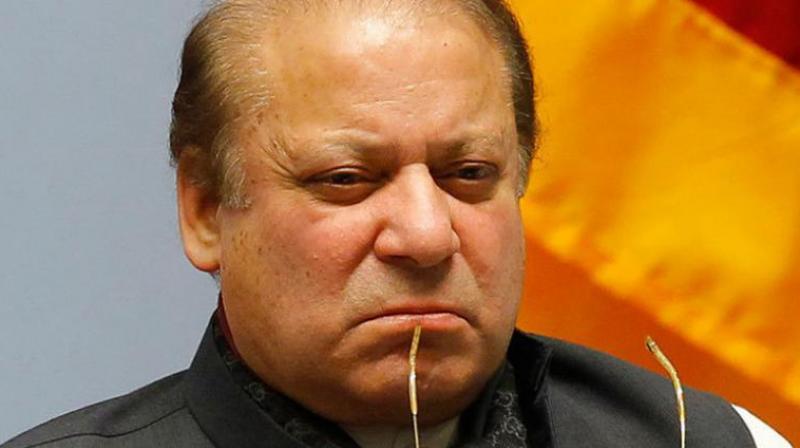 In between, multiple dates were uttered by PML-N leaders of his return but it was never materialized, even he opted to have a trip to various European Countries and Middle East while his own brother Shahbaz Sharif was the prime minister but he never bothered to return back to Pakistan and remains to be an absconder declared by the Courts.
نواز شریف اس وقت تک واپس نہیں آئیں گے جب تک رسک زیرو نہیں ہو جاتا، خواجہ آصف#ExpressNews #khawajaasif pic.twitter.com/ckB5EcxDs9

— Express News (@ExpressNewsPK) August 15, 2023
The PML-N top leadership including Nawaz Sharif's daughter Maryam Nawaz on multiple occasions stated that the former three-time prime minister would only return if his safety was guaranteed. In an TV interview in mid-August 2023, the PML-N leader Khawaja Asif emphasized that the prospect of Nawaz Sharif's return could not be entertained until the associated risks were completely mitigated. Later in the Express News programme 'Hashtag Siyasat', another leader of PML-N Rana Sanullah Interior Minister said that the party had been provided with the guarantee (from the establishment) it had sought for the return of Nawaz Sharif and now the latter's acquittal from Courts was almost certain.
"So now there is zero risk for the party," Rana Sanullah told the interviewer, indicating that Nawaz Sharif's return was now finally imminent.
زیرورسک ہو چکا ہے،گارنٹی مل چکی،نوازشریف کی بریت طے ہے،رانا ثنااللہ#ExpressNews #Siyasat #RanaSanaullah #NawazSharif #show #news #pakistan @FarwaWaheed4 pic.twitter.com/FqHgDERseW

— Express News (@ExpressNewsPK) August 16, 2023
Yet a statement by Nawaz Sharif earlier this month unveiling his intention of holding the former Army Chief General Qamar Javed Bajwa and the former ISI Chief General Faiz Hameed accountable for their alleged political maneuvering back in 2017-18 wasn't welcomed by the establishment at all, forcing Shahbaz Sharif to rush back to London within 24 hours of his arrival to the Country with a 'warning message' for Nawaz Sharif. It worked effectively and immediately the PML-N retreated of its narrative of demanding accountability of the former military leaders to pacify the enraged establishment.
Since PTI was ousted from power in April 2022, the entire party including its Chairman Imran Khan has been facing the worst ever crackdown in the Country's history as the top leadership has now been incarcerated in jails and every attempt is in full swing to dismantle the party completely, paving the way for PML-N to seal the upcoming polls without facing any potential threat especially in Punjab.
Irrespective of all the political suppression with looming threats of being knocked out of the next general elections as well, PTI and its jailed leader Imran Khan – whose both name and picture are not even allowed to be aired on any of dozens of TV Channels – remain to be the most popular among all competitors in the Country. The latest Gallup Pakistan Survey 2023 showed that the PML-N supremo Nawaz Sharif not only stands well below than Imran Khan but even Saad Rizvi, Pervaiz Elahi, and Shahbaz Mahmood Qureshi are surpassing him in the positive approval rating of political leaders. The survey result also indicated that PTI would receive double votes as compared to its arch-rivals PML-N if general elections were held soon.
Realizing that all the boastings and pollical claims won't be enough as they are contrary to the ground reality, PML-N is now mulling to ensure a 'forced' participating of the people in Minar-e-Pakistan jalsa on October 21 with Nawaz Sharif also in attendance.
It's worth noting that initially, the party had planned a rally and making tall and unrealistic claims of being joined by 10 million people to welcome Nawaz Sharif at Allama Iqbal International Airport in Lahore upon his arrival and escorting him to Minar-e-Pakistan jalsa. But later they altered the plan setting aside the initial idea of organizing a rally and merely contented to the jalsa to avert the embarrassment of below par participants in the rally.
While addressing local leaders in Gujranwala and Gujrat on September 28, the PML-N Punjab President Rana Sanaullah asked ticket holders of provincial assembly to bring at least 500 people from each constituency to the Minar-e-Pakistan jalsa. He also asked them to submit the names of those 500 people along with their mobile and vehicles numbers on which they would be transported to the venue.
Rana Sanaullah said that they had developed a special software to track the location of all those prospect attendees to verify that they were really taking part in the jalsa. Thus, even having the full covert support of the establishment, state institutions, and mainstream media, PML-N yet seems to be worried a lot to ensure a sizable presence at Nawaz Sharif's reception on October 21 if he really returns this time.
ن لیگ نے اپنے ٹکٹ ہولڈر سے 500 افراد کی لسٹ مانگی ہے، بقول رانا ثنا اللہ 21 اکتوبر کو ایک ایپ بتائے گی بندہ نواز شریف کے استقبال کیلئے آیا یا گھر میں ہی بیٹھا ہے

صرف پنجاب کے قومی و صوبائی اسمبلی کے حلقے 438 بنتے ہیں، ہر ٹکٹ ہولڈر 500 بندہ بھی لائے تو 2 لاکھ 19 ہزار لوگوں کو… https://t.co/XOPPcq2ohf pic.twitter.com/rFo08Z4QXv

— Ahmad Warraich (@ahmadwaraichh) September 28, 2023