ISLAMABAD, Pakistan: Just ahead of the next general elections, Pakistan Tehreek-e-Insaf (PTI) enjoys the highest likeability rating among all political parties at 59% while its Chairman Imran Khan has received the highest positive approval rating at 60% across notable political figures, according to the Gallup Pakistan Survey 2023.
The Gallup Survey 2023 findings indicate that PTI would receive twice as many votes than those who would vote for Pakistan Muslim League-Nawaz (PML-N) if the elections happened next week.
Among all political parties, PTI has a likeability rating of 59% followed by Pakistan People's Party (PPP) having 42% rating and Tehreek-i-Labbaik Pakistan (TLP) has 41% rating. Whereas PML-N has 38% likeability rating.
In terms of positive approval rating of political leaders, the Chairman PTI Imran Khan stands atop with 60% rating while the TLP Chief Sad Rizvi is at second place with 38% rating.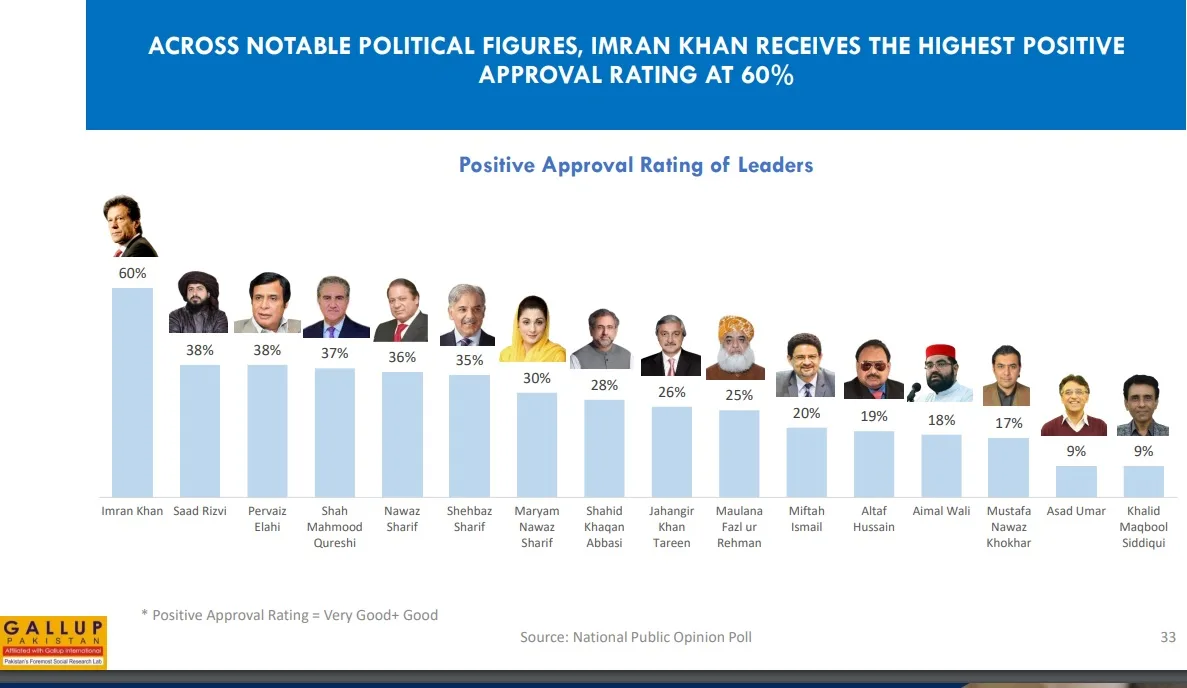 The former Chief Minister Punjab Pervaiz Elahi has 38% approval rating and the former Foreign Minister Shah Mahmood Qureshi 37%, above than the entire top leadership of PML-N as Nawaz Sharif, Shahbaz Sharif, and Maryam Nawaz enjoy approval ratings of 36%, 35%, and 30% respectively.
The Chairman PPP Bilawal Bhutto Zardari is nowhere in the approval rating list.
The Jamiat Ulama-e-Islam Fazl (JUI-F) Chief as well as the President of Pakistan Democratic Movement (PDM) Maulana Fazlur Rehman is placed at 10th position with 25%.
In reply to a question that "If the national assembly elections were held next week, for which party would you vote?", 42% people voiced their intention to vote for PTI, 20% for PML-N, and 12% for PPP.
While 28% respondents said that they would never vote for PML-N and 21% and 9% stood against PTI and PPP respectively.