By Shazia Anwer Cheema
To those who fall in war, victory or defeat makes no difference. All the good people the courageous, the upright, the humble and the compassionate die first".   Mahabharata
It is strange to know that Bharat (India) has never paid any attention to the teachings of Mahabharata, if it would have, then the Indian Army's history might not have stained with badly executed war plans. Leave aside victory or defeat, the Indian Army seems to fail to launch basic domestic counter-insurgency plans. Recent examples are Pulwama and Chhattisgarh.
As we all know that Pulwama attack was a fake plan to blame Pakistan but even then it could have been executed professionally. The detail of the highly sensitive intelligence plan was roaming in chats between media persons before the actual incident. Should we blame soldiers for incompetency that has become a symbol of the Indian Army? I think we should not. A soldier has nothing personal in any mission; the only requirements are competence and ability, how come Indian intelligence shares top-secret information with the general public, information sensitive enough to kill dozens of their countrymen to frame an enemy.
The incidents related to the Mao insurgency are another textbook example of the tactical failure of the Indian Army that is using rape as a tool for subjugation. Indian soldiers registered their discomfort on social media by informing that there was no proper intelligence strafing and there was no contingency plan. As result, many Indian soldiers got killed on the line of duty.
As today is the day to mark the 37th anniversary of the biggest blunder of Indian history, a blunder in the sense that the loss of Indian soldiers could have been avoided if Operation Blue Star was operated as an operation. It was too, conducted as street gangsters fight their personal wars.
Former Indian Service Officer Ramesh Inder Singh, the then Deputy Commissioner (DC) of Amritsar in one of his interview with BBC said that even the Governor of (Indian) Punjab did not know that there would be military action and he indicated that the Operation was badly carried out and panic among foot soldiers was so evident that they were formalizing their plans on the bonnets of their vehicles.
The prior order was to ambush with the help of teargas but right in front of the target (Golden Temple), they came across the reality that gas was unable to distinguish between soldiers and civilians. Indian soldiers were in short of gas protection masks. It has been said that they were imported from England the very same day, let's not indulge in the role of England or any other country for that matter as our point of concern is that trained military must be able to fight the war whenever it is required and to whosoever, it is against for.
Only one announcement or call of decency was made from a loudspeaker embedded on a tank which civilians claimed un-acoustic. The unplanned action plan, unaware civil government, and innocent civilians inside the temple. While studying military combat I never put emphasis on right and wrong. On the contrary, I look at how the operation had been conducted? Hundreds of Indian soldiers were killed because of the armed resistance from inside the Temple and hundreds of innocent unarmed civilians died just because there were communication gaps, trust issues, personal animosity, and tactical failures.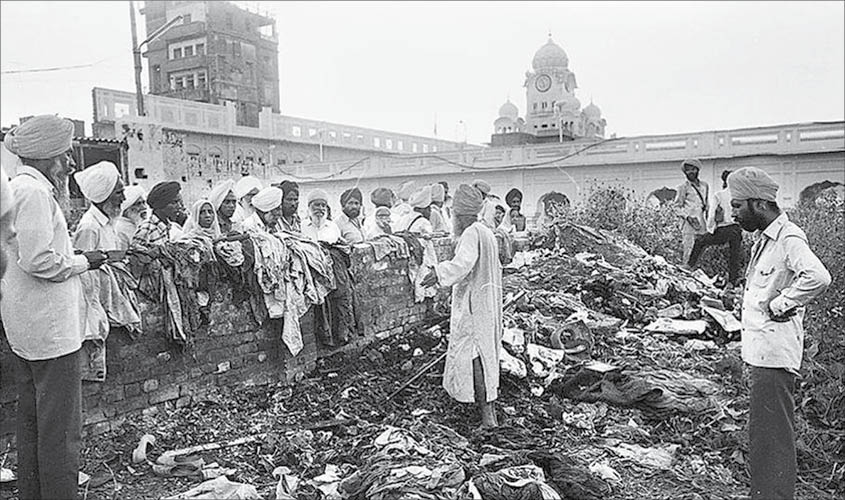 Since Operation Blue Star, Sikhs mourn that day. On the other hand, families of the Indian soldiers keep regretting sending their loved ones to an incompetent and incapacitate military force. The level of mistrust between the soldiers was mounted and erupted in the form of erosion of the 9th Sikh Battalion and this event is called "Mutiny of 9th battalion of the Sikh Regiment" that started from Bihar and spread as far as Rajasthan and over 2600 Sikh soldiers were killed by Indian Police and Army after this mutiny and their bodies were not handed over to their relatives.
Record of Indian Army archive indicates that Brigadier Puri was shot dead at brigade headquarters in Ramgarh in Bihar by Sikh soldiers. Indian Army record indicates that the body of legendary retired Maj. Gen. Shuhbeg Singh was found among dead bodies removed from Bhindranwale's basement after Operation Blue Star was executed. He was a legendary character for Sikhs and Indian nationalists. General Singh was credited for breaking Pakistan in 1971 by training Bangladeshis for guerrilla warfare. This news of his killing by the Indian Army was fuel onto the fire and Indian Sikhs in Air Force, Navy, and Army reacted sharply and thousands of Sikhs were arrested, demoted, and laid off from services.
One badly executed military operation leads to a civil war which drenches the hands of civil government, police, judiciary in blood. Thousands of young Sikhs got missing either as the result of death by torture or imprisonment for an unknown duration at unknown locations.
The region in which India is situated is considered a political and strategic volcanic zone; with multiple faultlines.  International Crises groups have been indicating that India is imploding within and nobody knows which faultline erupts at what time in India and we have seen in the past the incompetence of the Indian Army to handle the insurgencies. Seven-sister states are as volatile as they were 50 years ago, Indian Occupied Kashmir is almost out of control and Indian Punjab is ready for uprising particularly after brutal treatment Indian farmers got from Indian Police and Army during the Kissan Morcha movement. Therefore, neighboring Nepal, Bangladesh, China and Pakistan should be vigilant because any civil war-like situation inside India would definitely result in alarming situations in bordering areas. I believe that Bangladesh, China, Nepal, and Pakistan need to show their concern regarding the nonprofessional attitude of the Indian army for handling any insurgence or civil war and such situation could reach our borders within no time and India has always been a failure to counter any unrest on its own soil.
One thing Indian soldiers enjoy the most is executing a flawed plan; got beaten by mobs; rescued by the Pakistan Army; enjoying the warm cup of tea and going back home calmly.
The problem of incompetency lies with the leadership of the Indian Army that triggers down to their soldiers
The most important thing I learned is that soldiers watch what their leaders do. You can give them classes and lecture them forever, but it is your personal example they will follow.——- General Colin Powell
Note: The writer Shazia Cheema is an analyst writing for national and international media outlets including the Nation, Pakistan Today, Pakistan Observer, Eurasia Diary, InSight, and Mina News Agency. She heads the DND Thought Center. She did her MA in Cognitive Semiotics from Aarhus University Denmark and is currently registered as a Ph.D. Scholar of Semiotics and Philosophy of Communication at Charles University Prague. She can be reached at her: Twitter @ShaziaAnwerCh  Email: shaziaanwer@yahoo.com