Fascist regime using judiciary as a tool to silence 'Voice of Kashmir'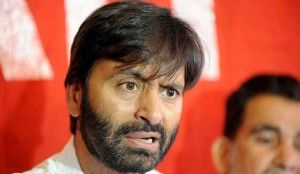 ISLAMABAD, Pakistan: Mushaal Hussein Mullick, the wife of Chairman Jammu and Kashmir Liberation Front Yasin Malik said that the Indian government is victimizing Hurriyat leaders including Yasin Malik for his political ideology and struggle to regain the sovereign rights of his people.
Yasin Malik was arrested from his residence in Srinagar under a Public Safety Act (PSA), a draconian and oppressive legal instrument which India applies with impunity against Kashmir.
In a strong-worded reaction to the notorious Terrorist and Disruptive Activities (Prevention) Act) Court (TADA) which maliciously framed charges against Yasin Malik in 31-year-old Rubaiya Sayeed kidnapping case, Mushaal said that Yasin Malik, a 54-year-old non-violent political Leader of occupied Jammu and Kashmir, is locked up in the death cell of the notorious Tihar Jail since May 7, 2019.
"The imprisonment of Yasin Malik, who is the powerful political voice of oppressed people of occupied Jammu and Kashmir actually reflects the extremist mindset of the Indian government," Mushaal, who is also Chairperson of Peace and Culture Organization, said.
Moreover, she said that the fascist Narendra Modi government tasked NIA to concoct and engineer cases of "terror funding" against Yasin Malik to malign him and his political struggle as terrorism.
The Hurriyat leader said that after exercising all these brutal tactics, now the fascist regime is using the judiciary as a tool to intimidate Yasin Malik and other Kashmiris, as it could be judged from the recently TADA Court's decision that charged him in a false 30-year-old abduction case.
Mushaal went on to say that Yasin Malik is not allowed to meet her eight-year-old daughter Razia Sultana since September 1, 2014. Continuous mental and physical torture is going on as Yasin Malik's prison room with a size of 5 by 7 with an open toilet due to which his health has become quite frail, she added.
Mushaal said that the extremely contaminated environment has further aggravated his already weak health as he has serious ailments related to vital organs of his body including both his kidneys and metallic heart valve, which needs certain life-saving drugs which are not being given to him.
India is violating all laws including the Geneva Conventions, the International Covenant on Civil and Political Rights, the Convention against Torture and Other Cruel, Inhuman or Degrading Treatment and Punishment, as well as customary international law codified in Standard Minimum Rules for Treatment of Prisoners adopted by the United Nations General Assembly and Security Council in Yasin Malik case.
Mushaal Mullick said that apparently, India has planned to victimize Yasin Malik and to keep him behind the bars for his whole life or to hang him God forbid so as to remove and eliminate a leader who is part of the solution and not a problem.
However, she vowed that Yasin Malik and other Hurriyat leaders are determined to carry on the non-violent struggle despite the Modi Regime draconian laws.
Mushaal said that we demand the immediate release of Yasin Malik from Tihar's death cell and be immediately shifted to a hospital's ICU as his life is in danger.
"I demand the United Nations to declare Yasin Malik a prisoner of conscience and "Protective Personality" and also appeal to release him and all political prisoners in Indian occupied Jammu and Kashmir," she added.