Monitoring Desk: German Chancellor Angela Merkel has shown her grave concerns over Human Rights Violations in Indian Occupied Kashmir.
According to Indian Newspaper "The Hindu", Chancellor Angela Merkel was of the view that lockdown of the region cannot be supported for long.
Related Link: Read original Story of The Hindu to click this link
"The situation now for the people (in Indian Occupied Kashmir) is not good and not sustainable. This has to be improved for sure," said Ms. Merkel to a group of German journalists who travelled to Delhi for the visit.
Chancellor Angela Merkel raised the issue with host Prime Minister Narendra Modi during state dinner on Friday evening.
It is pertinent to mention that India and Germany were negotiating over 17 MoUs  at bilateral delegation-level talks held at Hyderabad House.
Meanwhile, sources in diplomatic circles indicate that EU leader has demanded road-map from PM Modi about Kashmir (IoK) issue and expressed deep concerns over situation being faced by Kashmiri Muslims in IoK.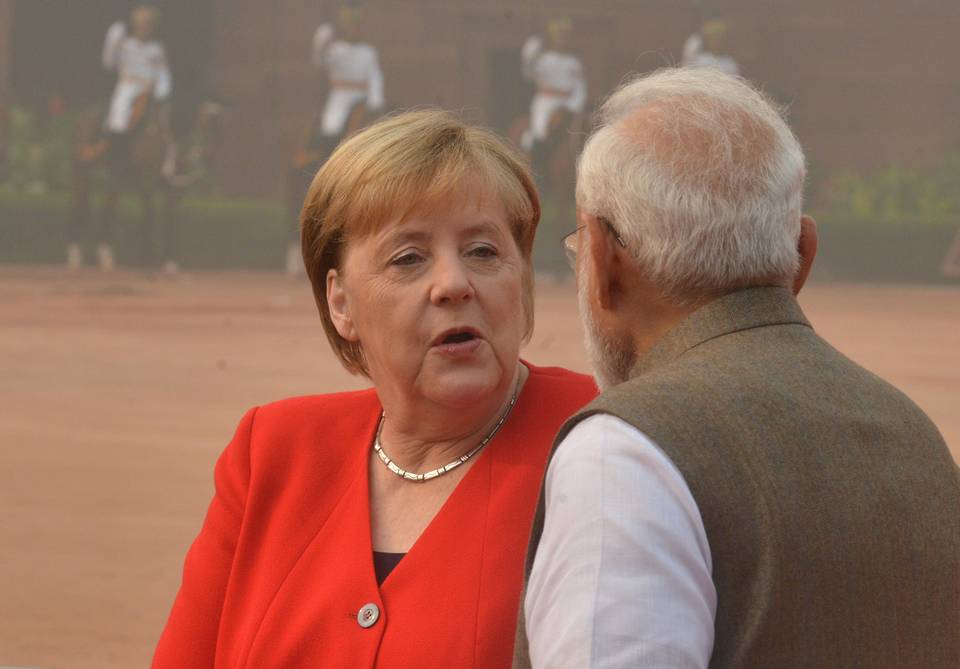 What we know about situation in Indian Occupied Kashmir after abrogation of Article 370 (35-A) on August 5, 2019?
Over 80 Days long curfew and communication blockade continues
Medical services still not available in IoK,
International media and international Human rights organisations confirm in their reports that women, girls, children and even young boys are sexually abuse by Indian law enforcing agencies
Disappearance and abduction of youth continues
Serious humanitarian crises grips IoK as food stocks are inadequate
Tourism and hotel industry completely collapsed in IoK
Orchards owned by Muslim Kashmiris are catted down to ground so there would be no fruit value addition industry available once clampdown is lifted
Night house-raids and picking up men by law enforcing agencies continues
Estimated deaths due to non-availability of medical services in Valley crossing the figure of 7,000 patients (deceased patients).
Educational institutes are still closed and Kashmiris are denied basic right of health and education for the last 85 plus days.