ISLAMABAD, Pakistan: Having been credited for delivering performance and enacting journalists-friendly policies, Journalist Panel is hopeful of winning the upcoming NPC Election 2018 with a landslide victory.
The voting for annual NPC Election will go underway on Saturday for which Journalist Panel and its rival Azad Panel have flexed their muscles, and are vigorously involved in electioneering process ahead of January 13 polls.
Talking to the Dispatch News Desk (DND) news agency in Islamabad, the NPC Secretary Candidate and Outgoing President Shakeel Anjum expressed optimism that Journalist Panel would again emerge victorious in the upcoming NPC election.
Shakeel Anjum said the welfare of Journalist Community had always been the foremost priority of the Journalist Panel; therefore, he added, unprecedented development at NPC could be witnessed in last two years.
The Outgoing NPC President said not only prudent journalistic policies were devised to ensure the welfare of Journalists; rather, due consideration was also given to enhance of aesthetic beauty of the NPC.
Mentioning the initiatives taken by the NPC Management in last two years for Journalists, Shakeel Anjum said recently NPC signed a Memorandum of Understanding (MoU) with the Pakistan Institute of Medical Sciences (PIMS), enabling all NPC members to receive free medical treatment equal to 18-grade government officers at PIMS along with their parents, spouses and children.
Prior to that, he added, the NPC also entered an agreement with the Rawalpindi Institute of Cardiology (RIC) in March 2016, under which free medical facilities were being provided by the RIC to NPC members and their families. He said a number of Free Medical Camps were also set up at the NPC for its members.
The NPC Secretary aspirant said a library was also inaugurated at the NPC in December 2016 to provide reading facility to the Journalists Community. He said holding of numerous eventful programs and activities such as 'Pashtu Cultural Family Show', 'Family and Media Festival', and 'Sham-e-Qalandar' etc had also been the feature of NPC during the last two years.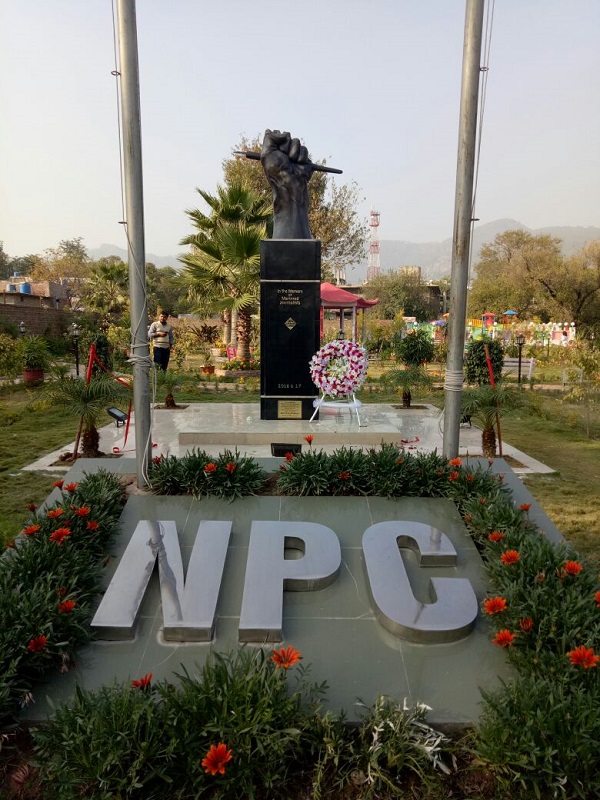 Moreover, Shakeel Anjum said in November last year, "Martyred Journalists Memorial" – first of its kind in Pakistan – was inaugurated inside the NPC's premises to pay homage to those journalists who had rendered sacrifices in the line of duty across the Country. He said Chairman Senate Mian Raza Rabbani carried out the inauguration.
Besides, special emphasis was given on development and renovation of NPC to attract the visitors as a 'Coffee Khana' was built and swings & slides were set up on the lush green lawn of NPC to entertain its members and their families around the clock amidst peaceful and wonderful atmosphere, Shakeel Anjum said. He said along with the Coffee Shop, a beautiful Canopy Hall was also recently built to organize various events. Now, he added, a new NPC Main Gate was being constructed, and hoped it would be opened soon.
Commenting on the recent demise of senior journalists Abdul Wahid Baghi and Mamoona Arif, Shakeel Anjum expressed deep sorrow, and said the whole Journalists Community went into shock over their sudden death. He said their death overshadowed the excitement linked with the electioneering, and both of them were being missed a lot.
However, he reiterated the resolve to continue all endeavors for the welfare of Journalist Community in the future as well.