ISLAMABAD, Pakistan: As the annual election of National Press Club (NPC) Islamabad is inching closer, electioneering by the contesting groups is gaining momentum.
The NPC Election 2018 will take place on January 13, 2018 (Saturday) for which two groups Journalist Panel and Azad Panel – a conglomerate of eight media organizations and groups – have fielded their candidates for various Posts.
The election is being supervised by the NPC Election Committee headed by Nasir Zaidi, and also comprising Mian Munir, Chaudhry Ahsan Premee and Munawar Naqvi.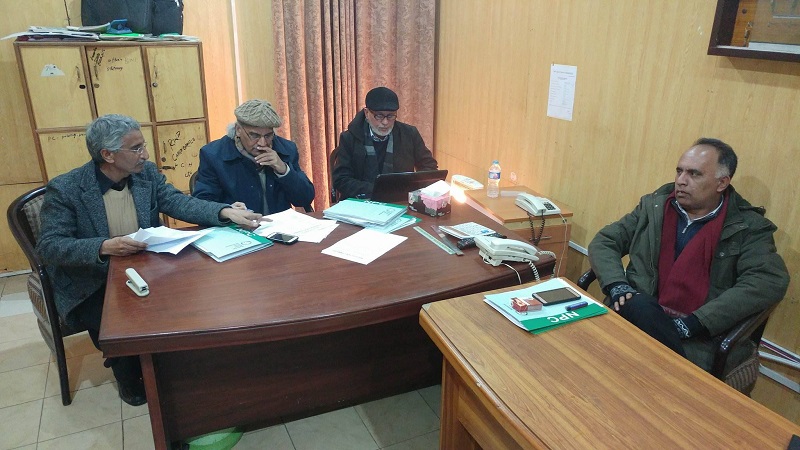 As per the final list of candidates issued by the NPC Election Committee on January 7, 4 candidates are contesting the Election 2018 for the President, 12 for the Vice-President, 3 for Secretary, 3 for the Finance Secretary, and 11 for the Joint Secretary while 43 candidates are in the run for the membership of NPC governing body.
The ruling Journalist Panel, backed by Pakistan Federal Union of Journalists (PFUJ) President Afzal Butt, has fielded its 28 candidates including 4 females to retain its glory.
For NPC Election 2018, Journalist Panel has fielded Tariq Mehmood Chaudhry for the President, Shakeel Anjum for the Secretary, and Muhammad Ishaq (Shakir Solangi) for the Finance Secretary.
Likewise Journalist Panel has fielded Asif Bashir Chaudhry, Kashif Rafique, Bilal Dar and Myra Imran Azam for Vice-Presidents while Syed Dastar Shah, Abid Abbasi, Nadeem Chaudhry and Fauzia Kulsoom Rana are contesting for Joint Secretaries.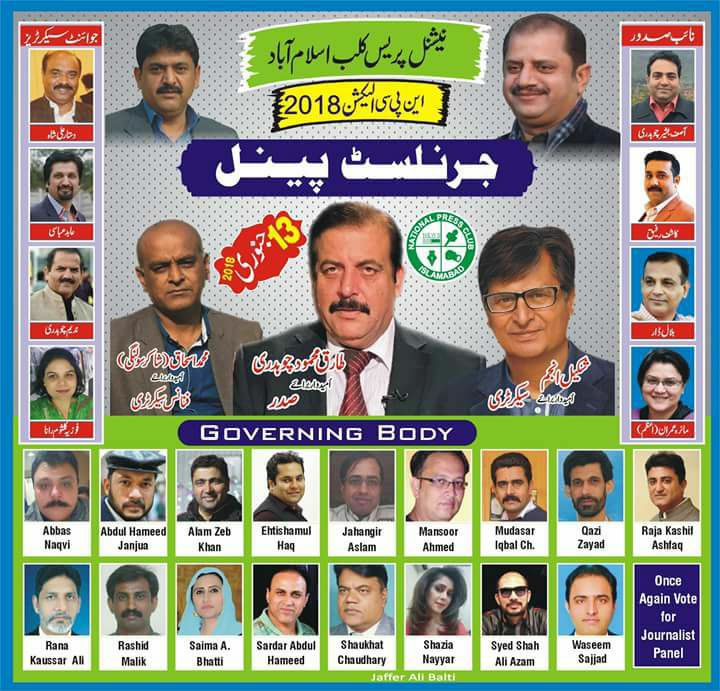 In a bid to give tough time to Journalist Panel, various media groups including Video Journalists, Saraiki Journalists Saanjh, Working Journalists Group, Producers Association, RIUJ Dastoor Group, Pervez Shaukat Group, Fida Sherazi Group, and Jago Group are contesting the NPC Election 2018 under the umbrella of Azad Panel.
Azad Panel under the auspices of Matiullah Jan and Abid Khursheed has fielded Shakil Qarar as the Presidential Candidate, Sabookh Syed and Mishal Bukhari as the Vice-President Candidates, Sami Ibrahim as the Secretary Candidate, Nausheen Yousaf as the Finance Secretary Candidate, and Farhat Abbas Turabi and Syeeda Yasmeen Raja as the Joint Secretary Candidates among others.

Both the contesting panels are currently engaged in election campaign to maximize their respective support.
On Wednesday, Journalist Panel visited various media groups including AVT Khyber group, Capital TV, Geo/Jang group, Samaa TV, Nawa-i-Waqt, KAY2 TV and Daily Ausaf to garner the support. Likewise, Azad Panel visited Khyber News Network to persuade the journalists to vote in its favour.