This photo of a destroyed building is not from Syria, Libya, Donbass Ukraine or Afghanistan. This is a click of award-winning photojournalist Masrat Zahar and this is Indian Occupied Kashmir.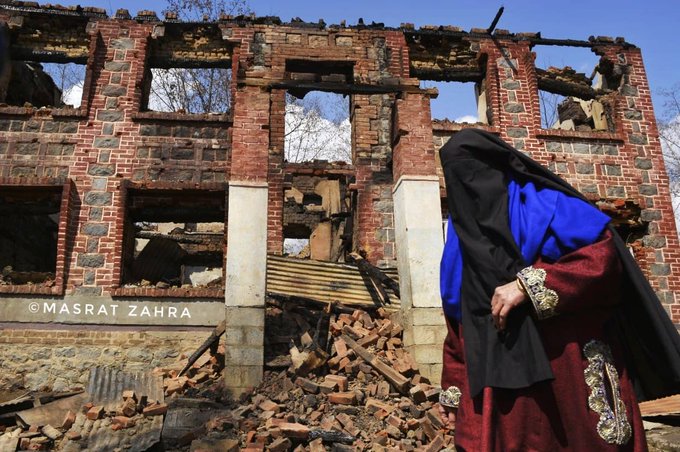 In this photo, a Kashmiri woman is crossing a destroyed building. This destroyed building tells the story of Indian Occupied Kashmir and she understands that this building represents her present and future.
Masrat Zehra is a 26-year-old photojournalist from Indian Occupied Kashmir.
She has been in the field for the last 4 years and has been working as freelance with Indian and international publications, including The Washington Post, Al Jazeera, Caravan, The New Humanitarian, The Sun, Arab News, and others.
She is one of the main source of photos world gets from caged IoK. Almost 80 percent photos of IoK females facing Indian brutality have come from Masrat during the last one year.
Almost every photo of her of a Kashmiri woman tells a story of carnage, genocide, and brutalities being faced by Kashmiri people under Indian occupation.
Her work is intense and can be followed at her Facebook, Instagram, and Twitter.
One can appreciate her pen and camera after going through her work on Twitter and Facebook.
Despite communication Blackout in IoK, she was managing to send photos to media and this is the core issue Police want to investigate.
Now she is booked by the Indian government under the terrorist Act. She does not know her future and she is worried about her. This is time media and journalist rights organisations should come forward and stand with her.
In her interview with BBC world, she says she is worried about her family and her work because she can go for jail for 4 to 7 years under laws she is booked. She says she believes her career is over.