Honda CD 70 is undoubtedly the most famous motorbike in Pakistan. According to reports, even in this economic crisis, CD 70 is still doing better than its competitors in terms of sales. Whether one prefers reliability, good fuel mileage, or even re-sale value, it is everyone's go-to choice for a two-wheeler ride. You'd be lying if you never wanted to own one yourself. Today we give you a Honda CD 70 rider review.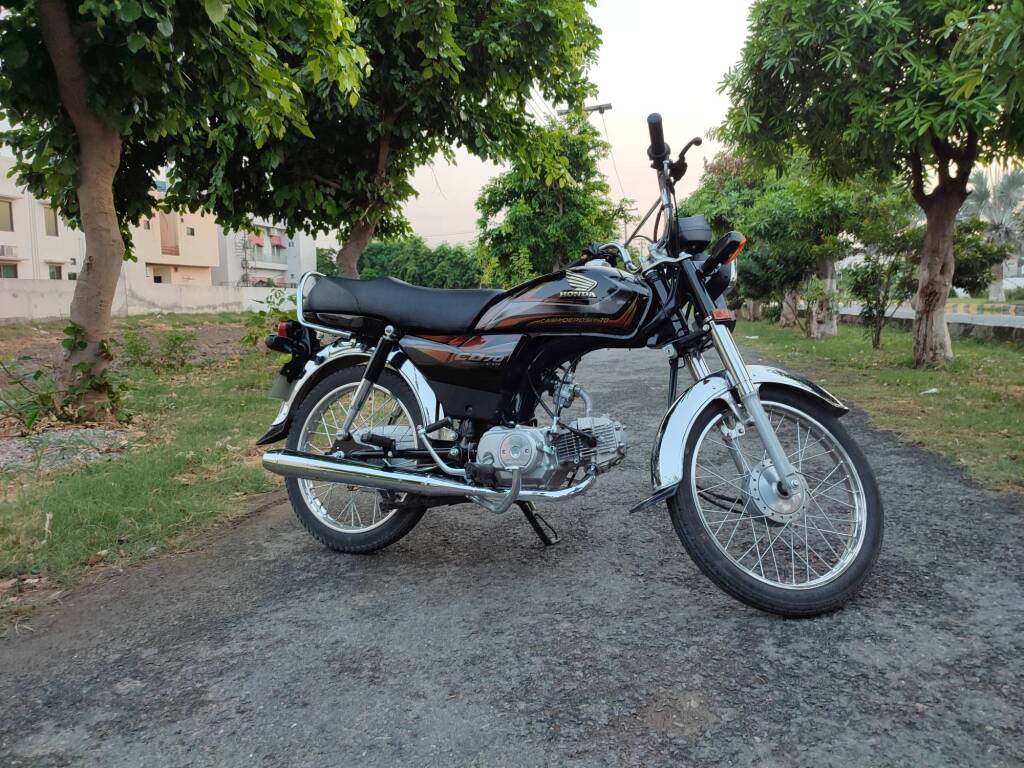 Honda has a lot of competition in the 70cc category. Even after giving consumers an almost replica at a much lower price. Motorbike manufacturers still struggle to surpass CD 70. This is because Honda manages to offer what the rest fail to. Durability and reliability. Let's have a deeper dive into the CD 70 rider review.
CD 70 Rider Review
First, look at the specifications to weigh the pros and cons in their light.
| | |
| --- | --- |
| Engine | 4-Stroke OHC Air Cooled |
| Displacement | 72 cm3 |
| Bore & Stroke | 47.0 x 41.4 mm |
| Compression Ratio | 8.8:1 |
| Clutch | Multiple Wet Plates |
| Transmission | 4 Speed Constant Mesh |
| Starting | Kick Start |
| Frame | Backbone Type |
| Dimension(LxWxH) | 1897 x 751 x 1014 mm |
| Ground Clearance | 136 mm |
| Petrol Capacity | 8.5 Liters (Reserve: 1.0 Liter) |
| Tire at Front | 2.25 – 17 (4 PR) |
| Tire at Back | 2.50 – 17 (4 PR) |
| Dry Weight | 82kg |
Pros
The best thing about this 70cc is the fuel average. The carburettor upgrades help in getting closer to the company's claimed figures. Under ideal conditions, the Honda CD 70's fuel average is about 70 kilometres per litre. It offers a comfortable ride with quality seating, smooth suspension and a straight riding position.
Another reason which attracts consumers is the super easy maintenance and readily available spare parts. A timely oil change and check-up will last you a lifetime. This all adds to n excellent resale value, which, although mentioned last, is the second best thing about this motorbike.
Cons
Many customers have reported that the material used in the latest models is lighter. A drawback observed in the latest models is poor quality. A defect observed in the latest models is poor quality. You may notice an increased vibration while driving it at higher speeds—specifically, the honestly flaky chain cover.
Another problem in many units is the rusty metal. You may be able to get a clean team. However, many bikes have rusty bolts, mudguards, and seat supports. The saddest part is that the motorbike has not been upgraded design-wise for over 40 years.
Final Thoughts
Honda CD 70 is a high-performing, reliable motorbike. Like any machine, it's not perfect but delivers on its promise. CD 70 is priced at PKR 121,500. Honda also offers another variant, CD 70 Dream, priced at PKR 129,900.
Thanks for reading through. Be sure to check out Honda CG125's rider review as well. Remember, it's always more fun when you ride safely and responsibly.