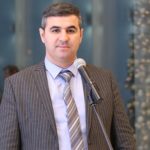 By Seymur Mammadov
India is playing one of its political cards against China, thereby openly demonstrating its commitment to American values and interests.
India's ongoing open boycott of Chinese mobile apps is not so much a technology war against China as an attempt to curb the development of high-tech human capital. I wonder what India fears? Maybe another loss? India is constantly losing and it is inferior to China, practically in all spheres, all over the world – in Latin America, Africa, Europe, especially in Central Asia, where it dreams of strengthening its presence, and is constantly looking for new opportunities in this region. After Indian Prime Minister Narendra Modi visited all five Central Asian republics in 2015, following India's accession to the Shanghai Cooperation Organization (SCO) in 2017 and the establishment of the India-Central Asia Dialogue Platform in 2019, a good opportunity presented itself to develop New- Delhi with the countries of the region.
Although India is constantly looking for ways to build up and expand its influence in Central Asia, today New Delhi is quite far from the positions of China in the politics and economy of Central Asia. What are India's main interests in Central Asia?
First, India is interested in access to raw materials and markets in the region. In particular, the zone of interests of New Delhi includes the TAPI gas pipeline project from Turkmenistan to the Indian Ocean, the supply of oil, uranium, non-ferrous metals, as well as the opening of transit transport corridors to Central Asia.
Secondly, this is the Afghan vector of India's foreign policy. Central Asia is seen as a strategic foothold for an active policy in Afghanistan. For India, the Afghan territory is a "bridge" connecting different regions. India's policy towards Afghanistan is aimed at building energy and transport corridors through Afghan territory.
Third, the formation of an alliance between China and Pakistan, as well as the growing political weight and economic power of China, are of serious concern to India. In these conditions, New Delhi is forced to develop relations with the countries of the region. India believes that such an approach in building relations with Central Asia allows New Delhi to secure its so-called strategic rear against its opponents. This begs the question, has India been able to achieve its goals?
India's attempts to increase its political and economic influence in Central Asia after the collapse of the USSR were unsuccessful. Geographically, India is separated from Central Asia by the territories of China and Pakistan. New Delhi's only hope is Iran, India carries out trade with the countries of Central Asia through Iranian territory, but is not able to fully realize its economic potential.
India, now experiencing a serious socioeconomic crisis, is forced to focus on eliminating it, given that the economic prospects for Central Asia look rather dim. ADB predicts growth in the region will be 2.1% in 2020 and 3.9% in 2021. GDP growth forecasts for all countries in Central Asia are revised downward after the pandemic weakened economic activity.
Due to the permanent political instability in Afghanistan, India cannot achieve the implementation of the Trans-Afghan Gas Pipeline (TAPI) project. The project has remained on paper for many years – there is no way out of this situation until stability is ensured in Afghanistan.
No matter how hard India tried, it was unable to fully compete with the strengthening of Chinese positions in the region. Chinese investments, the number of implemented Chinese projects in Central Asia are many times greater than Indian ones.
As we can see, this is an obvious loss for India in the region, and this loss is fixed for a long time. And while New Delhi puts a spoke in the wheels of China's high-tech machine, Beijing will continue to expand its technological influence around the world. India, instead of adopting Chinese experience in the field of high technologies, to benefit from Chinese applications, restrains its technological development with its own hands. It is clear that New Delhi is doing this deliberately in order to please the US political leadership in the hope of possibly acquiring American technology. But is there a guarantee that the Indian side will receive them and be able to apply them in Central Asia, where Chinese technologies have long taken root in the region?