Previous story undated:
Kasur, Pakistan: Imran Ali who is accused of killing seven young girls after raping them in Kasur district is a "Drum Beater" by profession.
He is resident of street#6 Main Bazaar Road Kot Kasur and he was on born in 1994. He has five sisters and two brothers while his father Muhammad Arshid is a daily wage labourer.
Neighbours say that Imran Ali used to spend his time in same locality from where he allegedly abducted six-year old Zainab on January 3, 2018.
It may be mentioned that accused Imran Ali has been arrested for allegedly raping and killing six-year-old Zainab Amin in city of Kasur.
His arrest was announced by Chief Minister Shehbaz Sharif while addressing a press conference along with father of deceased girl on Tuesday evening.
According to Punjab government, Imran is a "serial killer" who raped a killed seven young girls aged 4 to 12 during last two years in Kasur district. Government also claims that accused Imran confessed his crimes after matching his DNA with samples obtained from the dead body of  deceased Zainab.
It may be mentioned that Supreme Court of Pakistan took notice of Zainab Murder Case and directed Punjab government to form a Joint Investigation Team (JIT) to investigate the case comprising of experts from intelligence agencies and investigation units of civil and military organisations of Pakistan.
Latest updates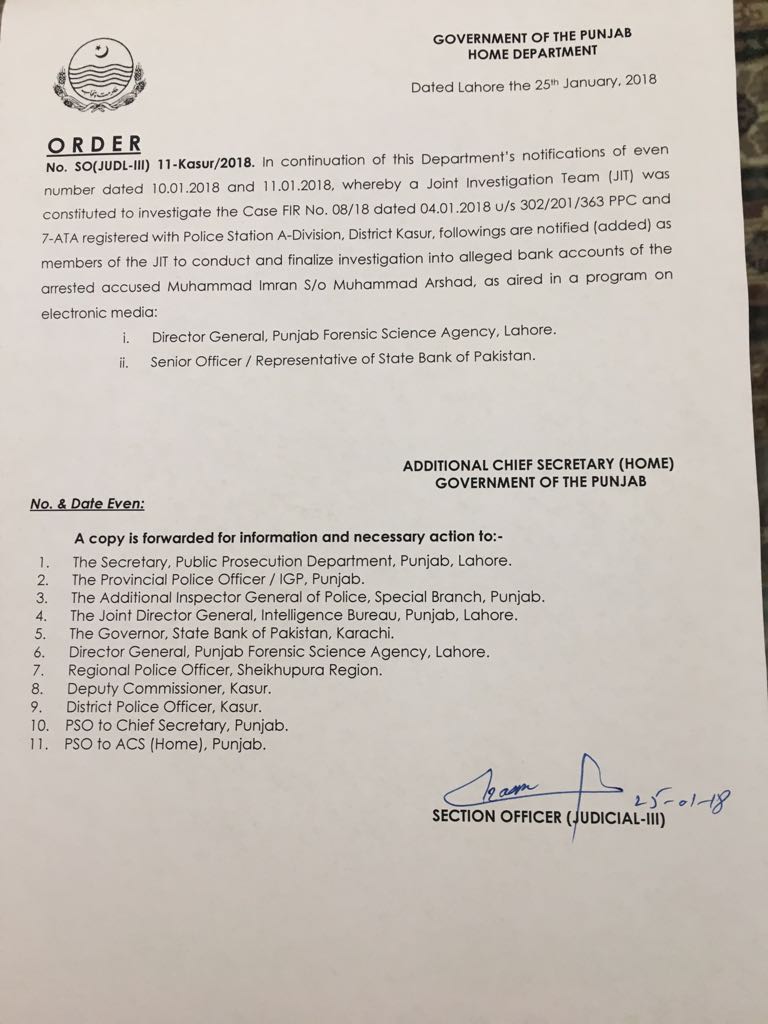 An anchorperson claimed in his show that alleged killer of Zainab had foreign bank accounts though killer Imran Ali lives a life as daily wage drum beater.
Supreme Court of Pakistan has directed detail report about alleged bank accounts of killer Imran Ali.
Anchorperson further claimed that Imran Ali had over 36 bank accounts having billions of rupees in his local and foreign accounts and he is member of an international child pornographic racket.
CM Punjab Shehbaz Sharif had directed to include State Bank officials in Joint Investigation Team (JIT) to probe allegations leveled by anchorperson Dr Shahid Masood. Anchorperson claimed that two important personalities including one Federal minister are behind this racket of child pornography.
It may be recalled that another racket of child pornography was unearth in Kasur who abused with 210 children and made their videos and sold outside country but no person was tried in this case.
"Following revelation of information reg bank accounts allegedly held by the accused in Zainab case, I immediately tasked JIT to associate senior representatives from State Bank of Pakistan & DG Forensic Science Agency to inquire into issue & finalise the investigation accordingly", stated CM Punjab Shehbaz Sharif in his twitter message.