By Tusbeeha Kamran Cheema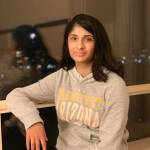 We all have plans. We are all waiting, but in the end, it's gone. You know, there is always a reason why it happens, or why it does not happen. Because Allah has a reason. Let me tell you guys what happened to me. On February 21th, my family and I decided to visit our family after 2 years. We decided to travel to Pakistan on 19 June. So in April, we ordered tickets to Lahore. I was so excited. I couldn't wait, but there was still a long time. I was already excited in February. And then it was finally June. There were only 19 days left. I and my family began to do the packing. And 13 June I began to pack my stuff, clothes, sunglasses, and perfume.
After some hours my sister and I were tired because we had done a lot of homework, and I had played violin. And when we came down my mom informed me that our air tickets were canceled. I was so sad because I was so excited about going to Lahore and there was only one week left when we were told that we could not manage because of a booking problem. But we were trying to find another booking through another airline. We could take Emirates Airline. But we were gonna see what is gonna happen. I know there is a reason why Allah has canceled our ticket.
Maybe because if we took the airplane it would crash. Things can feel hard, different, and sad. But we have to respect what is happening in our future. And who knows, there might be a full bag of happiness. Sometimes a big thing, which destroys our life.  Allah has a reason, and our life is a big mystery, our life is a story with secrets behind our bags. But the word Patience is so important in our life. Many things in life can be canceled. But that's how life is, and how life is gonna be. Because this Dunya (World) is not our life forever.  And if your plan is canceled, have sabr (patience) or have shukr (gratitude) to Allah. Allah has maybe just saved you for a big thing. If your plan is canceled, then look at Allah's plan, it's even bigger than you thought. In life, you are always learning. You are gonna be stronger every minute. I was sad because I had been looking forward to Pakistan for four months. But it was canceled. And then I said to my mom "it's maybe because that the flight we would take to Qatar would crash" and she said that it could be right. And then she said a funny thing she said that "it can also be because we have to take another plane emirates, and then it has to crash because that is how our death is written."
I was actually just laughing. We just have to learn that our plan can be canceled at every minute, and we have to respect it. If it's written in your book then it will happen no matter what.