LAHORE, Pakistan: The arch-rivals Pakistan and India will lock horn in the Final of the Kabaddi World Cup 2020 at Punjab Stadium in Lahore on Sunday.
The match will begin at 07:00 pm as per Pakistan Standard Time (PST).
The Circle Style Kabaddi World Cup 2020 went underway under the theme "Apni Mitti, Apna Khel" on February 9, 2020.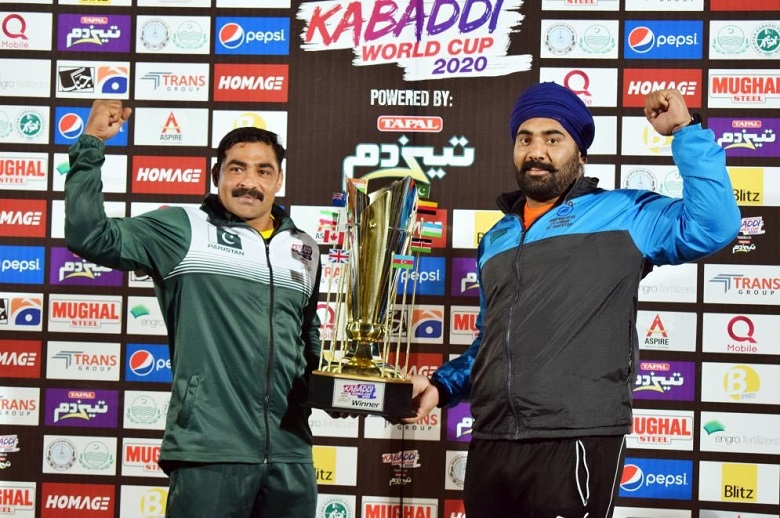 As many as 10 teams including Pakistan, India, Germany, Azerbaijan, Iran, Canada, Sierra Leone, England, Australia, and Kenya participated in the tournament organized jointly by the Punjab government, the Sports Board Punjab and the Pakistan Kabaddi Federation (PKF).
The matches were played in three venues – Punjab Stadium Lahore, Iqbal Cricket Stadium Faisalabad and Zahoor Elahi Stadium Gujrat.
In the Semi Finals, Pakistan beat Iran by 52-30 while India defeated Australia by 42-32 points.
Get Ready for Final Kaantay daar Taakra!
Pakistan vs India
The final between Pakistan and India will be played at Punjab Stadium Nishtar Park Sports Complex Lahore tomorrow at 7.00 pm under floodlights. #apnimittiapnakhail #kabaddi #sports #worldcup pic.twitter.com/BEnYte556t

— Sports Board Punjab (@Sports_BoardPB) February 15, 2020
Prior to the Final between Pakistan and India at Punjab Stadium in Lahore, Iran and Australia will take on each other at the same venue at 04:00 pm PST for third and fourth positions.
It's the Seventh Edition of Circle Style Kabaddi World Cup since its Inaugural Edition in 2010. So far India remains the only Champions throughout all tournaments. India won the title six times whereas Pakistan reached the Final four times in 2010, 2012, 2013 and 2014 but always ended up as a losing side.