ISLAMABAD, Pakistan: The Opposition-backed Senator Sadiq Sanjrani was elected as the eighth Chairman of the Senate in Islamabad on Monday for next three years, becoming the first ever Senator from Balochistan to chair the Upper House of the Parliament.
Senator Sadiq Sanjrani – an Independent Candidate from Balochistan – received 57 votes while the ruling alliance candidate Raja Zafar-ul-Haq bagged 46 votes, the Presiding Officer Sardar Yaqoob Nasir announced.
Congratulations to Baloch Senator Sadiq Sanjirani for becoming Chairman Senate. This will strengthen the federation. We are happy for the people of Balochistan & for the federation of Pakistan.

— Imran Khan (@ImranKhanPTI) March 12, 2018
Congratulations to Sadiq Sanjirani for becoming #ChairmanSenate. This is actually the Victory of People of Balochistan & Credit goes to Imran Khan & all the Parties who Supported Him.

— Ch Aitzaz Ahsan (@AitzazAhsanPK) March 12, 2018
Earlier as many as 103 Senators casted their votes to elect the Chairman of the Upper House of the Parliament through a secret ballot.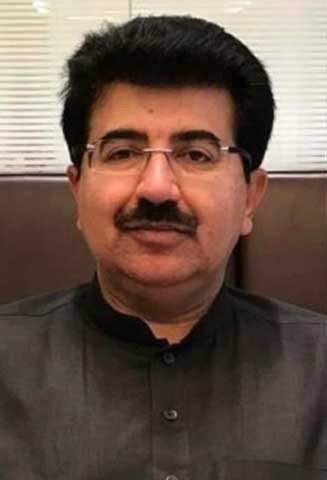 Sadiq Sanjrani had the backing of Pakistan People's Party (PPP), Pakistan Tehreek-e-Insaf (PTI), Muttahida Qaumi Movement-Pakistan (MQM-P), FATA Senators and Independent Candidates from Balochistan.
While his sole opponent Raja Zafar-ul-Haq was supported by Pakistan Muslim League-Nawaz (PML-N), Jamiat Ulema-e-Islam-Fazl (JUI-F), Jamaat-e-Islami (JI), National Party (NP), Awami National Party (ANP) and Pakhtunkhwa Milli Awami Party (PkMAP).
Following the announcement of the election result, Sadiq Sanjrani took oath as the Chairman Senate. The Presiding Officer Sardar Yaqoob Nasir administered oath to him.
مزید پڑھئے:https://t.co/xCDrqsjVAK pic.twitter.com/GjFgoguDTb

— Express News (@ExpressNewsPK) March 12, 2018
Later on, opposition candidate Saleem Mandviwala also won the election by receiving 54 votes while his opponent Usman Khan Kahar supported by the ruling coalition got 44 votes.
In the House of 104, 53 votes were required to win the contest. However, there were 103 members in the Upper House who would cast their vote as one of the elected Senator Ishaq Dar could not take oath due to his stay in London.
In this particular situation, 52 votes were required to win the contest if no vote of members was rejected.