Here is the List of New Pakistani Dramas of 2020 that You Must Include in Your Watch List
Pakistani Drama Industry has been growing rapidly with the production of quality content and everything has been made possible with the amazing acting talent in all of the drama serials. For the housewives and the ones who mostly prefer to stay at home, these dramas are the only source of entertainment and thus this industry has never dropped in its repute over some time.
Must Read, TRENDING PAKISTANI DRAMAS 2020
New and latest Pakistani Dramas of 2020
Although there is a long list of quality dramas being on aired on different channels these days but everyone is looking forward to the new stuff so that they can add them in their watch list. Recently Meray Paas Tum Ho and Damsa winded up with the excellent response from viewers and Alif is still keeping the craze on with its different story and creative screenplay. So here we have compiled a list of all those new dramas which have been on aired or soon to be showcased on different entertainment channels with some intro to let you know about what you can expect from these new entrants in the watch list. So here you go!
Must Read, Top 10 Pakistani Dramas That you must watch in 2020
Tera Yahan Koi Nahin
Drama Story as per teaser revolves around Asad Siddiqui and Kinza Hashmi which seems to be a love story leading to marriage and the main part of the story comes after married life. Sawera Nadeem, the versatile actress, is also a part of this drama who is a mother of Kinza Hashmi and seemingly lives through a hard phase while facing different social challenges being the single parent. The cast of this drama includes Farhan Ali Agha, Nadia Hussain, Adnan Shah Tipu and others apart from the aforementioned main cast of the drama. You can watch it on Hum TV every Monday at 08:00 PM.

Pyar Kay Sadqay
Pyar Kay Sadqay is a story of two innocent lovebirds that are not much familiar to each other initially but as per the teaser, they seem to get closer by the time. The drama is a sweet romantic production and the main cast includes Yumna Zaidi as well as Bilal Abbas Khan.

The different thing about this drama was the role played by Bilal Abbas Khan who has been usually playing serious roles in the blockbuster dramas like 'Cheekh' and 'Balaa'.
The rest of the cast of this drama includes Atiqa Odho, Omair Rana, Yashma Gill and others. You can watch the drama on Hum TV every Thursday at 08:00 PM.
Rabba Mainu Maaf Kareen
Drama serial Rabba Mainu Maaf Kareen has the cast as Hammad Farooqi, Jenaan Hussain & Hina Altaf in the lead role. The story of the drama as per the teaser revolves around Hammad Farooqi and Jenaan Hussain as a couple spending their married life and the twist comes when Hina Altaf tries to become the part of Hammad's life which causes trouble in the relationship with Jenaan. The drama will soon be going on-air on Hum TV so don't miss it!
Ishqiya
The story of this drama seems like love story triangle and some of the shots from this drama as per the teaser resemble that of an Indian movie "Kuch Kuch Hota Hai". The main cast of this drama includes Ramsha Khan, Feroze Khan and Hania Amir. The story is full of twists and turns to make it something interesting to watch for the viewers. The drama will soon be going on-air at ARY Digital so mark it in your watch list.
Jhooti
Another amazing drama coming our way is Jhooti staring Iqra Aziz, Ahmed Butt and Yasir Hussain in the lead roles. The story is basically about a girl who is so clever and is crazy about being married to a rich person just for the sake of money.

As per the teaser, Iqra Aziz is the daughter of Shopkeeper who is used to hate shopkeepers and Ahmed Ali Butt also runs a shop who falls in love with her, But Iqra doesn't like him because of his work being a shopkeeper. He sends his marriage proposal to her family. Although they get married after that Iqra cunningly plays and she tries to accuse her husband Ahmed Ali Butt that he beats her on even minor of the issues. Moreover, she falls in love with another guy whose role is played by Yasir Hussain and that's where iqra aziz plays the real game as a liar relating to the drama title. The drama is going to be on the air today, 1st February on ARY Digital every Saturday at 08:00 PM.
Munafiq
Drama serial "Munafiq" has the story which revolves around Ujala who belongs to a middle-class family. When her father and brother who work for the rich businesswoman and politician Mrs. Sabiha meet with an unfortunate deadly factory accident, she pressurizes Ujala's mother to compromise. As a result, despite her reservations, Ujala agrees to marry Mrs. Sabiha's son for the greater benefit of her struggling poor family. Ujala's new life in the unfamiliar surroundings of her new rich household go from bad to worse when her new husband rejects her. There is a lot more to watch so stay tuned to Geo TV.
Upcoming Pakistani Dramas of 2020
Mera Dil Mera Dushman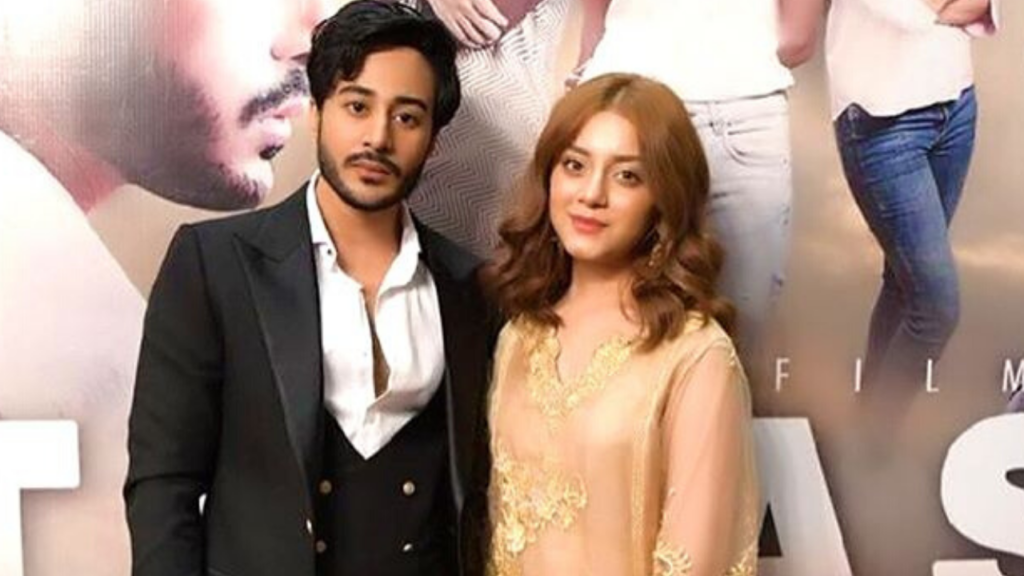 Alizeh Shah has transformed from a famous child star into an aspiring actress in a short period. The actress is now all set to star in upcoming ARY Digital play Mera Dil Mera Dushman alongside her rumoured beau Noaman Sami and veteran actor Yasir Nawaz.

The play which is said to be an intense love story with lots of family drama has been produced by Next Level Entertainment production, headed by Samina Humayun Saeed and Sana Shahnawaz. A few teasers of the play have been dropped by the makers and from the looks of them; the story seems intense with a lot of twists and turns involved.
The first teaser shows Alizeh dressed as a bride cursing her fate. The actress looks breathtakingly beautiful and you can't take your eyes off the pretty girl for a second.
The second teaser hints towards a shocking twist in the love story of Alizeh and Noaman.  As the clip begins, the two love birds are shown to be romancing each other, seemingly head over heels in love but Alizeh's dream world topples when she discovers Yasir Nawaz giving consent as her husband on the day of her Nikkah, instead of Noaman. This shocking discovery leaves the bride devastated and the audiences shocked. The drama will soon be on-aired on ARY Digital so don't miss it!
=tags=
Pakistani Dramas 2020