United has emerged as a promising brand for bike users in Pakistan. The company has established a strong footprint in the competitive market to meet the demands of local bike users. The rapid price hike in bike prices has made it impossible for users to buy a new bike. United is among the few brands with relatively cheaper bike costs and superior quality. This story will guide you on the United US 70 2023 price and specifications to help you make a buying decision.
United US 70 – Bike Overview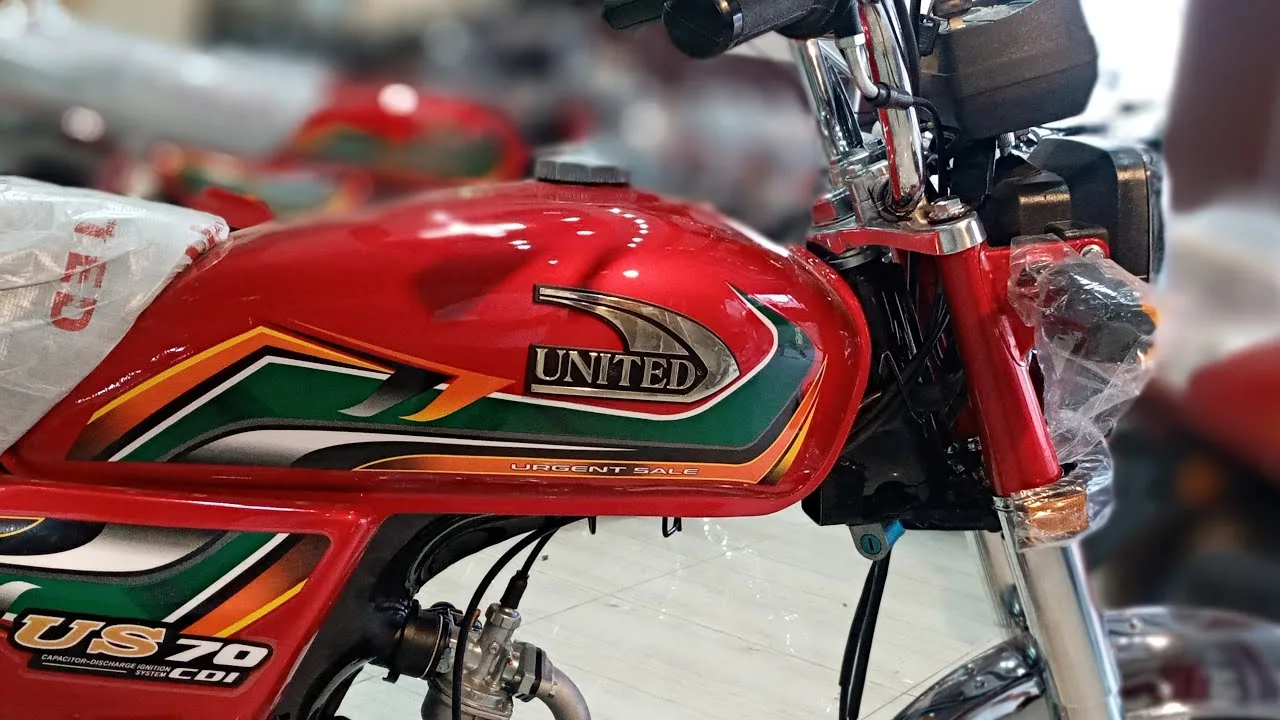 The United US 70 motorcycle offers several reasons to consider it as a viable choice in Pakistan. Firstly, the US 70 is known for its affordability, making it an attractive option for budget-conscious buyers. Its competitive price point allows individuals to own a reliable mode of transportation without straining their finances. Secondly, the US 70 boasts excellent fuel efficiency, making it an ideal option for daily commuting in Pakistan's congested city streets. Its efficient engine ensures that riders can cover long distances while minimizing fuel costs.
Additionally, the United US 70 is recognized for its durability and low maintenance requirements. The bike's sturdy build and reliable performance make it suitable for tackling various road conditions, which is especially valuable in the diverse terrain of Pakistan. Furthermore, United Motorcycles has a widespread service network in the country, ensuring easy access to spare parts and maintenance facilities. This availability contributes to a hassle-free ownership experience.
The United US 70's compact design and lightweight build make it maneuverable in heavy traffic, providing riders with agility and ease of handling. These factors, including affordability, fuel efficiency, durability, ease of maintenance, and maneuverability, make the United US 70 a compelling choice for those seeking a reliable and cost-effective mode of transportation in Pakistan.
Bike Specifications
| | |
| --- | --- |
| Engine Type | 4-Stroke OHC Single Cylinder cooled by Air |
| Displacement | 78cc |
| Compression | 8.1:1 |
| Front Brake | Drum Mechanical |
| Rear Brake | Drum mechanical |
| Transmission | 4-Speed |
| Starting System | Arm Assy Kick |
| Fuel Tank Capacity | 8.5 Litre |
| Tyre Front | 2.25-17/4PR |
| Tyre Rear | 2.50-17/4PR |
| Battery | 12 Volt |
| Engine Oil | 0.7 Litre |
United US 70 2023 Price
The United US 70 2023 price is PKR 102, 500. You may visit your nearby dealerships to get the exact figures.