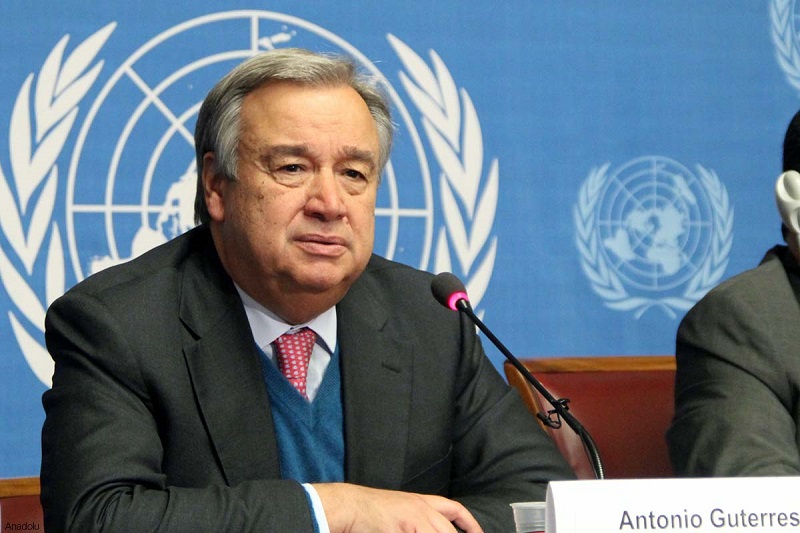 ISLAMABAD, Pakistan: The United Nations Secretary-General Antonio Guterres is set to undertake a four-day visit to Pakistan from February 16-19, 2020, an evident of acknowledgment by the world's biggest body for Pakistan's generosity as a host of millions of Afghan refugees and its peace efforts by joining the UN Peacekeeping Mission.
Antonio Guterres will participate in the International Conference on "40 years of Afghan Refugees Presence in Pakistan: A New Partnership for Solidarity" in Islamabad along with the UN High Commissioner for Refugees Filippo Grandi, as well as Ministers and Senior Officials from around 20 Countries, who have been supporting the Afghan refugees across the globe.
Pakistan, as per the United Nations High Commissioner for Refugees' (UNHCR) 2018 estimates, is the second Largest Refugee-Hosting County after Turkey with more than 1.4 million registered Afghans.
Largest refugee-hosting countries, 2018
(Number of Admitted Refugees)

🇹🇷Turkey: 3,681,658
🇵🇰Pakistan: 1,404,008
🇺🇬Uganda: 1,165,636
🇸🇸Sudan: 1,078,275
🇩🇪Germany: 1,063,765
🇮🇷Iran: 979,435
🇱🇧Lebanon: 949,653
🇧🇩Bangladesh: 906,635
🇪🇹Ethiopia: 903,211
🇯🇴Jordan: 715,293

(UNHCR)

— The Pakistan Index (@thepakindex) February 9, 2020
The UN secretary-general's participation in the International Conference on Afghan Refugees is a recognition of Pakistan's exemplary compassion, generosity, and resolve in hosting Afghan refugees for the past four decades and our efforts for peace and stability in Afghanistan.
Pakistan is an ardent supporter of the United Nations and has contributed significantly to the realization of the United Nations' objectives of peace and security and sustainable development in the world.
The International Conference is taking place at an important juncture when efforts at consolidating peace in Afghanistan are making progress. Pakistan is confident that the Conference will reinforce international efforts as agreed to in the UN Global Compact on Refugees and Global Refugee Forum to bring about a renewed focus on the Afghan refugees.
Apart from hosting millions of Afghan refugees, Pakistan's role in UN Peacekeeping Mission has always earned a huge amount of appreciation from the World Community as well.
Earlier in February 2020, Members of the first-ever Pakistani Female Engagement Team (FET) – which consisted of 15 Female Majors and Captains and were deployed with the United Nations Organisation Stabilisation Mission in the Democratic Republic of Congo (MONUSCO) – were awarded the UN Medal at a Ceremony in Adikivu in South Kivu, one of the provinces of the Central African Country.
Inspired by Pakistani women serving with distinction in the @UN peacekeeping mission in the DRC. The first Pakistani all-female group of 15 peacekeepers received medals last week for their work performing a range of services to the conflict-affected eastern DRC. AGW 📸credit @UN pic.twitter.com/3puYU7r4WW

— State_SCA (@State_SCA) February 11, 2020
Acknowledgment from the World on Pakistani Peacekeepers Missions
Ban ki-Moon, United Nations Secretary-General – August 13, 2013
"I sense great confidence and hope here today. But the feeling that overwhelms me is gratitude:  gratitude as the United Nations Secretary-General and gratitude as a global citizen for what Pakistan and her people have been doing for international peace and security. More than 100 countries contribute troops and police for United Nations peacekeeping missions.  Pakistan is number one.  It is impossible to speak about the history of United Nations peacekeeping without highlighting such contributions of Pakistan. I thank you very much".
Major General Thomas M. Montgomery, Deputy Commander United Nations Forces in Somalia in 1993
"Many of the soldiers are alive today because of the willingness and skill of the Pakistani soldiers who worked jointly in a rescue operation. We are thankful to the people and army of Pakistan for sending such splendid soldiers to Somalia whom we feel proud to serve with. Pakistani soldiers have been completely dependable even in the most difficult circumstances. They have shouldered a huge and dangerous load of UNOSOM and the Somali people".
Miss Dijanana Islamovic "Ratni Haber" – Editor Bosnian News Magazine
"PAKBATT has not only protected us but has also infused a news spirit into our lives. They have given us all sorts of humanitarian help and above all have given us constant medical care in from of their hospital."
Paul Klein, Transitional Administrator United Nations
"I wish to reaffirm my gratitude and appreciation for the professionalism, the Pakistani contingent has displayed during the stay in Eastern Slavonia. They are indeed performing great services to humanity."
Premier Chou-en-Lai
"The only example in UN history, when a UN Military Force had gone in, performed its role honestly and came out was Pakistan's Military contingent in Indonesia (West Iran)."
Indonesian President Sukarno
"It was because of Pakistani troops that Indonesia and Pakistan came close together, they were Pakistan's best ambassadors."
Mr Lakhdar Brahimi, An Algerian United Nations Diplomat
"It gives me great pleasure to express my warmest congratulation and sincere admiration for the splendid work the officers and men of Pakistani battalion have done all over Haiti".