ISLAMABAD, Pakistan: The Embassy of Ukraine in Islamabad will organize a Conference to mark the 150th Celebration of "Lesya Ukrainka" at the Pakistan Academy of Letters (PAL) in Islamabad on Thursday.
The event will have speeches by the Federal Minister for National Heritage & Culture Division Shafqat Mahmood, the Ukrainian Ambassador to Pakistan Markian Chuchuk, and the Chairman PAL Dr. Yousuf Khushk, Professor Dr. Soofia Yousaf, and Professor Dr. Safeer Awan among other dignitaries.
The Conference will also feature a presentation on the life/work of Lesya Ukrainka as well as musical performances.
Apart from it, an exhibition of Ukrainian and Pakistani national dresses and crafts will also be held.
About Lesya Ukrainka
"How lovely it would be to die like a falling star…"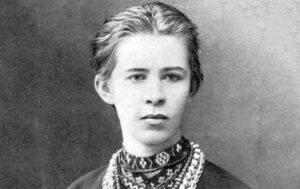 Lesya Ukrainka was one of Ukraine's best-known poets who also wrote plays. She was politically active, especially on feminist issues.
She was born Larysa Petrivna Kosach-Kvitka on the 25th February 1871 in the Ukrainian town of Novohrad-Volynskyi. Her mother, Ukrainian writer and publisher Olha Drahomanova-Kosach, better known under her literary pseudonym  Olena Pchilka, was known by poetry and short stories aimed at children, and it seems likely that she encouraged Larysa to follow in her footsteps. Her mother was also active in the women's movement and published a feminist almanac. Larysa had grown up speaking Ukrainian at home but found that she had a gift for linguistics, mastering European languages including English, Italian, German, French as well as Slavic languages such as Polish and Bulgarian. She also knew Greek and Latin. She was very close to her uncle M. Drahomanov, her spiritual mentor and teacher, a well-known Ukrainian scientist, historian, philosopher, folklorist and public figure, one of the Fathers of the Ukrainian nation.
Larysa's first attempt at poetry was a piece called Hope, written when she was just 8 years old, this being her reaction to the enforced exile of an aunt who had been arrested after protesting about the autocracy of the Tsars.  That same year the family moved to Lutsk and her uncle Mykhaylo took on the task of encouraging his niece to read the Bible in order to grasp its poetic nuances.  He also got her reading up on Ukrainian history and folk tales.  She was 13 years old when Lily of the Valley appeared in print and this was also the first time that she used the pseudonym Lesya Ukrainka.
She believed passionately in the right of her country to be independent from Russia and much of her writing was patriotically-themed. The poems and plays of Ukrainka are associated with her belief in her country's freedom and independence. Between 1895 and 1897, she became a member of the Literary and Artistic Society in Kiev, which was banned in 1905 because of its relations with revolutionary activists.
Her health was not good and tuberculosis of the bone prevented her from progressing as a pianist.  It did not stop her writing though and a good example of her optimistic, hopeful verse was the poem Contra Spem Spero! ("Do hope woyhout hope"- below)
Taras Shevchenko and Ivan Franko were the main inspiration of her early poetry, which was associated with the poet's loneliness, social isolation and adoration of the Ukrainian nation's freedom. Her first collection of poetry, Na krylakh pisen' (On the Wings of Songs), was published in 1893. Since Ukrainian publications were banned by the Russian Empire, this book was published in Western Ukraine, which was part of Austria-Hungary at the time, and smuggled into Kyiv in secrecy due to the oppressive rules of the Russian Empire which meant that Ukrainian literature was banned.
Health issues forced her to travel to places with a drier climate such as Egypt, the Crimea and Bulgaria and these visits inspired her to write more.  One book to come out of her travels was The Ancient History of Oriental Peoples and this included poems such as "Crimean Memories" and "Starry Skies."She published a number of collections of poetry including "Thoughts and Dreams" (1899) and "Forest Song" (1911).
Lesya Ukrainka died on the 1st August 1913 while staying at a Georgian health resort. She was 42 years old.
Here is her most famous poem:
Contra Spem Spero!
Away, dark thoughts, you autumn clouds!
A golden spring is here!
Shall it be thus in sorrow and in lamentation
That my youthful years pass away?
No, through all my tears I still shall laugh,
Sing songs despite my troubles;
Have hope despite all odds,
I want to live! Away, you sorrowful thoughts!
On this poor, indigent ground
I shall sow flowers of flowing colors;
I shall sow flowers even amidst the frost,
And water them with my bitter tears.
And from those burning tears will melt
The frozen crust, so hard and strong,
Perhaps the flowers will bloom and
Bring about for me a joyous spring.
Unto a winding, flinty mountain
Shall I bear my weighty stone,
Yet, even bearing such a crushing weight,
Will I sing a joyful song.
Throughout a lasting night of darkness
Ne'er shall I rest my own eyes,
Always searching for the guiding star,
The bright empress of the dark night skies.
I shall not allow my heart to fall sleep,
Though gloom and misery envelop me,
Despite my certain feelings
That death is beating at my breast.
Death will settle heavily on that breast,
The snow covered by a cruel haze,
But fierce shall beat my little heart,
And maybe, with its ferocity, overcome death.
Yes, I will laugh despite my tears,
I'll sing out songs amidst my misfortunes;
I'll have hope despite all odds,
I will live! Away, you sorrowful thoughts!