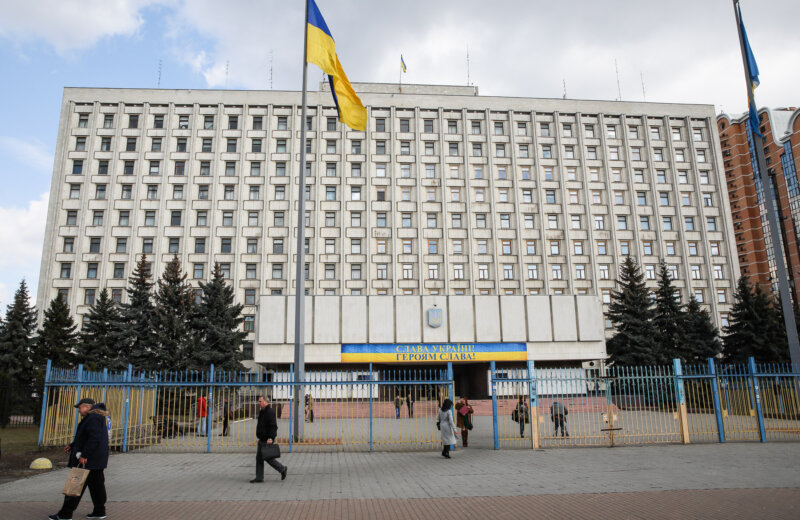 DND Monitoring Team
Monitoring Report: International media while reporting forthcoming Presidential Election of Ukraine is highlighting alleged corruption of the sitting government, comedian background of one of the leading candidates, Crimea issue, and eyeing on hair-style of the former Prime Minister and candidate in the run.
Radio Liberty RFE/RL which is partially funded by the US Congress and is registered with as a private, nonprofit corporation, believes that whoever wins stands to inherit a country that is the poorest in Europe, with a volatile economy, a poverty rate of around 60 percent, a national average wage of just $350 a month, and endemic corruption.
Radio Liberty reports that public (Ukrainian people) is so disillusioned with the government that just nine percent of the people have confidence in it — the lowest confidence level in the world for the second straight year, according to Gallup. The global average was 56% in 2018.
US based Think Tank Foreign Policy Magazine believes that since Ukrainians took to the streets to overthrow the Russian-backed leader Viktor Yanukovych in 2014, the country has become the front line of the West's new cold war with the Kremlin. Ukraine is considered Russia's biggest foreign policy priority, and Moscow-backed separatists have sliced off two separate parts of this former Soviet appendage: the Crimean Peninsula and a chunk of Eastern Ukraine.
One of the Reuters video reports prepared by Mia Womersley says that Ukrainians exhausted by five years of war and decades of official corruption look set to send a comedian with no political experience into a second round runoff against the incumbent when they vote in Sunday's presidential election.
CNN reports that the front-runners in Ukraine's presidential election are a chocolate magnate, an energy tycoon-turned-populist and a television comedian. That may sound like a parody headline but Sunday's vote is a serious business for a country at war.
Ukraine has been locked in a proxy war with Russia since 2014, when Russian troops annexed the Black Sea peninsula of Crimea, and Moscow fueled a separatist conflict in eastern Ukraine's Donbas region. The United Nations estimates that, as of February 15, the fighting has claimed almost 13,000 lives, with at least 3,321 civilian deaths and an estimated 9,500 combatants killed. reports CNN.
Who will win Sunday's Presidential Election of Ukraine? Is not clear in international media but one thing is clear that the British Broadcasting Corporation (BBC) has lost its credibility in reporting Ukrainian issue and is no more in position to report anything without doubt in favour or against sitting President Petro Poroshenko.
BBC has agreed to pay damages to the Ukrainian President Petro Poroshenko over a report making allegations of corruption. The report specifically claimed a €350,000 payment was made to secure a meeting with the US President Donald Trump.
Now BBC accepted that the claim "was untrue".
Timing of BBC fiasco is excellent for Poroshenko who filed the claim in last September, saying the allegation of "serious corruption" had caused him "substantial distress and embarrassment."
In a statement released on Thursday morning, the BBC apologized to the Ukrainian president stating that:
"We apologise to Mr Poroshenko for any distress caused and have agreed to pay him damages, legal costs, and have participated in a joint statement in open court".
A day left to polling of the Ukraine Presidential Election but no candidate got open and direct support of the United States this time contrary to last election when the US allegedly decided who will be the president?
There is no Victoria Nuland in sight in the election this time distributing breakfast burgers among Ukrainians and directing on telephone to the US Ambassador in Kyiv about who must be new President.