Islamabad, Pakistan: Federal Minister for Defence Production Rana Tanvir has said that Pakistan and Ukraine are much closer than before.
While expressing his view at a reception hosted by Ukrainian Embassy in Islamabad to celebrate 26th Ukraine Independence Day here today, Rana Tanvir said that Pakistan and Ukraine are collaborating in the field of defence production and military hardware.
Minister for States and Frontier Regions Abdul Qadir Baloch said that Pakistan gives a special position to Ukraine in the sphere of foreign relations.
The Ambassador of Ukraine to the Islamic Republic of Pakistan Lakomov Vladimir Ivanovich  (Лакомов Володимир Іванович) explained Pakistan-Ukraine relations and also explained Russian aggression over Ukrainian lands including Crimea.
A large number of diplomats, politicians, senior bureaucrats and businessmen attend the reception on Wednesday evening.
Ukraine and Pakistan have strong bilateral relations and Pakistan had been a buyer of military hardware after Ukraine got independence from former Soviet Union.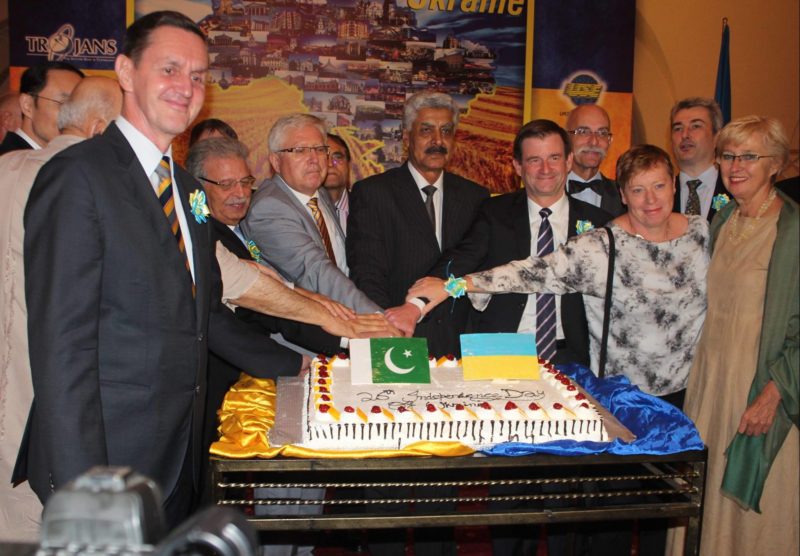 Ukraine faced social and economic crises after political change in Kiev and Russian intervention in Ukrainian eastern areas. However, now Ukraine is coming out of economic stress and its gross domestic product (GDP) growth is expected to exceed the official forecast of 1.6 percent in 2017 due to a strong performance of the economy in the second quarter.
In April-June, the Ukrainian economy rose 2.3 percent that is significantly higher than the target of 1.5 percent.
Ukraine State Bank believes that investment activity would increase in the country and the economy is expected to maintain a positive pace until the end of the year due to good grain harvest and the favorable situation on the global raw materials markets. It is pertinent to mention that Ukrainian economy grew by 2.3 percent in 2016 after two years of decline.