Islamabad, Pakistan: Two special PIA flights carrying a total of 260 passengers left for Faisalabad from Jeddah.
First flight PK 8764 with 130 passengers left at 1100 hours while the second flight PK 8766 with an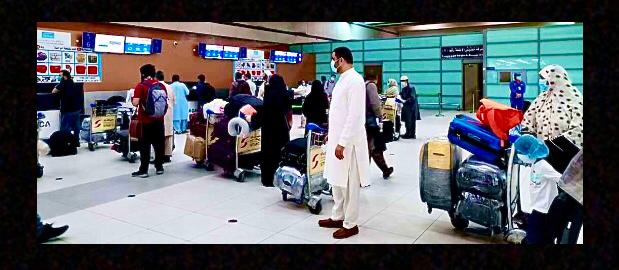 equal number of passengers flew at 1300 hours.
Consul General of Pakistan at Jeddah Khalid Majid and Deputy Consul General Shaiq Ahmad Bhutto bade farewell to the passengers at Jeddah International Airport and extended best wishes to them. There is a large number of Pakistanis, mostly on short-term visas, final exit, medical emergency cases, etc. in the Kingdom awaiting return to Pakistan after the suspension of international flight operations due to COVID 19 pandemic. The government of Pakistan has started a series of special flights for repatriation of Pakistanis stranded in various countries including the KSA.
Pakistan Embassy at Riyadh and the Consulate General at Jeddah are coordinating arrangements of these special PIA flights in their respective regions.