RAWALPINDI, Pakistan: The Turkish Foreign Minister Mevlut Cavusoglu visited the army's general headquarters in Rawalpindi on Friday, and held a meeting with the Chief of Army Staff (COAS) General Qamar Javed Bajwa.
As per an Inter Services Public Relations (ISPR) press release, focus of the discussion remained on Pak-Turkey relations, regional security including evolving situation in the Middle East, management of defence and security cooperation between both the Countries.
The Turkish foreign minister acknowledged and appreciated Pakistan's contributions for conflict prevention in the region, and also pledged to keep working for better relations between the two brotherly Countries.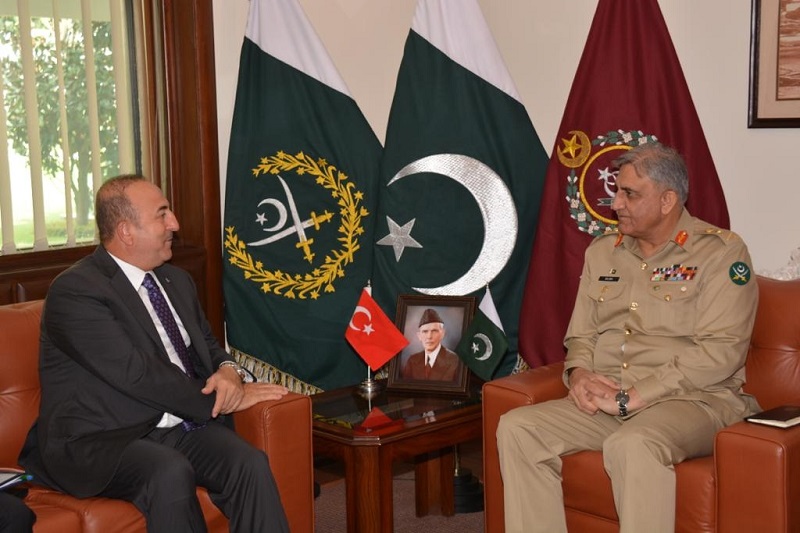 Mevlut Cavusoglu accompanied by a delegation reached Pakistan on a two-day official visit on Thursday night at the invitation of the Foreign Minister Shah Mahmood Qureshi.
Earlier in the day, the Turkish delegation visited the Ministry of Foreign Affairs in Islamabad wherein at first, Mevlut Cavusoglu and Shah Mahmood Qureshi held one-on-one meeting followed by delegation-level talks to discuss ways and means to further promote economic and trade relations.
During the talks, the two sides agreed to further bolster Pak-Turkey bilateral trade, economic, investment and defense relations.
They also agreed to revive the process of talks on Free Trade Agreement (FTA) and take it to logical conclusion at the earliest.