Monitoring Desk: United States and Kazakhstan during the visit of President Nursultan Nazarbayev at the White House on January 16, 2018 inked several contracts to enhance commercial and trade ties between the United States and Kazakhstan that will create jobs and accelerate economic growth in both countries.
According to statement released by US State Department, commercial contracts and documents were concluded, including new agreements between Boeing Company, GE Transportation, GE Digital, Chevron, Air Astana, KazTemirZholy, SCAT Airlines, and the Samruk-Kazyna National Wealth Fund for the purchase of U.S. products and services valued at over $2.5 billion.
It may be mentioned that Kazakhstan and the United States already cooperate within the framework of the Central Asia Trade and Investment Facilitation Agreement, which promotes increased trade within the region.
President Trump lauded the role of Kazakhstan in Central Asia and stated that President Nursultan Nazarbayev demonstrated leadership in trade issues by hosting the most recent meeting of the Central Asian TIFA format in Almaty on December 12, 2017. During this meeting, Kazakhstan and the United States agreed to initiate a new regional working group dedicated to the protection of intellectual property rights in support of trade and innovation.
In October 2017, Kazakhstan hosted the seventh Central Asia Trade Forum with the U.S. Agency for International Development in Almaty with participation of over 1,100 government officials, entrepreneurs, donors, and industry leaders from at least 15 countries, leading to over $25 million in signed letters of intent to conduct future trade deals.
It is pertinent to mention that bilateral trade in goods grew to $1.9 billion in 2016 between Kazakhstan and United States.
During their visit, the two leaders celebrated two separate deals between Boeing and Kazakh airlines totaling over $1.3 billion, sustaining an estimated 7,100 direct and indirect U.S. jobs. Specifically, SCAT Airlines ordered six Boeing 737 MAX 8 airplanes. With the first aircraft scheduled for delivery in March 2018, these will be the first 737 MAXs owned and operated in Kazakhstan and Central Asia, bolstering SCAT's regional and international network. Additionally, Air Astana, the national flag carrier of Kazakhstan, affirmed its commitment, under the terms of an existing contract, to purchase three 787 Dreamliners, which are scheduled for delivery in 2021.
General Electric and Kazakhstan Temir Zholy (KTZ) concluded two new strategic initiatives valued at over $900 million, which will sustain or create over 3,500 U.S. jobs. GE Transportation will design and manufacture up to 300 shunter locomotives for KTZ, with delivery beginning in 2019. GE Transportation also signed an 18-year service agreement to maintain and support 175 current KTZ GE Evo locomotives beginning in 2018. The deal will include an expansion of the main KTZ rail facility in Astana.
GE Digital and Kazakhstan's Samruk-Kazyna National Wealth Fund signed a strategic partnership agreement aimed at accelerating the digital evolution of the Fund's portfolio of industrial companies. The agreement demonstrates the companies' progress in creating a sustainable digital ecosystem in Kazakhstan, and provides for the joint assessment of GE digital solutions based on the Predix platform.
TengizChevrOil (TCO), a joint venture with KazMunaiGaz, Chevron, ExxonMobil, and LukArco, has made direct financial payments of over $124 billion to Kazakhstani entities, and is currently implementing a $36.8 billion expansion project.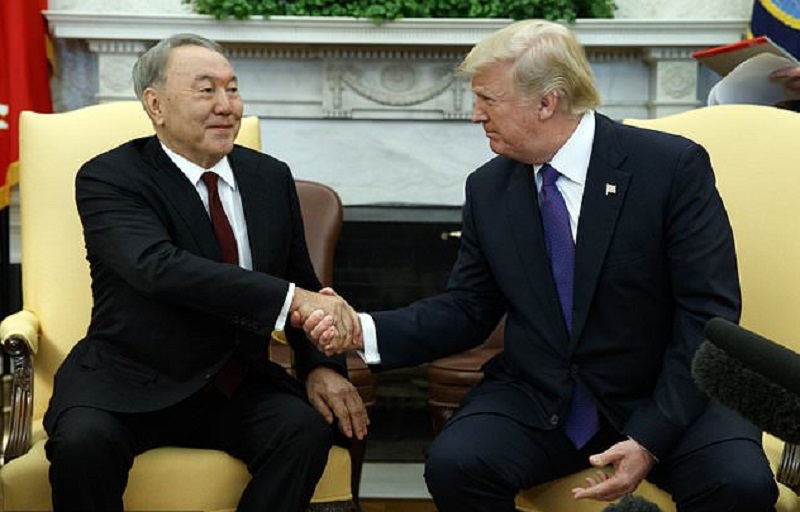 The North Caspian Sea Production Sharing Agreement (NCSPSA) project is Kazakhstan's largest direct foreign investment project, creating local jobs and business opportunities. The Kashagan Phase 1 project cost approximately $55 billion, with local content in goods, works, and services valued at more than $13.3 billion since 2004. The project will produce for decades and its shareholders, including ExxonMobil, expect to contribute billions of dollars in direct revenue to the Kazakhstani government.