By Agha Iqrar Haroon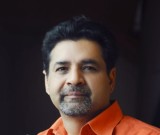 Several writers and researchers of Sikhism (including Chahal and Dhailwal) indicated long travel of Baba Guru Nanak Dev Ji to Middle East (may be to today's Saudi Arabia) and his journey passed through Istanbul, Konya (Turkey) and Baku (Azerbaijan).
Being a student of Political Philosophy and History, I read that Ateshgah monument in Baku is an important historical link between former Hindustan (today's Pakistan, India and Bangladesh) and today's Azerbaijan.
On May 19, this year (2019), I was standing in the middle of this mysterious place—– Aitishgah.
Word "Astishgah" is a compound word comprising Persian words —Aatish (Fire) and Gah (Place or House). Situated at Surakhani area; outside old Baku city, a castle like building of looks very mysterious even under the full sunlight. This pentagonal complex is having 24 small rooms (cells) constructed around a courtyard which has a tetra pillar altar in the middle. This altar was built during the 17th and 18th centuries but it was abandoned after 1883 when oil and gas industries were established in the vicinity. The complex was converted into museum in 1975.
https://cdn.dnd.com.pk/wp-content/uploads/2019/06/WhatsApp-Image-2019-06-07-at-15.00.05.jpeg
It was declared a state historical-architectural reserve by Azeri President on 19 December 2007.No doubt that building of Aatishgah was established in 17th century but this open place for fire worship has history of residing fire worshipers dated back to 3rd century BC and even more.
According to Indian writers, Hindu traders traveling regularly from Multan to Baku on Silk Road for trade and found this place which was known as scared place in Baku city and Place of gods and there were signs that followers of Zoroastrianism used to visit and lived there.
Indian writers said that first indication of this place is found in 8th century not in 17th century as believed by people. According to some tales, Hindu traders from Multan adopted this place for their religious rituals and then laid foundations of current building of Aatishgah.
It is believed that founder of Sikhism Baba Guru Nanak Dev also spent sometime in this place while coming back from Middle East enroute to Hindustan. This probability is confirmed by plates of old Gurmukhi present in Aatishgah.
Inscription plates of Sanskrit, Hindi and Gurmukhi are almost at every corner of Aatishgah. You will also find verses from Old Granth that indicates that followers of Sikhism had been travelling to Aatishgah regularly before this region went behind iron curtains of Russian Empire and Soviet Union. Aatishgah is also known as Sri Jwalaji (temple of fire) by several Indian writers.
An article written by Ervad Shams-Ul-Ulama and Dr Sir Jivanji Jamshedji Modi indicates inscriptions of Gurmukhi script and Devnagri script indicate stron linkage of Hinduism and Sikhism with Atash-Kadeh which is also known as Aatishgah.
During my visit to Aatishgah, I was told that thousands of Sikh Yatrees visit Aatishgah every year and it is one of most popular place for Canadian Sikhs to travel to.
I believe a detail documentation of needed for stay of Baba Guru Nanak Dev Ji in Baku and their 550th Birth Anniversary should mark this year to document all places where Baba Guru Nanak Sahib had been travelling in search of Eternal Knowledge.
I found a video (which is not my production and I have no legal rights on it but sharing as reference) which may be useful to understand linkage of Guru Nanak Sahib with Baku, Azerbaijan.