Best Interior Design companies in Dubai
Dubai is famous for being a futuristic city with innovative buildings and creative spaces created by some of the most prominent architects and interior designers. Discover the top 8 interior design companies in Dubai as we guide you on a journey of ideas.
MUSE INTERIOR DESIGN
Muse Interior Design, regarded as one of the top interior design companies, has remodelled homes and businesses in Dubai for over ten years. The firm provides various gorgeous interior design services, including imaginative space planning, 3D rendering, precise drawings, material selection, and project management.
The interior designers at Muse Interior Design are renowned for their modern luxury design with great attention to detail, from building luxury villas in Saadiyat Island in Abu Dhabi to furnishing excellent flats throughout Dubai. Choosing just a few projects from a very long list is challenging. Nevertheless, these are a few of our favourites: a Marina Gate Penthouse, a Bluewaters apartment, a Bvlgari flat, and a Villa Khawaneej.
Head office: Muse Interior Design Tamani Arts Tower, Dubai, UAE
Phone number: +971 55 357 3290
Email address: info@musedesign.ae
GAJ 
In 1991, Brian Johnson decided to establish Dubai Headquarters. Through the design of some of the most recognizable structures in the Emirate, his company has contributed to the definition of Dubai's landscape. GAJ (Godwin Austen Johnson) is regarded as the oldest design and architectural company in the UAE, operating for more than 30 years. With significant expertise in the hotel, education, leisure, residential, and commercial sectors, the company now provides various services, including architecture, interior design, lighting, and MEP.
This award-winning interior design company created the Vida Creek Harbour Hotel, Dubai College, Dubai Creek Yacht Club, Sheikh Zayed Cricket Stadium, Al Bait Sharjah, Courtyard by Marriott, and many other notable projects. Their teamwork has allowed them to develop an extensive portfolio of projects that generate income and please customers.
Head Office: Office 110 The Iridium Building, P.O.BOX 7185 AI Barsha 1, Dubai, UAE
Phone number: +971 4323 7555
Email address: mail@gaj-uae.ae
ZEN INTERIORS 
Zen Interiors, a Dubai-based, award-winning interior design company, provides residential and business clients customized interior design options. More than 900 luxurious projects are included in their portfolio, ranging from elegant penthouses in the Burj Khalifa to family villas in the Damac Hills.
The company's modern, contemporary decorating expertise highlights its fantastic attention to detail. They have received prizes for the best villa and penthouse designs in the Middle East and Africa. Their strategy provides an unmatched combination of versatility, toughness, and enthusiasm for designing beautiful spaces.
Head office: Essa Lutfi Building Showroom No.2, A.I. Barsha 1, Near Sharaf DG Metro Station Besides United Bank Limited, Dubai, the UAE, P.O. Box 74416
Phone number: +971 (0)4 340 5050
Email address: sales@zeninteriors.net
ANARCHITECT 
British RIBA architect Jonathan Ashmore launched ANARCHITECT in 2013, a multi-award-winning architectural, interior architecture, and design company with offices in London and Dubai.
This family-run business produces projects at the forefront of modest luxury and thematically up-to-date architecture. Clients interested in design have given the company a quick international following.
Each of its studios displays a distinctive, refined contemporary tale. Using exceptional craft, precision, and tactile materiality, the practice presents architecture at many design sizes.
Head office: Office 2902 Marina Plaza Dubai, Marina Dubai, UAE P.O. Box 5000311
Phone number: +971 (0)4 424 5079
Email address: info@Anarchitect.com
ALGEDRA

 
Algedra provides various services, including architectural, interior, and landscape design. It is one of Dubai's best-known design companies. Their distinctive approach combines British creativity with Eastern and Western inspirations and Greek and Italian techniques.
Their work includes residential and commercial designs in a variety of distinctive styles. AMONG THE MOST REMARKABLE PROJECTS, the BELADBONT Resort, a villa in Emirates Hills, a lavish palace in Abu Dhabi, and a mosque in Sharjah.
Head office: Office 1501, JBC 3 – Cluster Y, Jumeirah Lake Towers, Dubai, UAE
Phone number: +971 4 3639703
Email address: hello@algedra.ae
DesignFit 
The DesignFit Interior Design and Build provider, born out of love in one of the city's oldest real estate firms, brings expertise and a solid team of qualified interior designers and fit-out specialists prepared to construct places with innovation in mind. Regarding office design, their environments creatively promote well-being, cooperation, and innovation. They capture the continual growth of the workplace.
DesignFit is dedicated to providing outstanding designs at the highest standards of fit-out services, and it offers complete packages for any space, including offices, warehouses, restaurants, and retail locations.
Head office: 3301, Control Tower, Motor City, Dubai
Phone number: +971 4 401 2400
Email address: hello@designfit.ae
XBD Collective 
With approximately 50 awards from some of the most distinguished institutions in the world, XBD Collective is a well-known architectural and interior design studio run by renowned Norwegian designer Ellen Shoel. It comprises various brands, including Bishop Design Residential, XBD Interior Design, and XBD Architecture.
This company has created several beautiful homes with complex features and decorations blended with practical components using an approach unique to each customer. As a result, they have luxurious apartments in the Burj Khalifa, City Walk, and W Hotel Residences on the Palm Jumeirah, in addition to stunning villas in Emirates Hills.
Head office: Suites 213 & 214, Building 08, Dubai Design District, 333253, Dubai, UAE
Phone number: +971 4 553 5362
Email address: info@xbdesign.com
THE BIG FITOUT 
It would not be complete if The Big Fitout were omitted from this list. This interior design firm in the UAE successfully remodelled 334 kitchens, 823 bathrooms, and 448 houses. The Big Fitout was founded by Jason Kotecha in 2010. He built a successful business, presenting clients with elegant homes that met European standards in Dubai's freehold neighbourhoods. His studio specializes in villa renovations and comprises three unique disciplines: interior design, bathroom and kitchen fit-out.
This organization has remodelled homes in Dubai's residential districts for ten years. Arabian Ranches, Victory Heights, Jumeirah Golf Estates, Meadows, Lakes, District One, Mudon, and Damac Hills are a few of their projects.
Head office: Community No.365, Street No.27, Al Quoz Industrial Area 2, Dubai
Phone number: +971 58 505 0200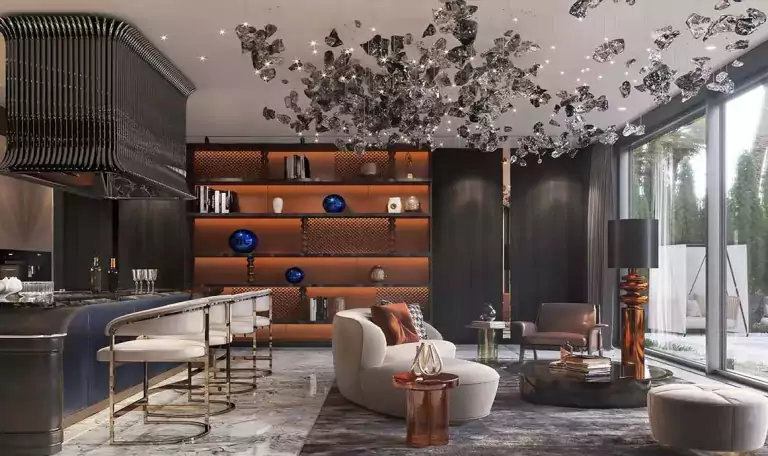 Remember to conduct thorough research, review portfolios, and consider client reviews before choosing interior design companies in Dubai that align with your specific needs and preferences.