So, we all know that one of the craziest times of the year is just around the corner. yes, we are talking about the wedding season. Everyone will be searching for new fashion accessories along with Mehndi designs. The fun fact is that in 2018, Heena designs trended on Google search trends so we understand how important these designs are during the wedding season.
Top 10 Mehndi Designs included as well
And if you are one of them who are in search of trending and amazing Heena designs, you have come to the right place. In this article, you can access the top 100 Mehendi designs for your reference.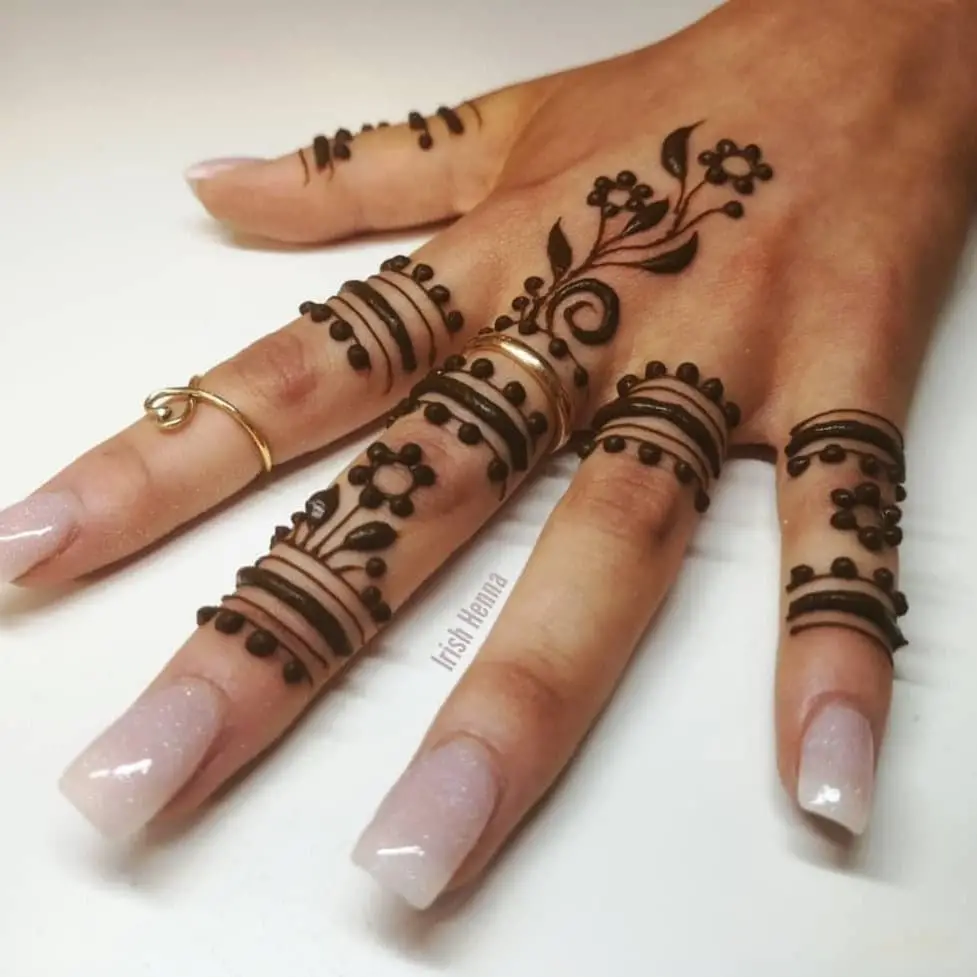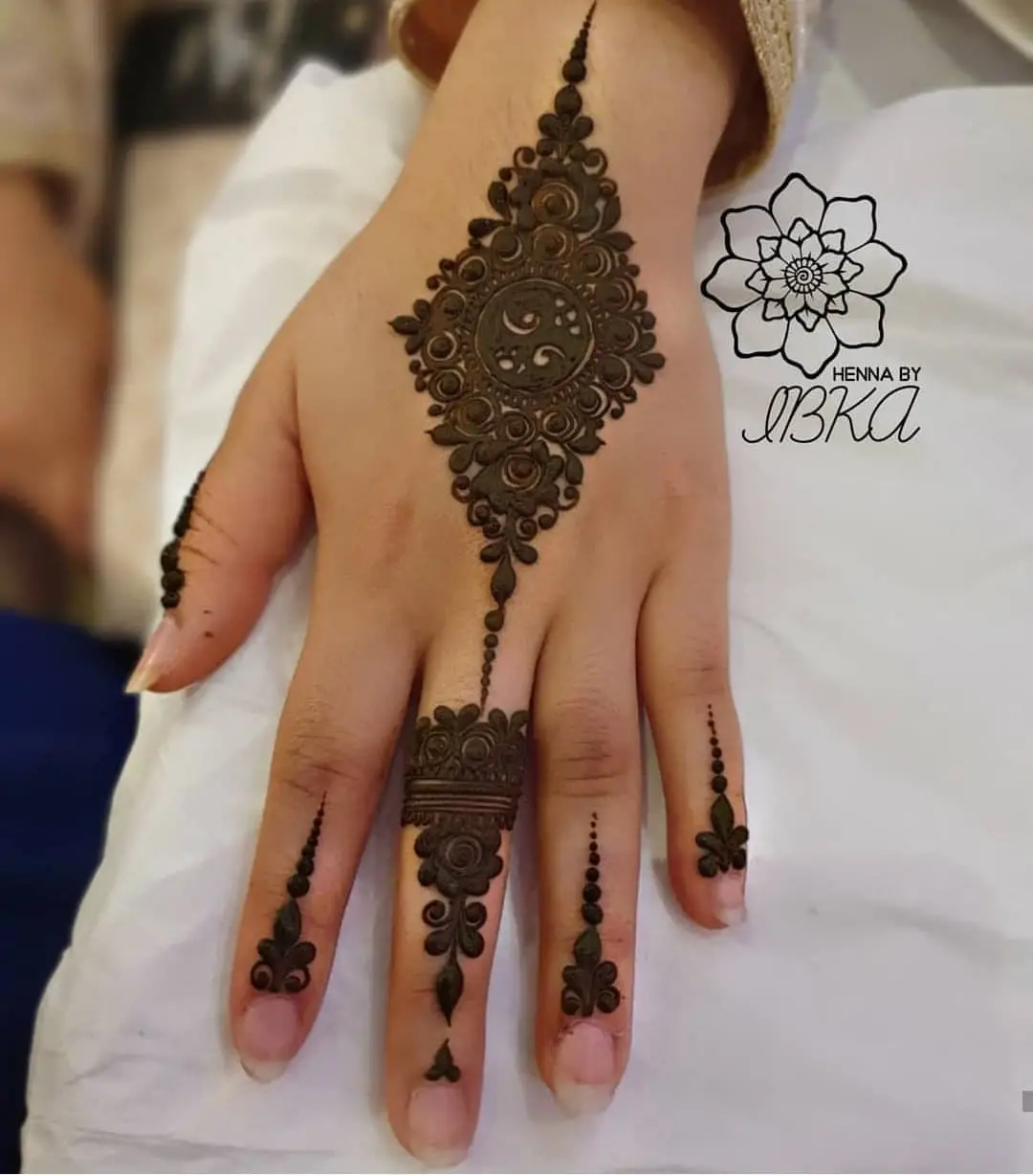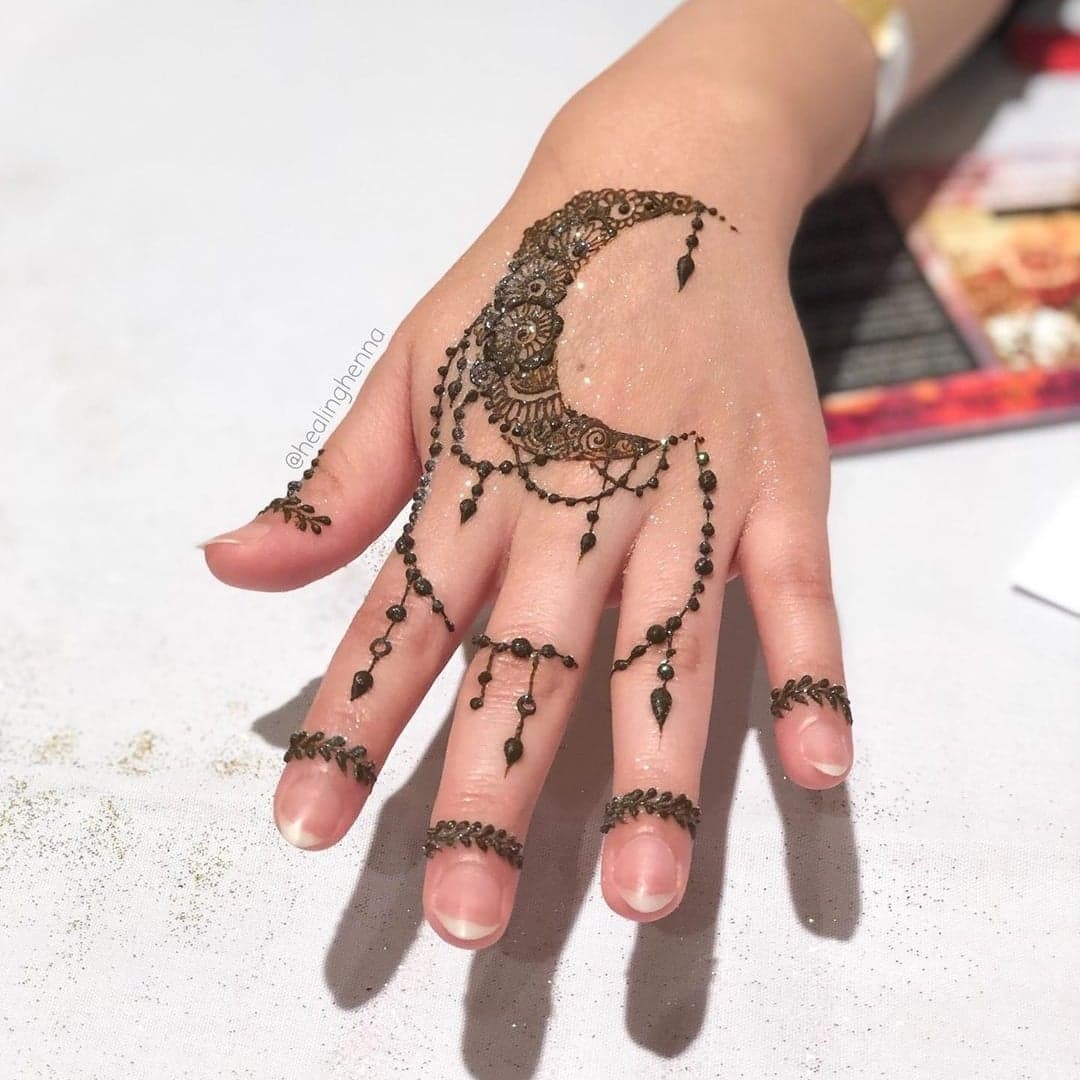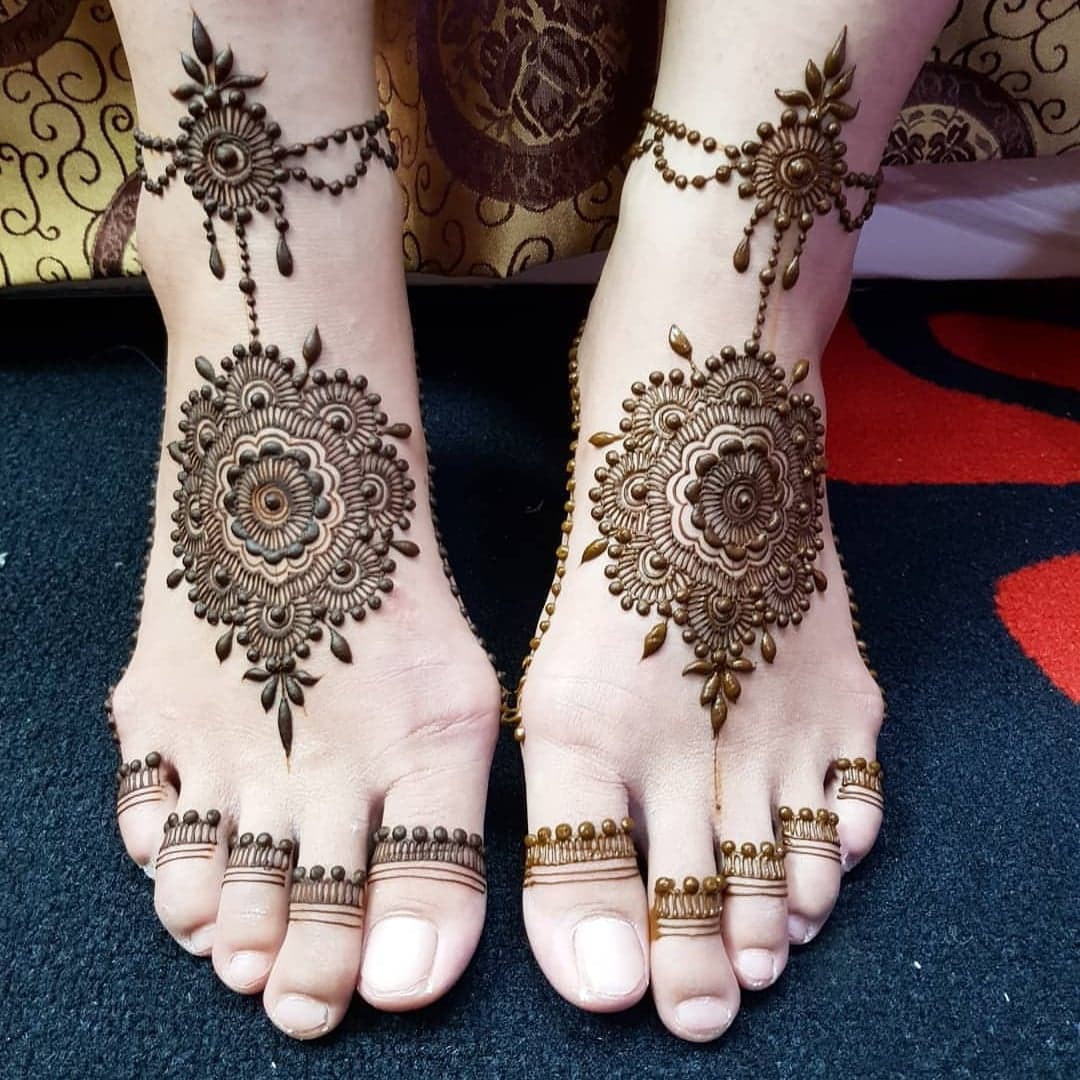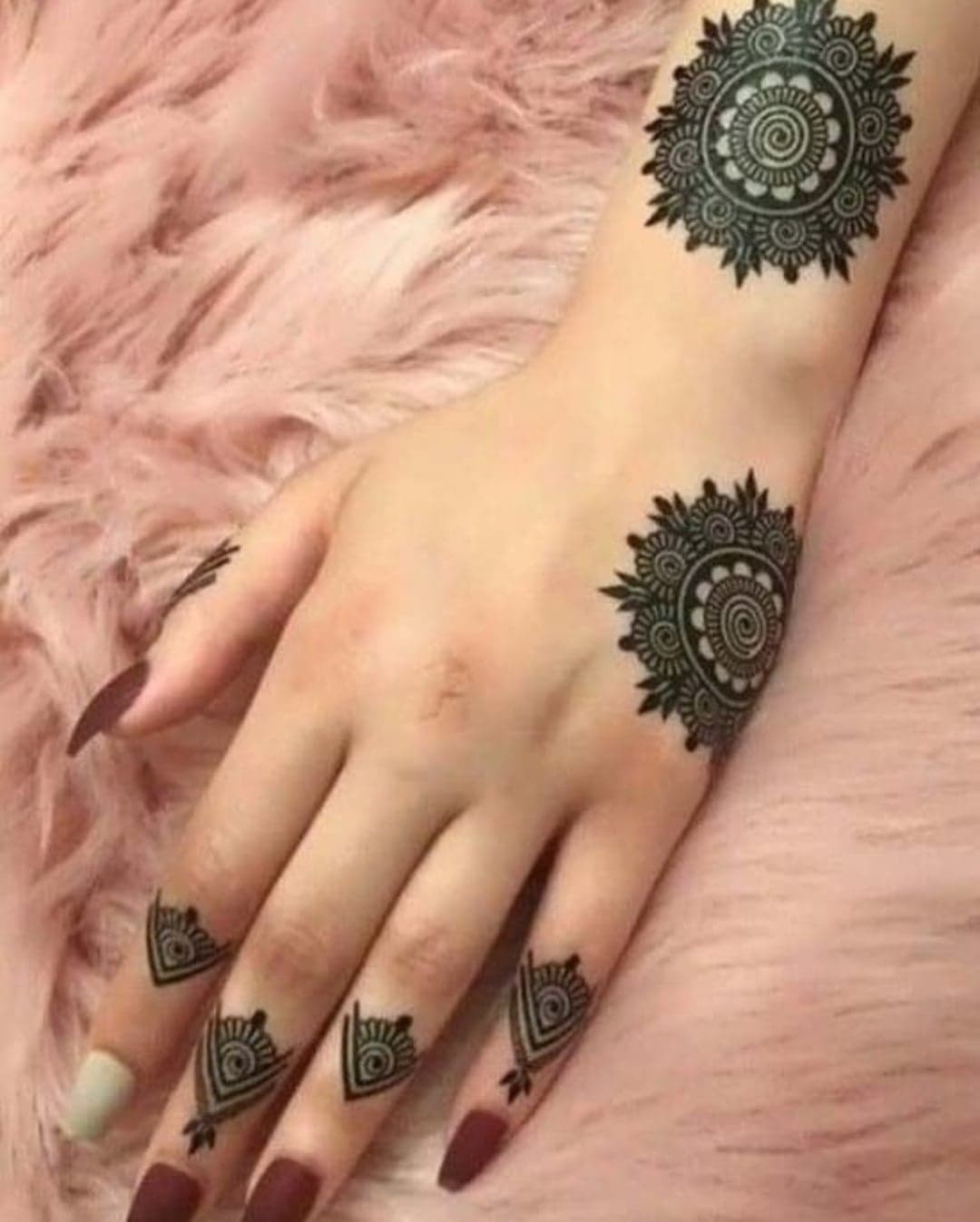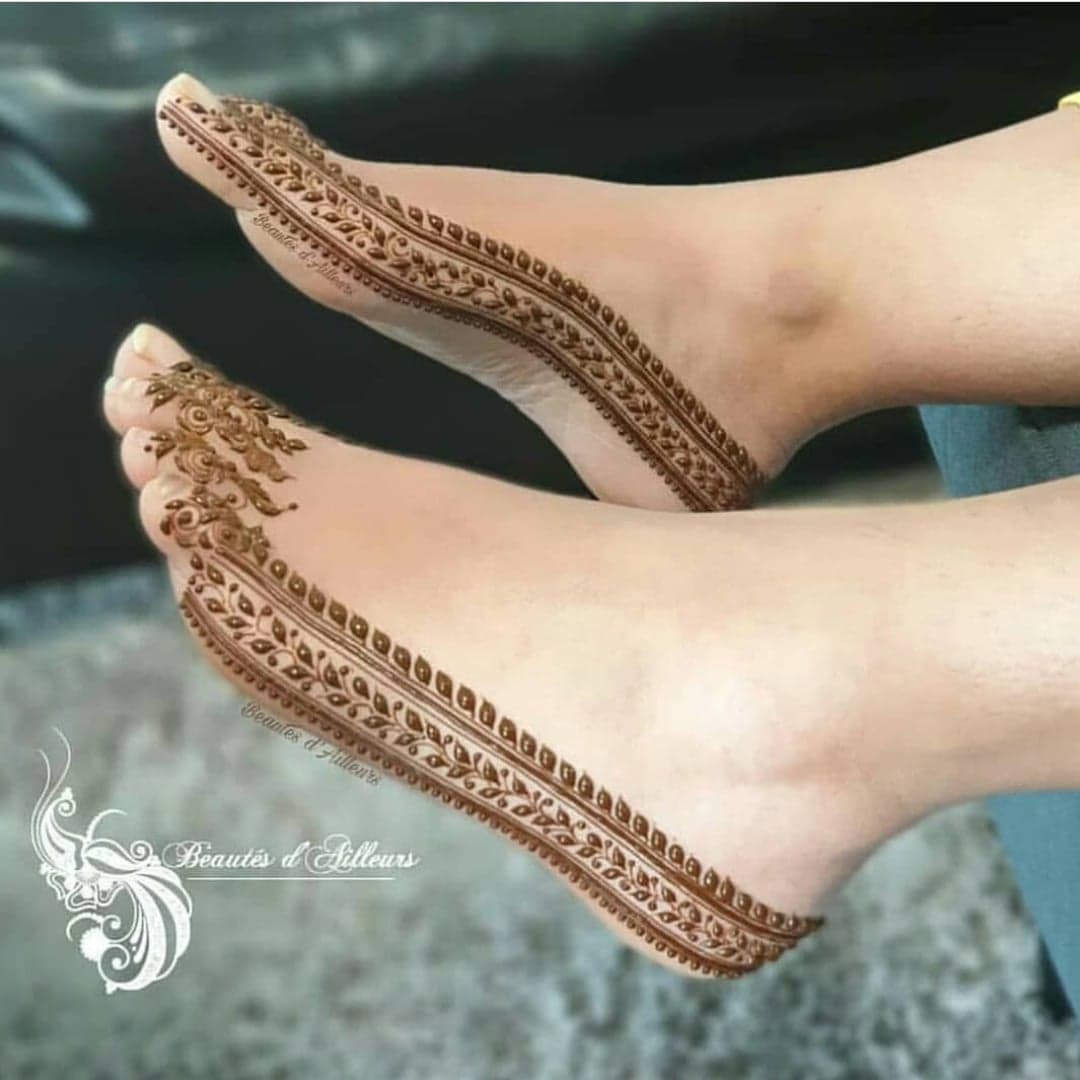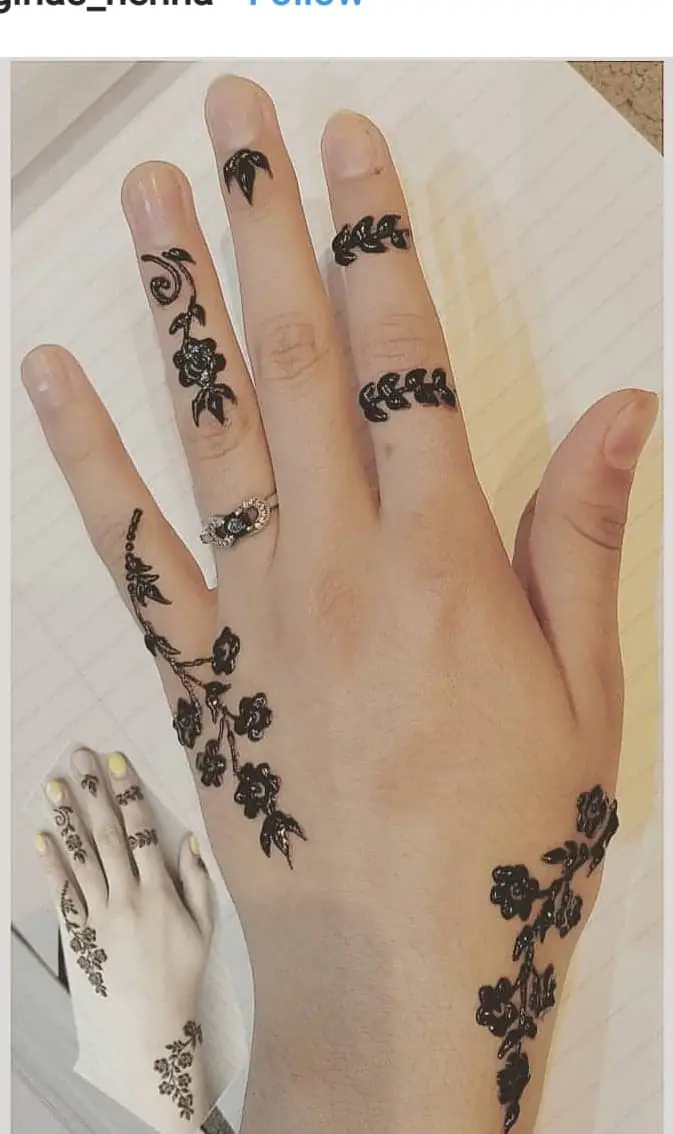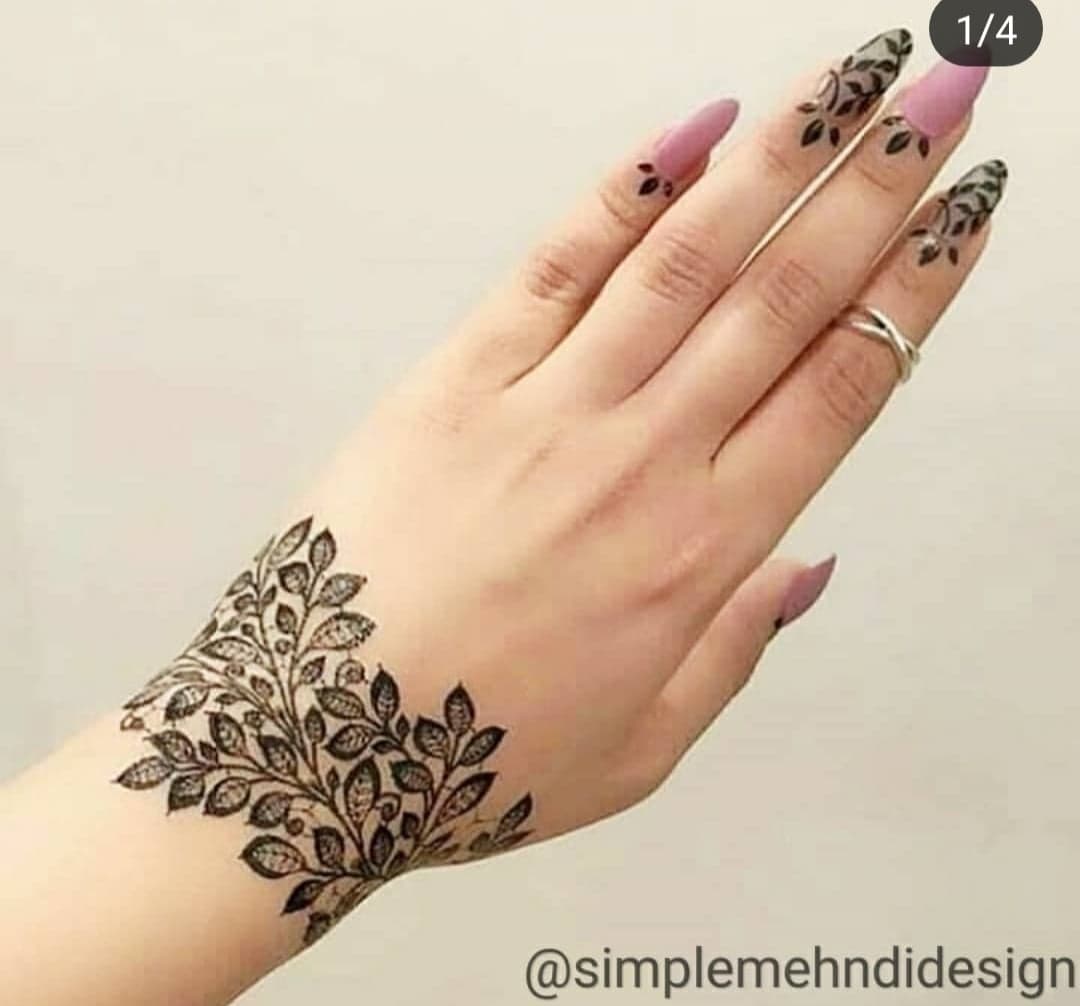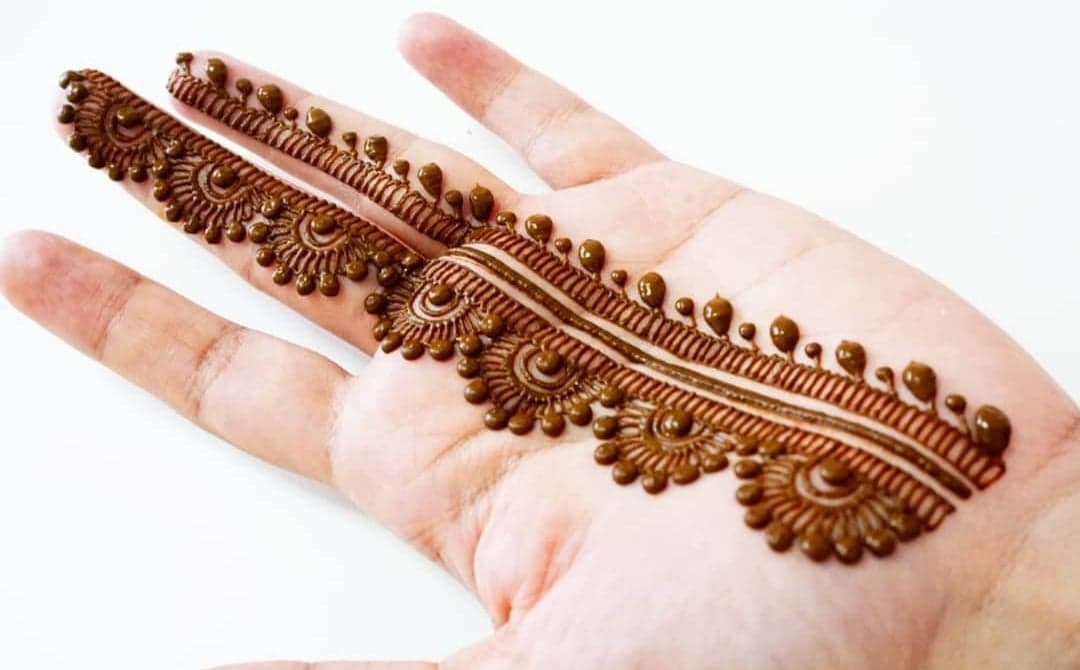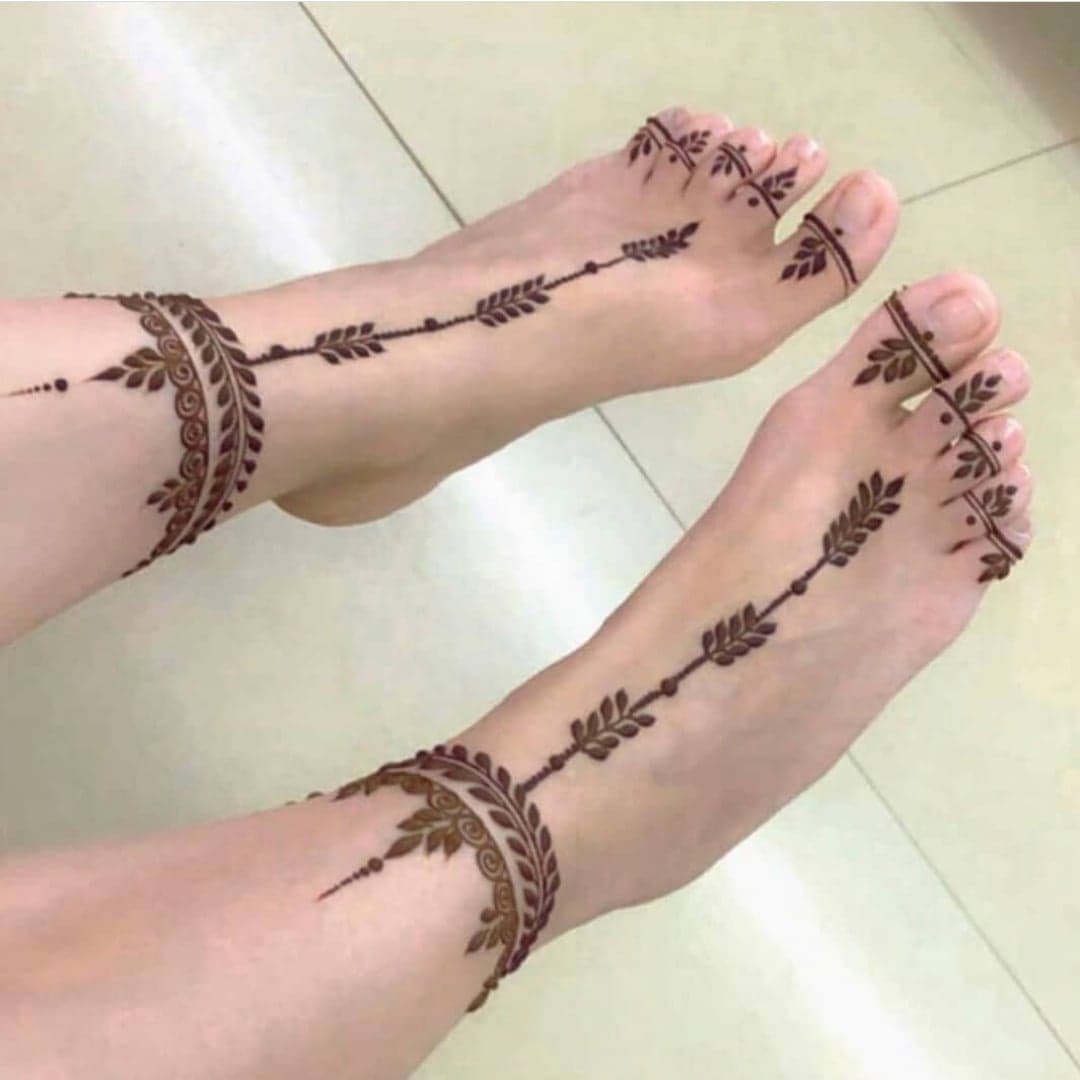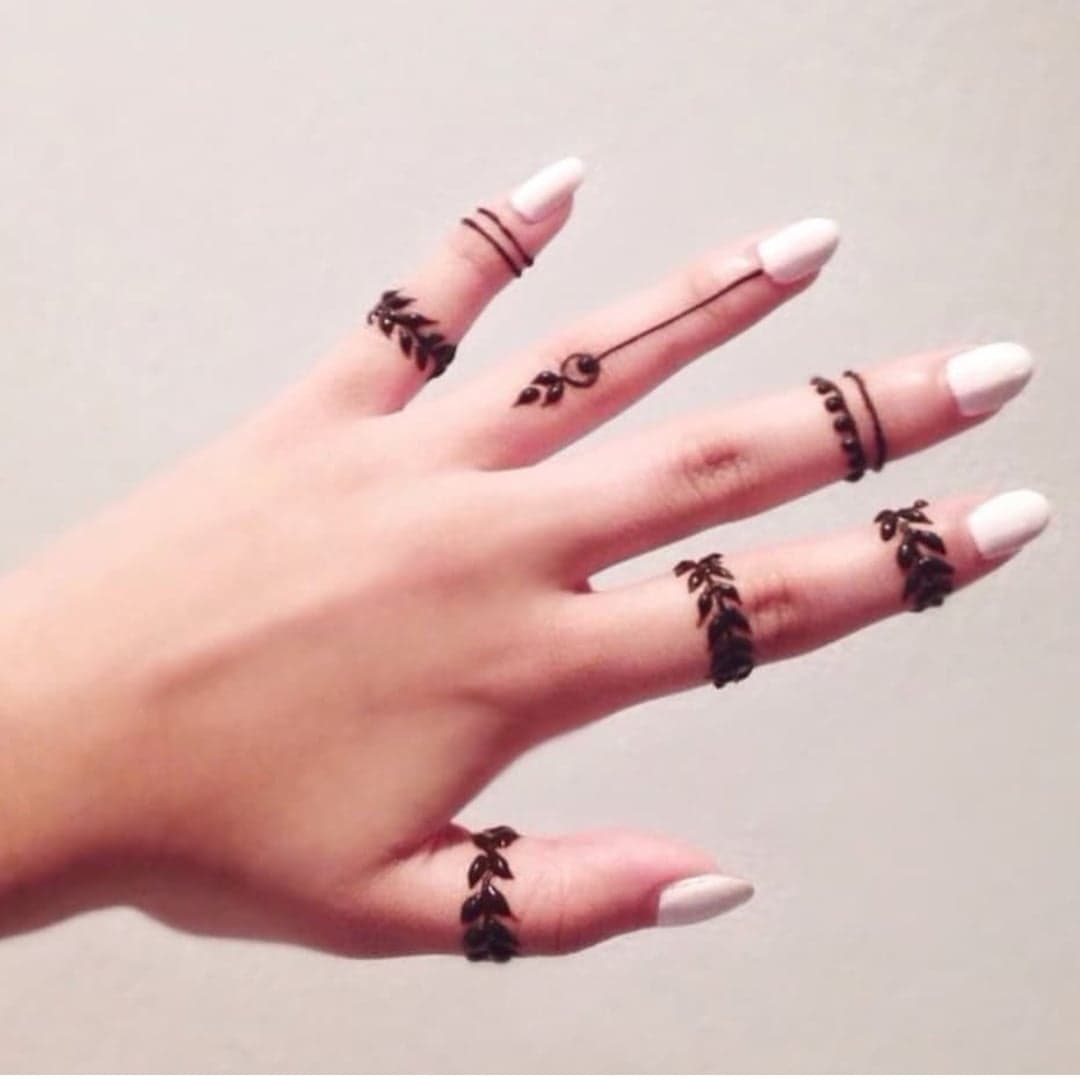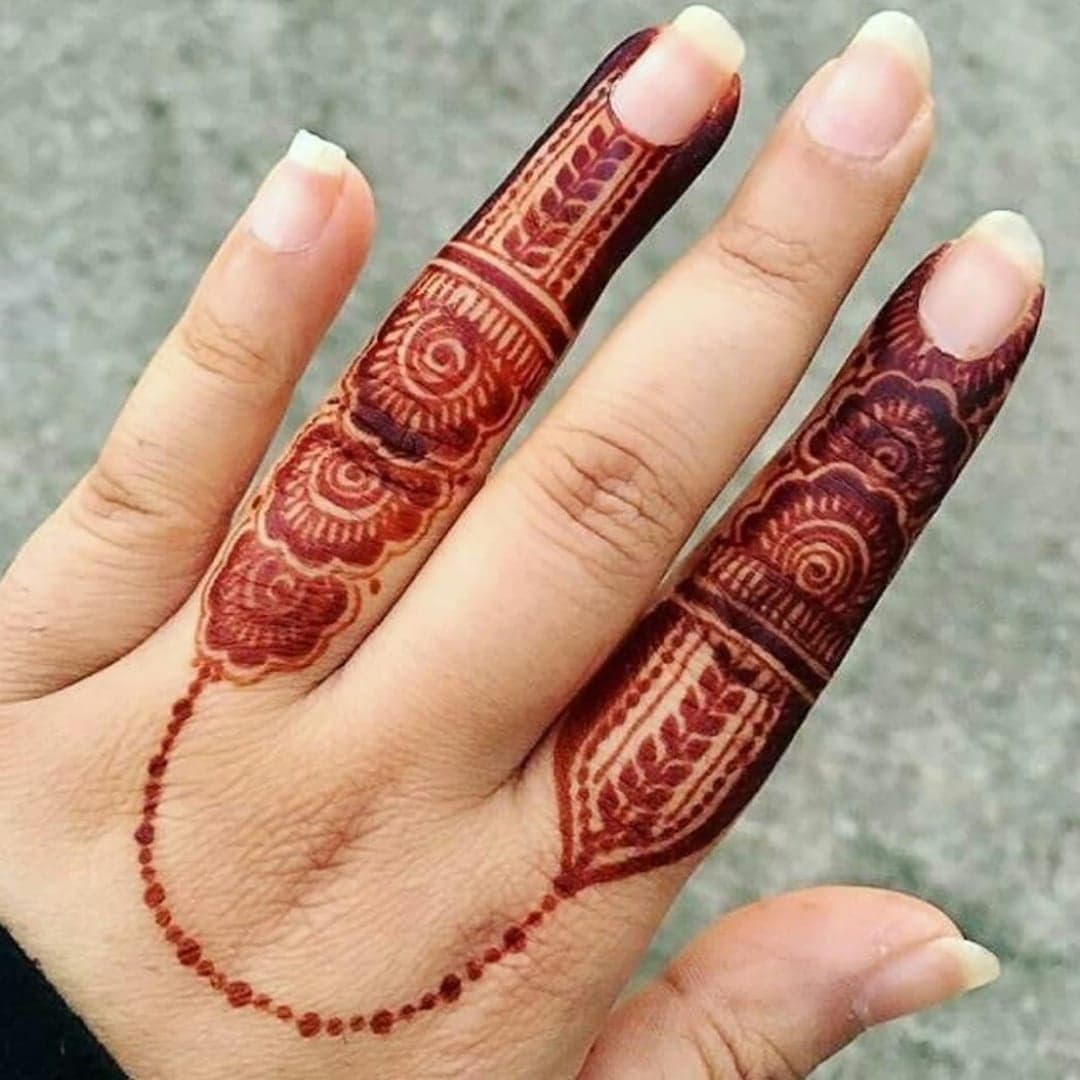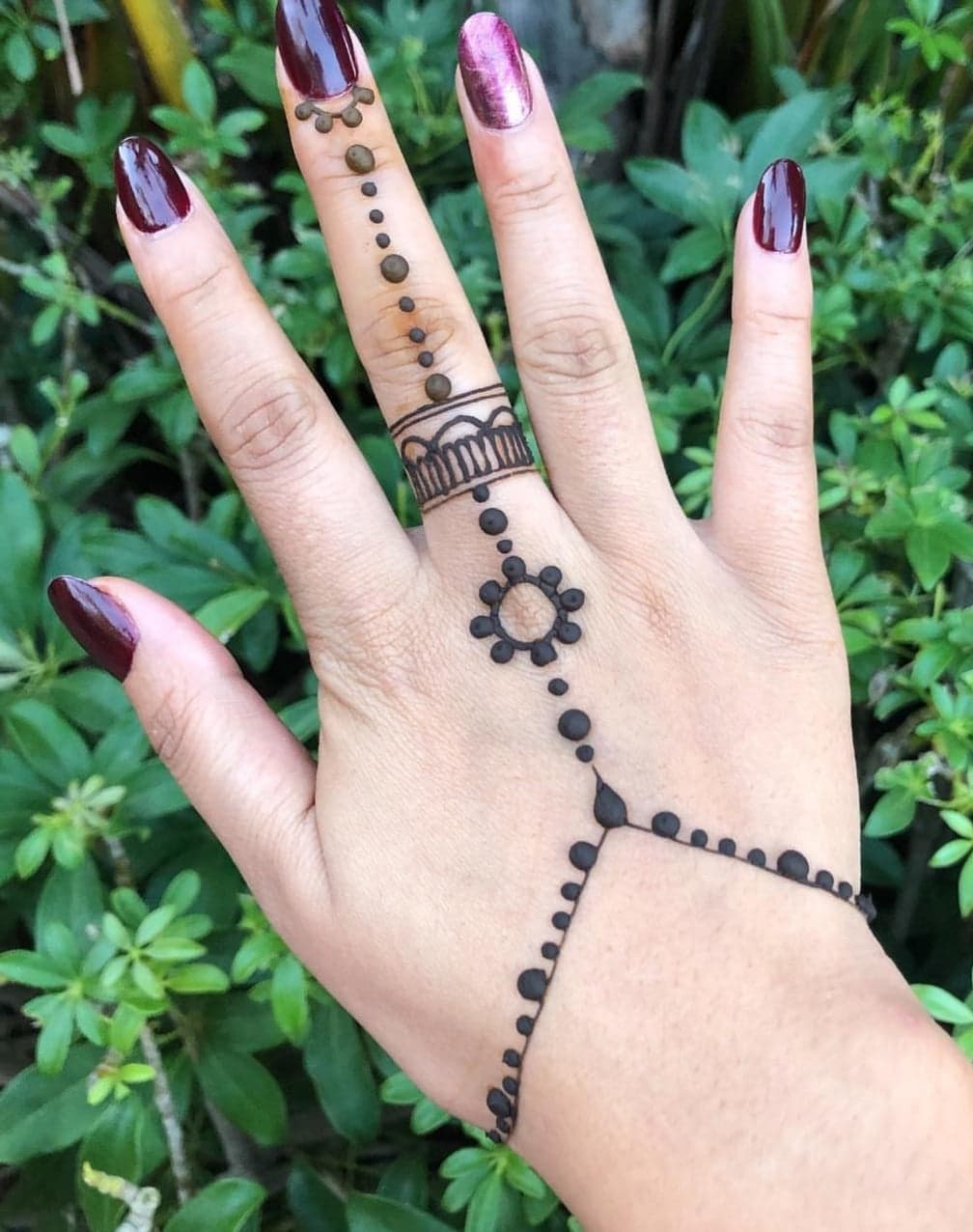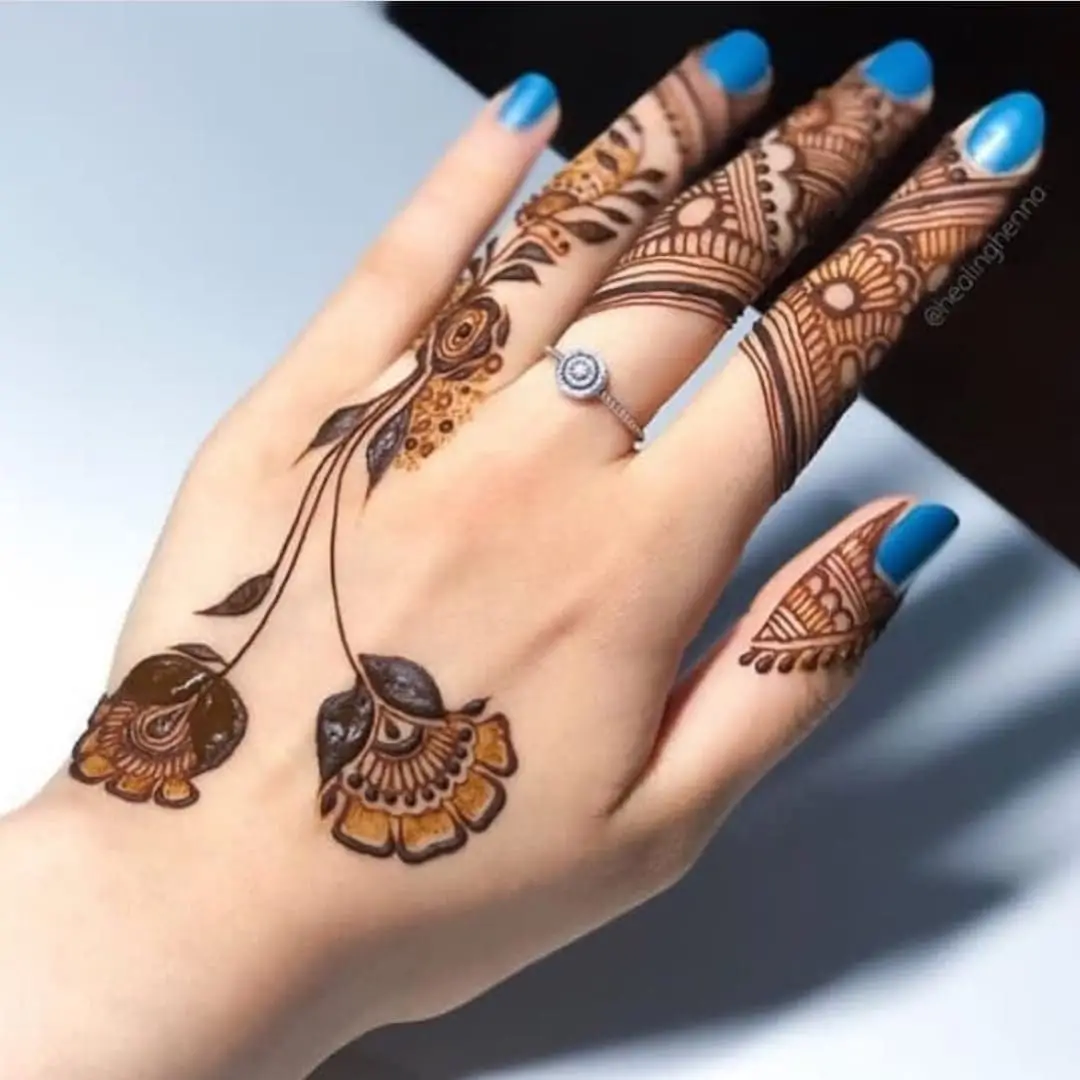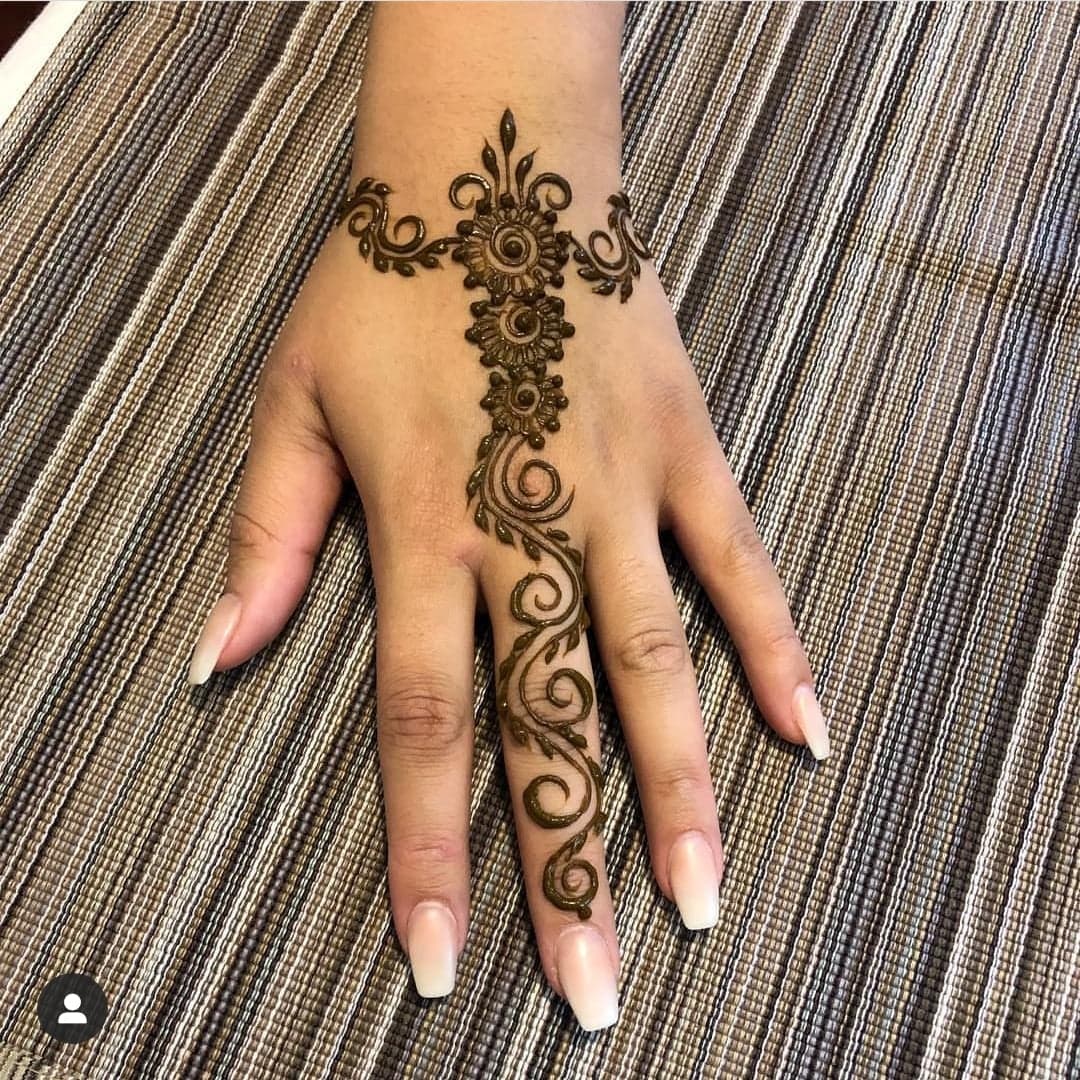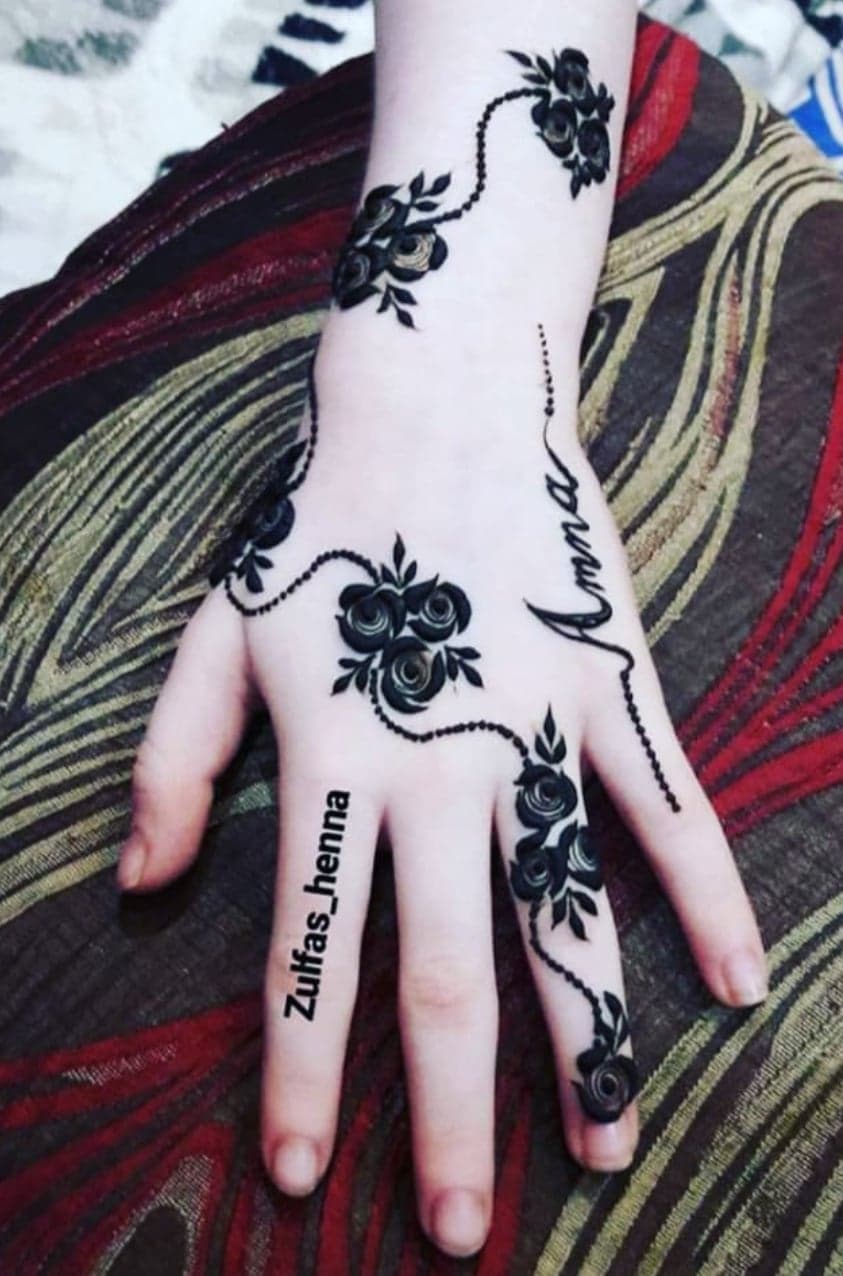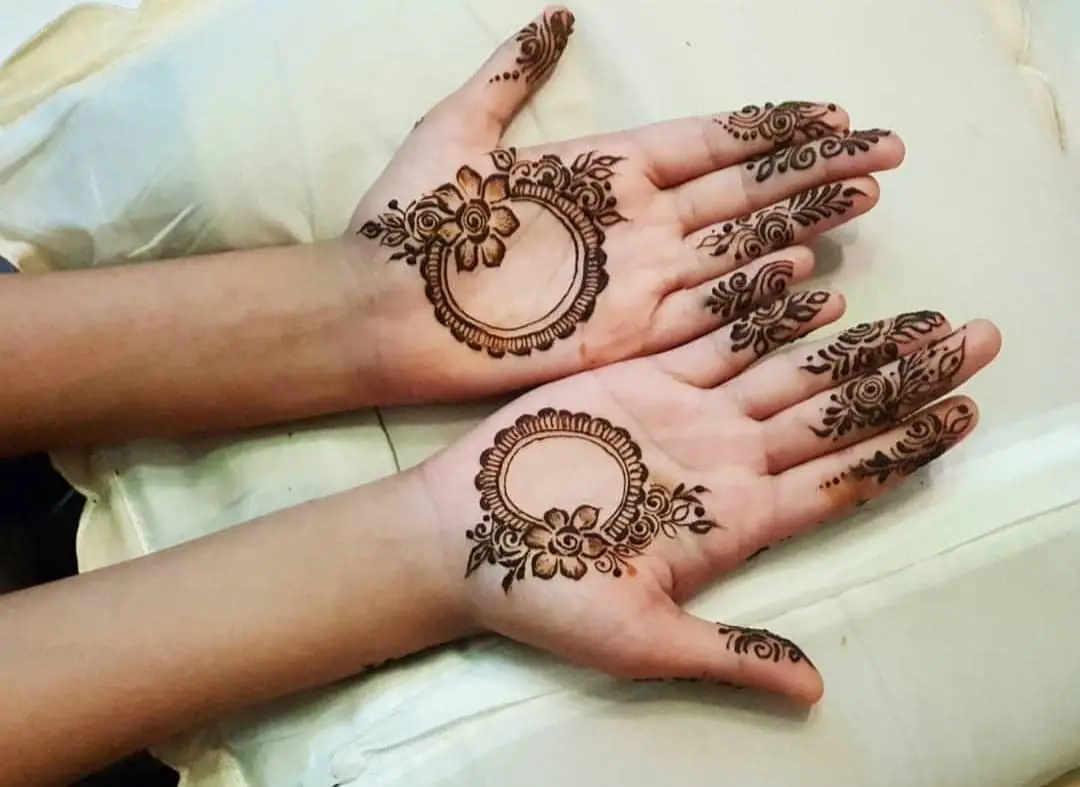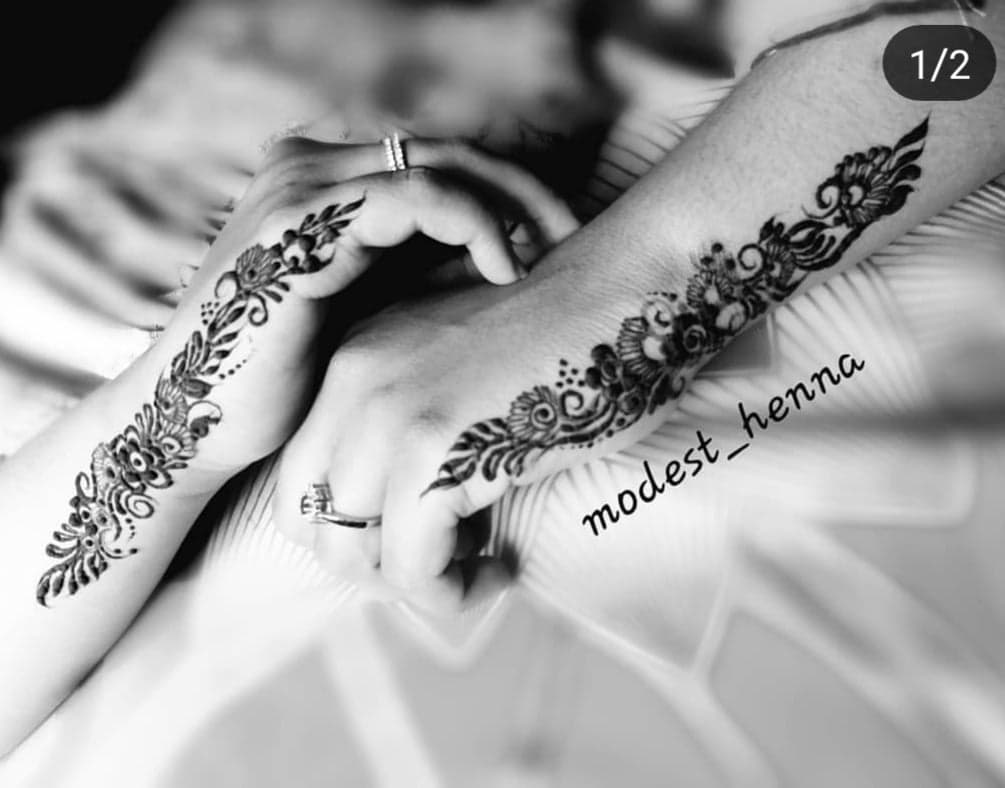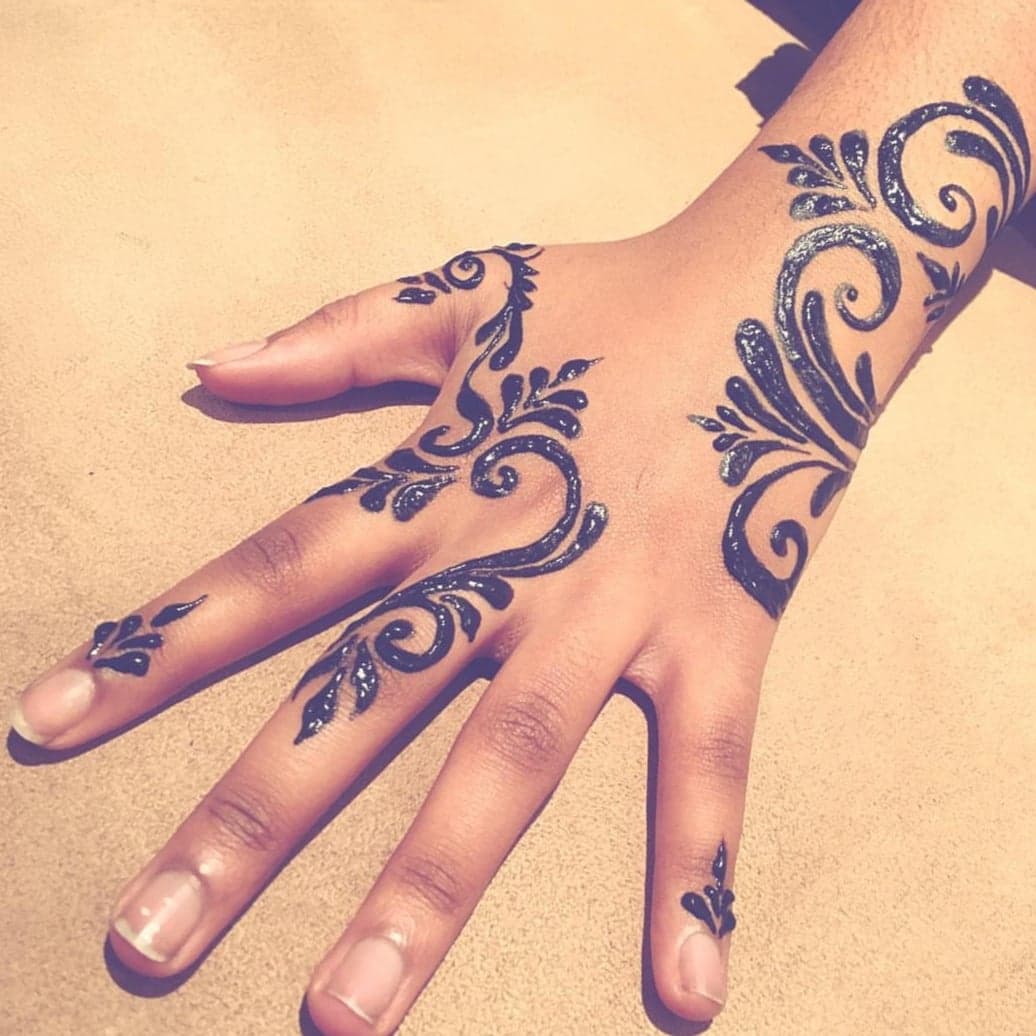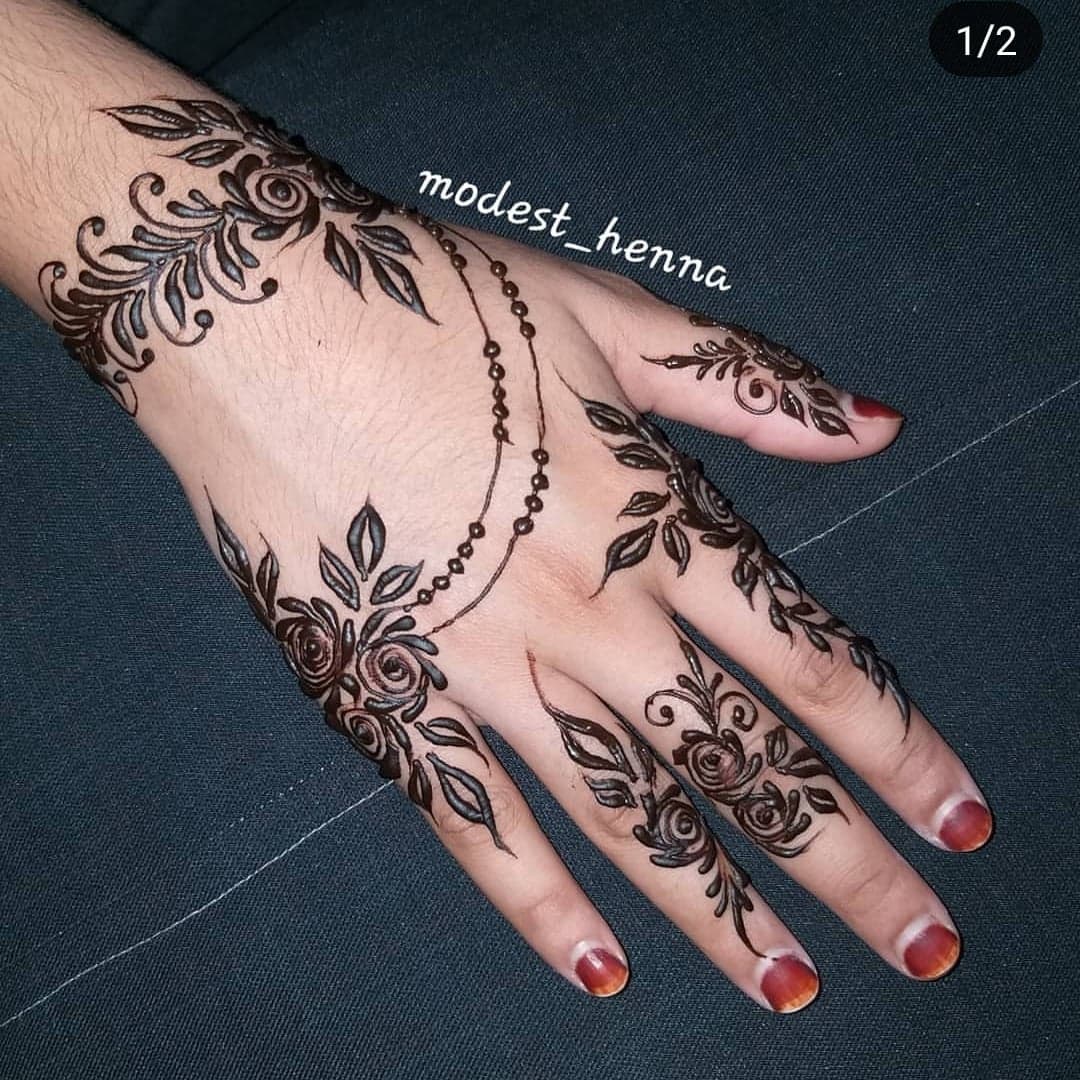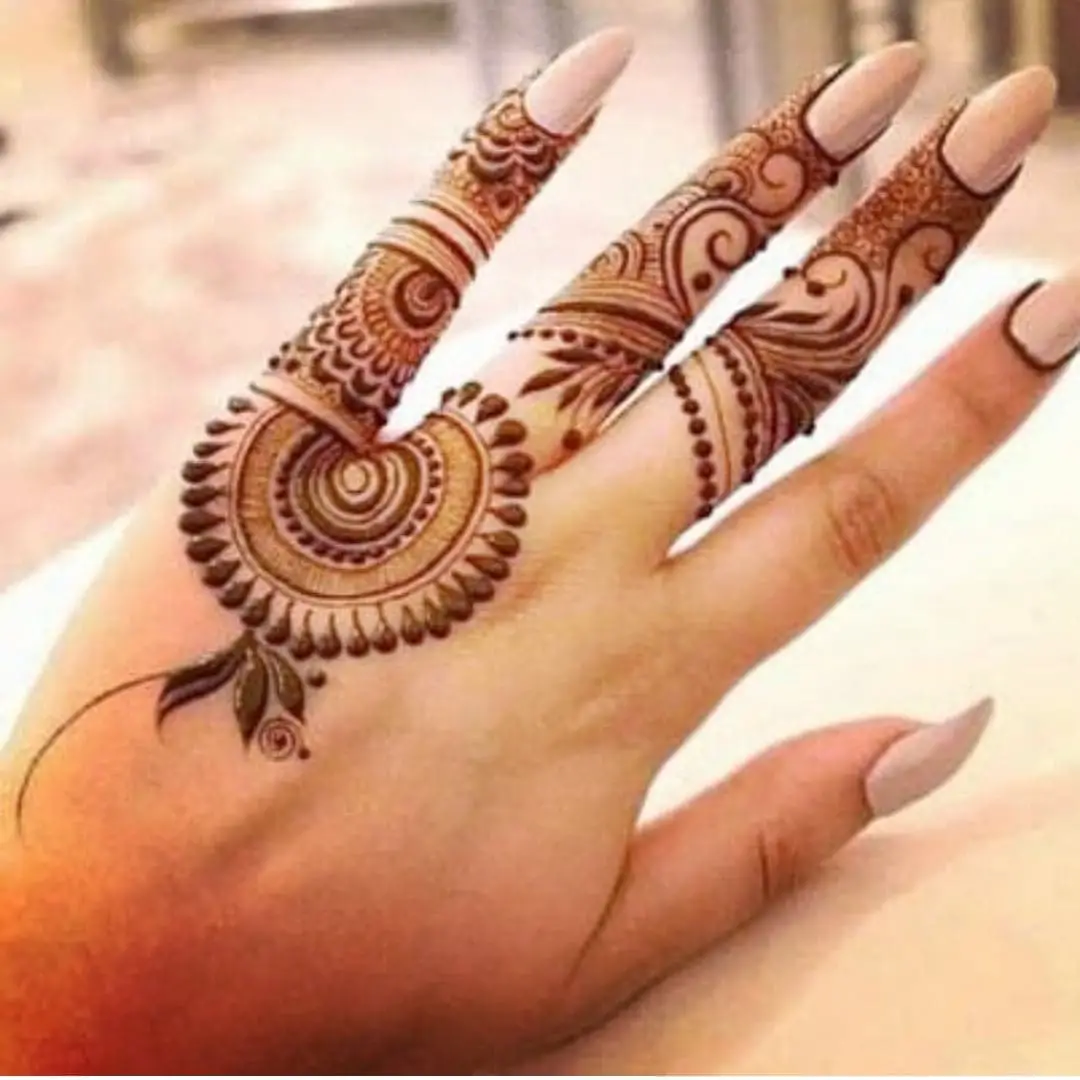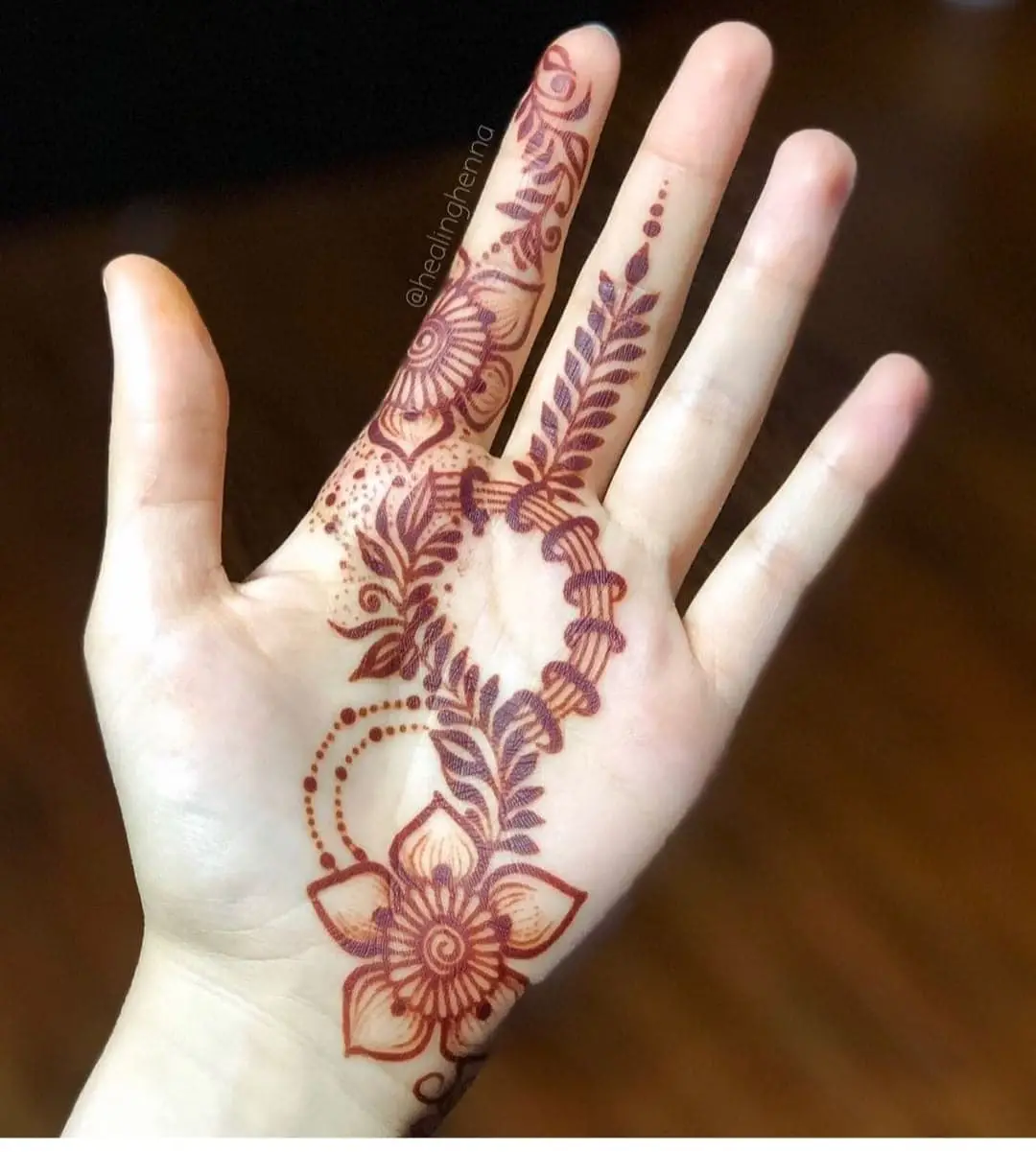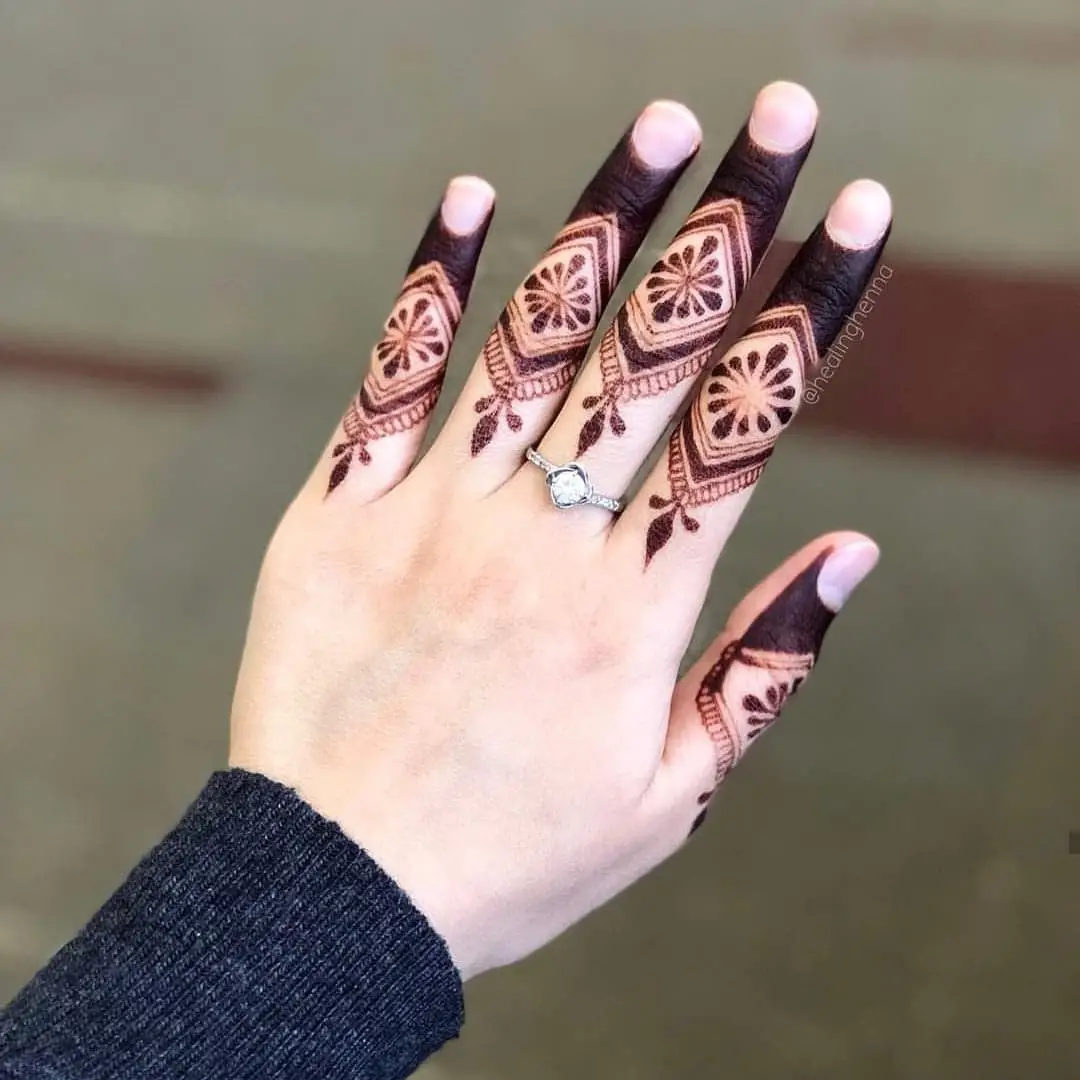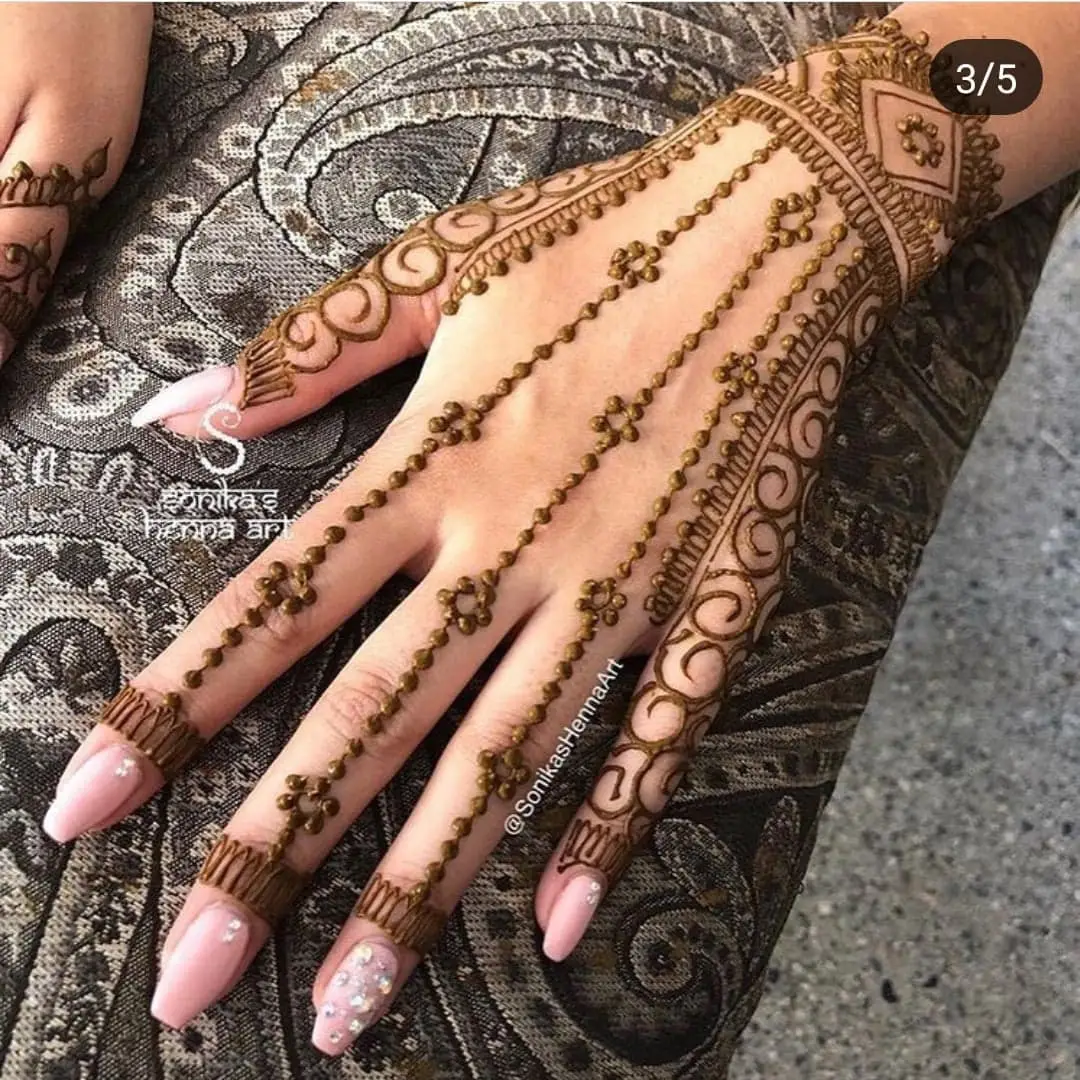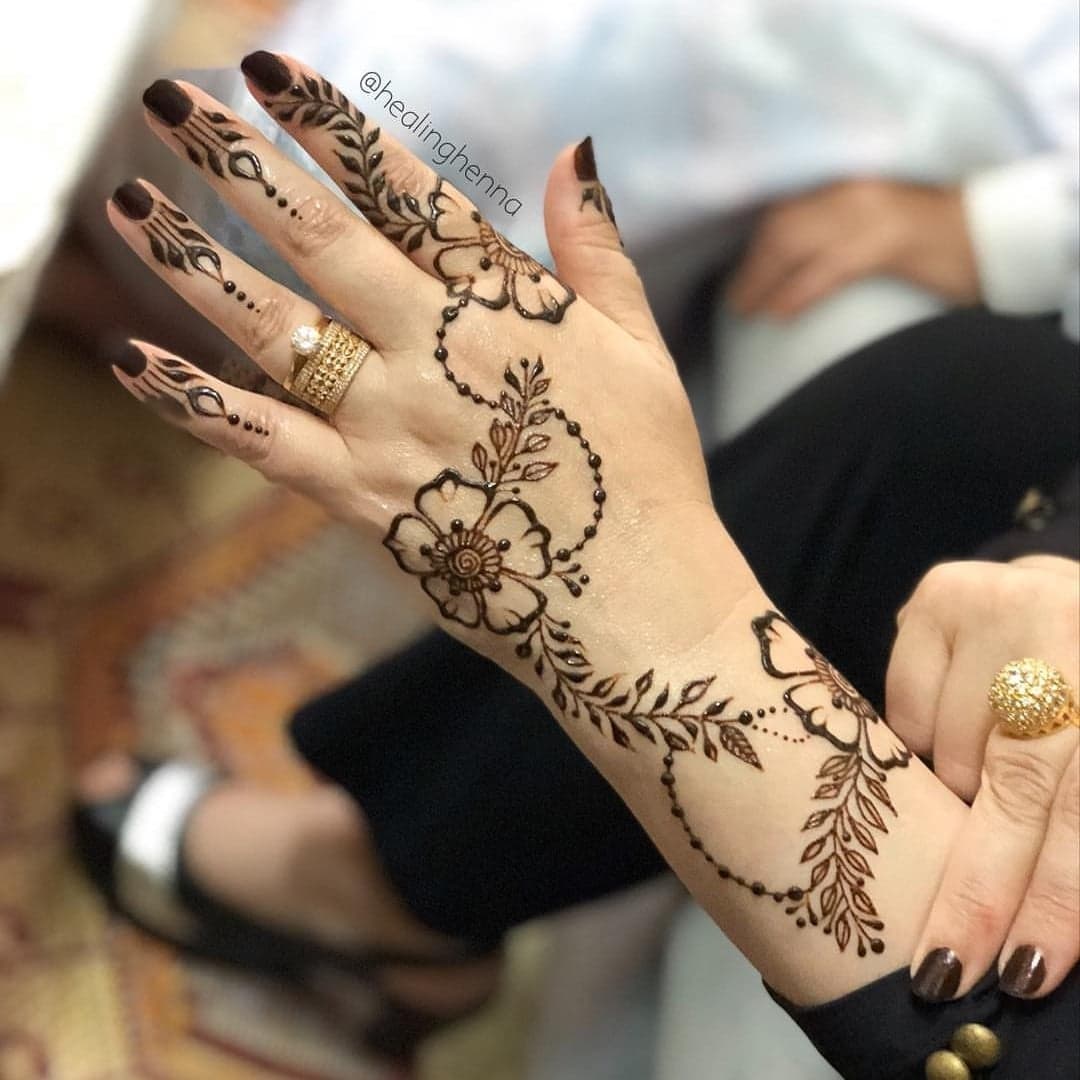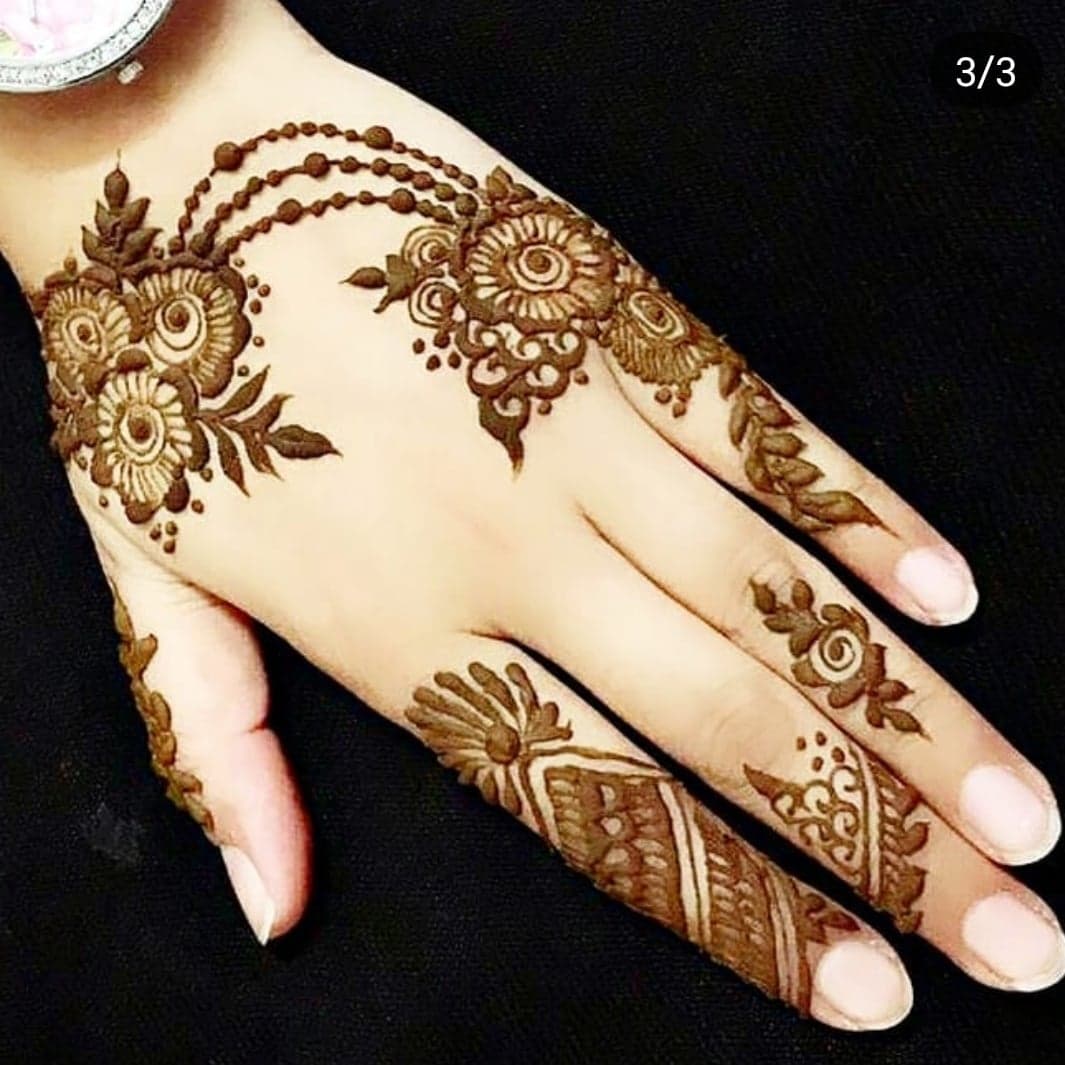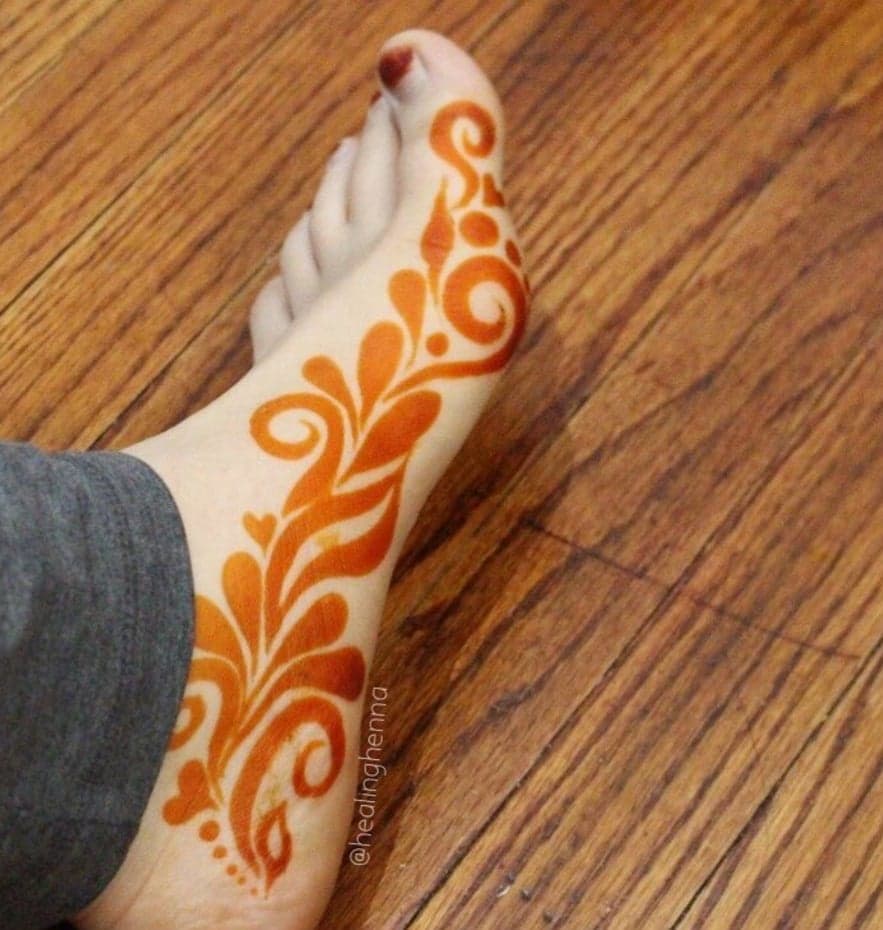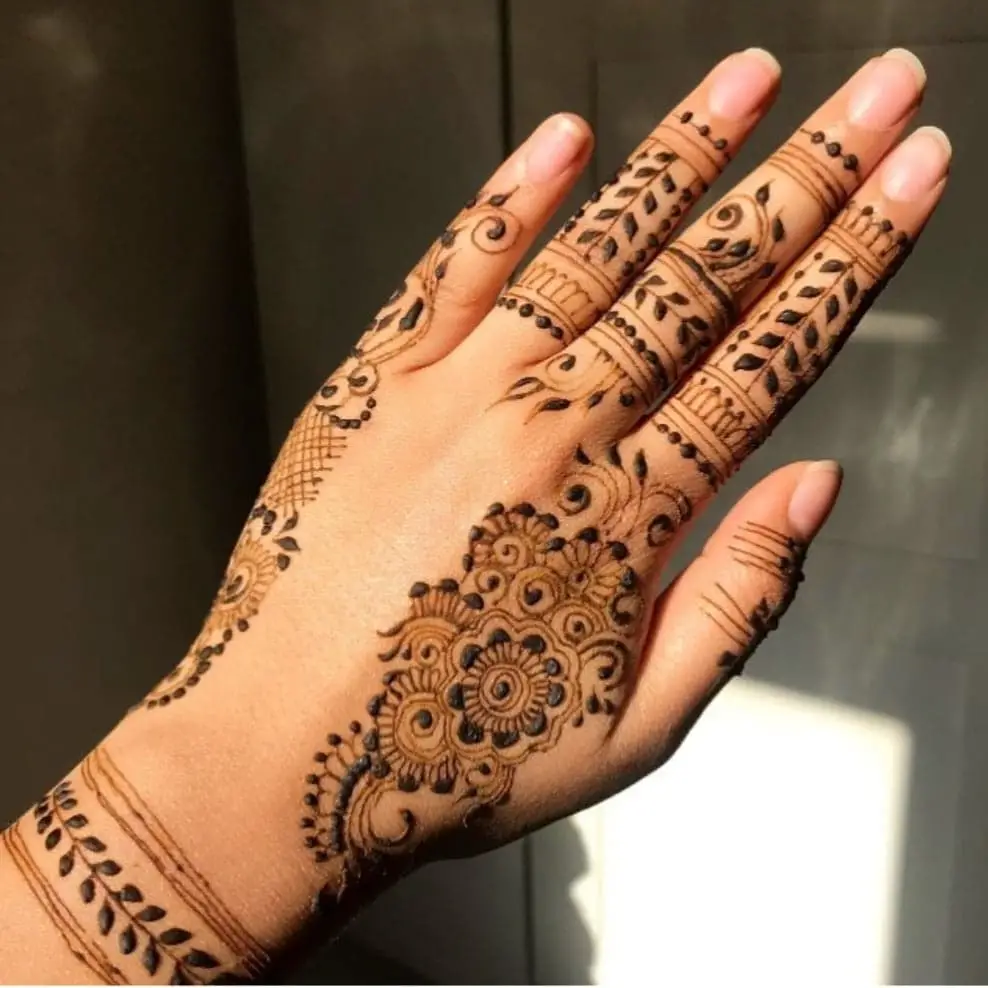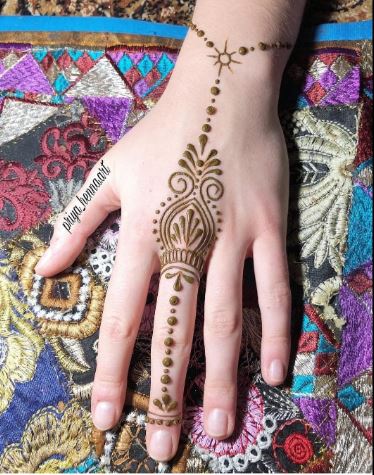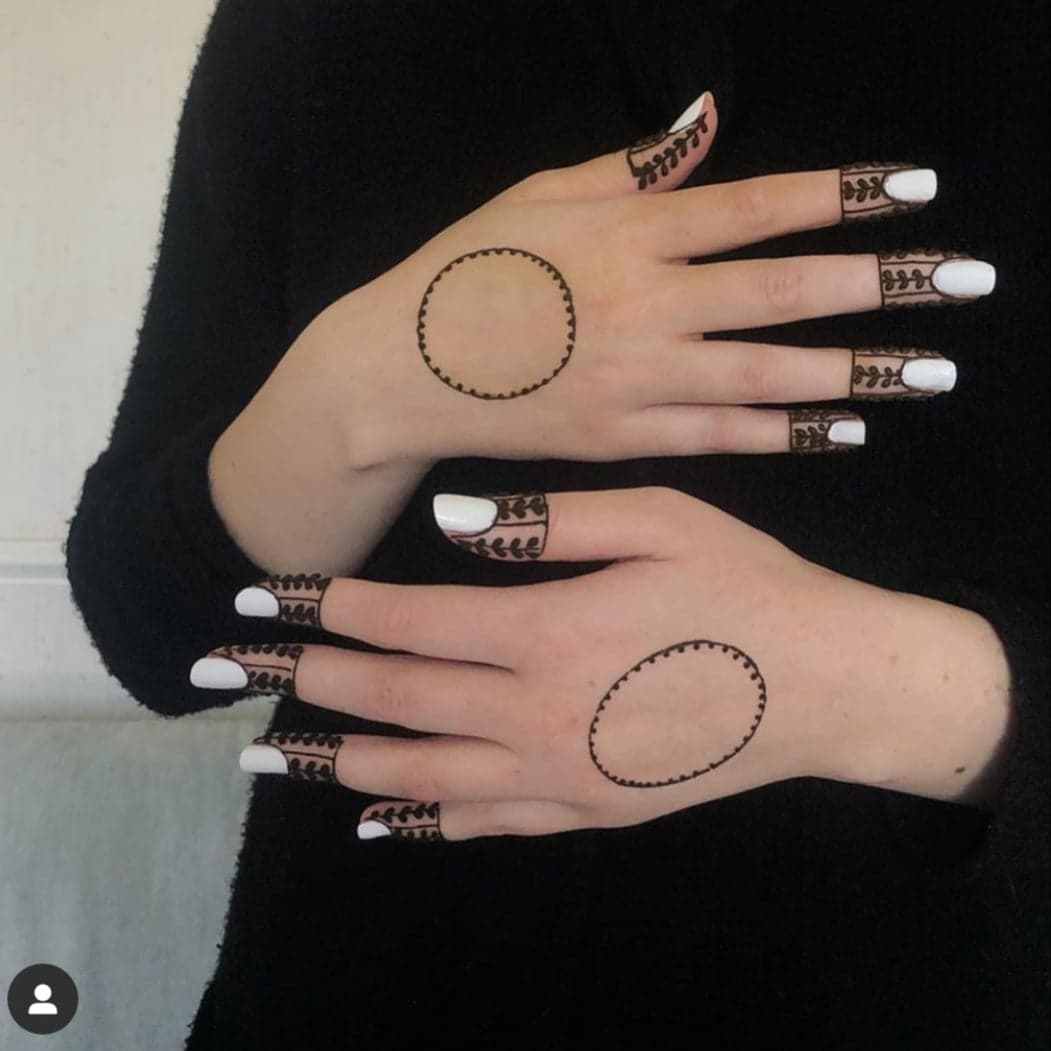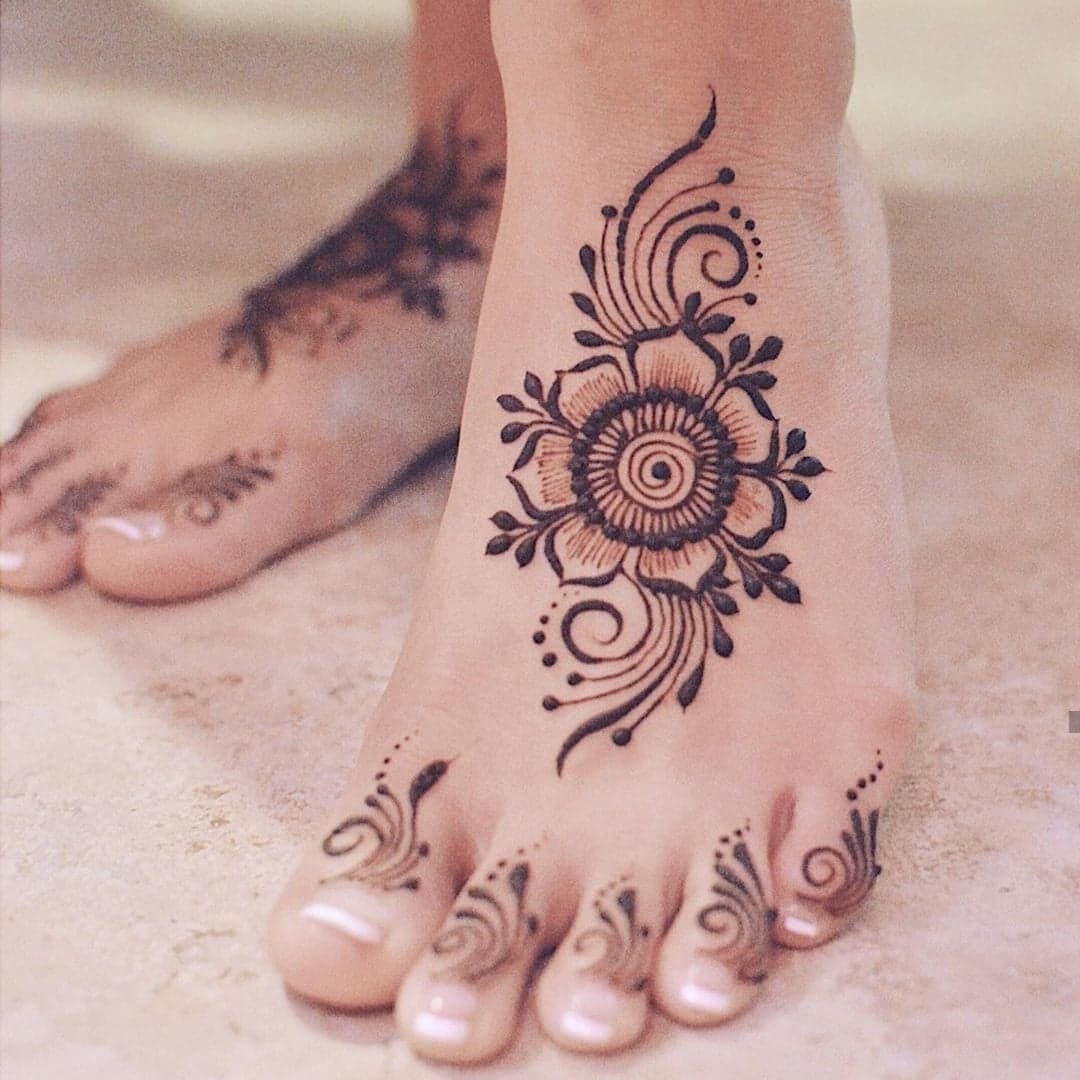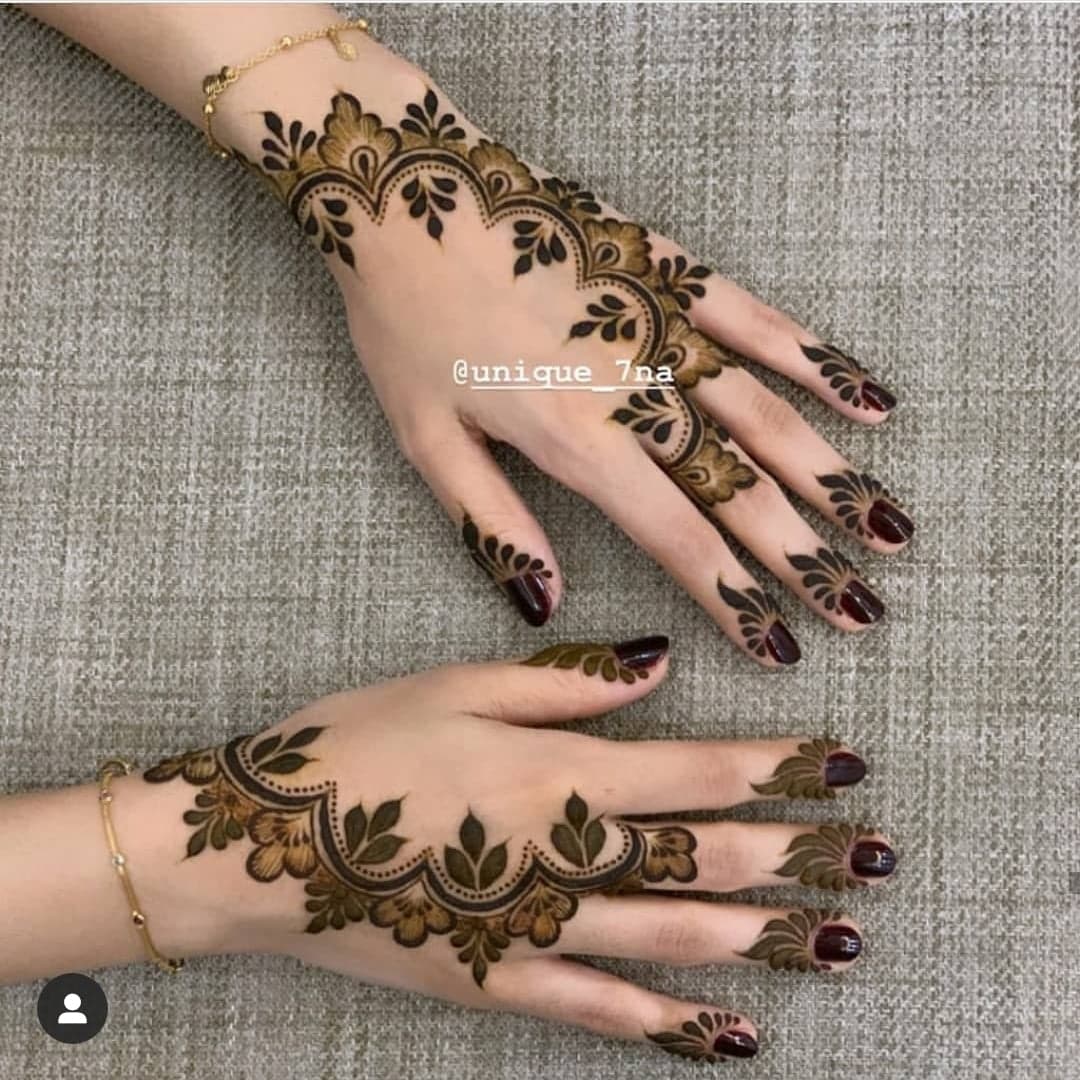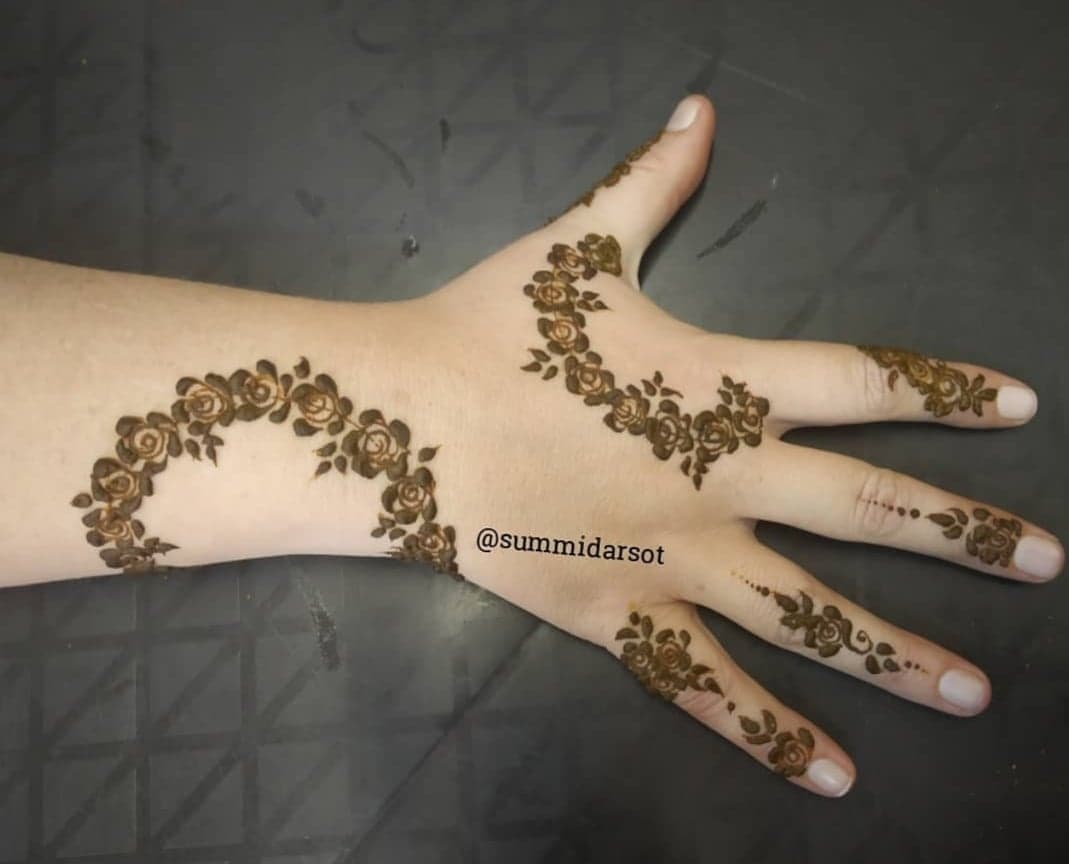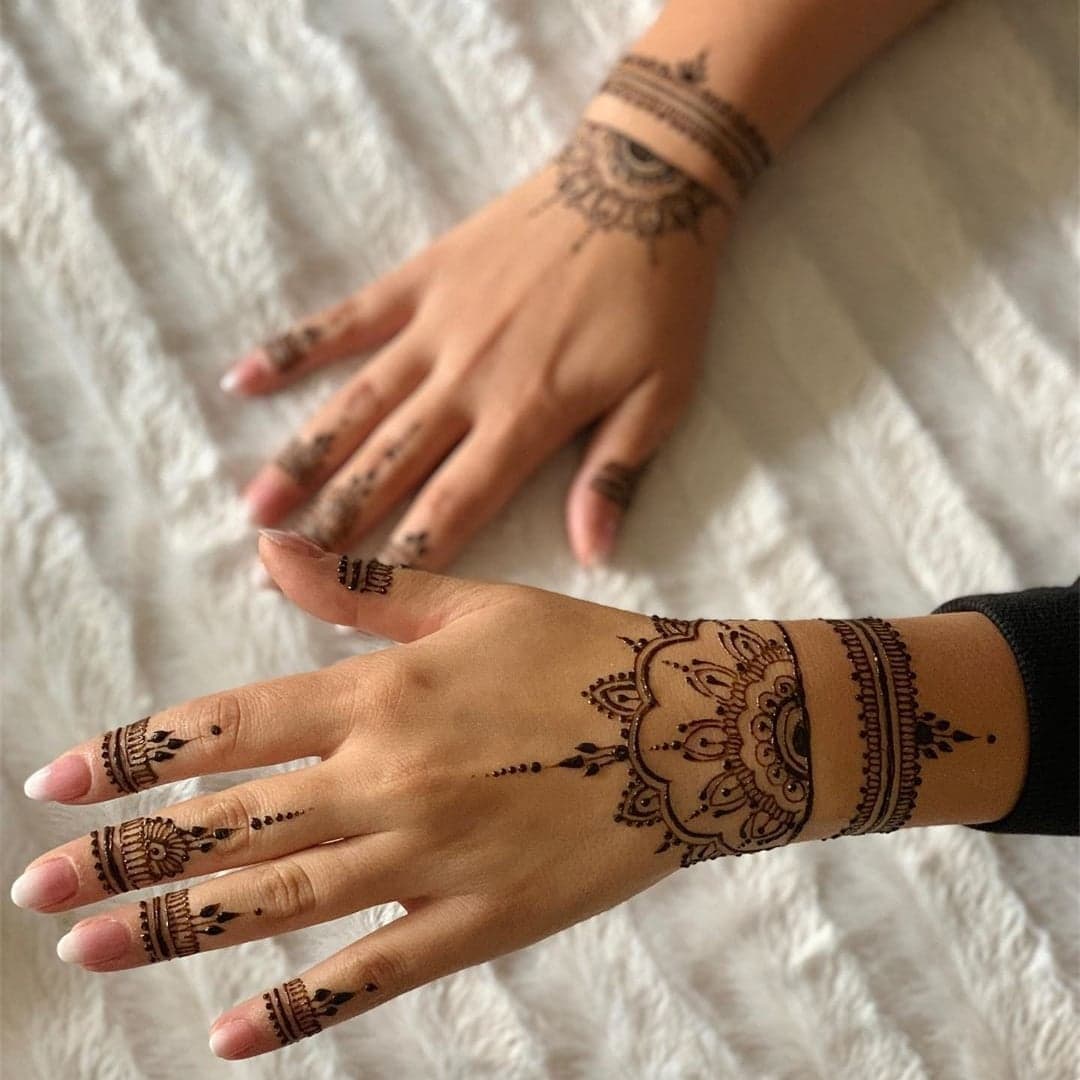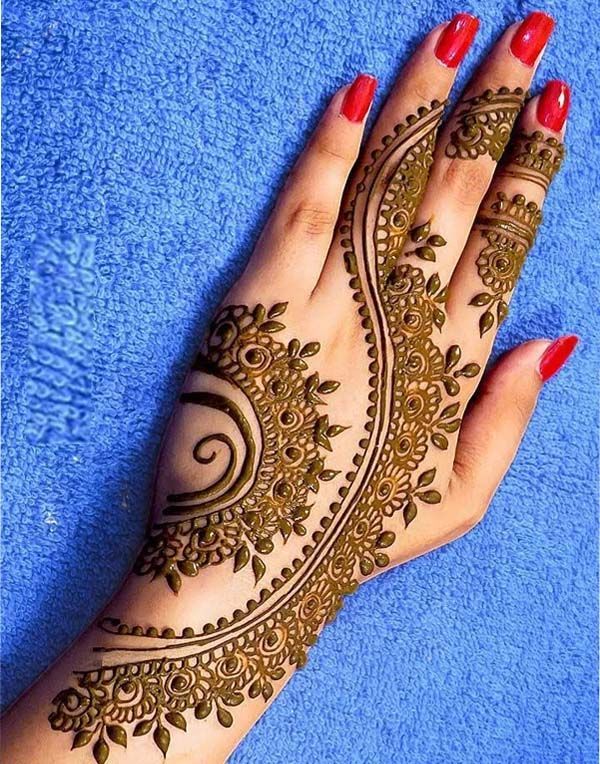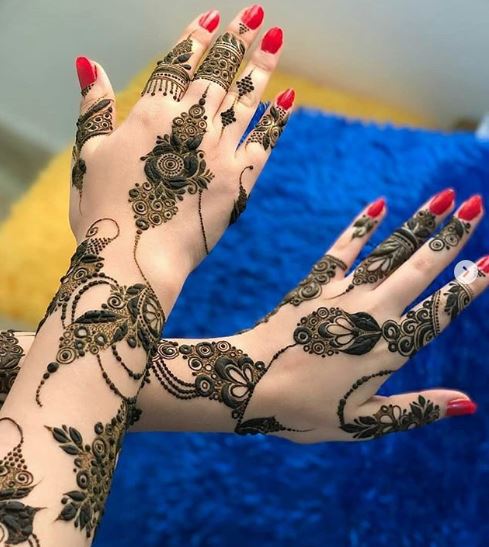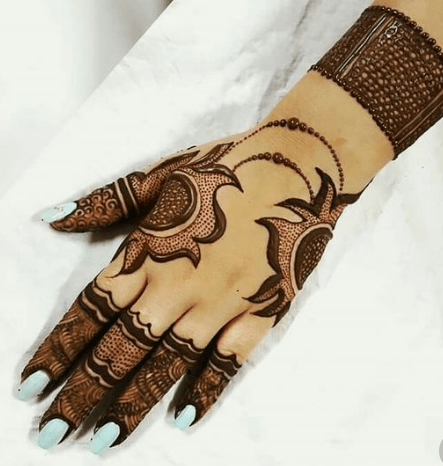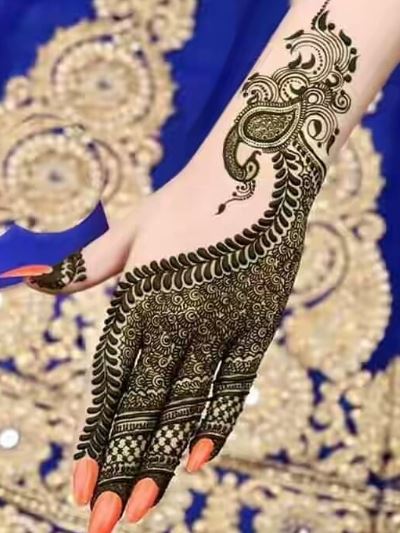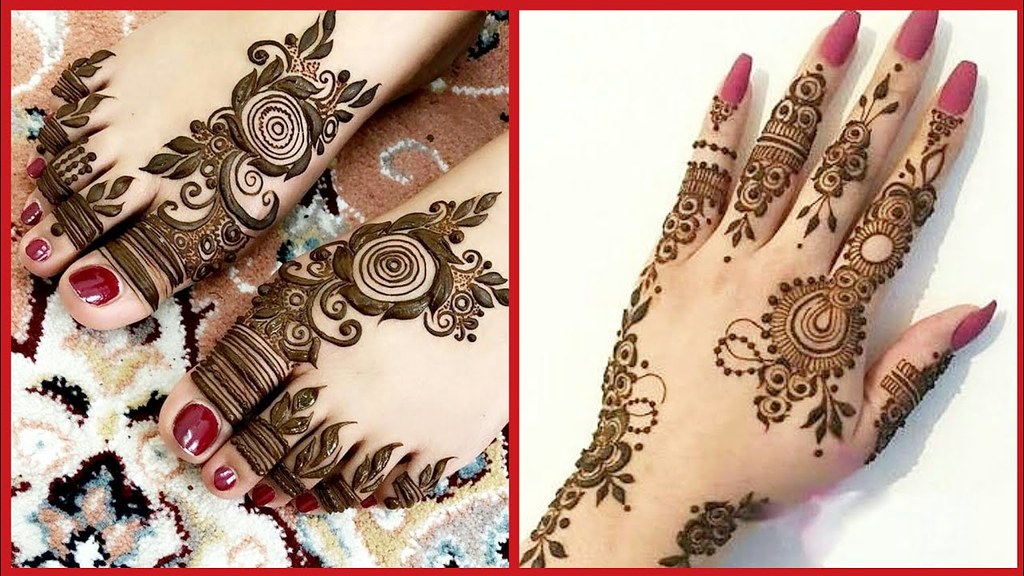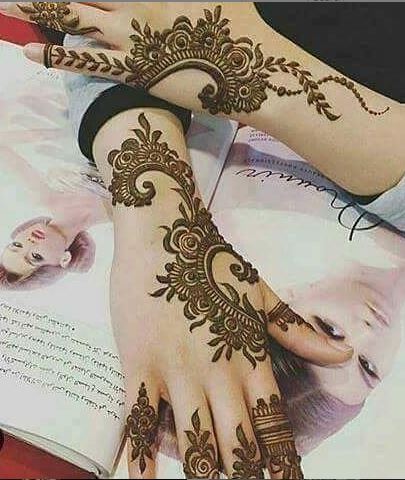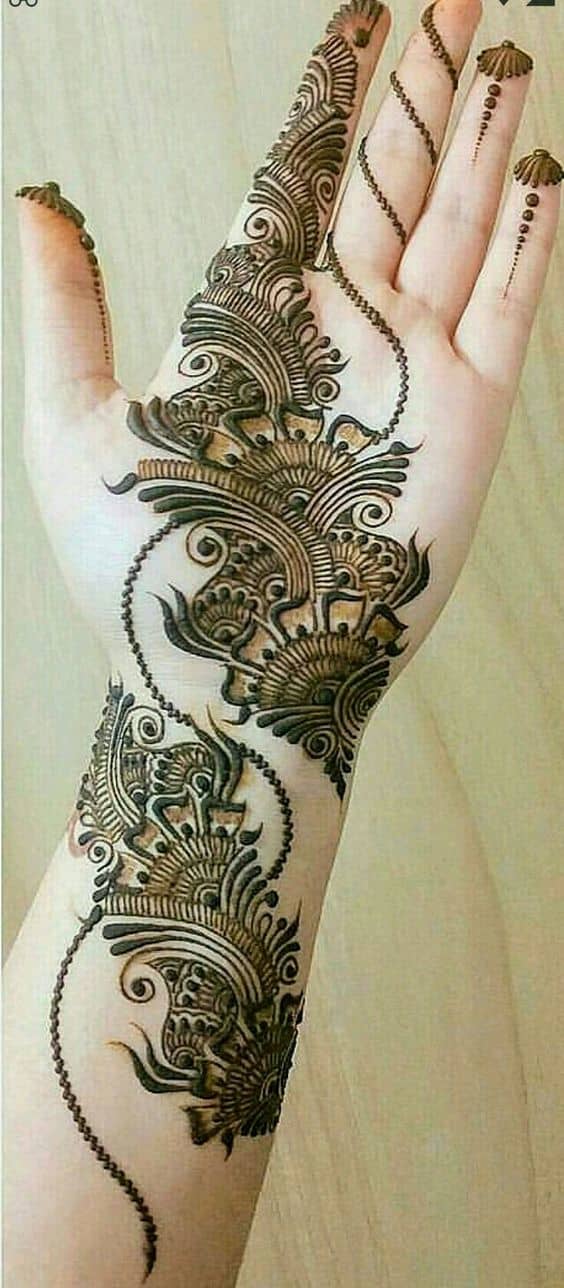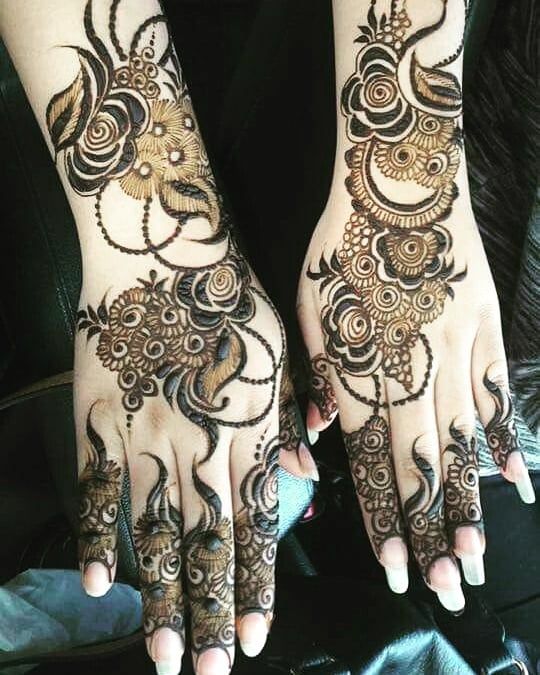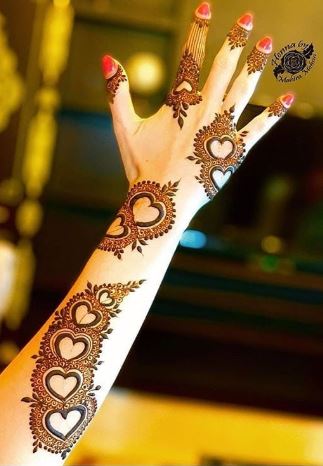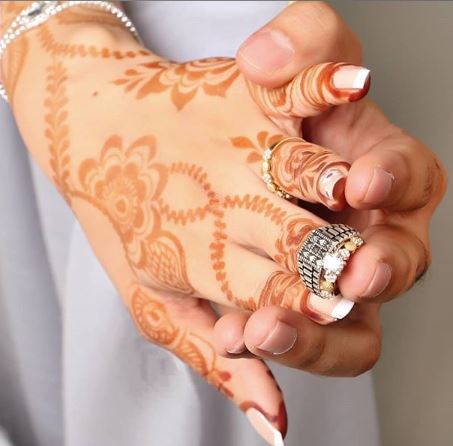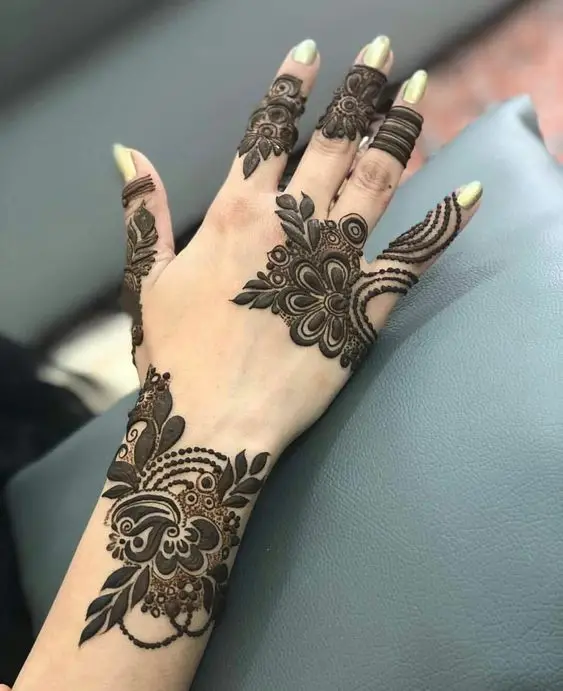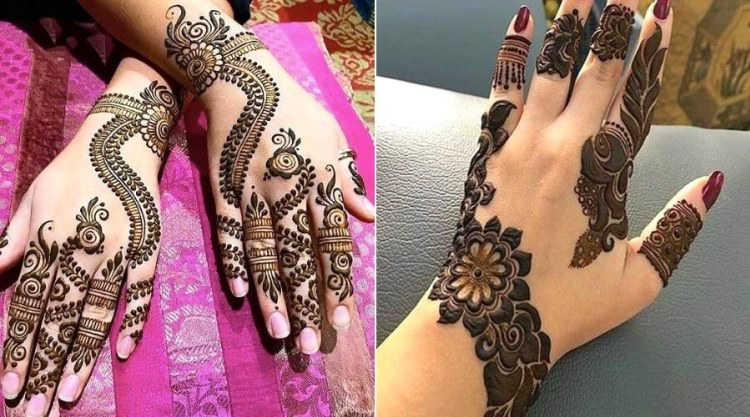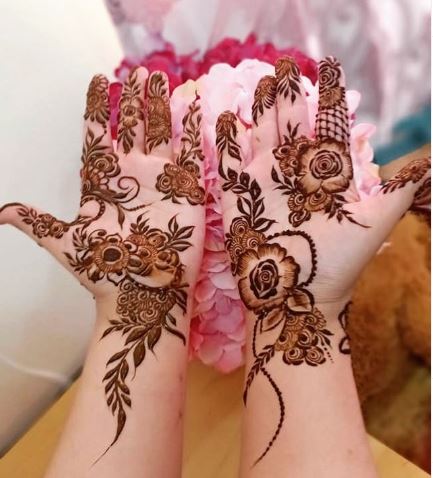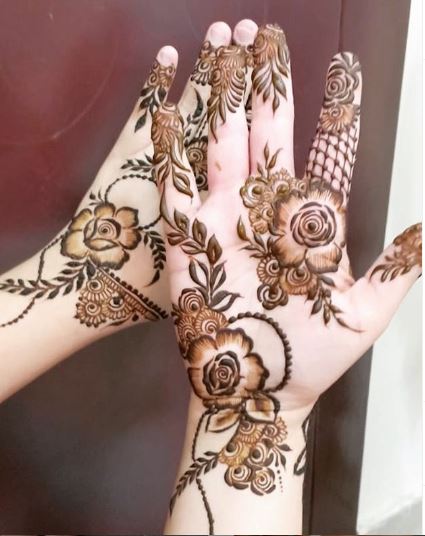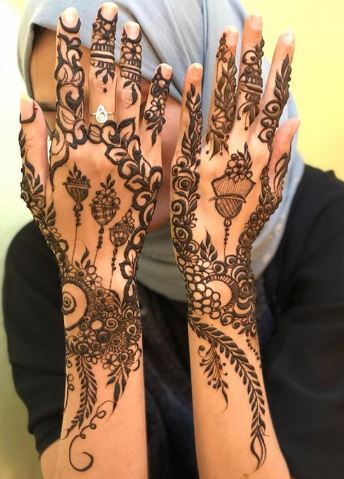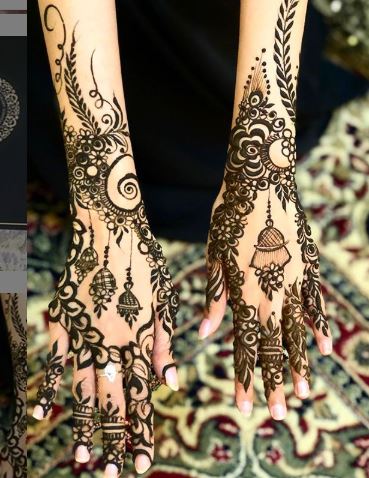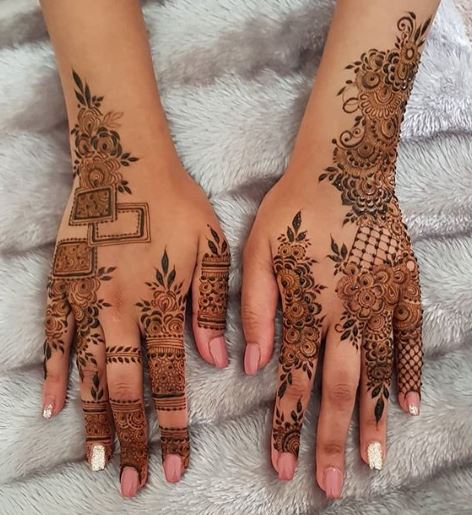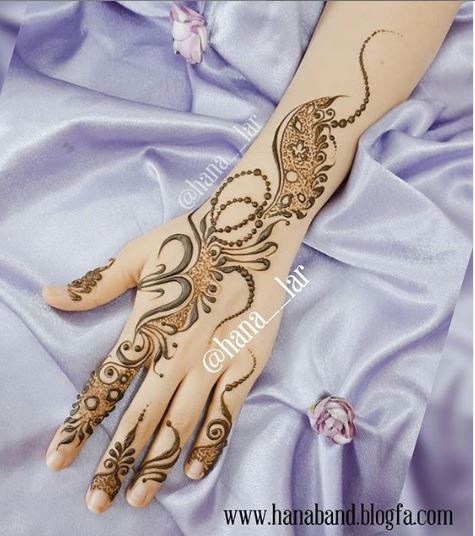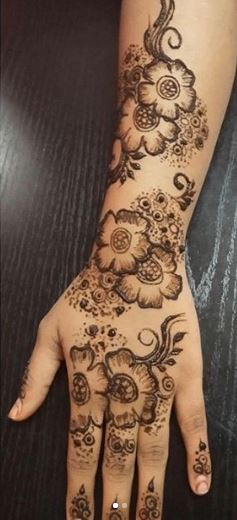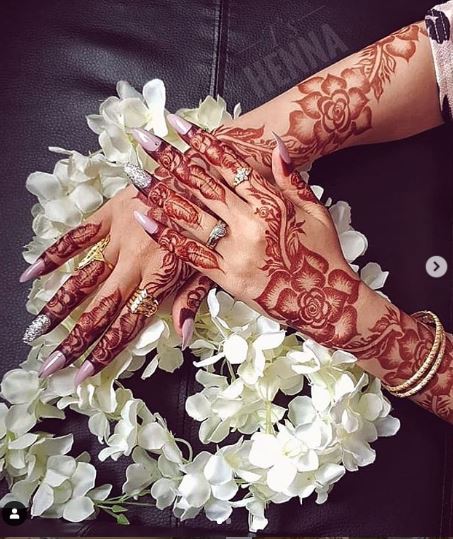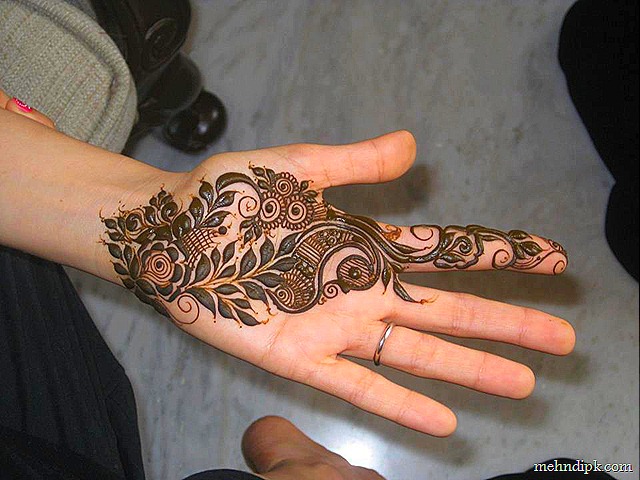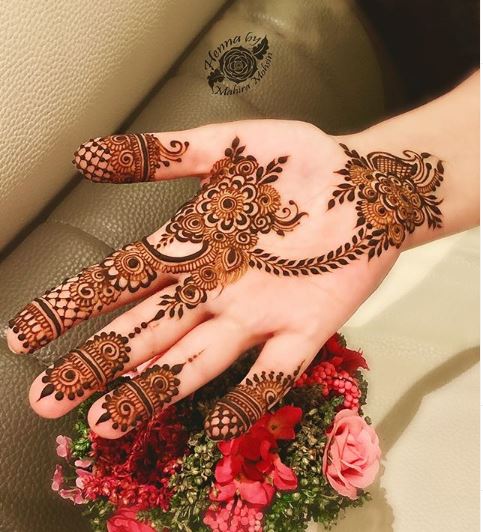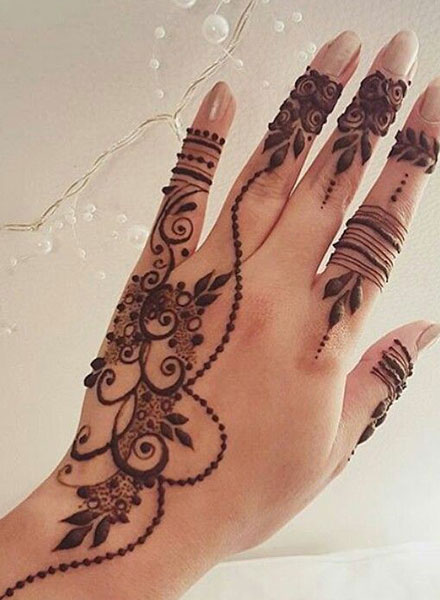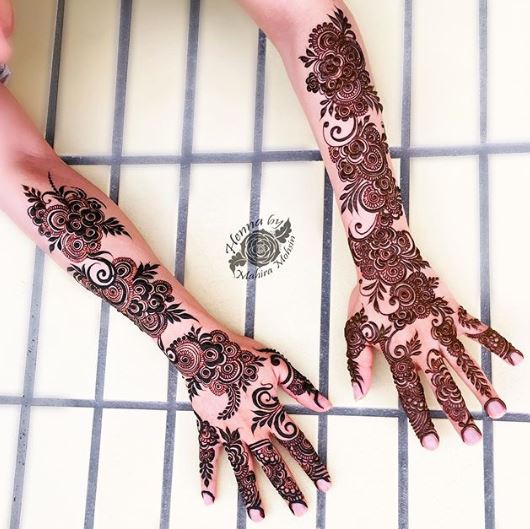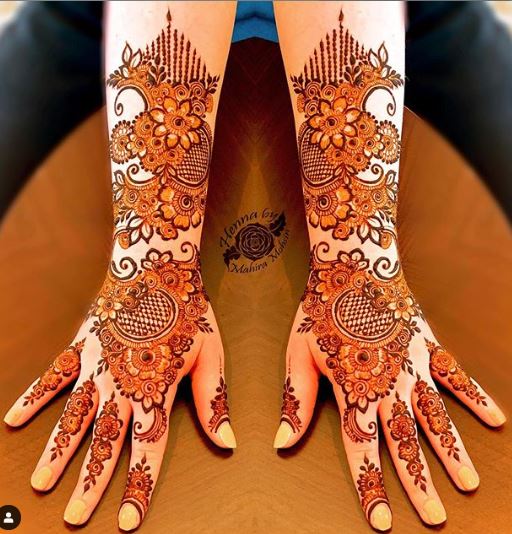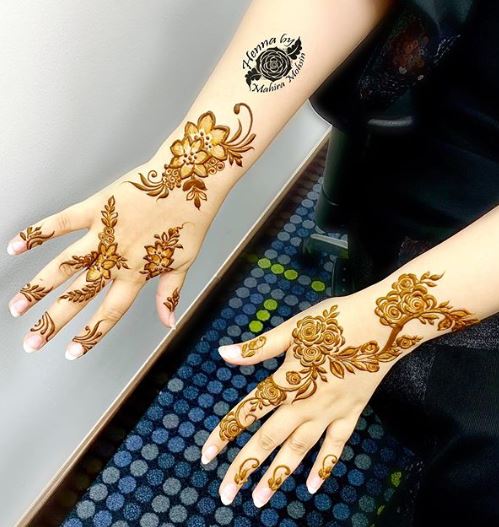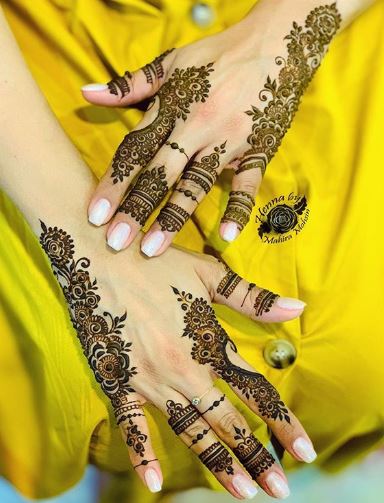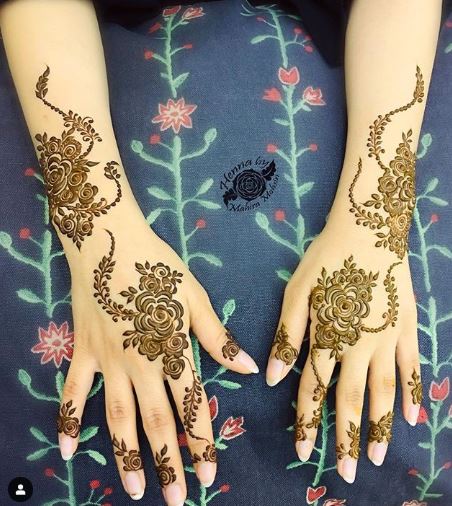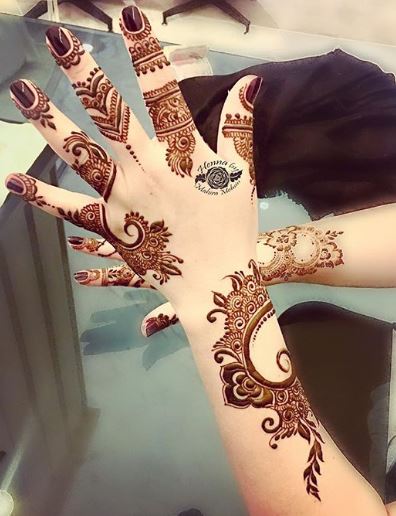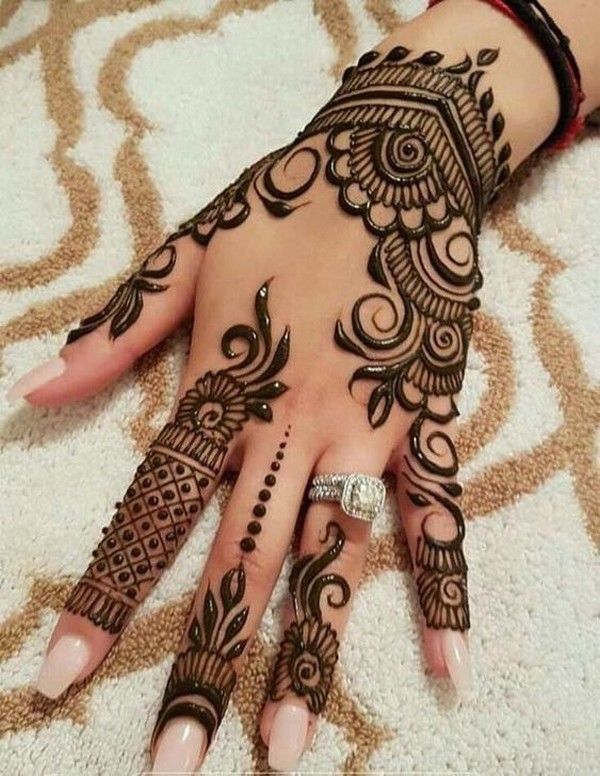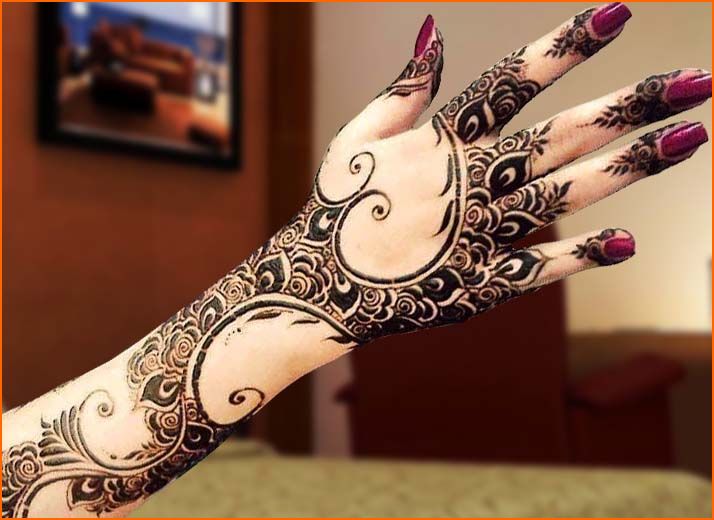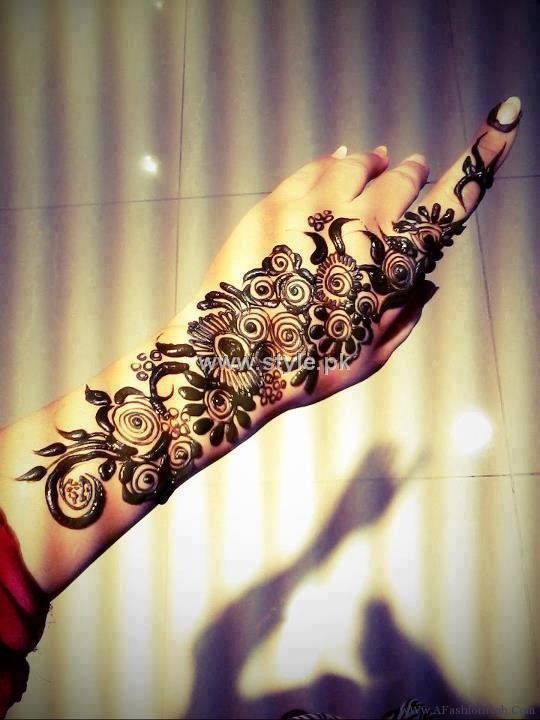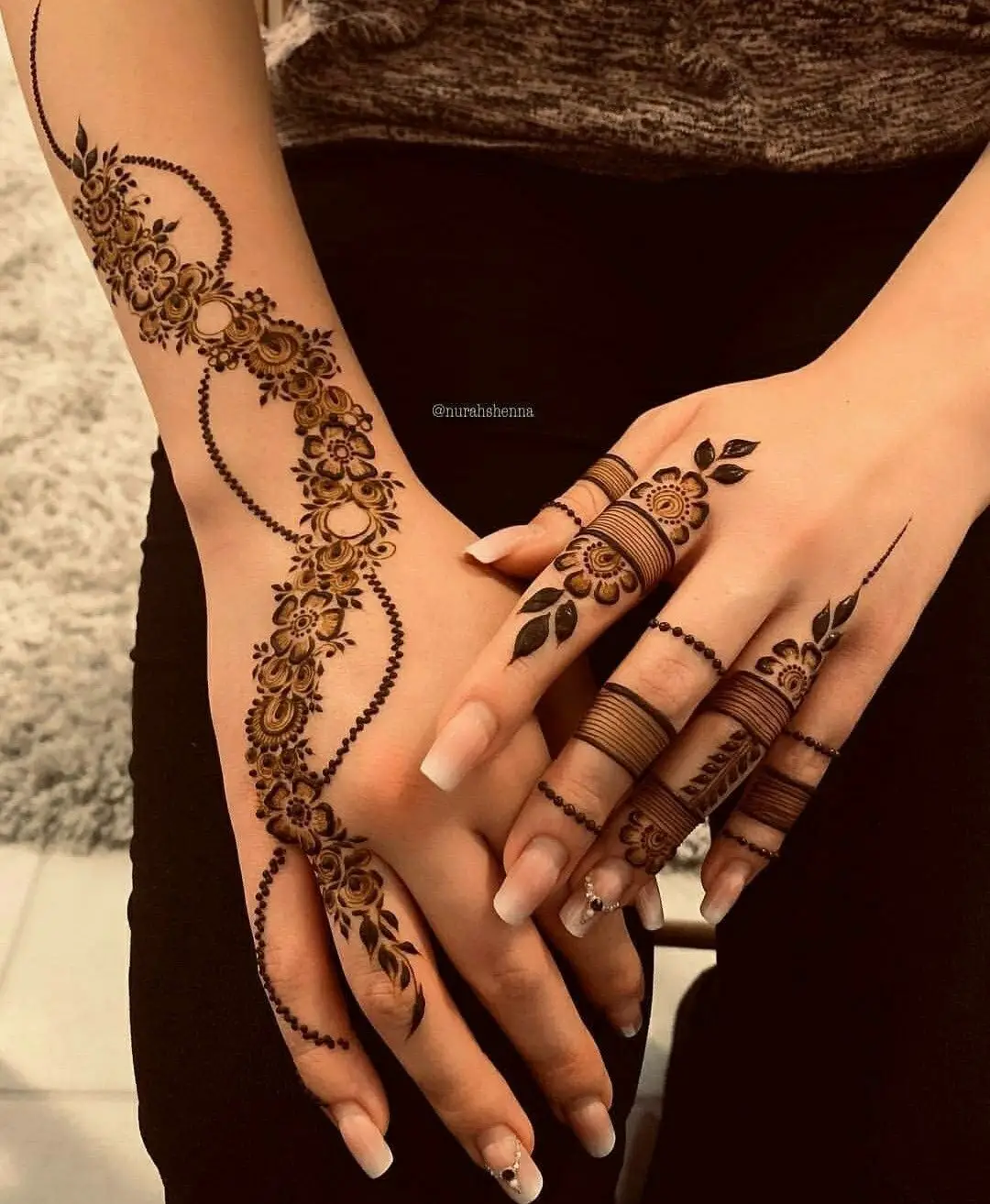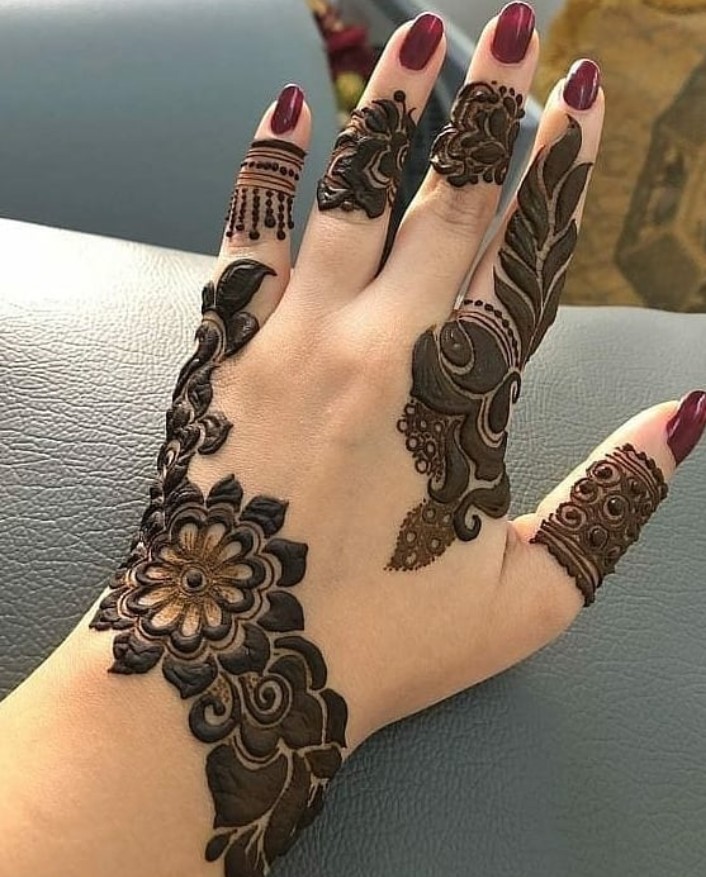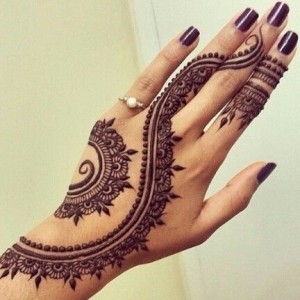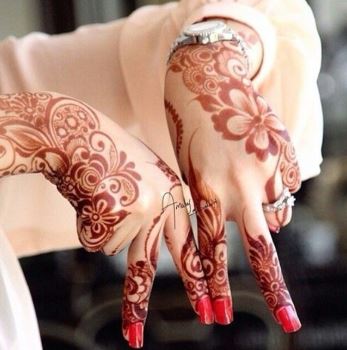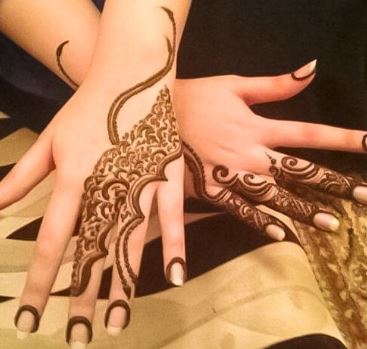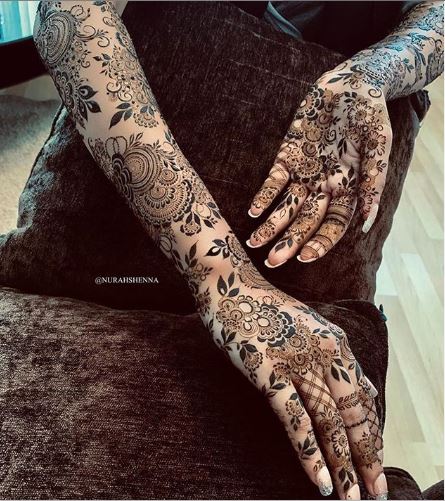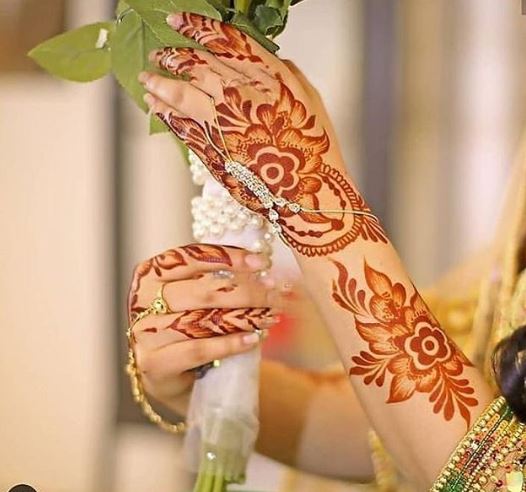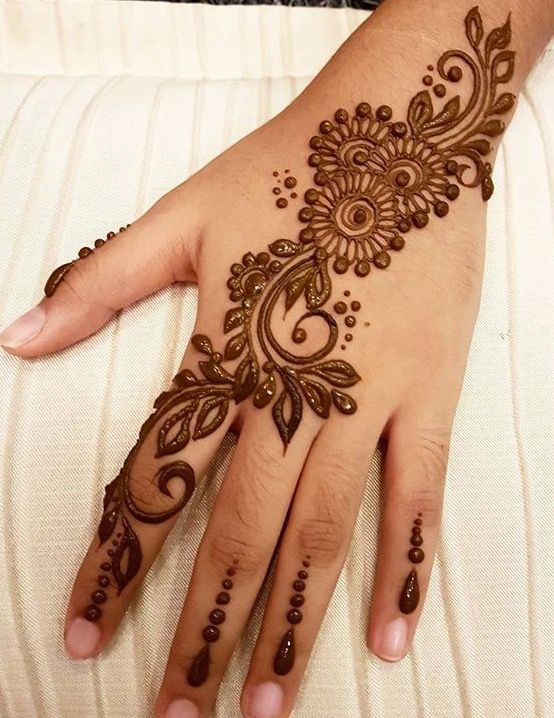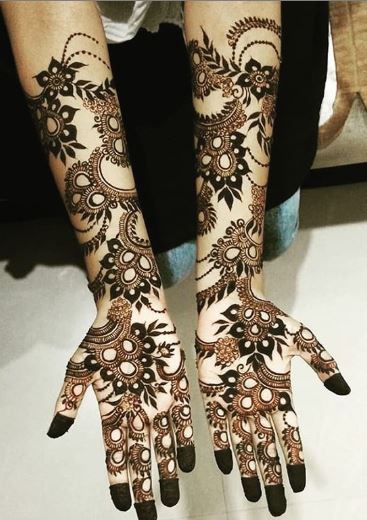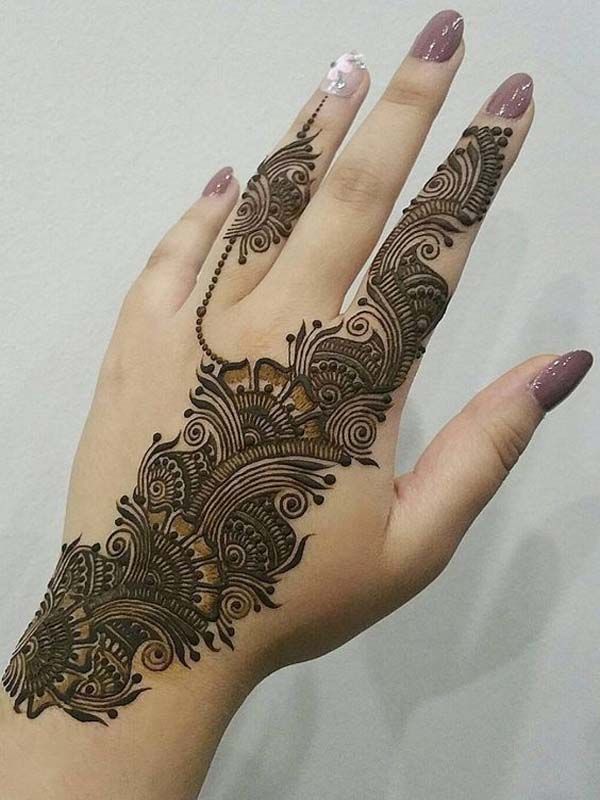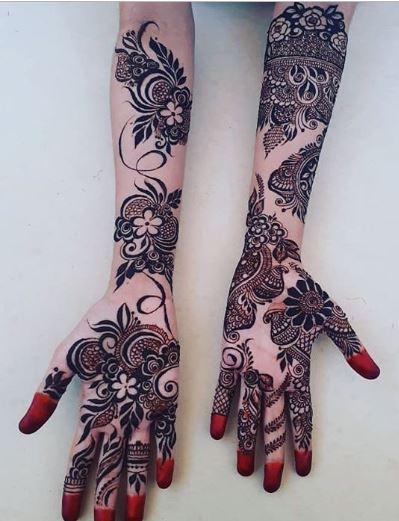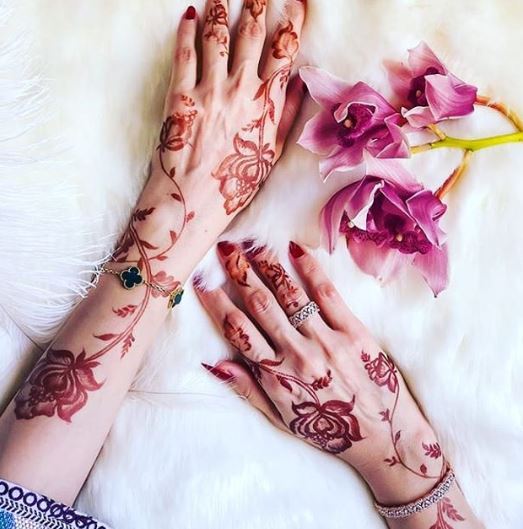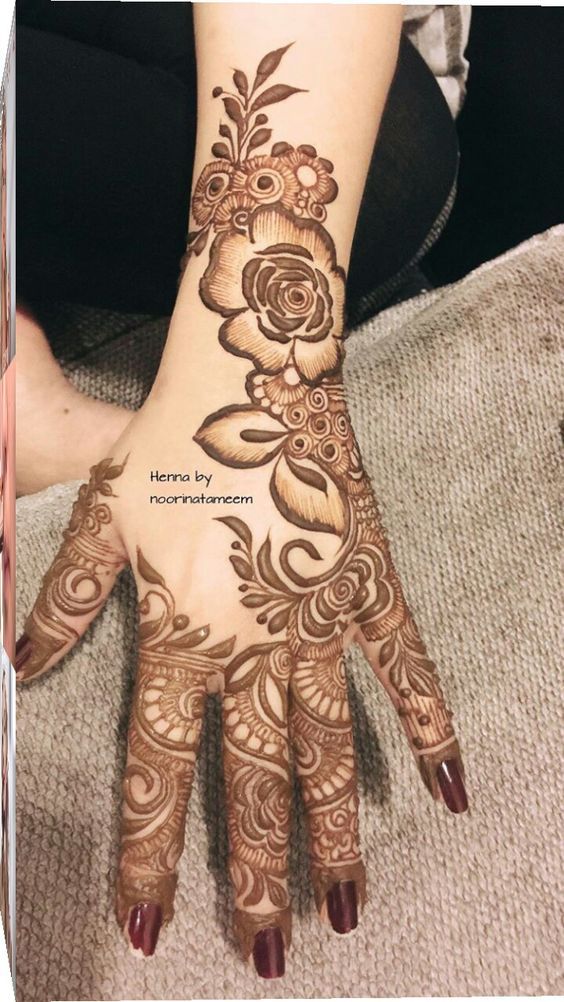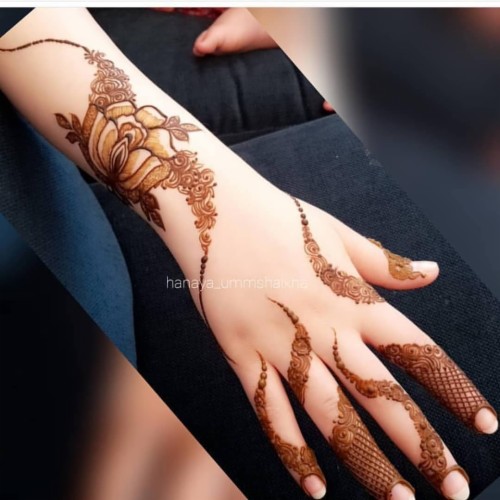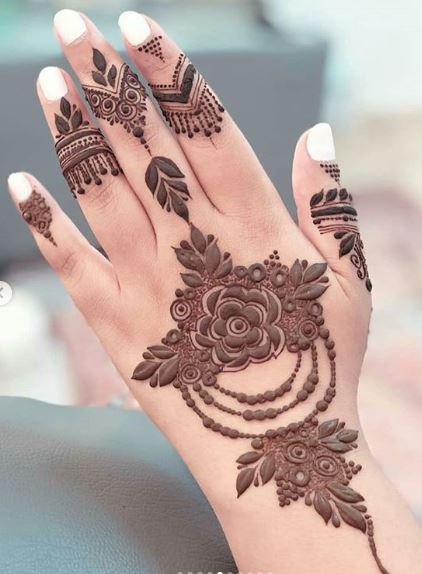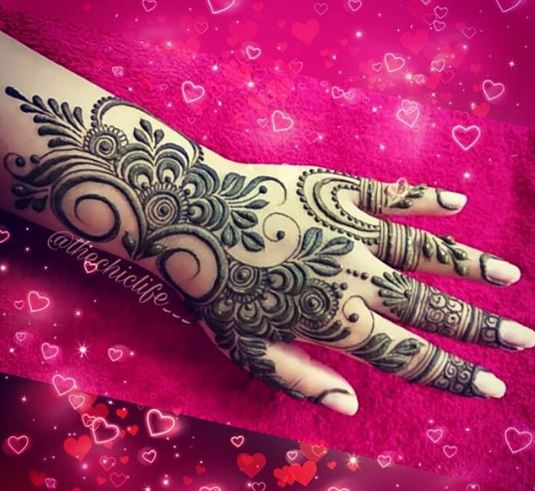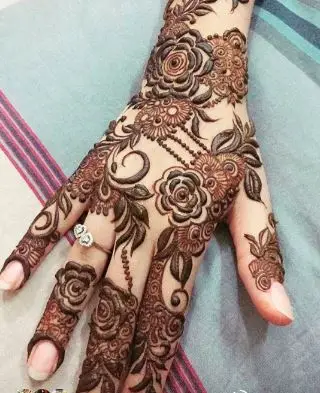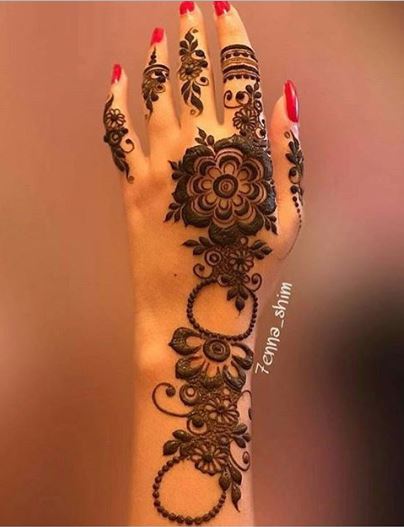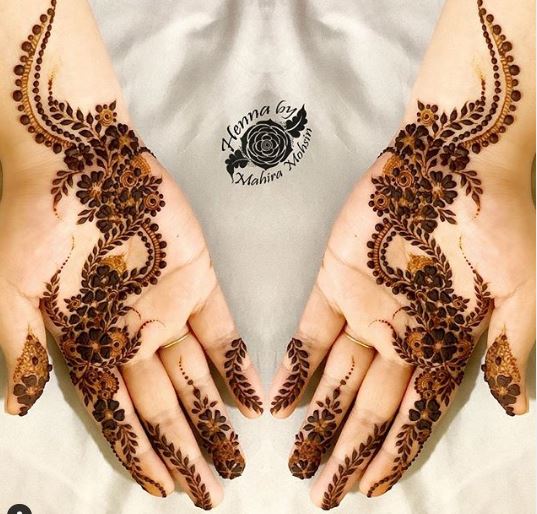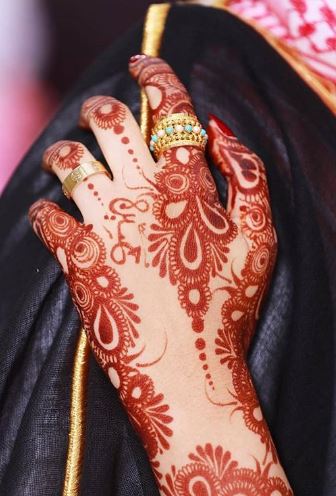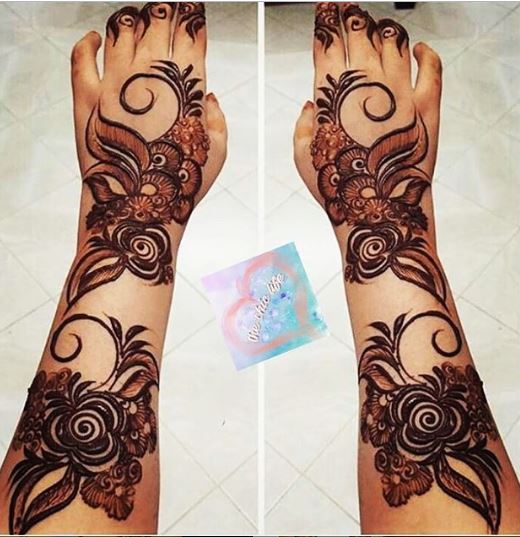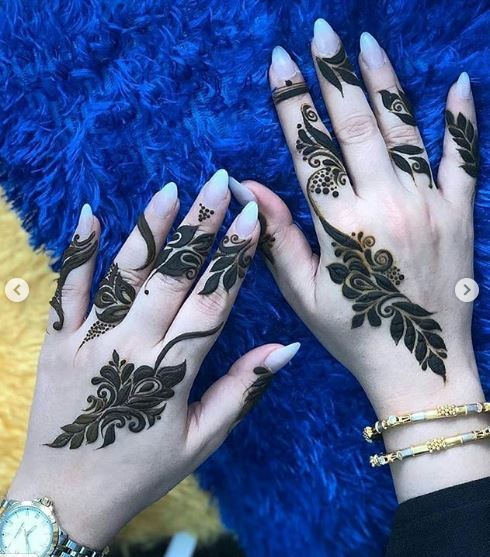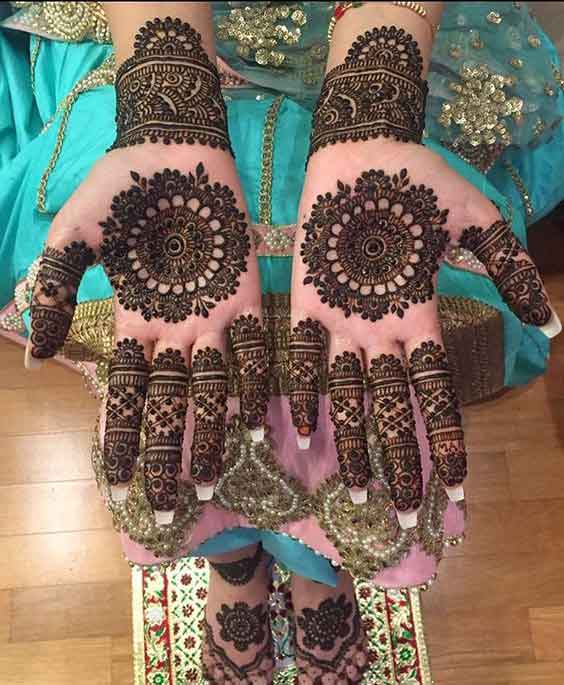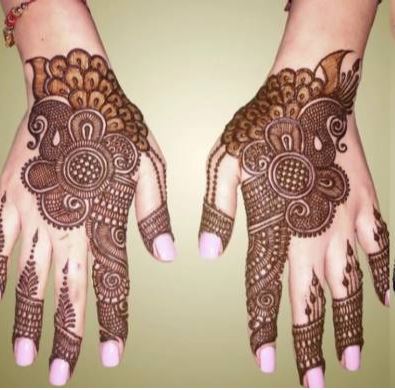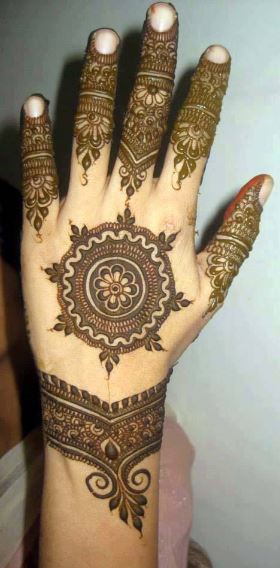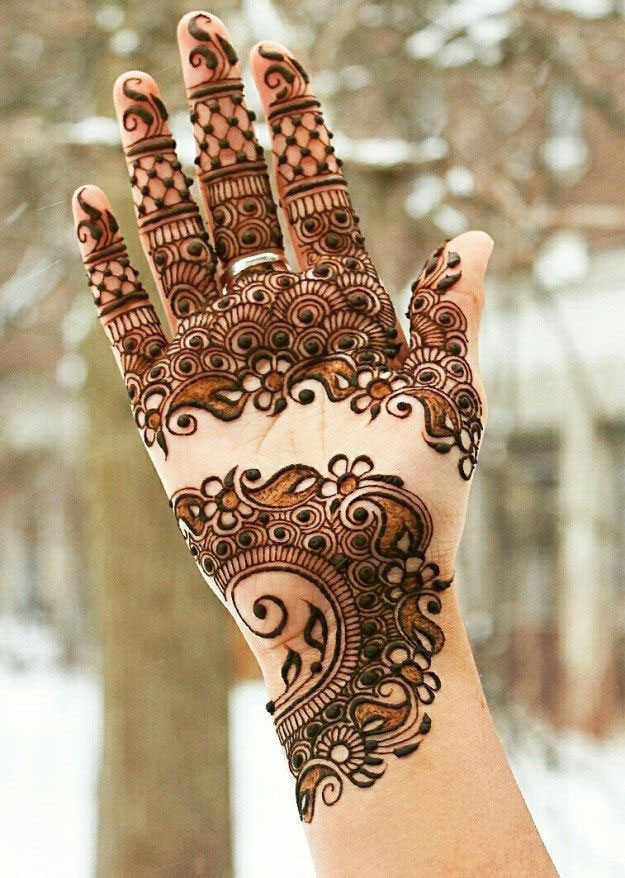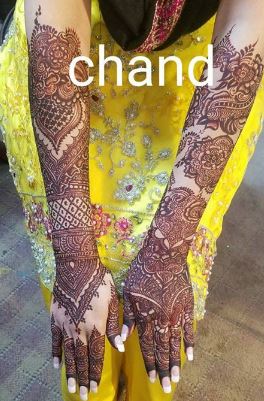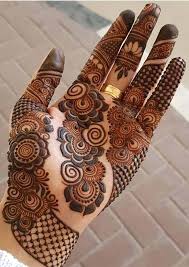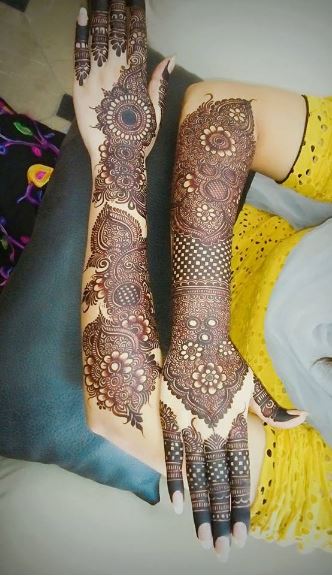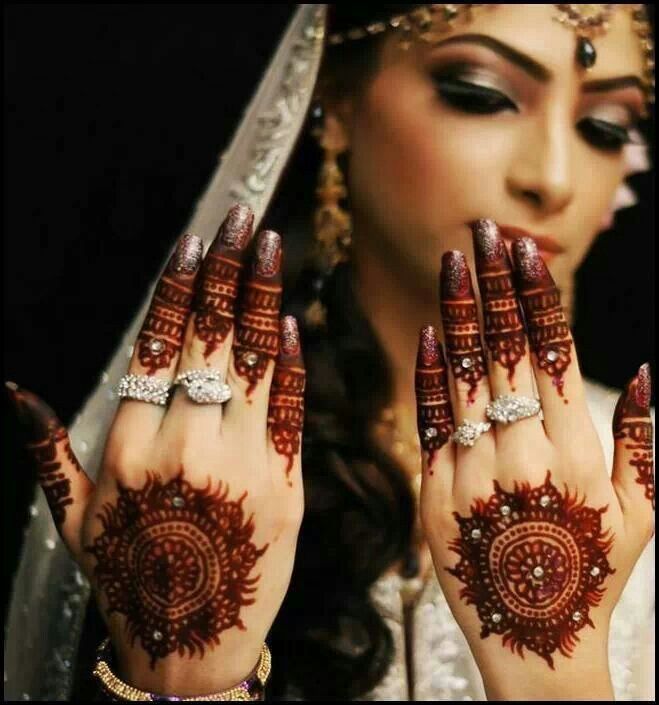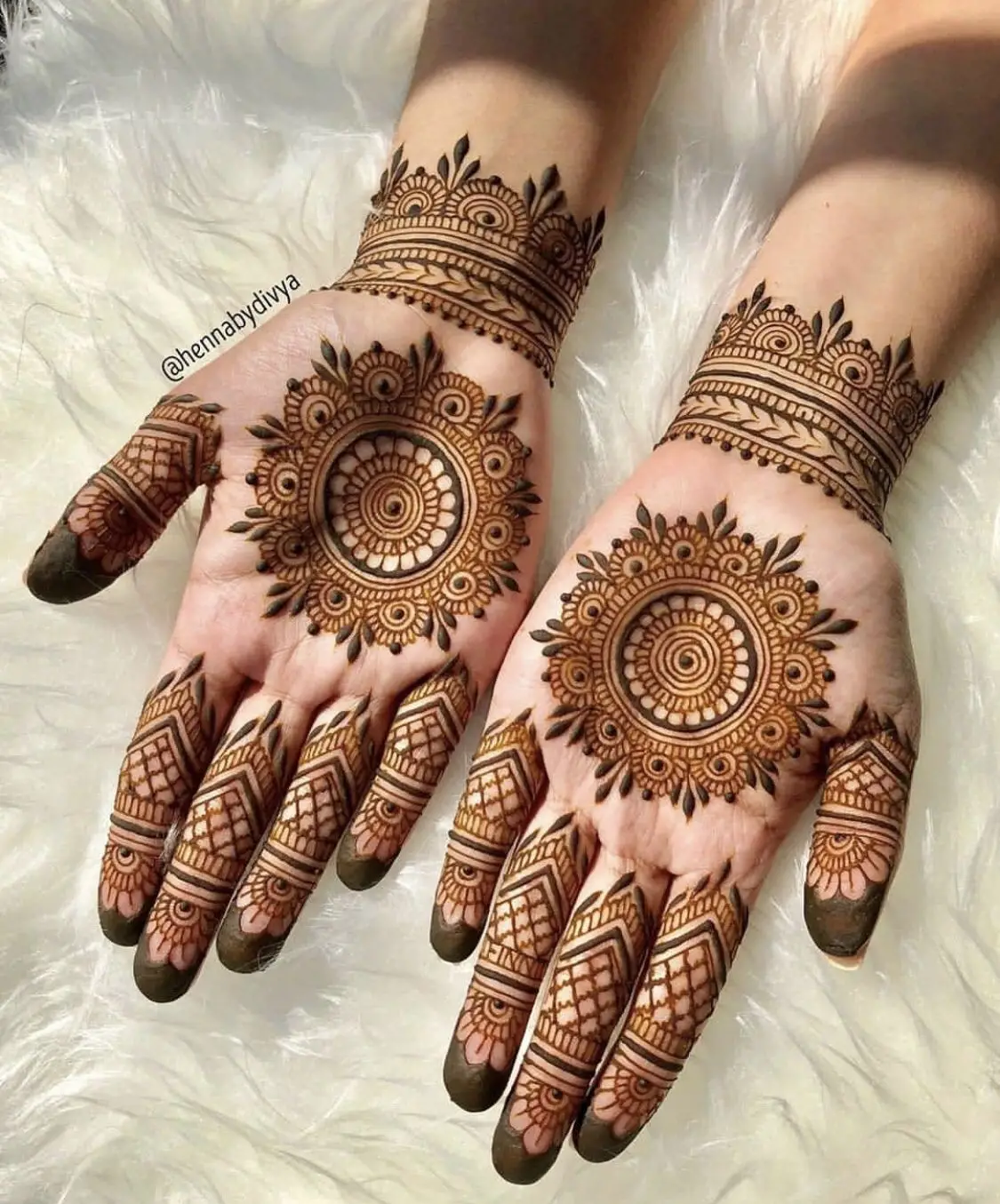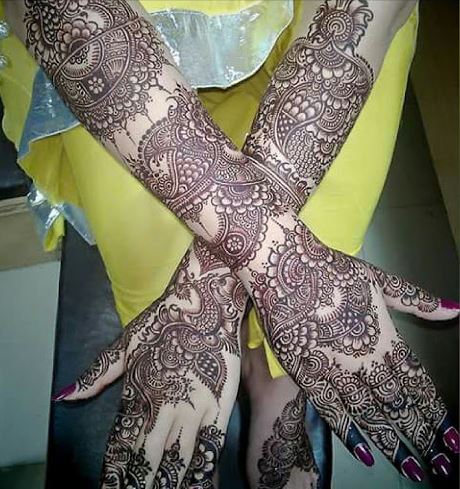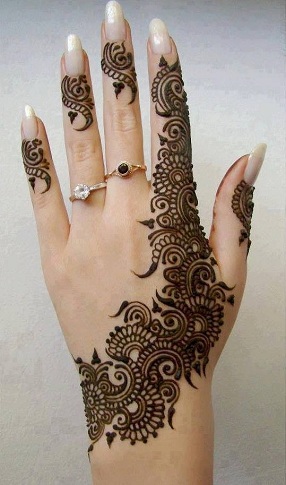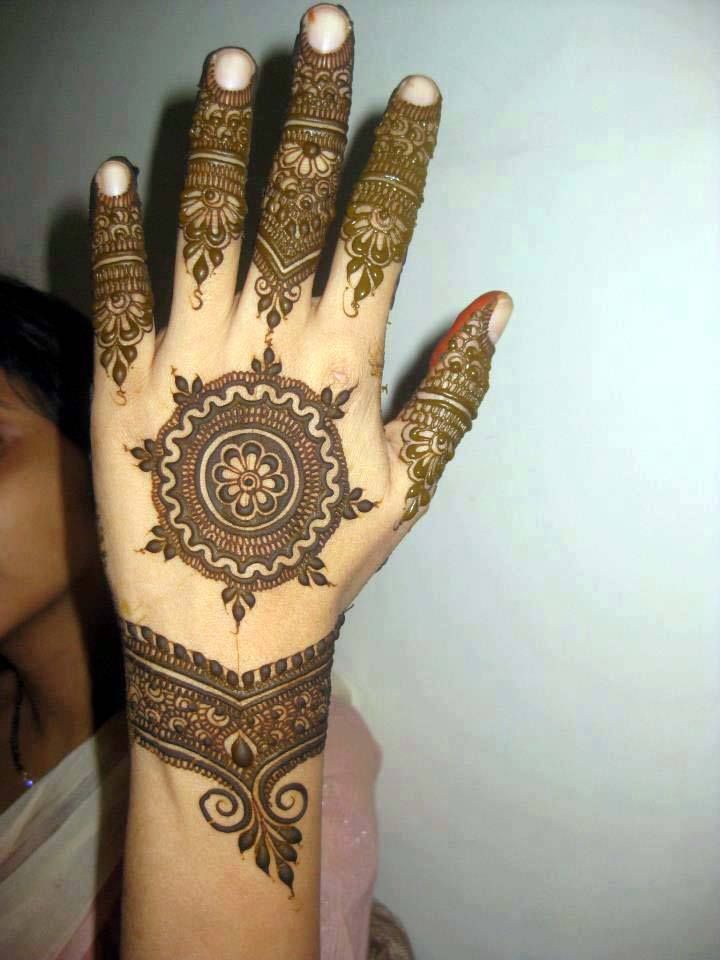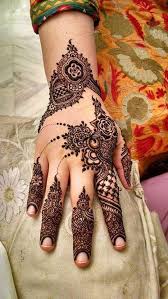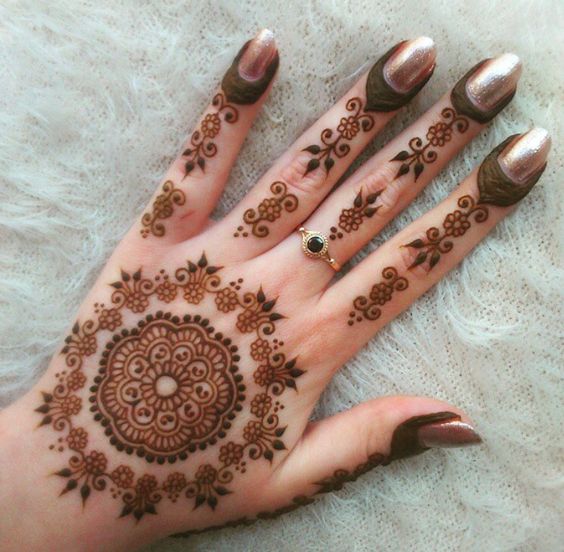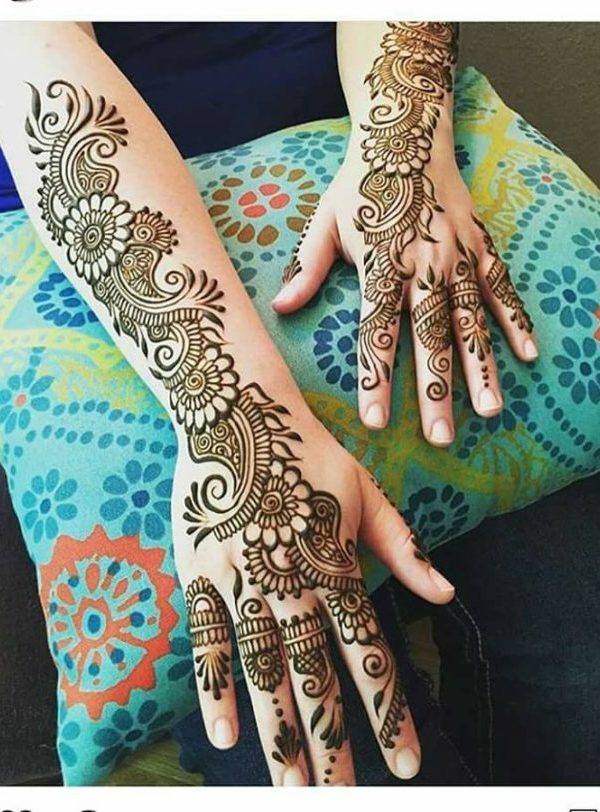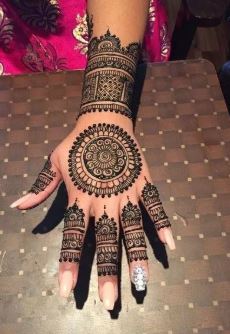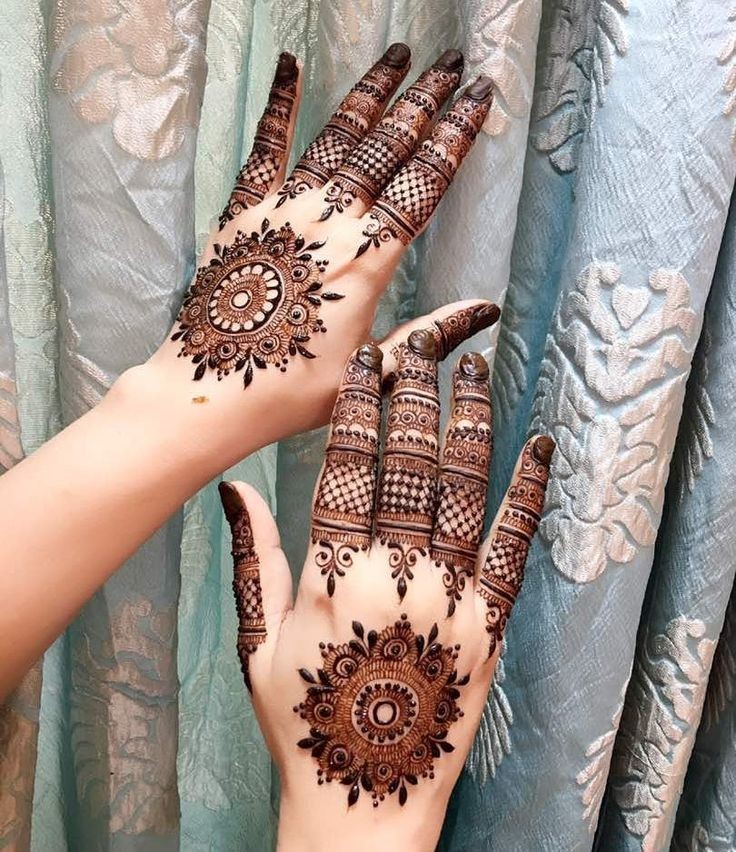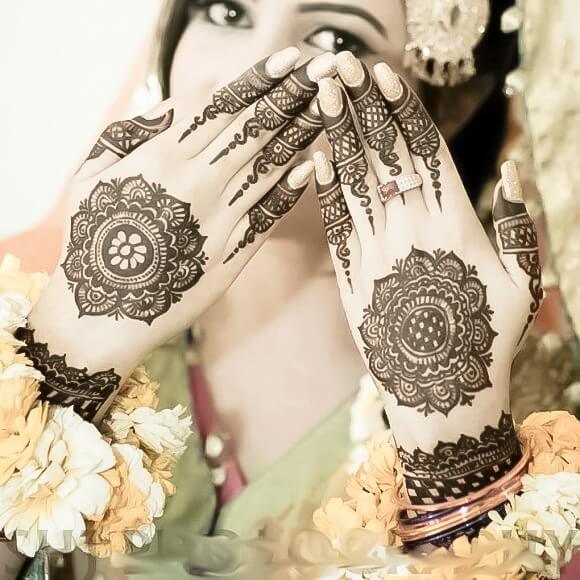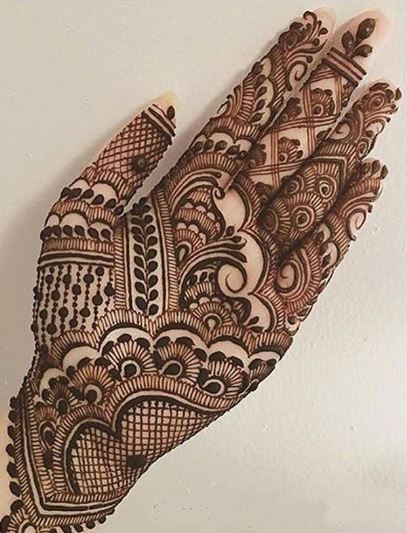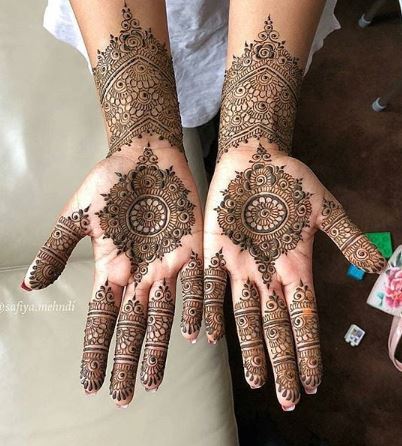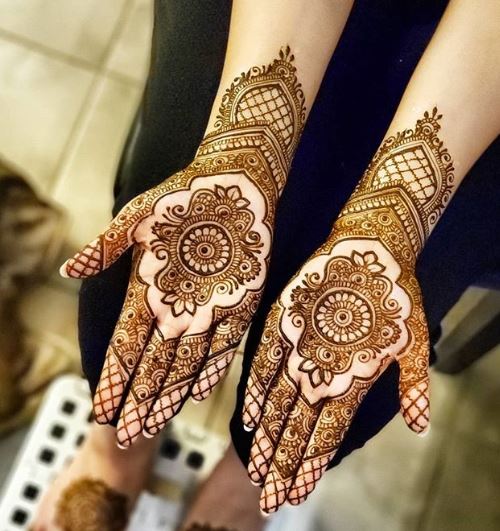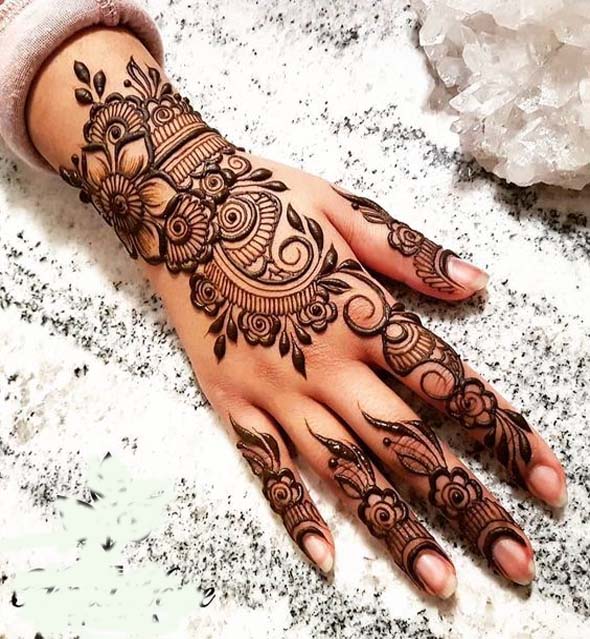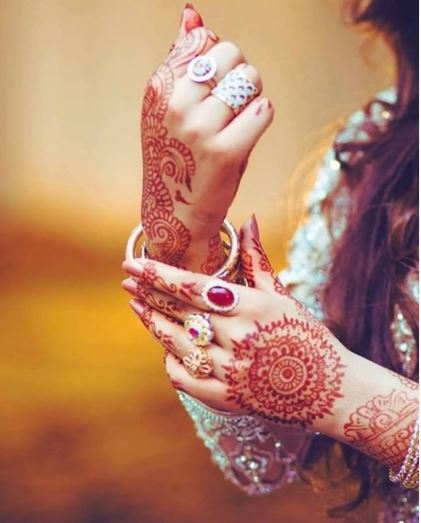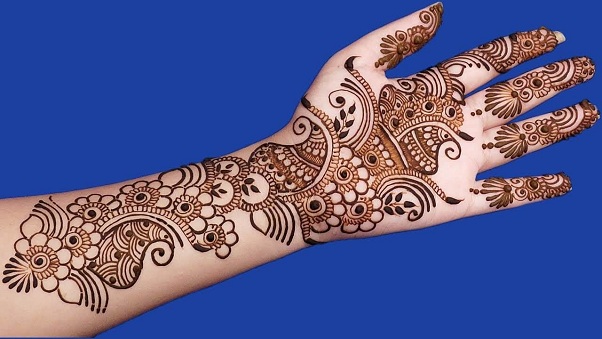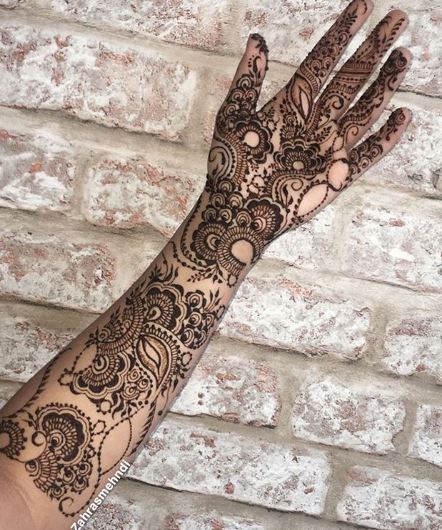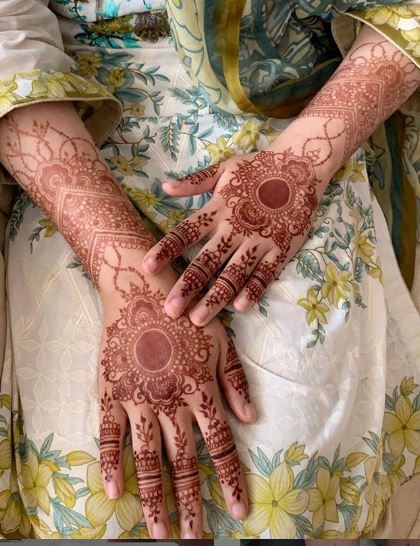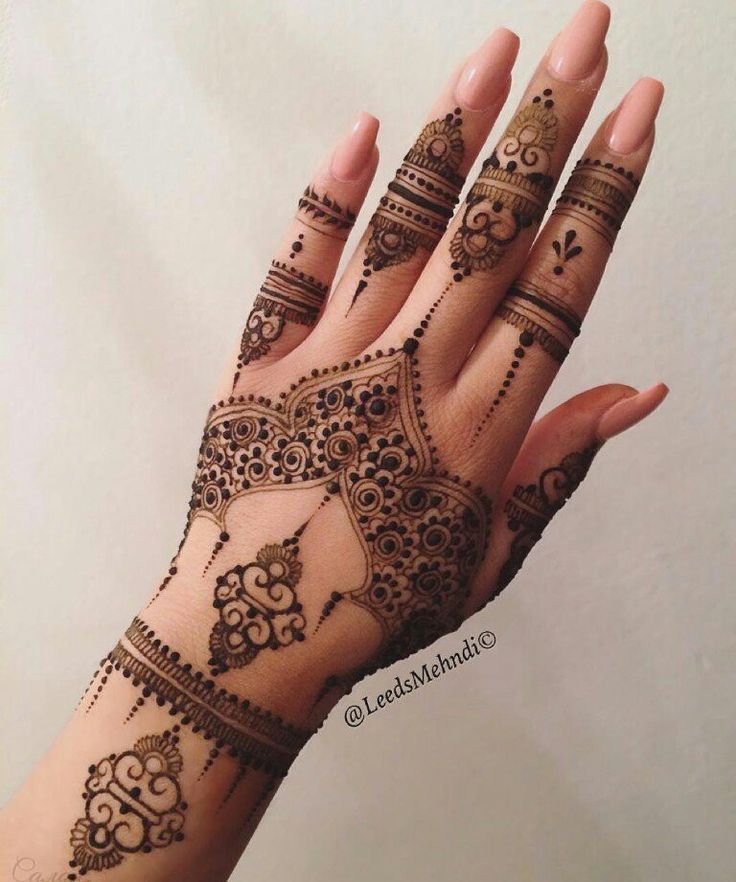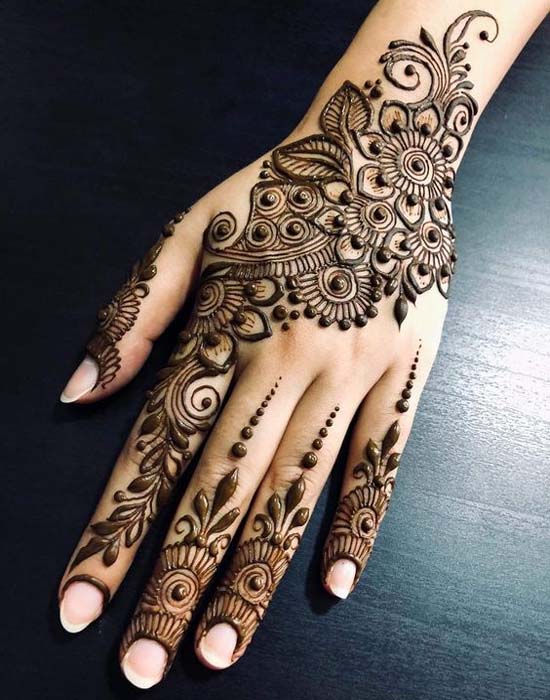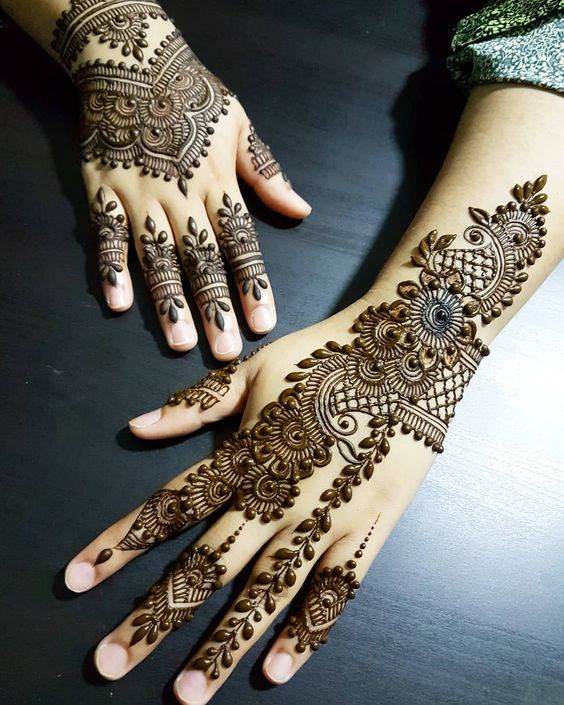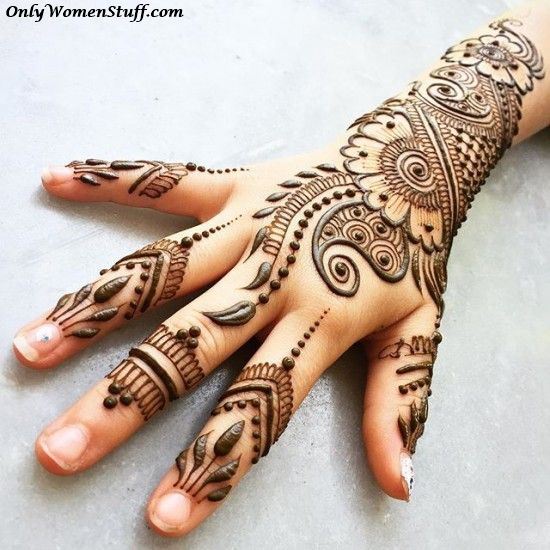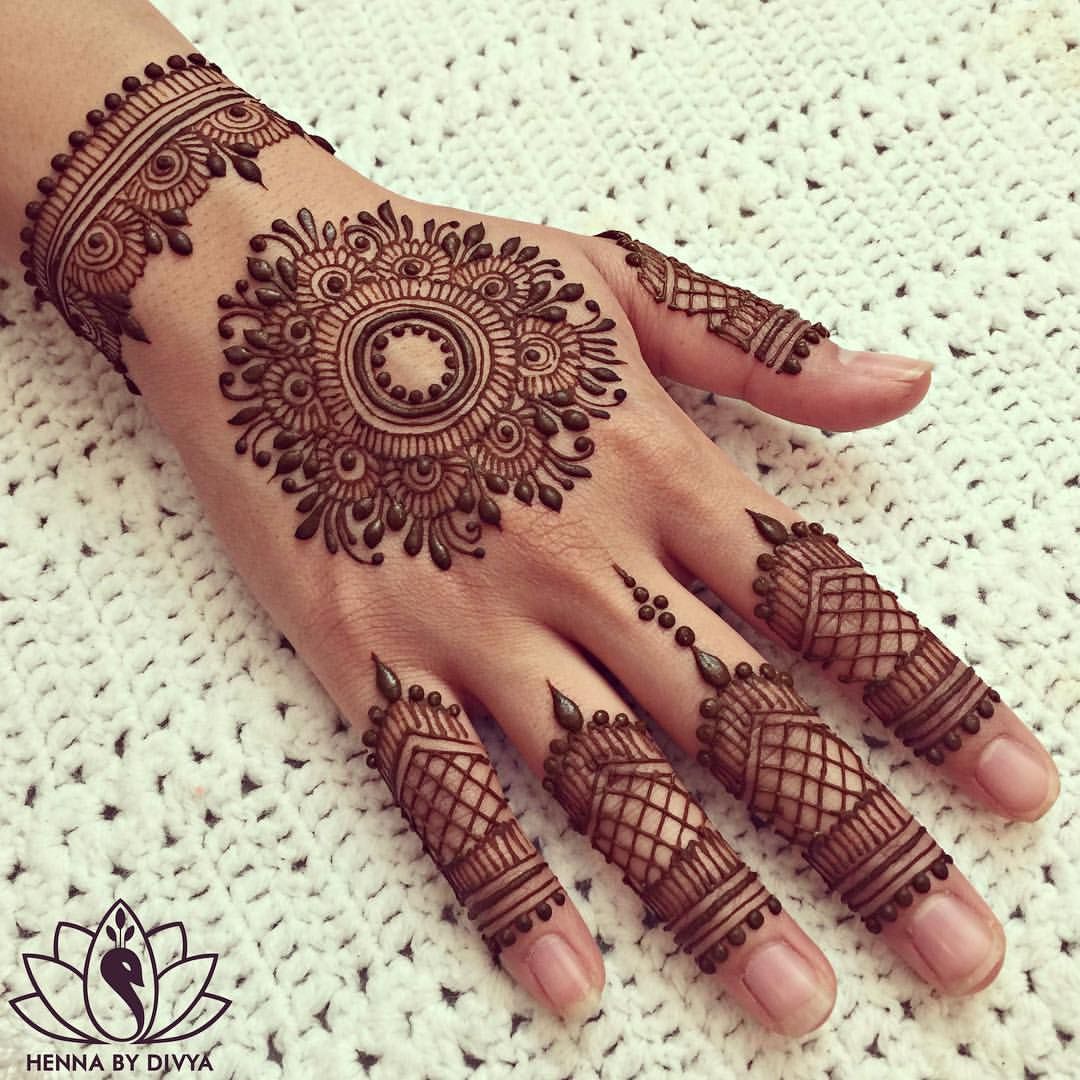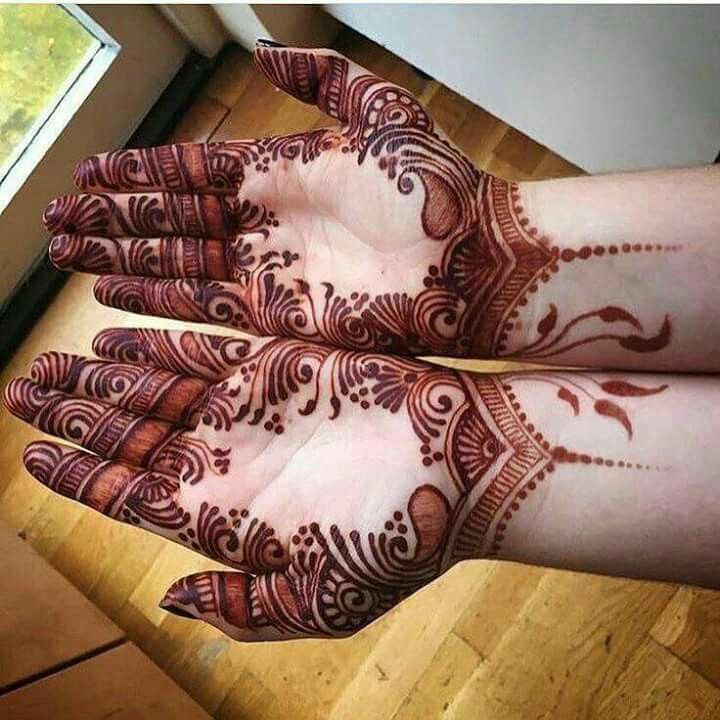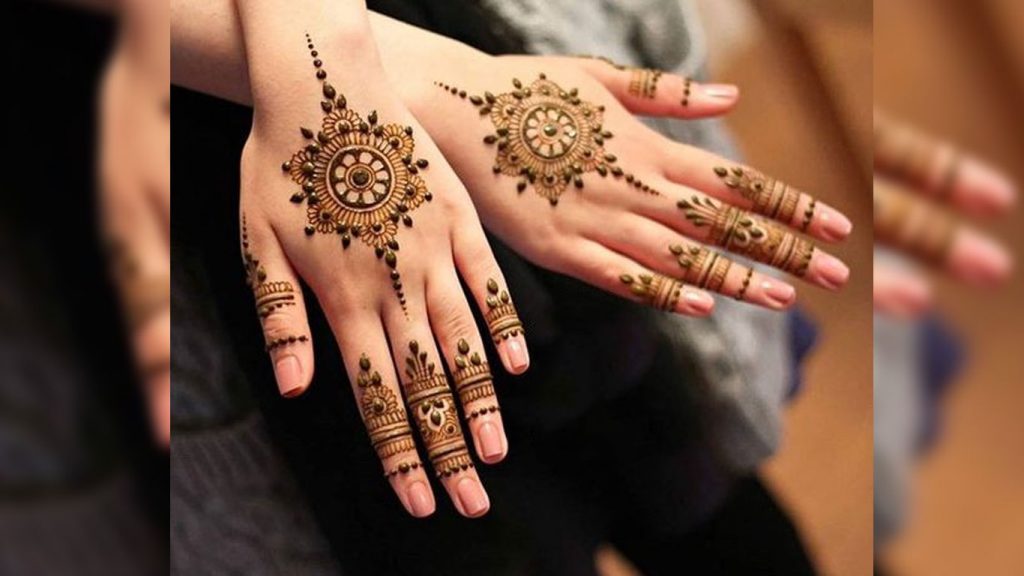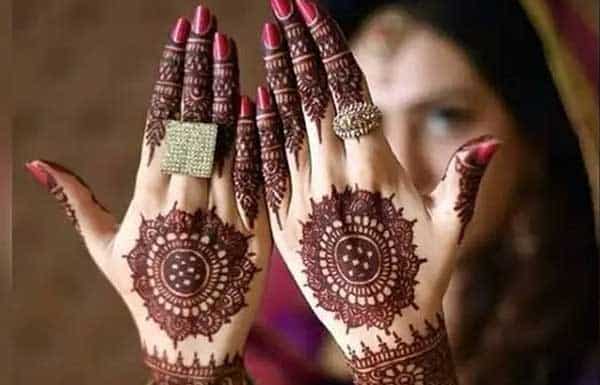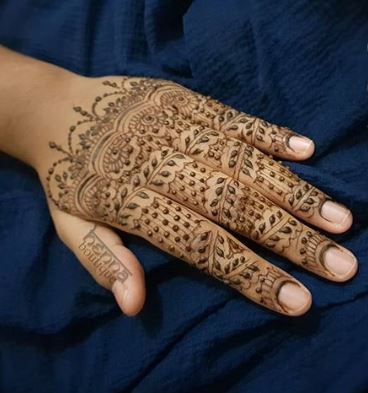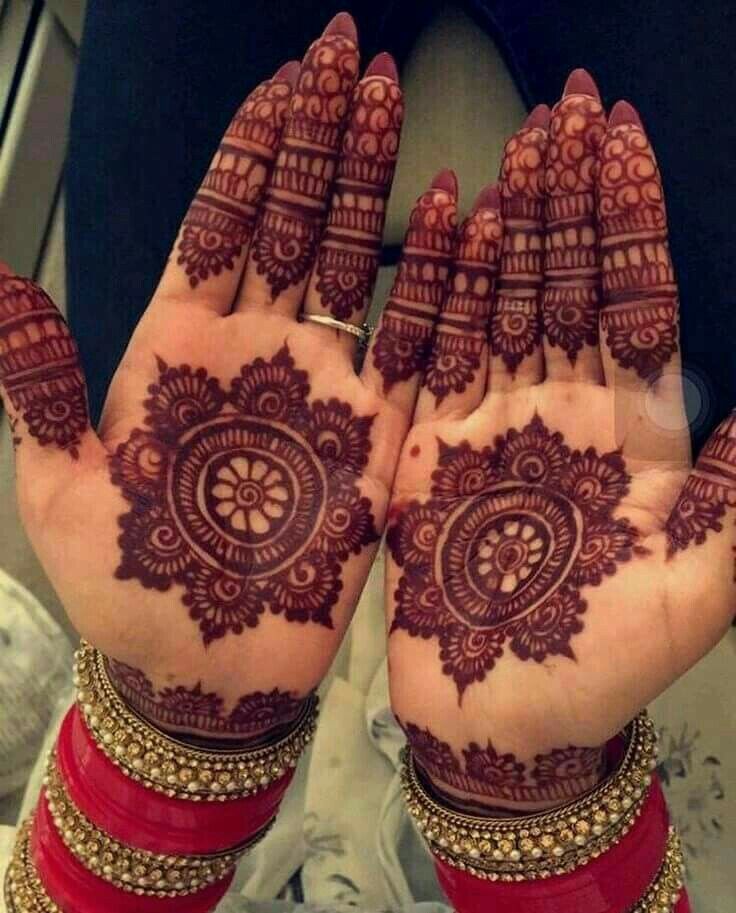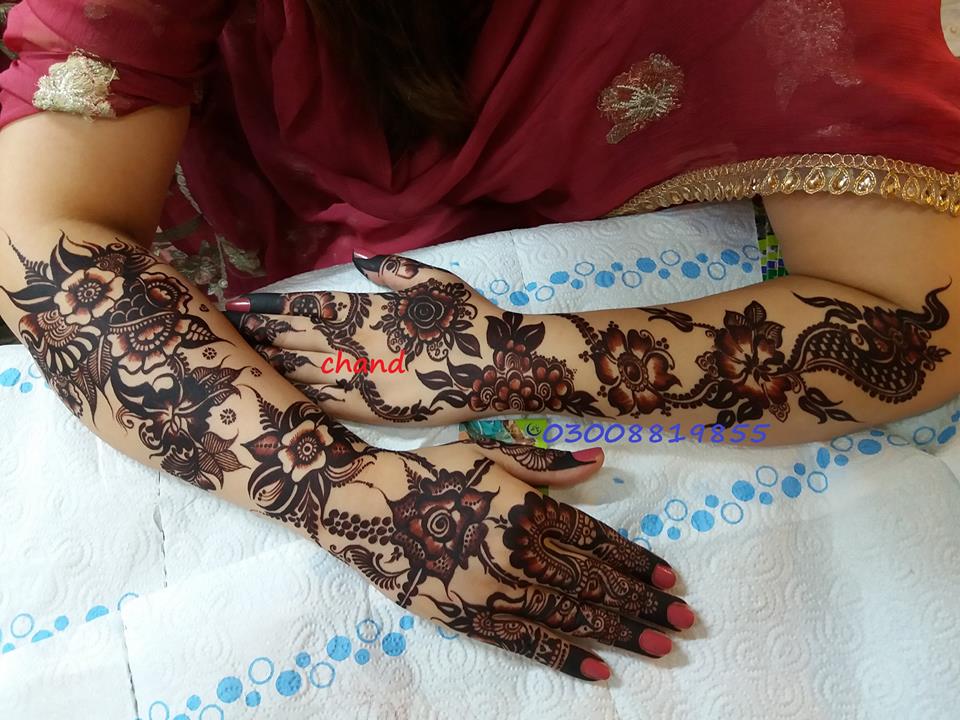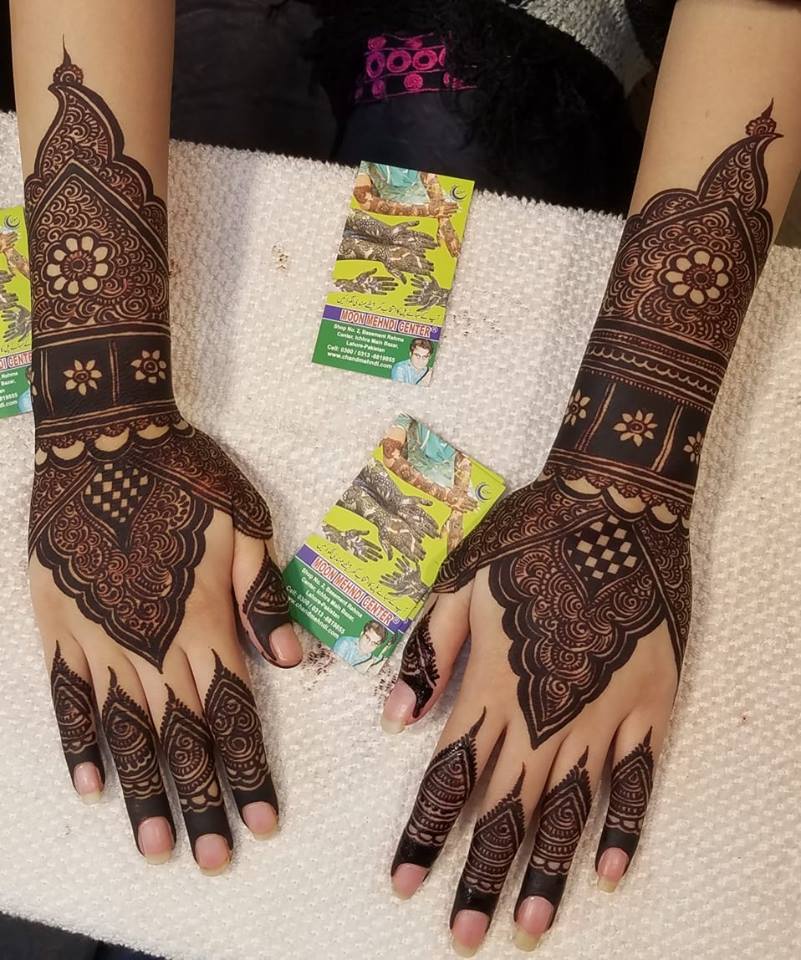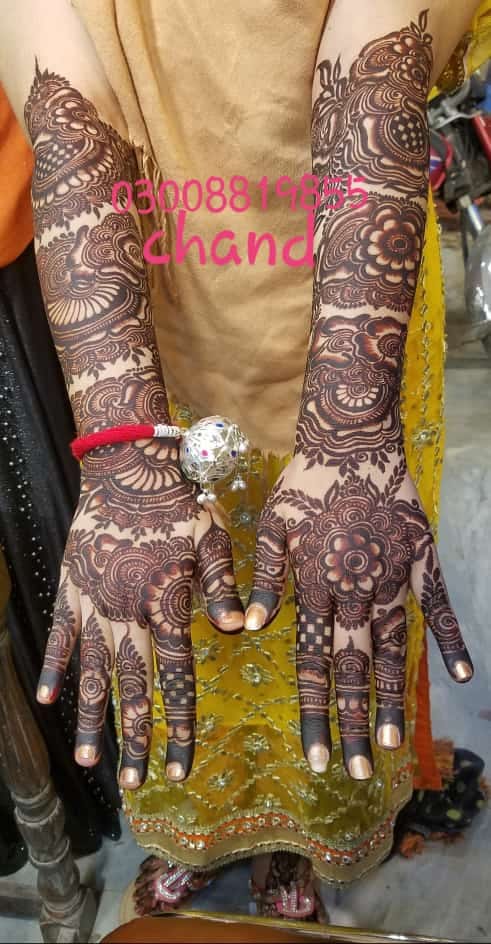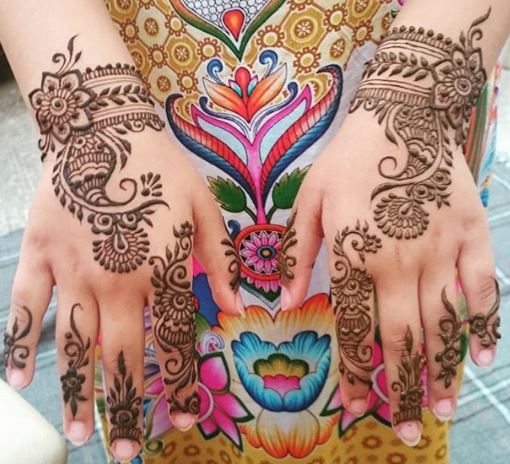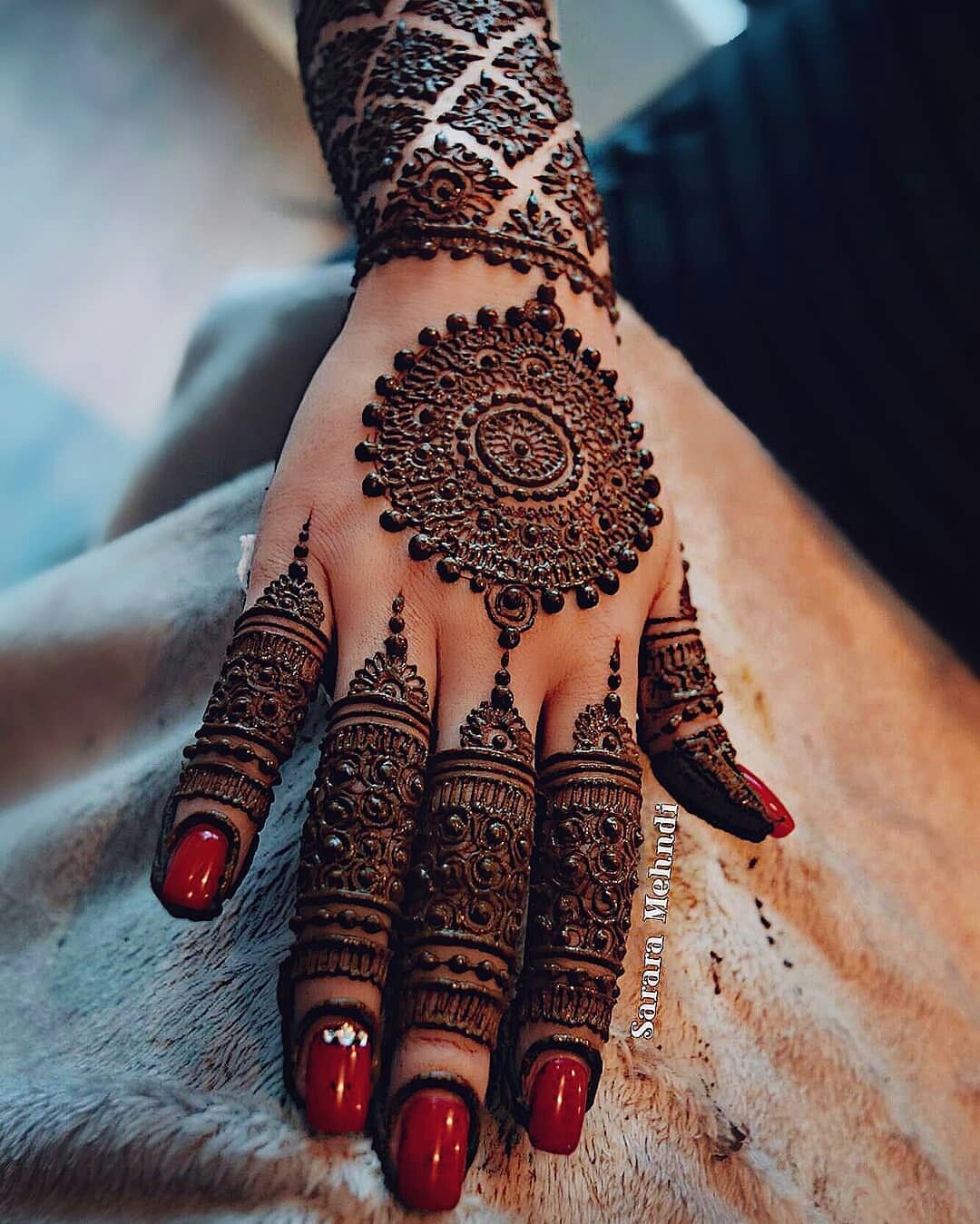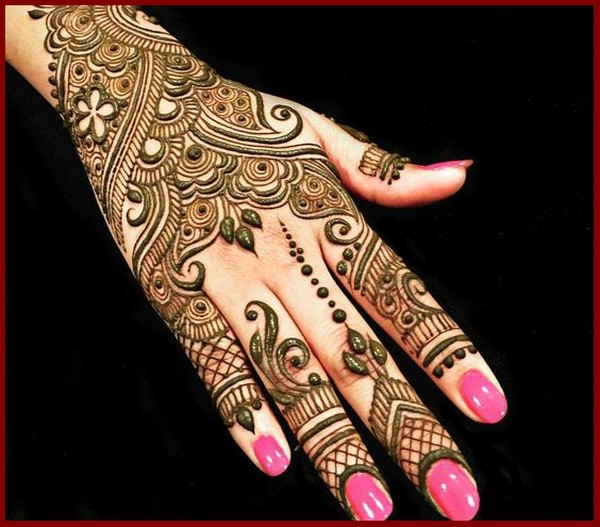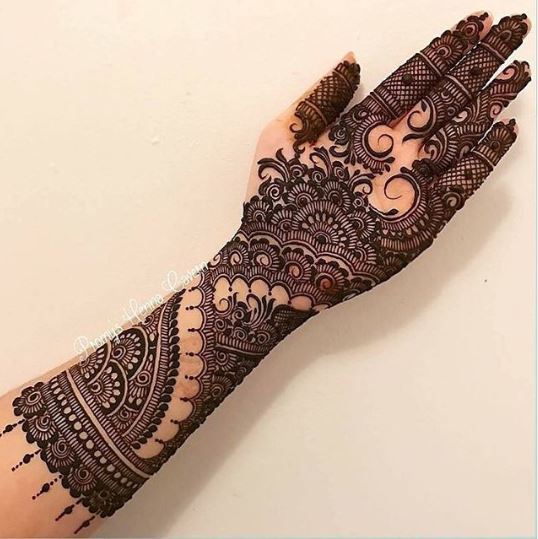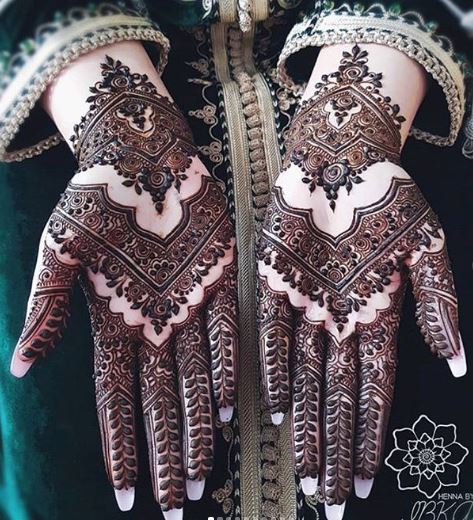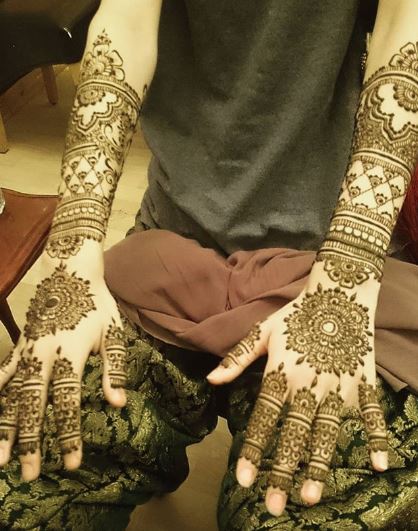 Indian Mehndi Designs:
Indian Mehndi Designs are varied but they are on the heavier side as compared to Arabic or Pakistani mehndi designs. Indian mehndi designs are very delicate and intricate. Indian mehndi designs cover the entire hands and feet with all kinds of patterns and motifs. Indian mehndi designs is also based on thicker, bolder and intricate, delicate designs merging into one another to form a beautiful layout. Indian mehndi design is unique and requires a lot of practice and precision to be applied perfectly.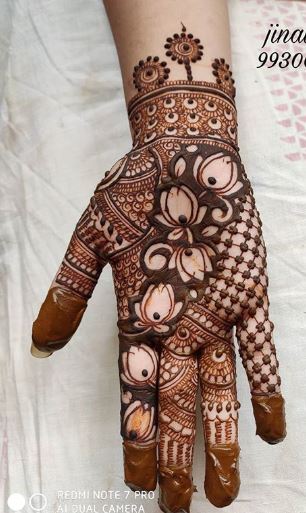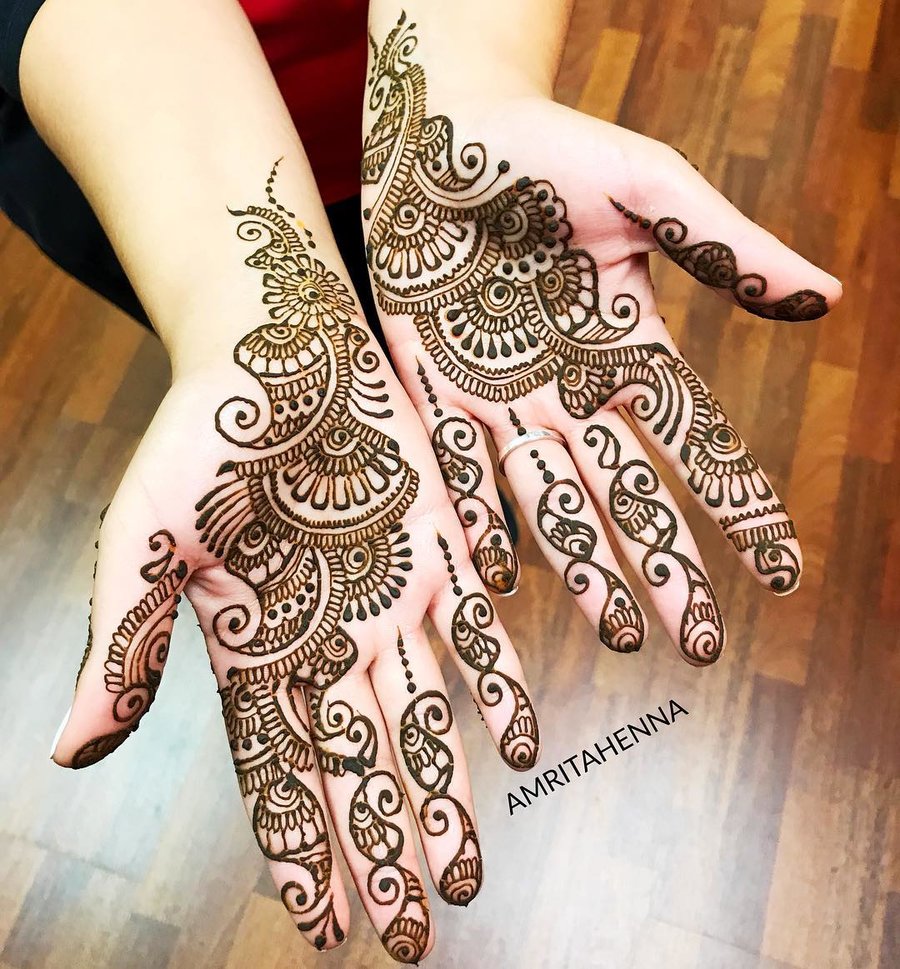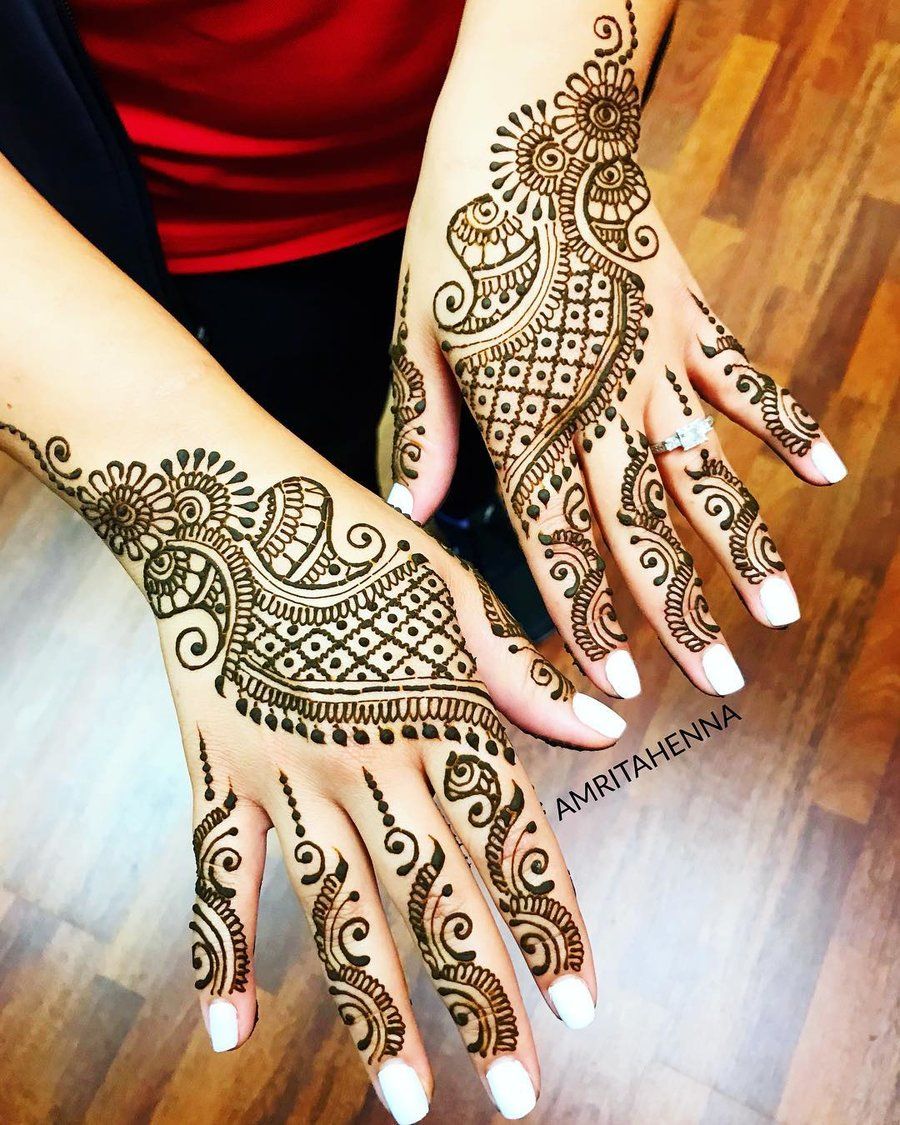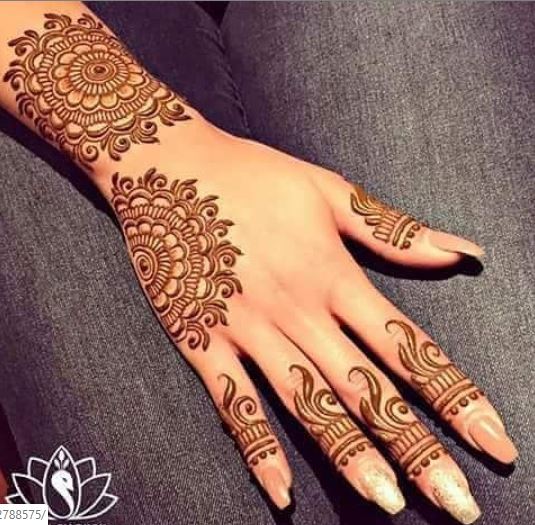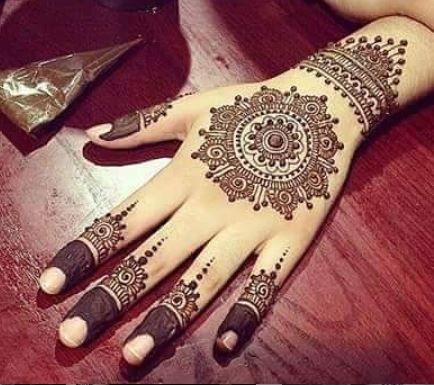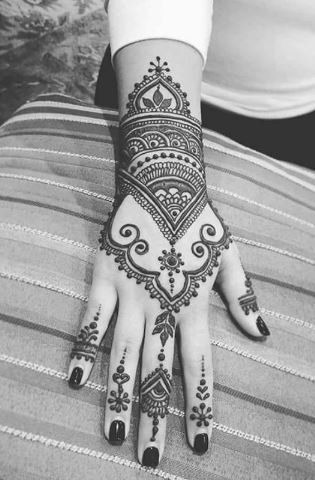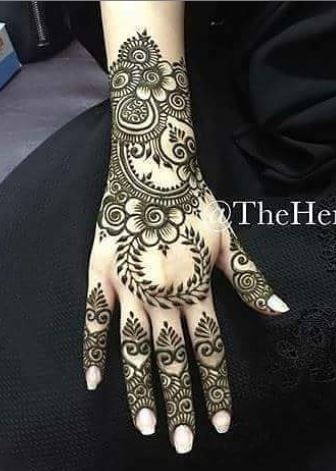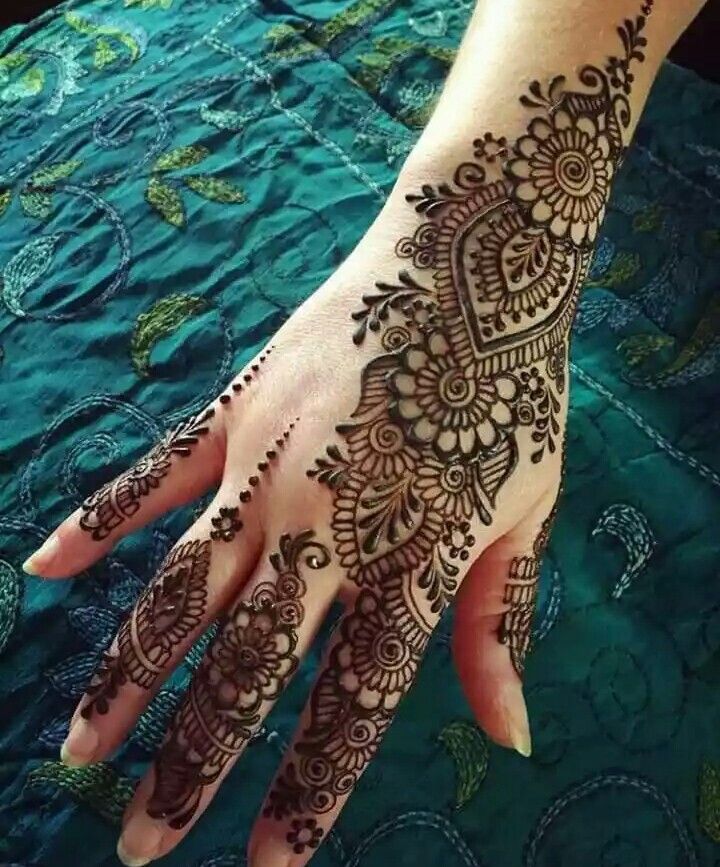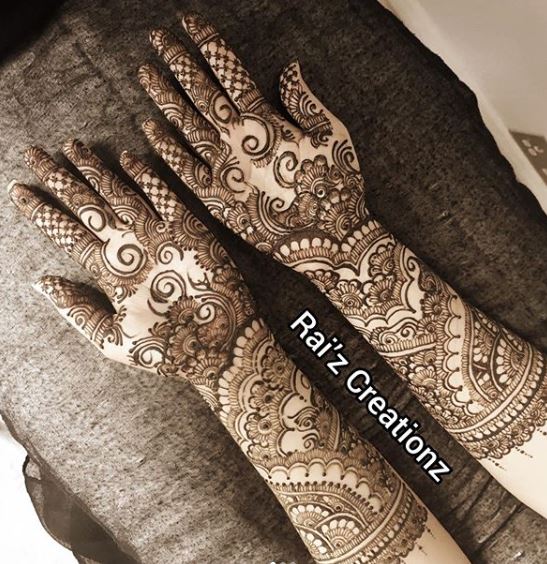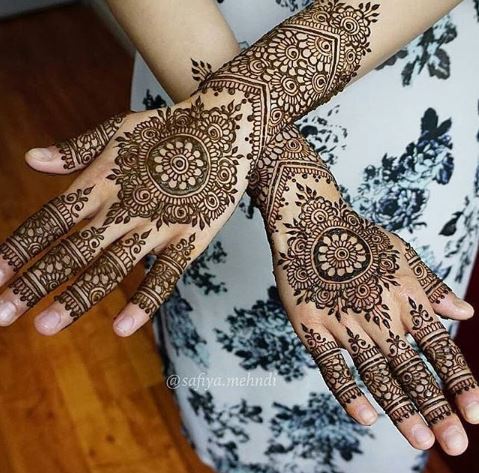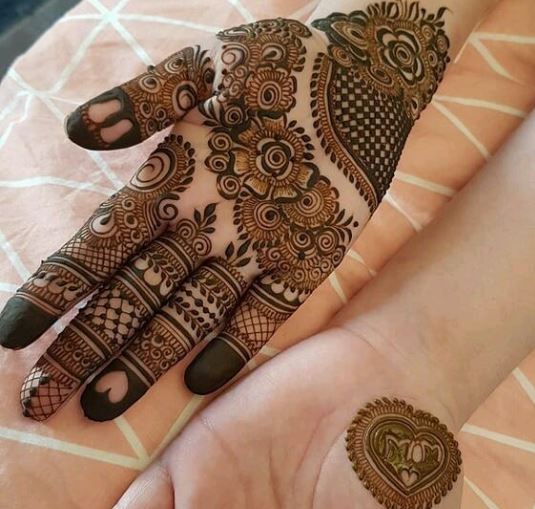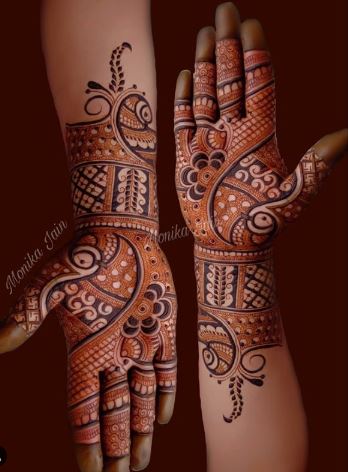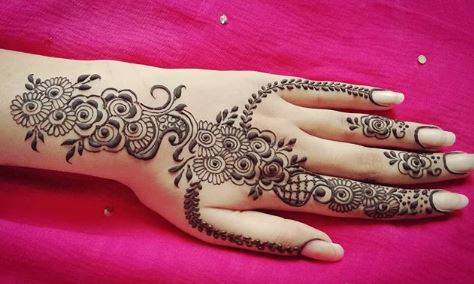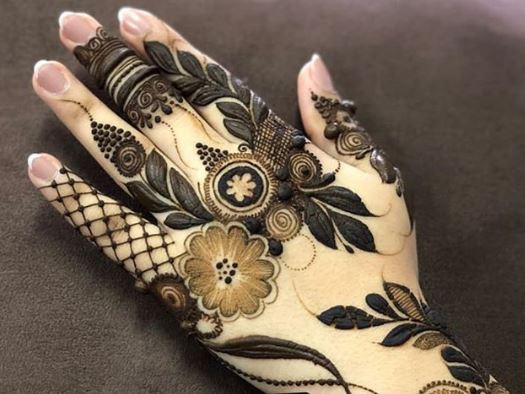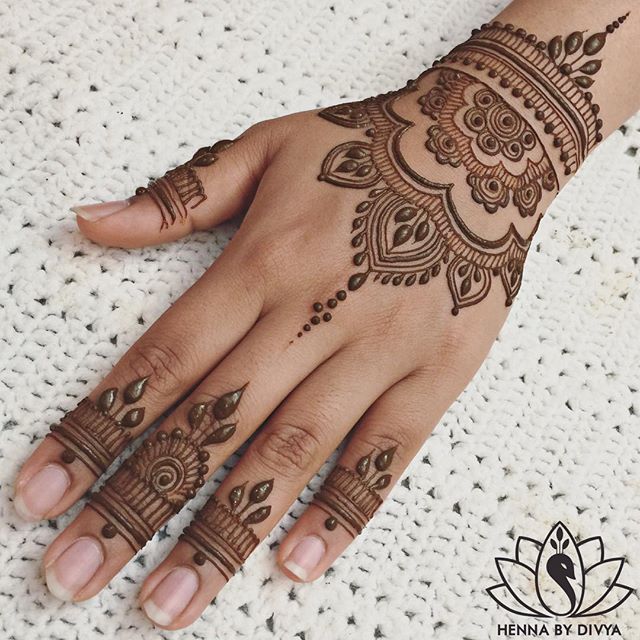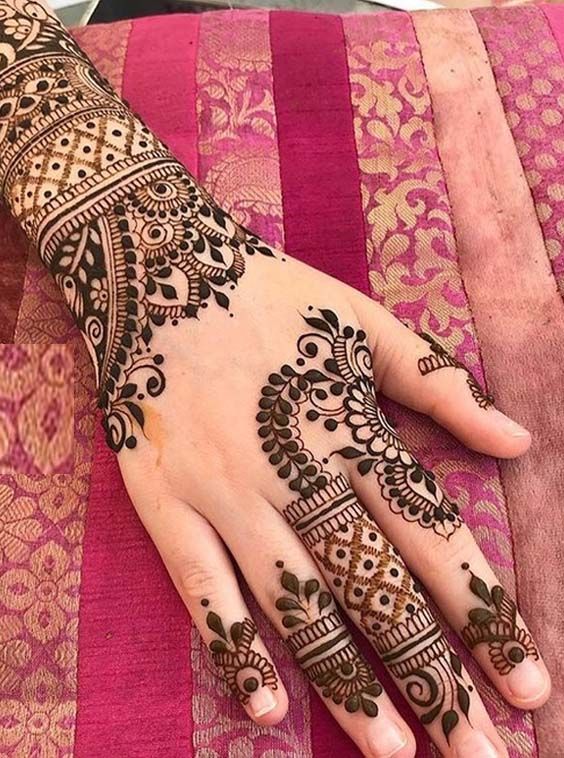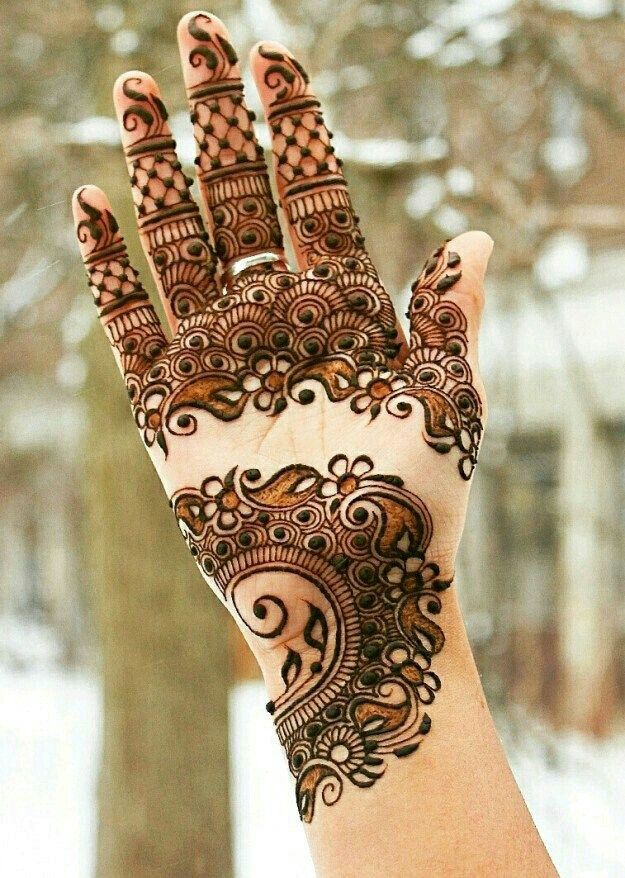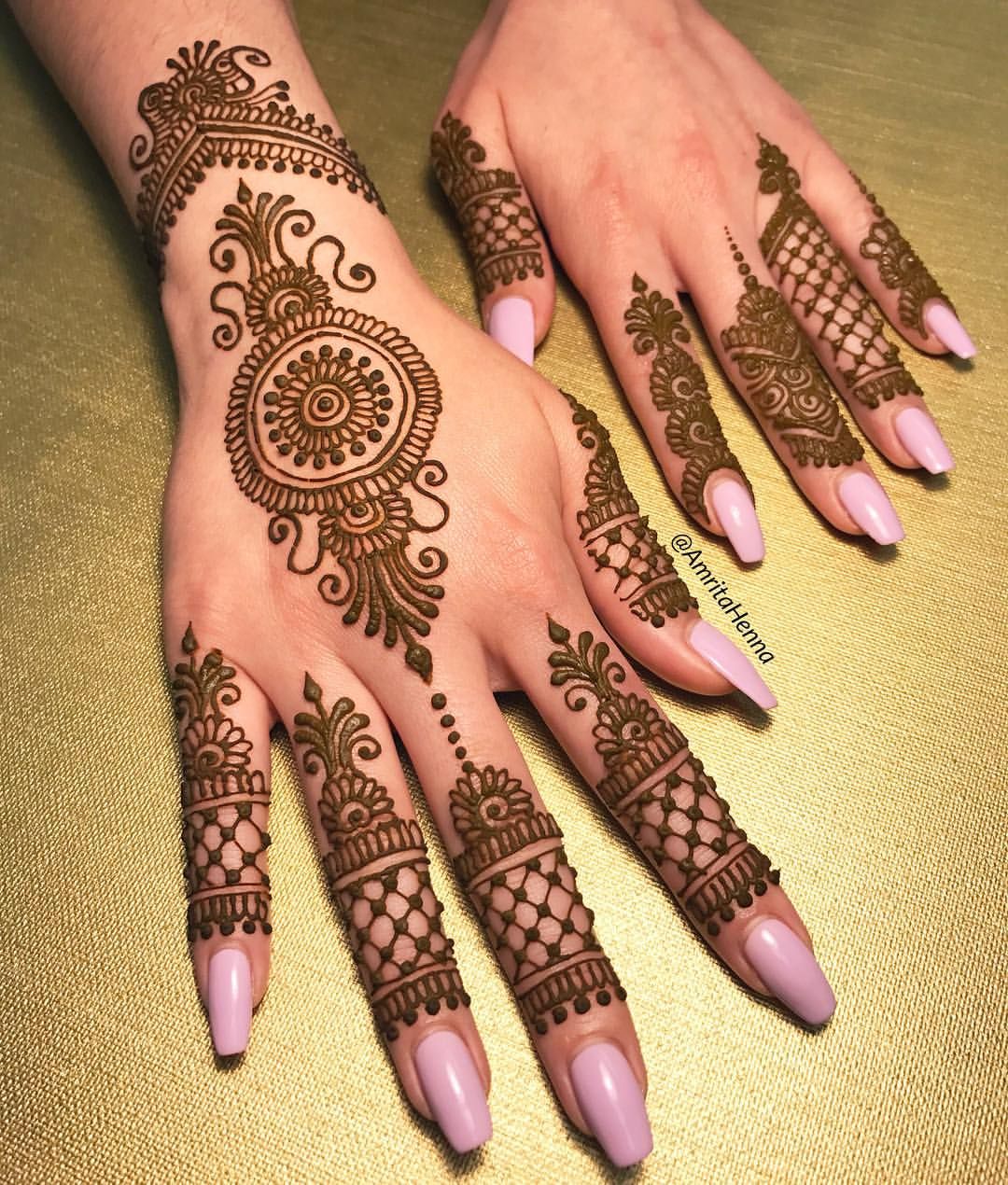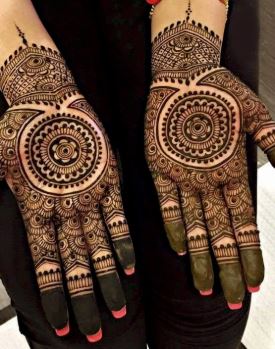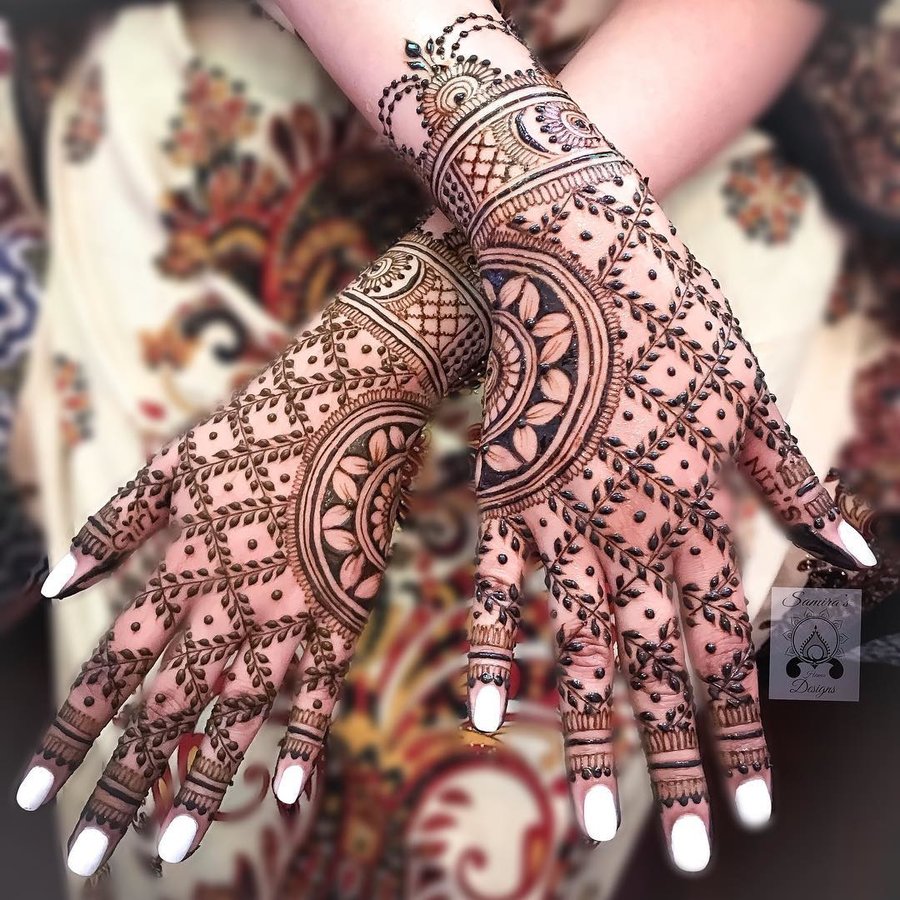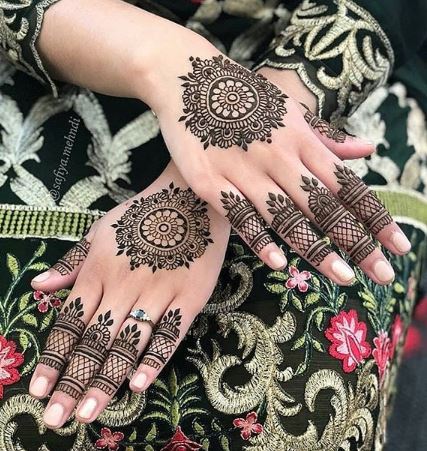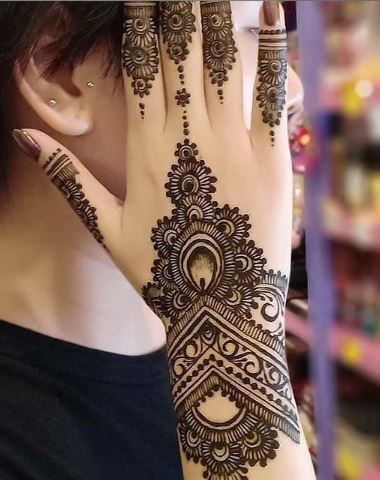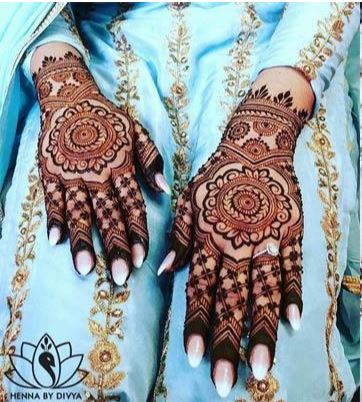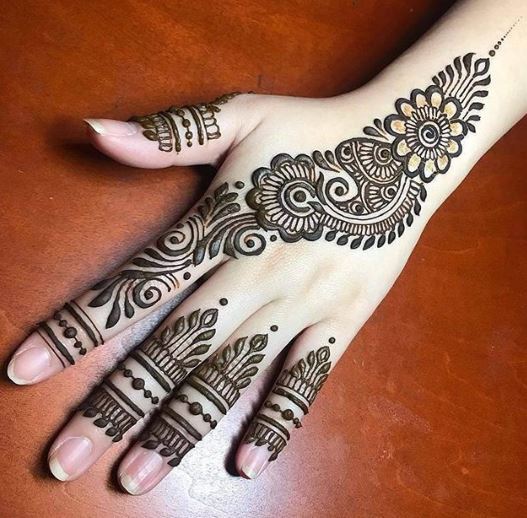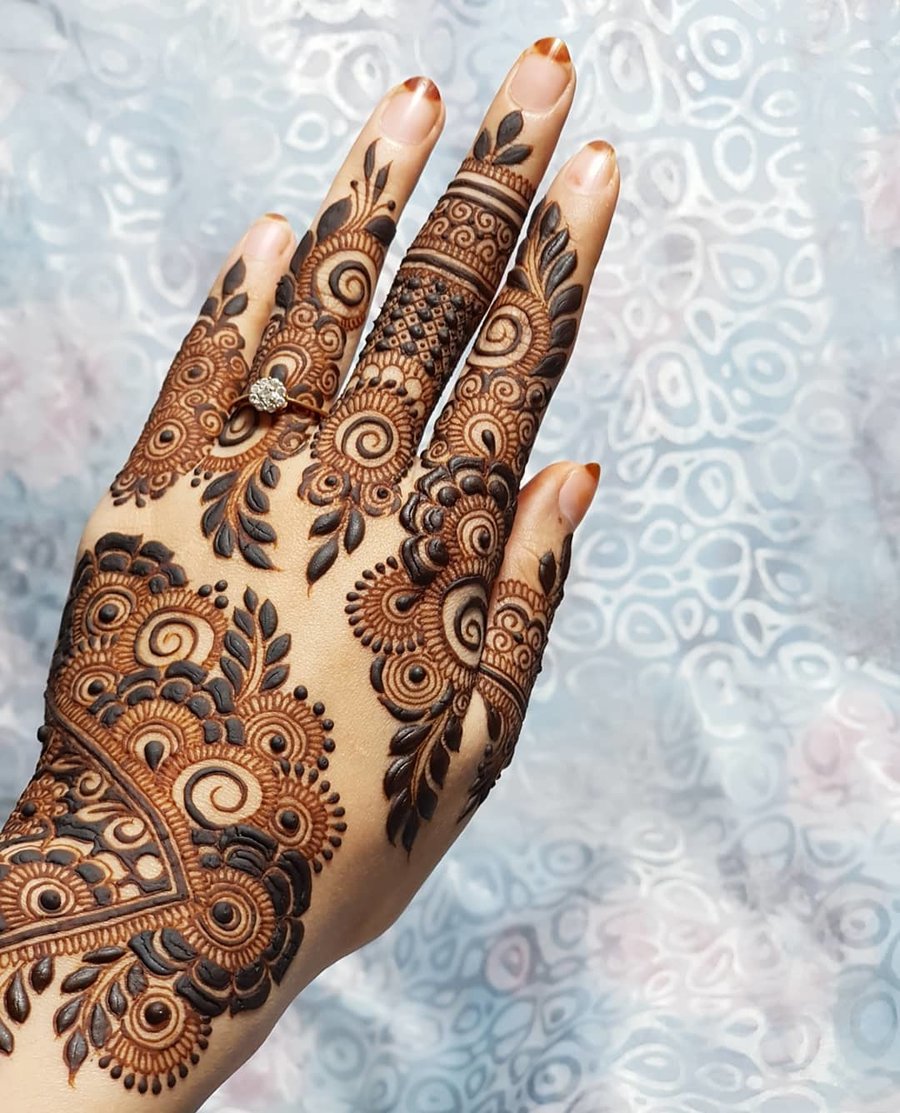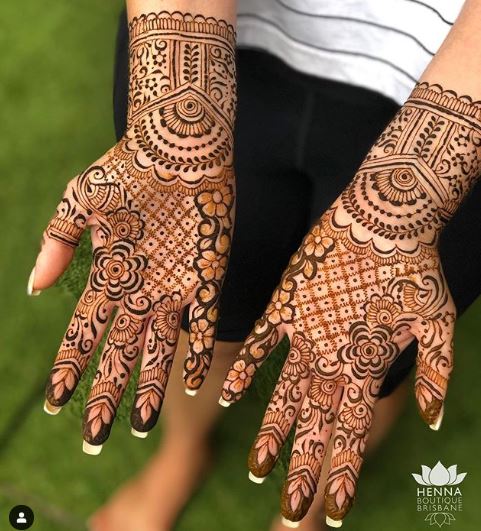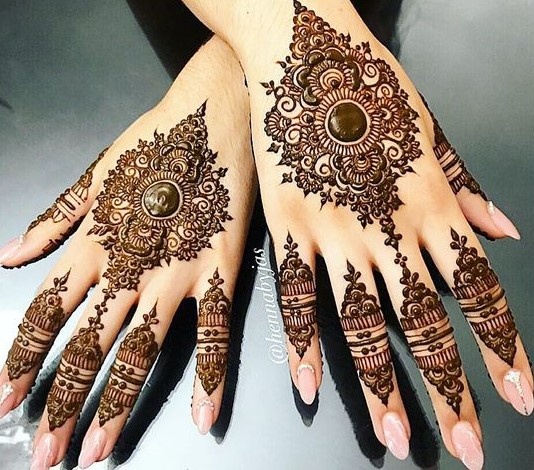 Bridal Mehndi Designs:
Bridal mehndi designs vary for different countries and regions. For Arabs, bridal mehndi design still stays on a less heavy side. When it comes to Pakistani and Indian brides, they go for heavy designs that take up to hours to be completely applied. Usually mehndi designs start from forearm and cover the entire arm and hands. Feet are also an important canvas where the mehndi is applied. Bridal mehndi designs are usually symmetrical and follow the same pattern on both the arms and feet.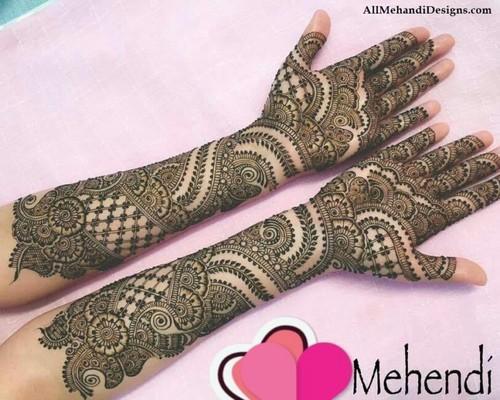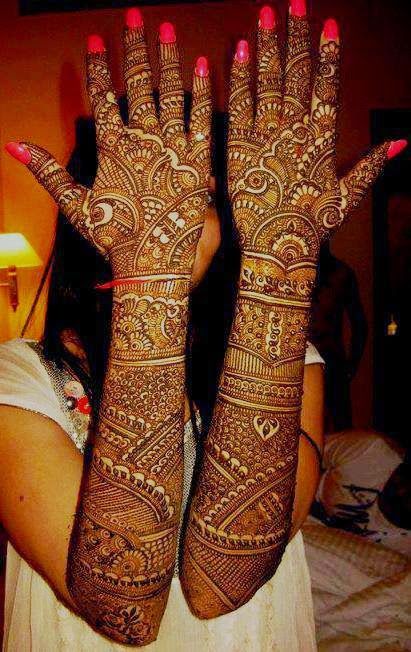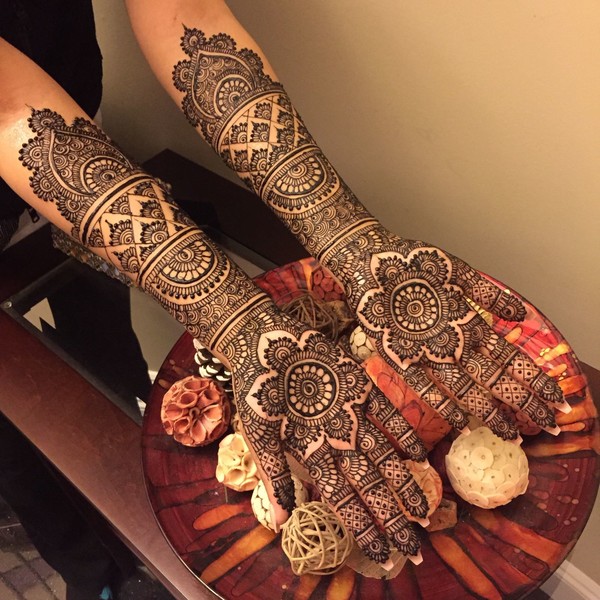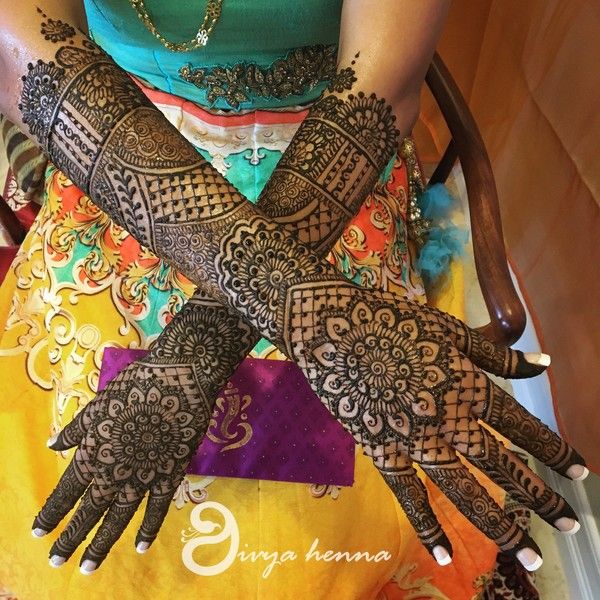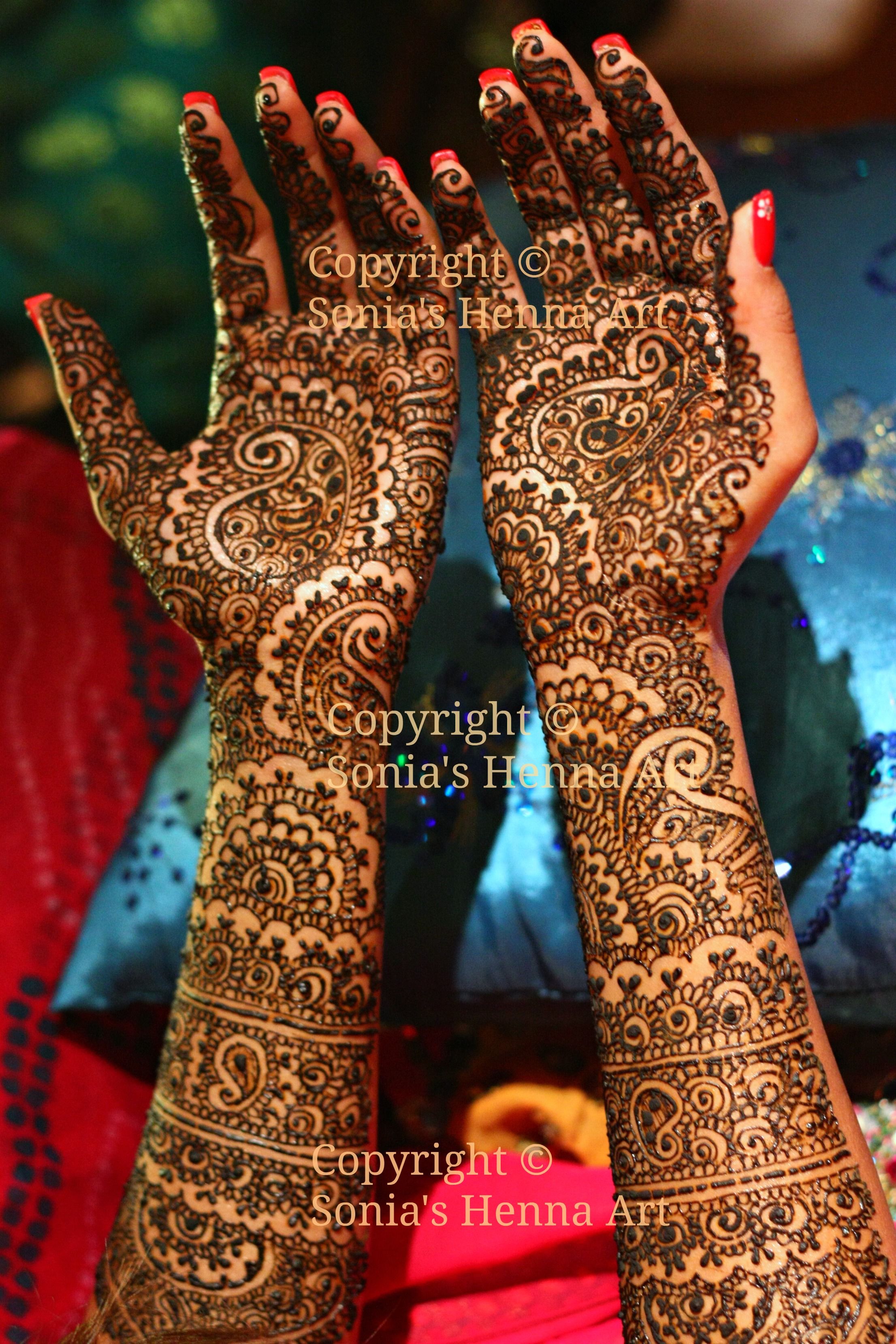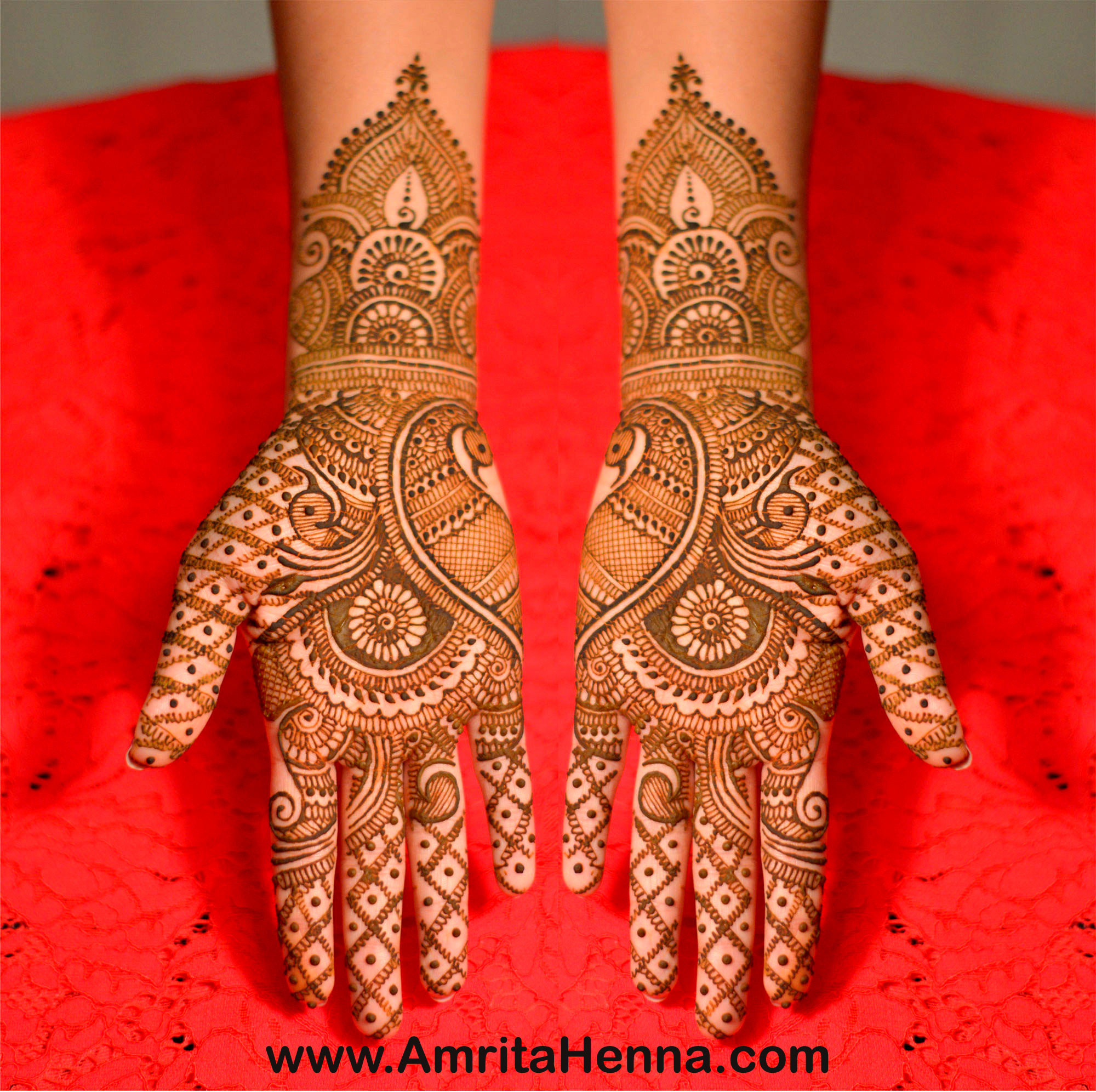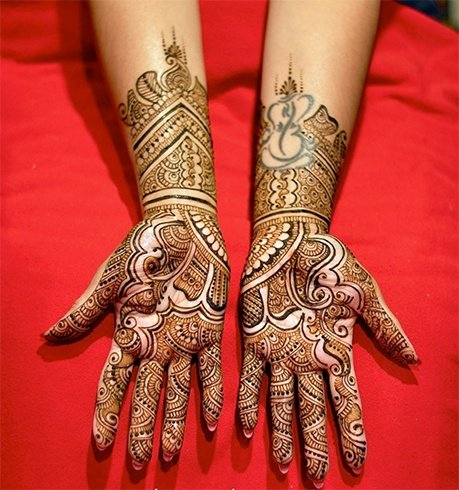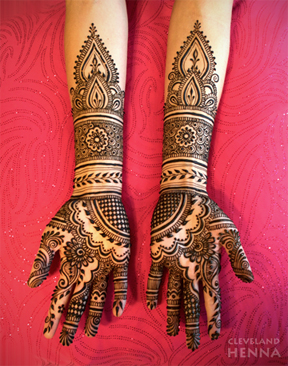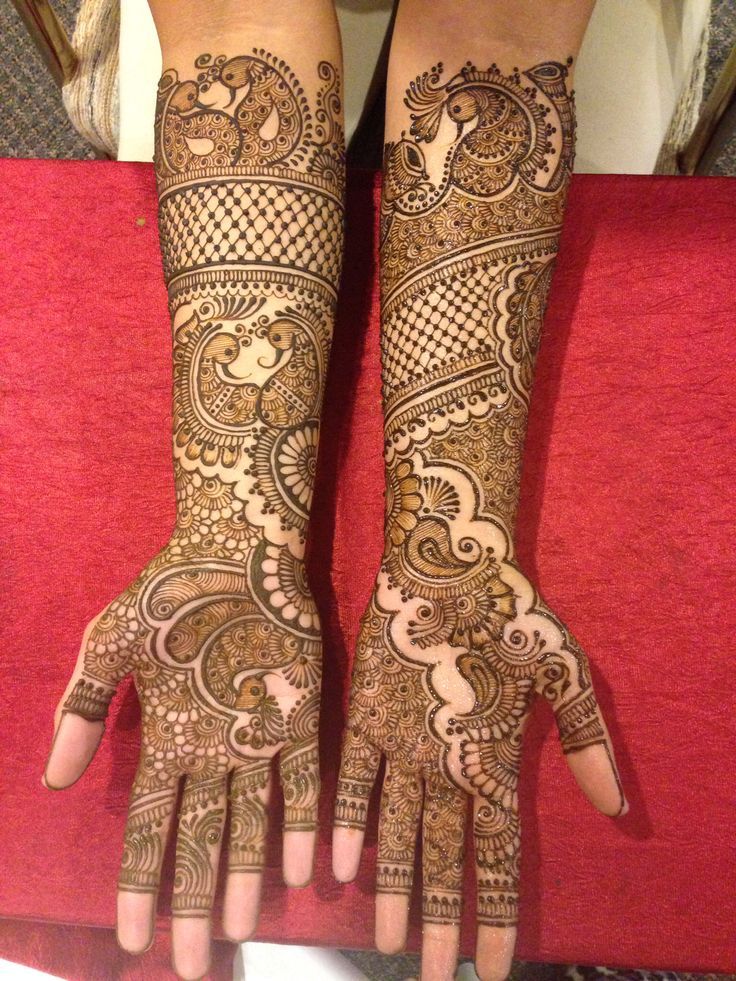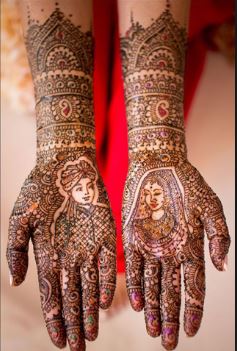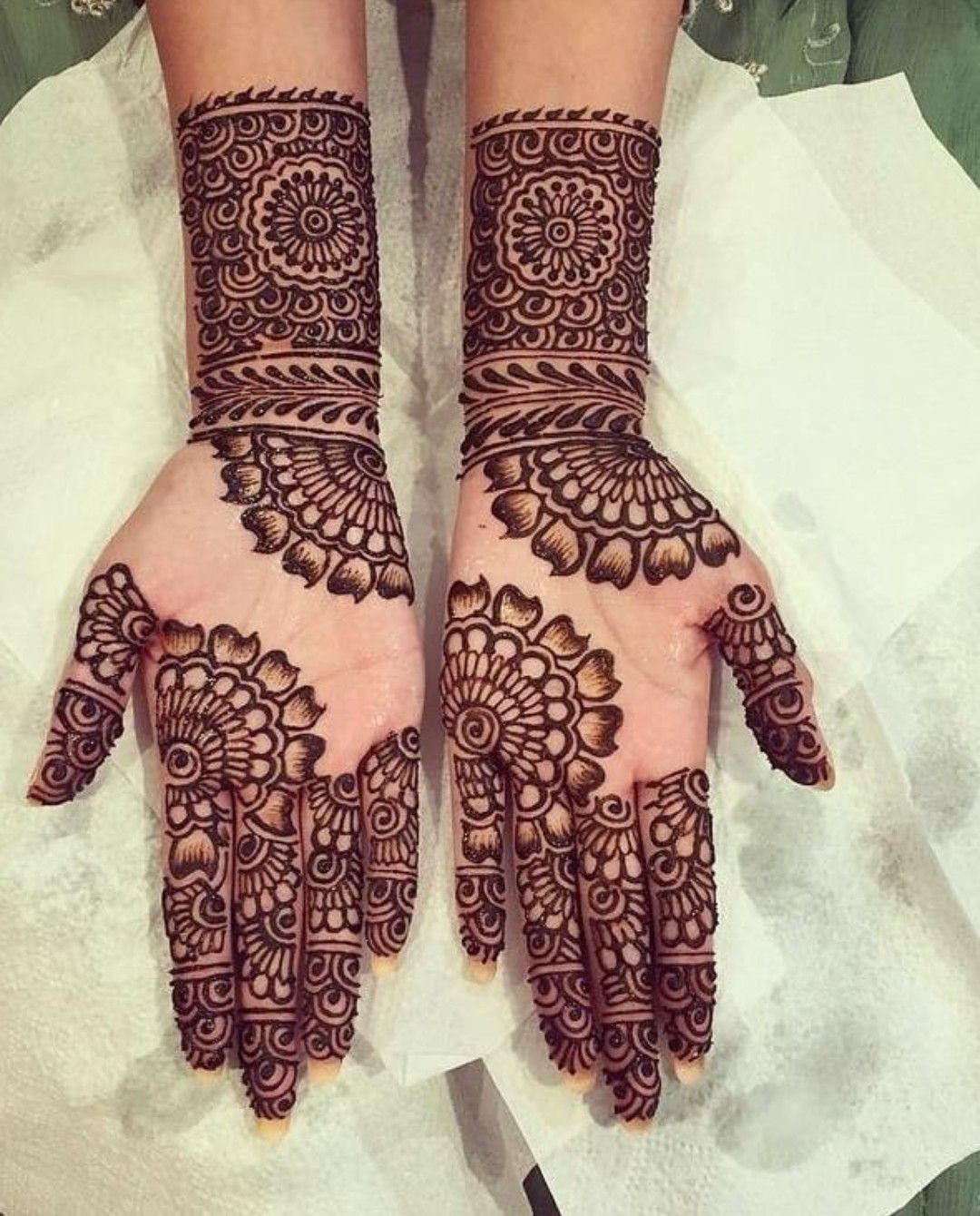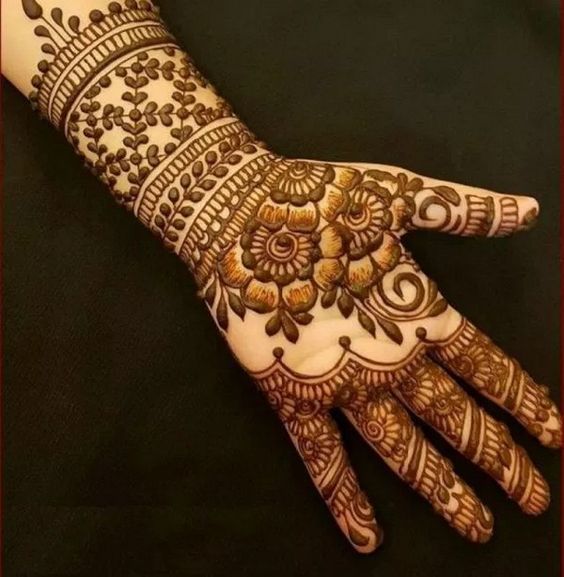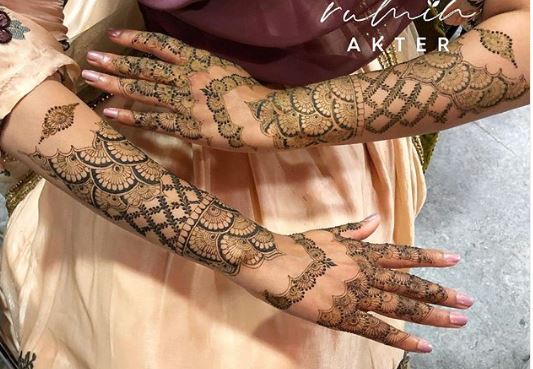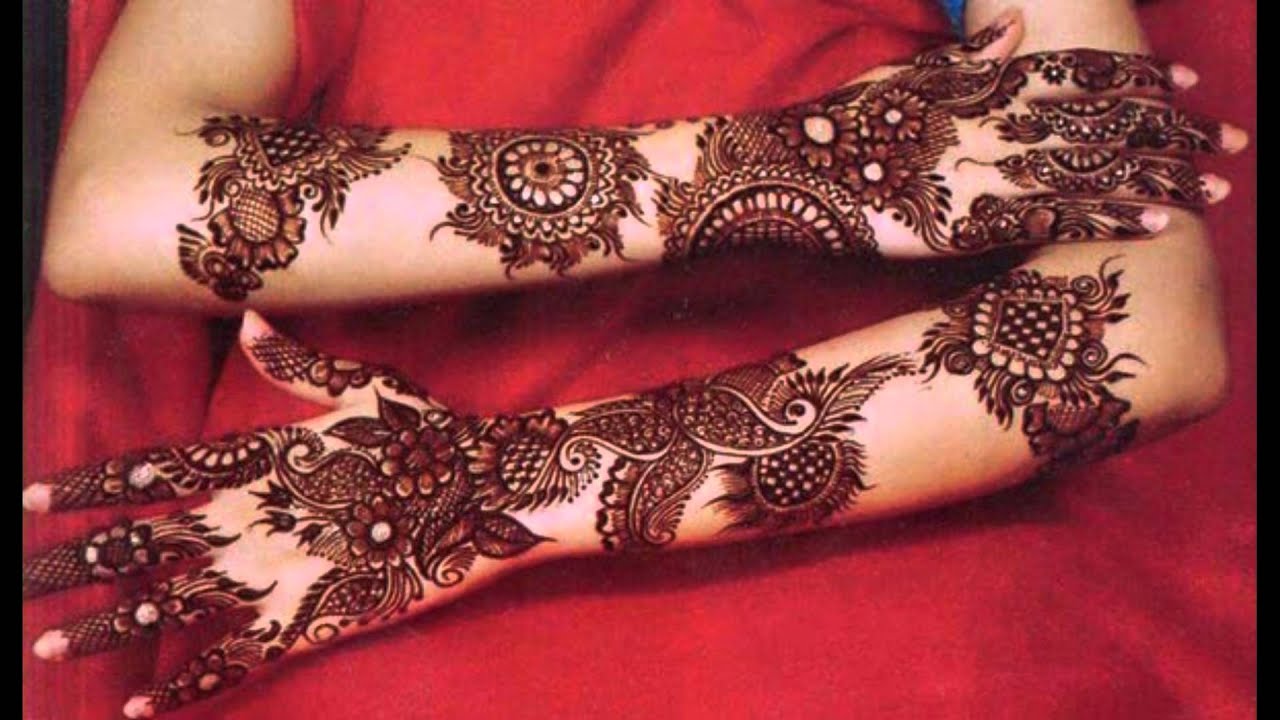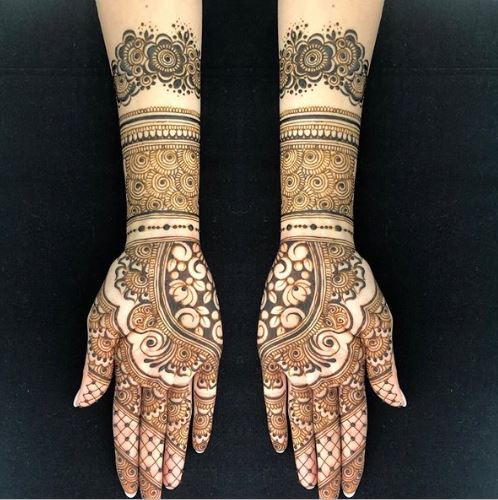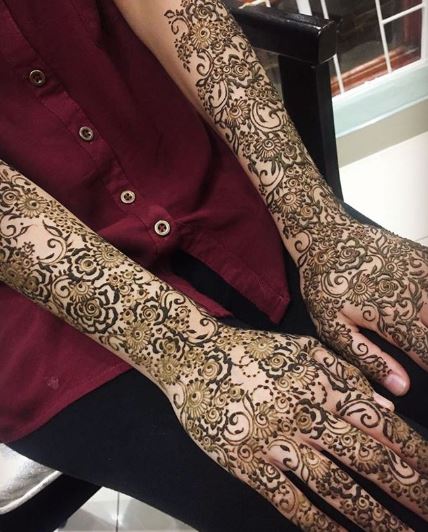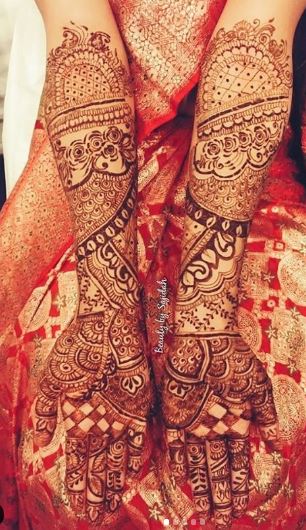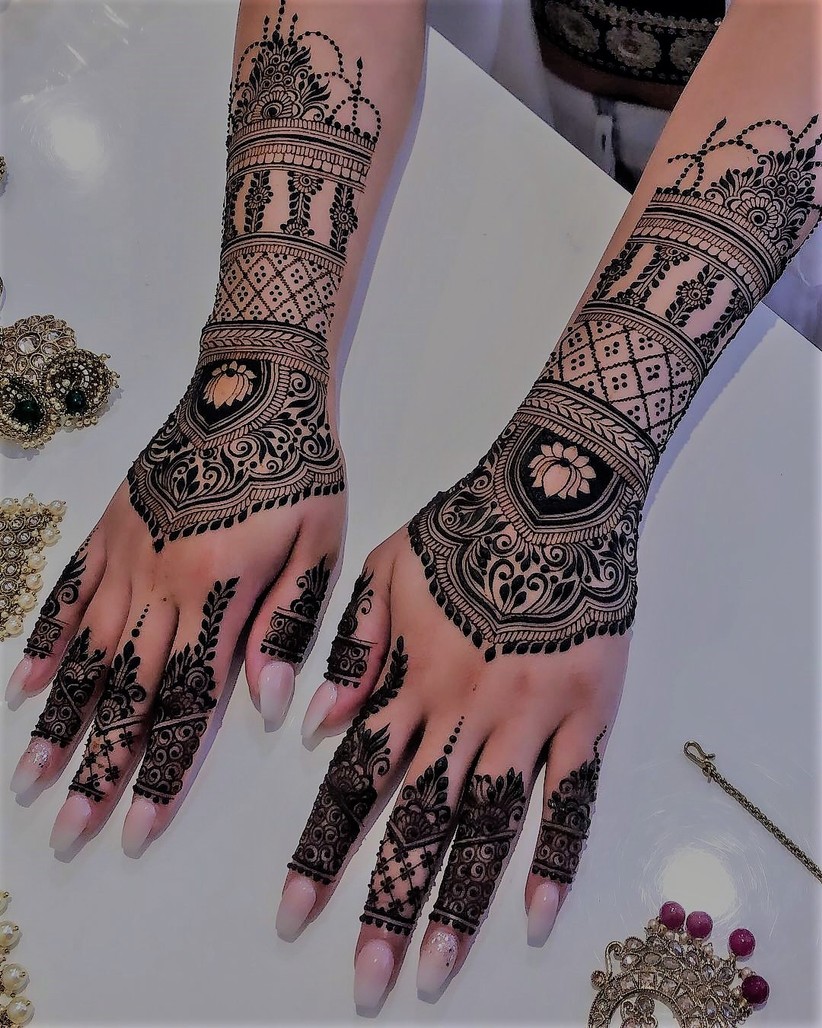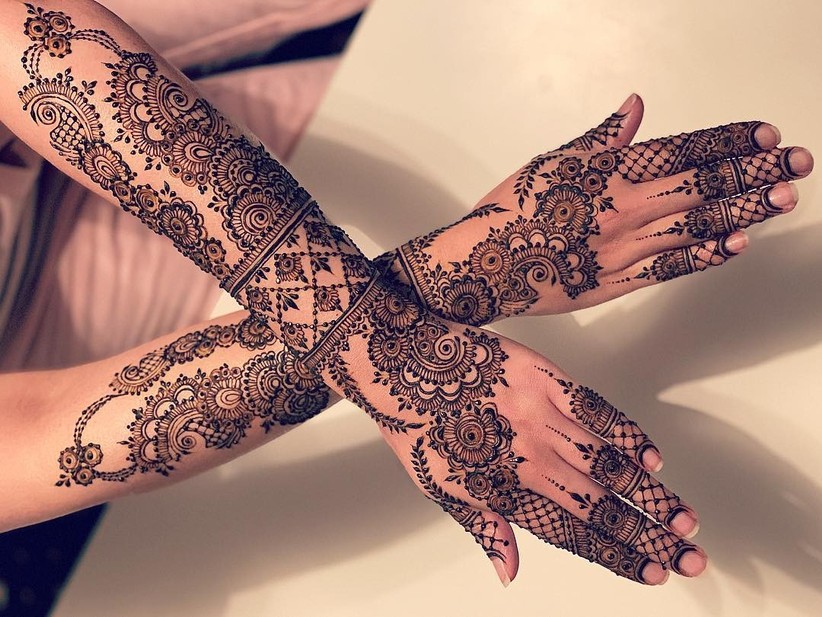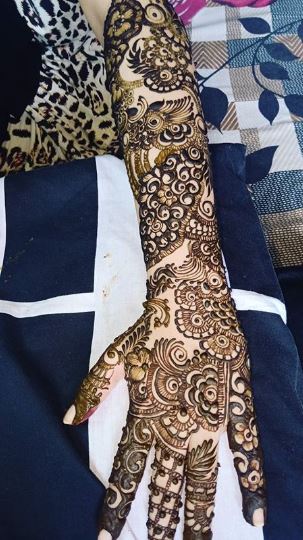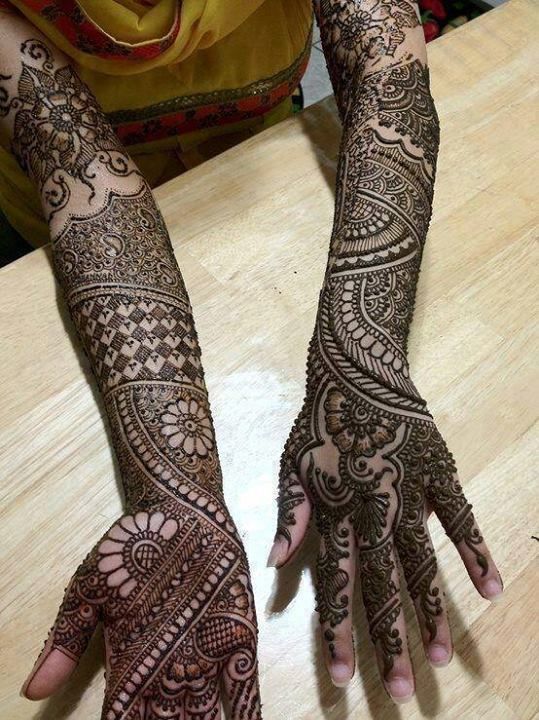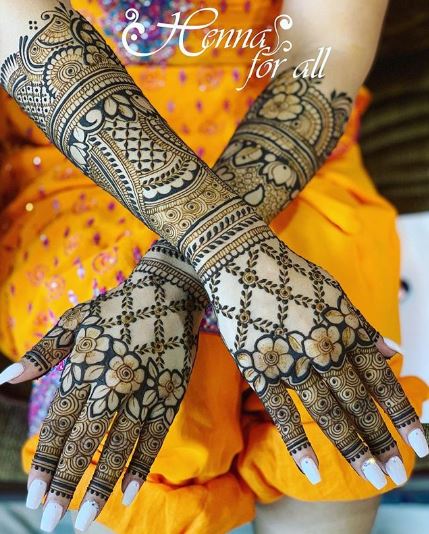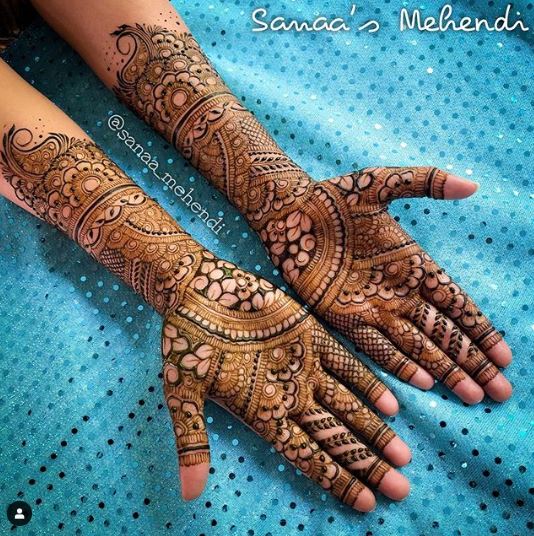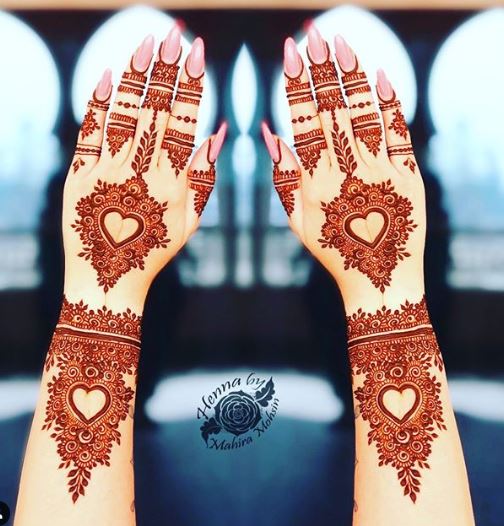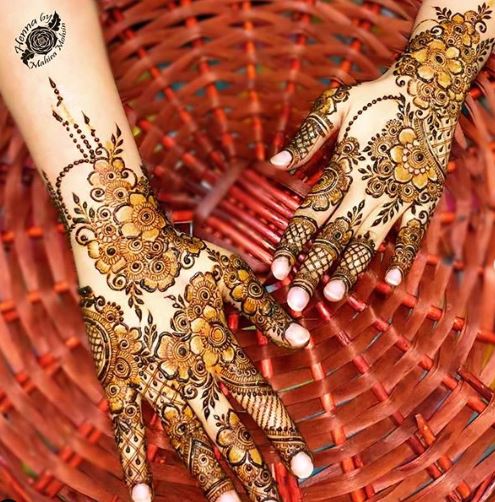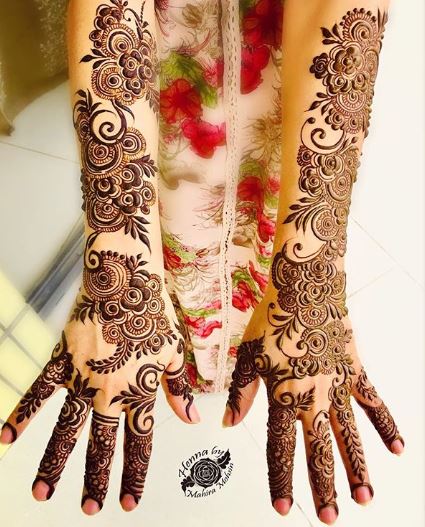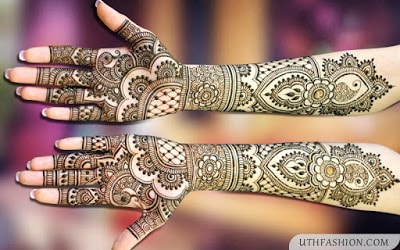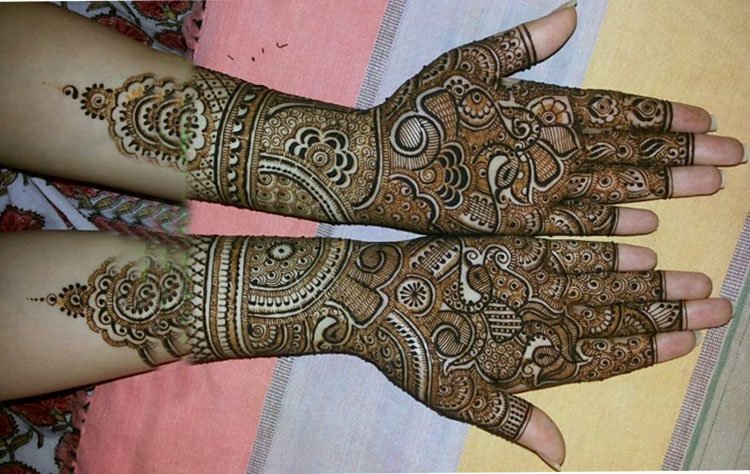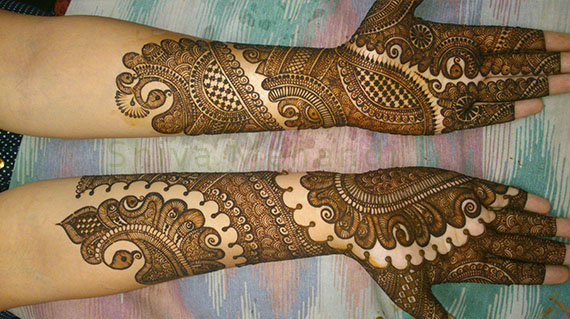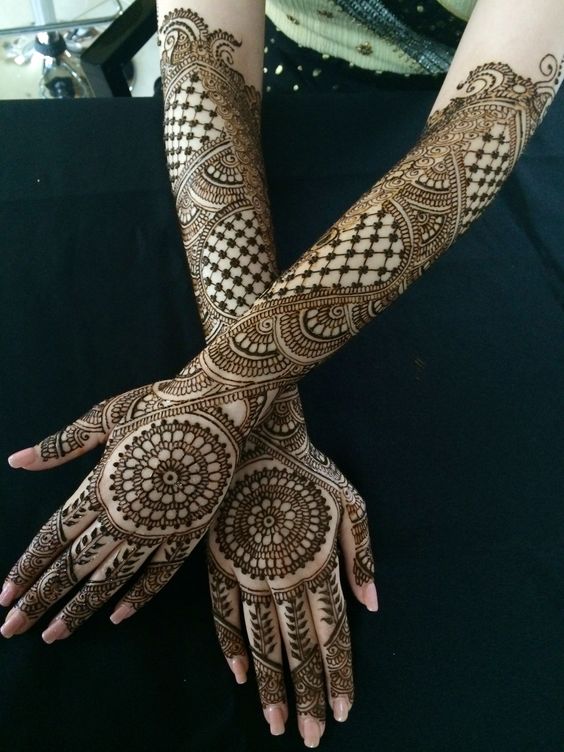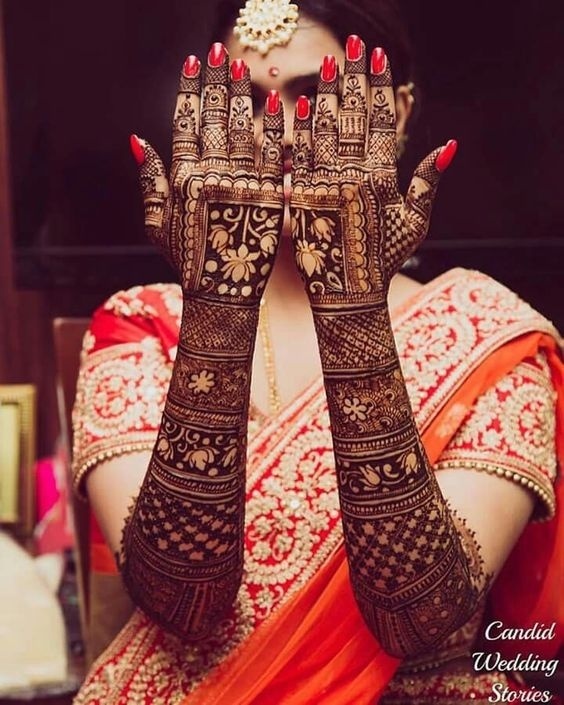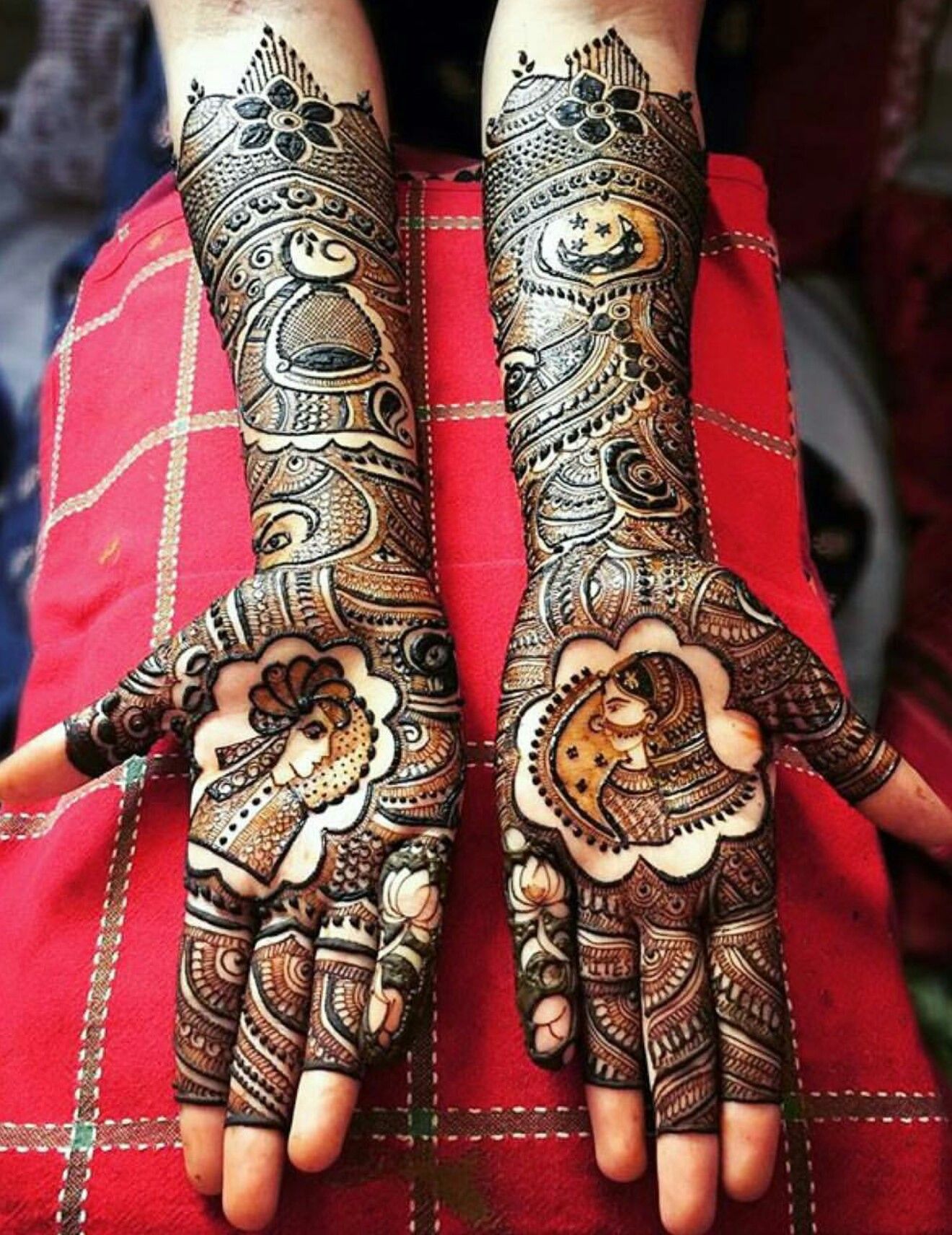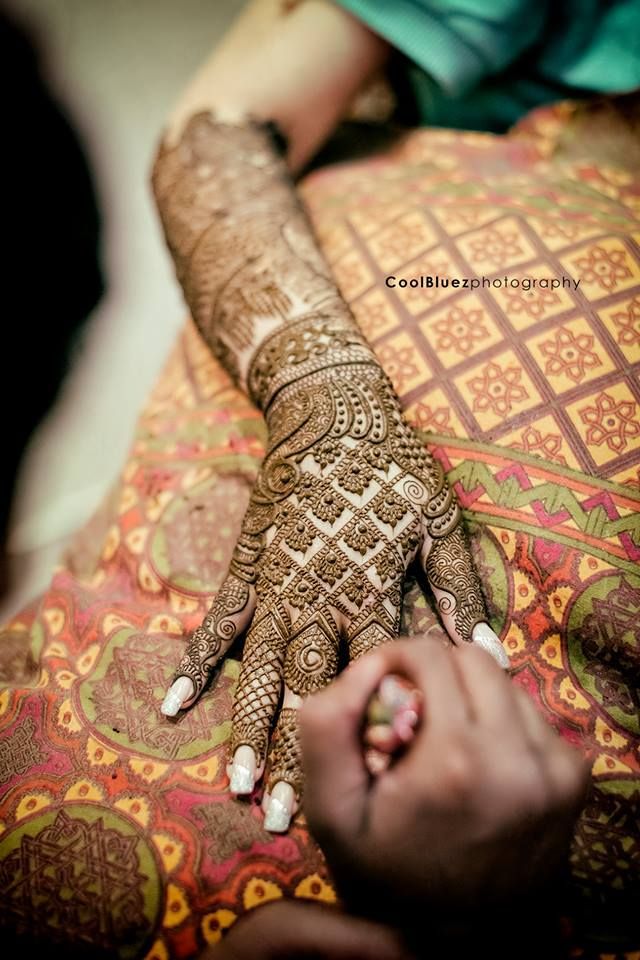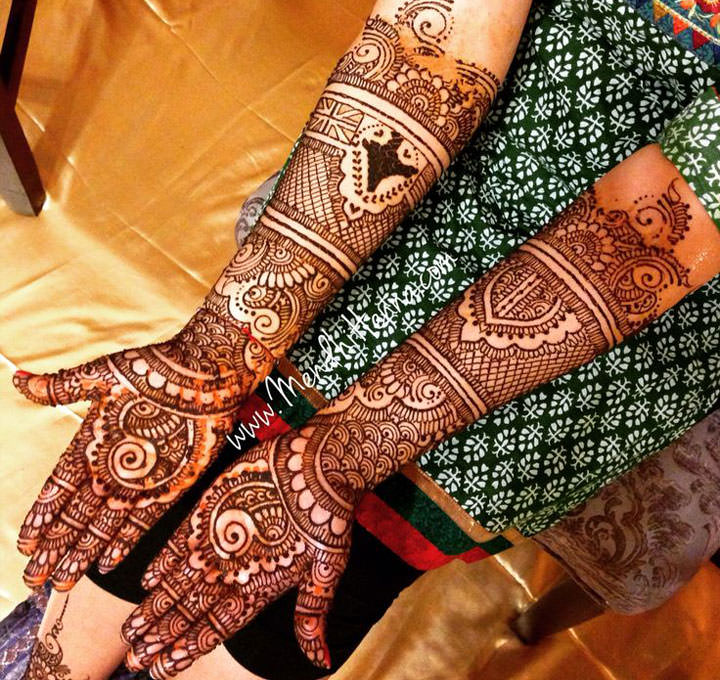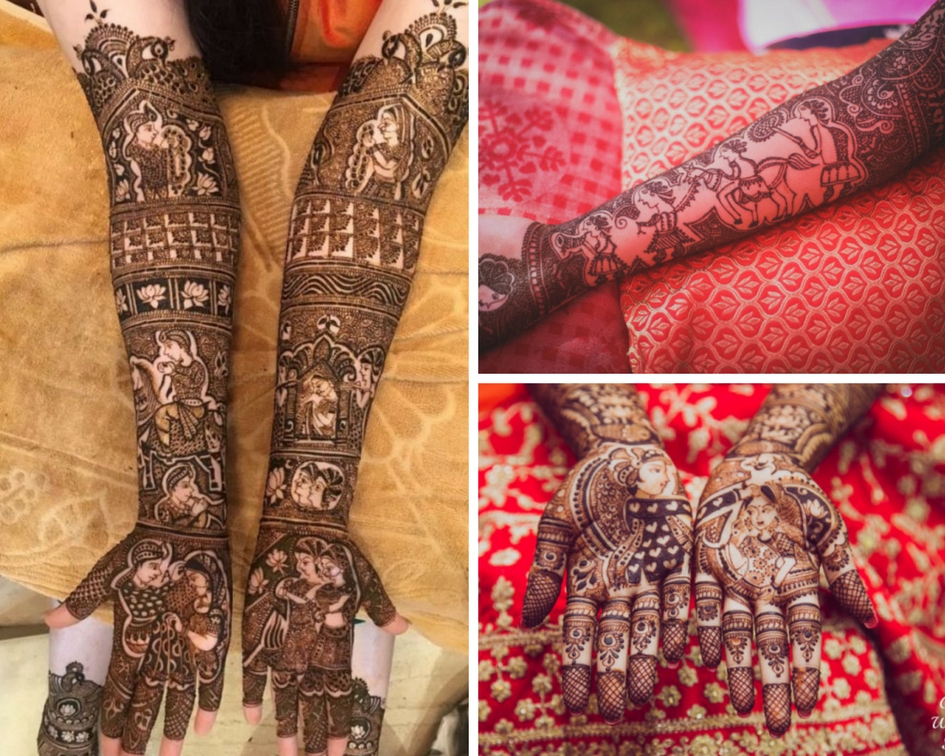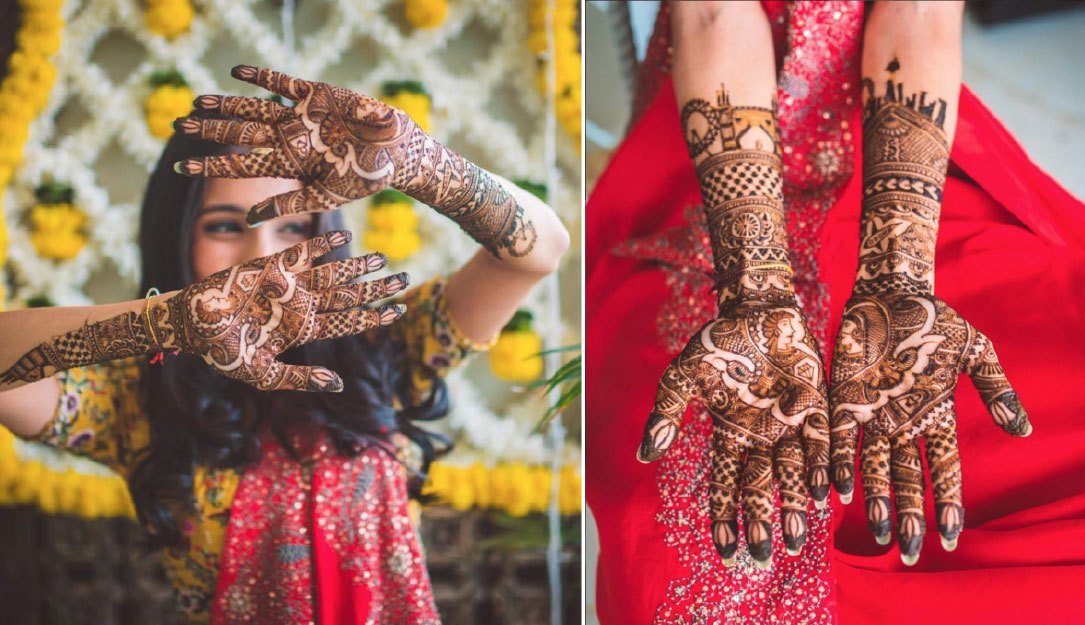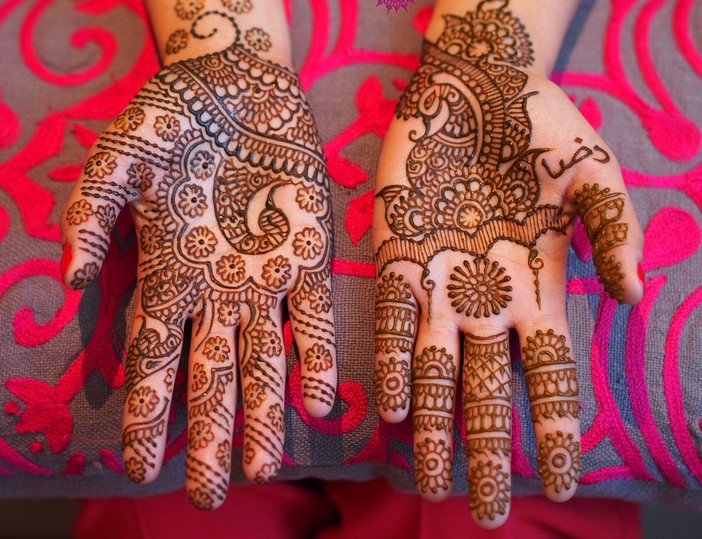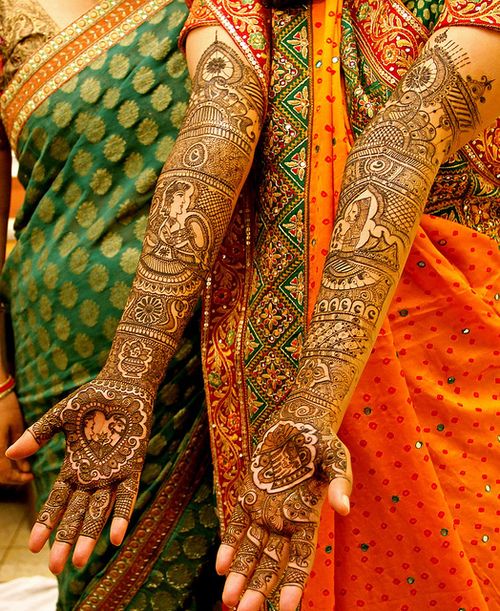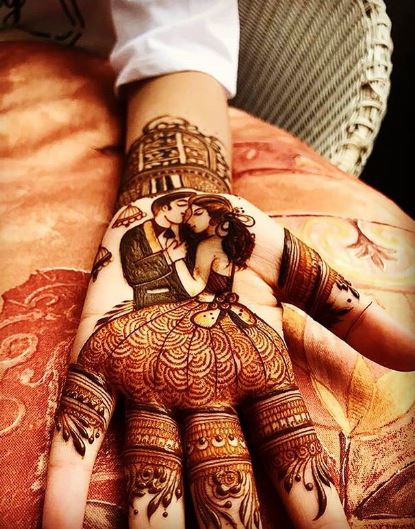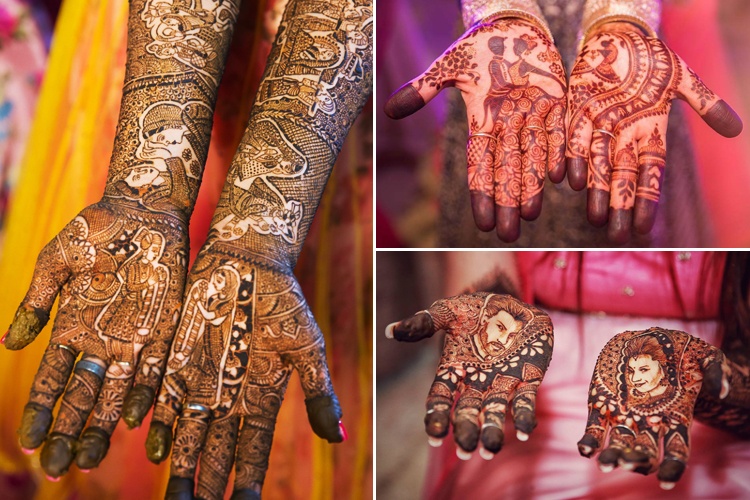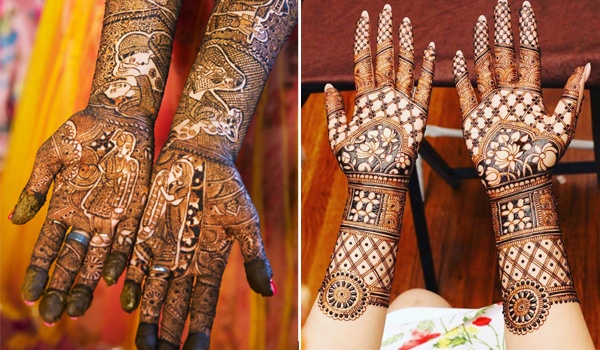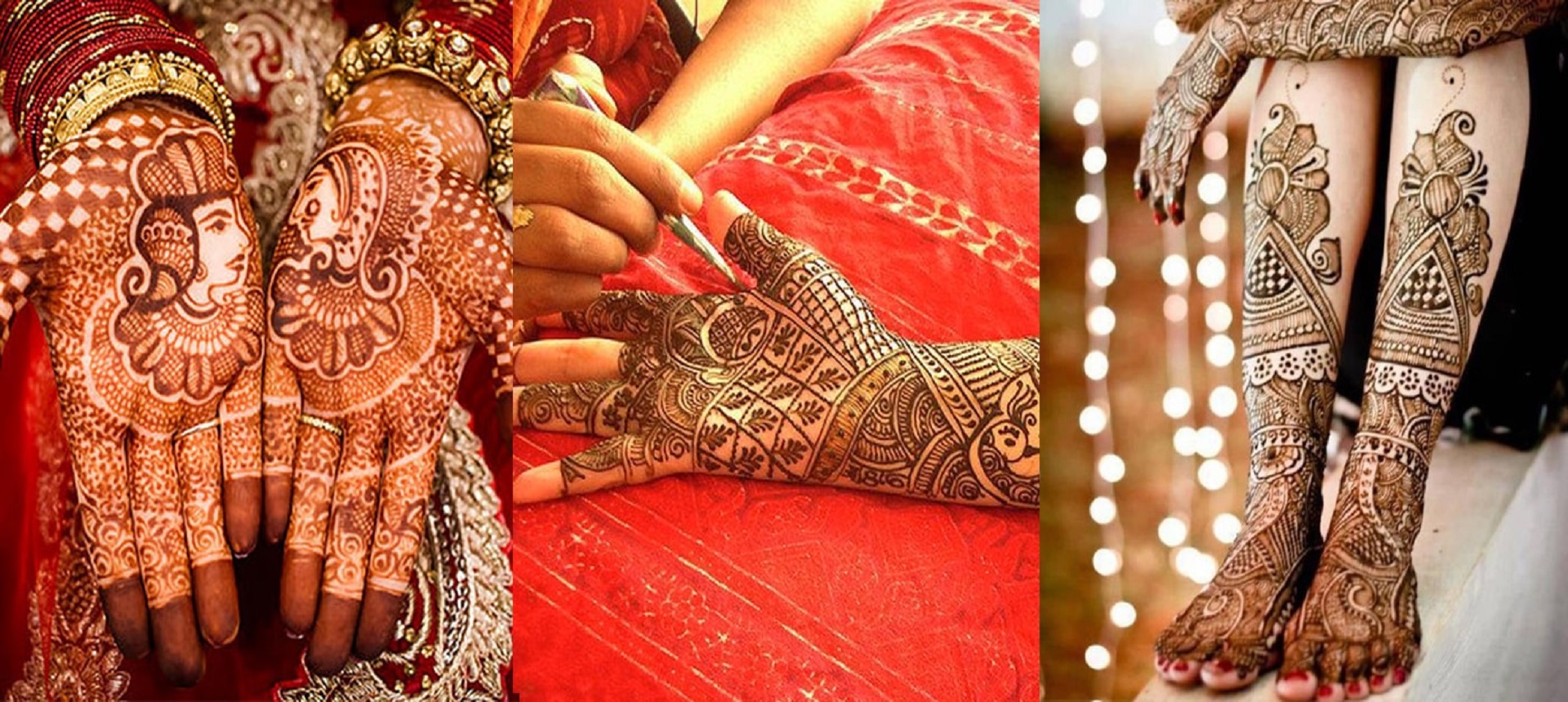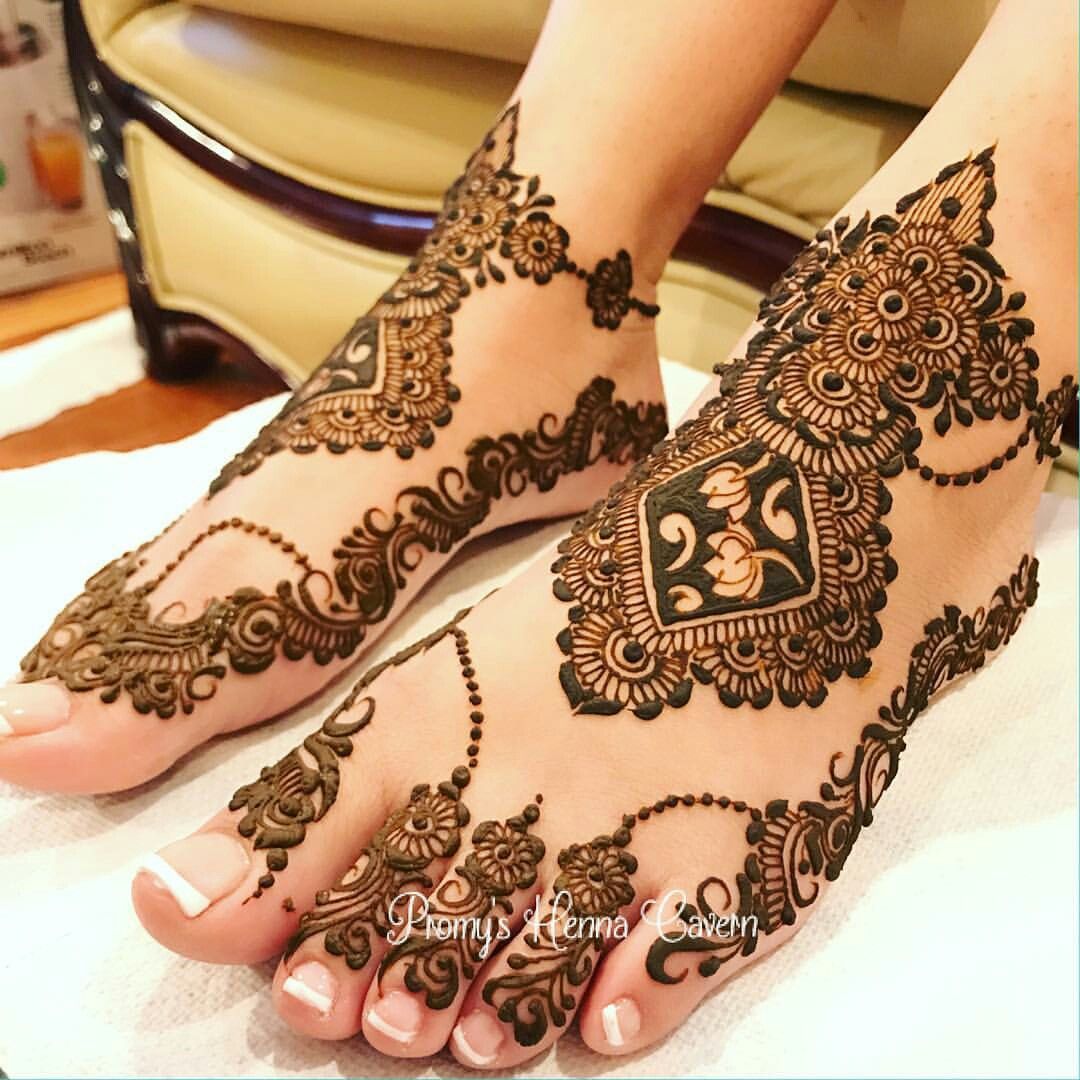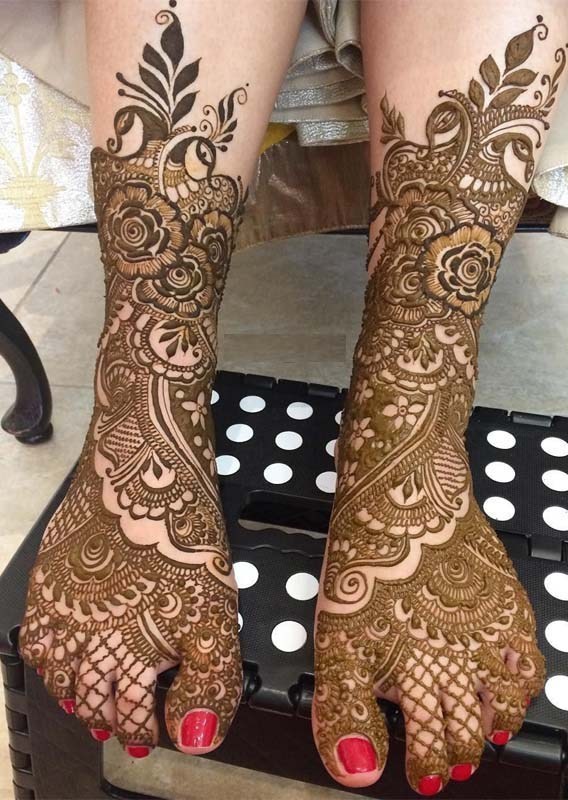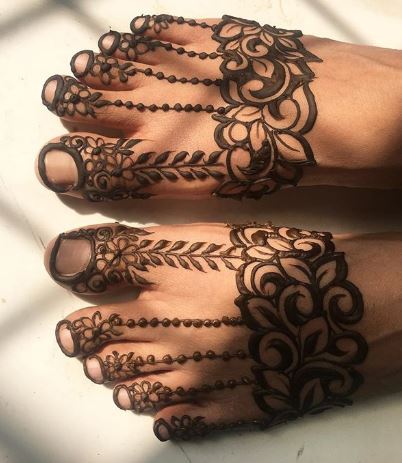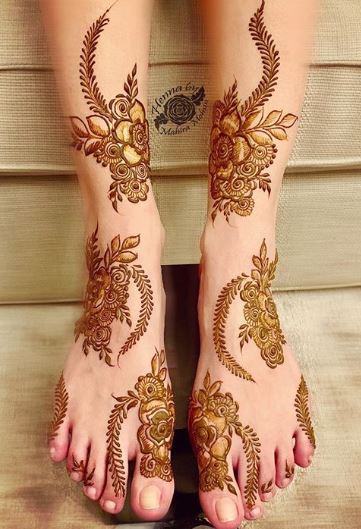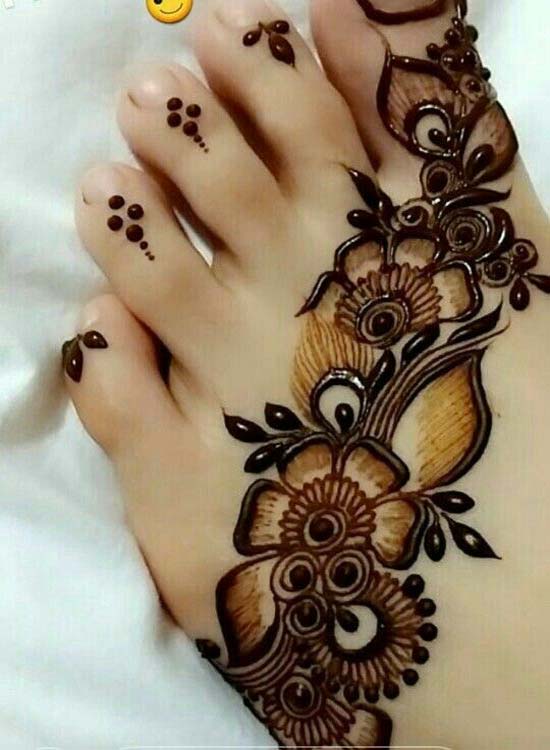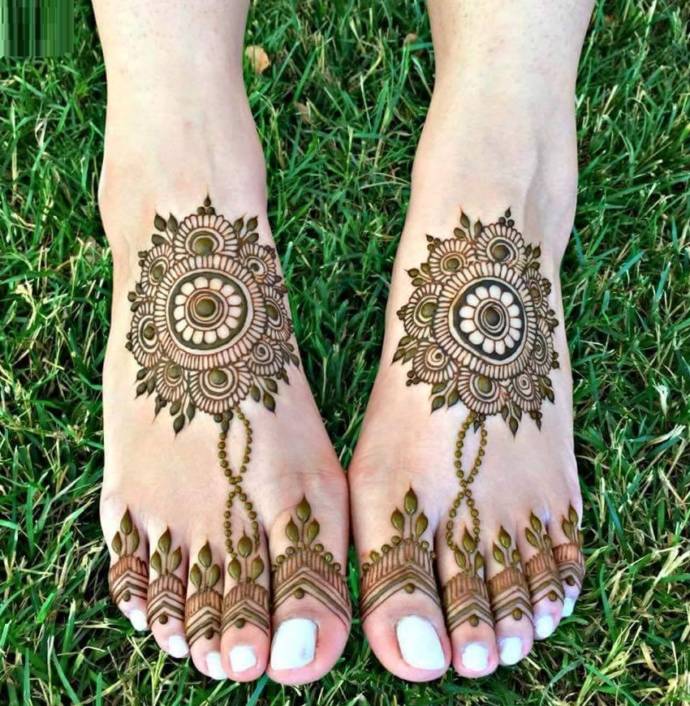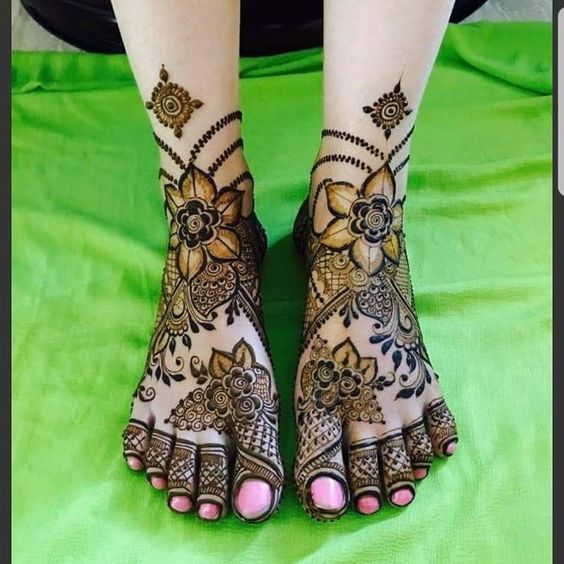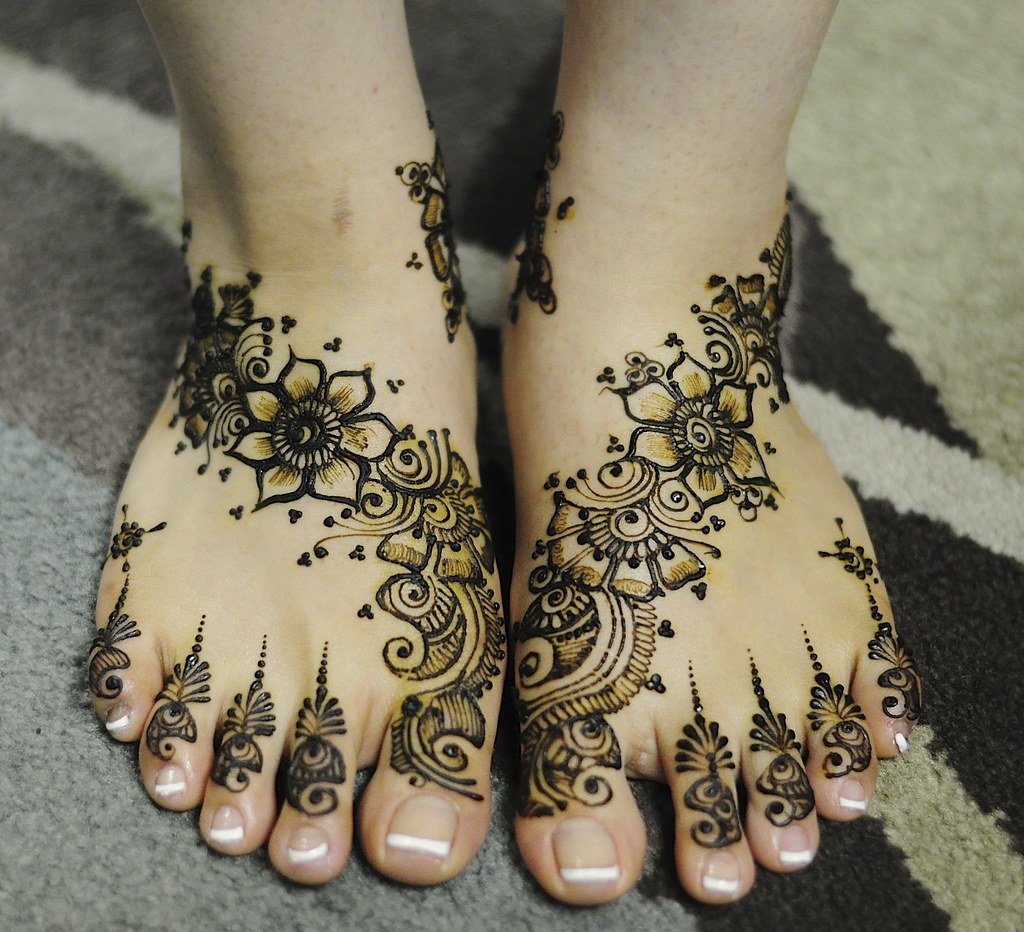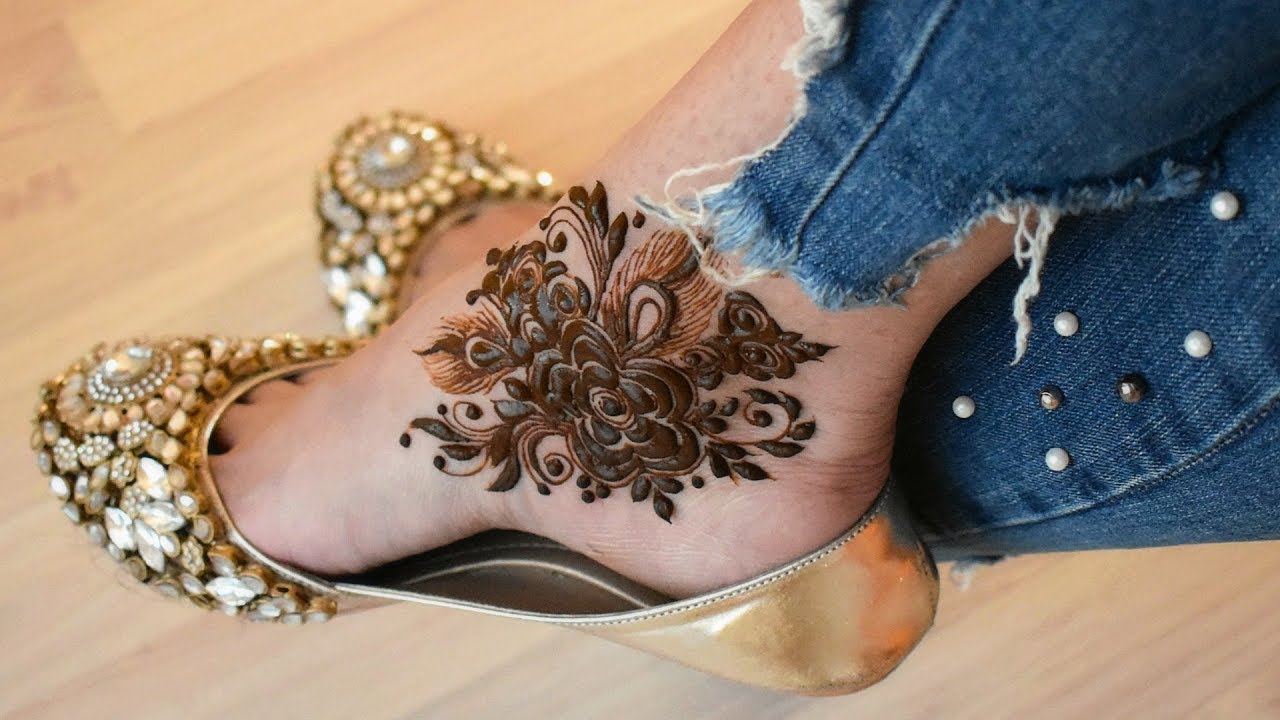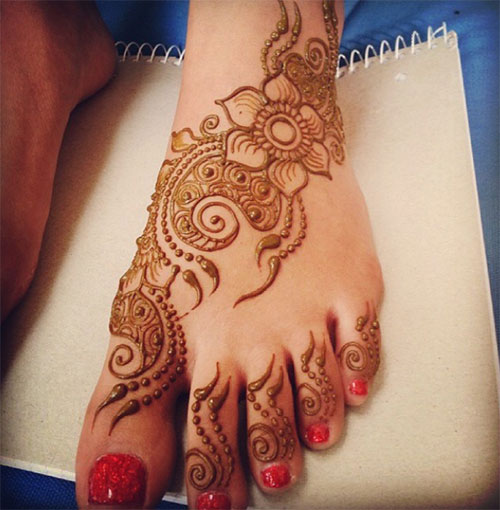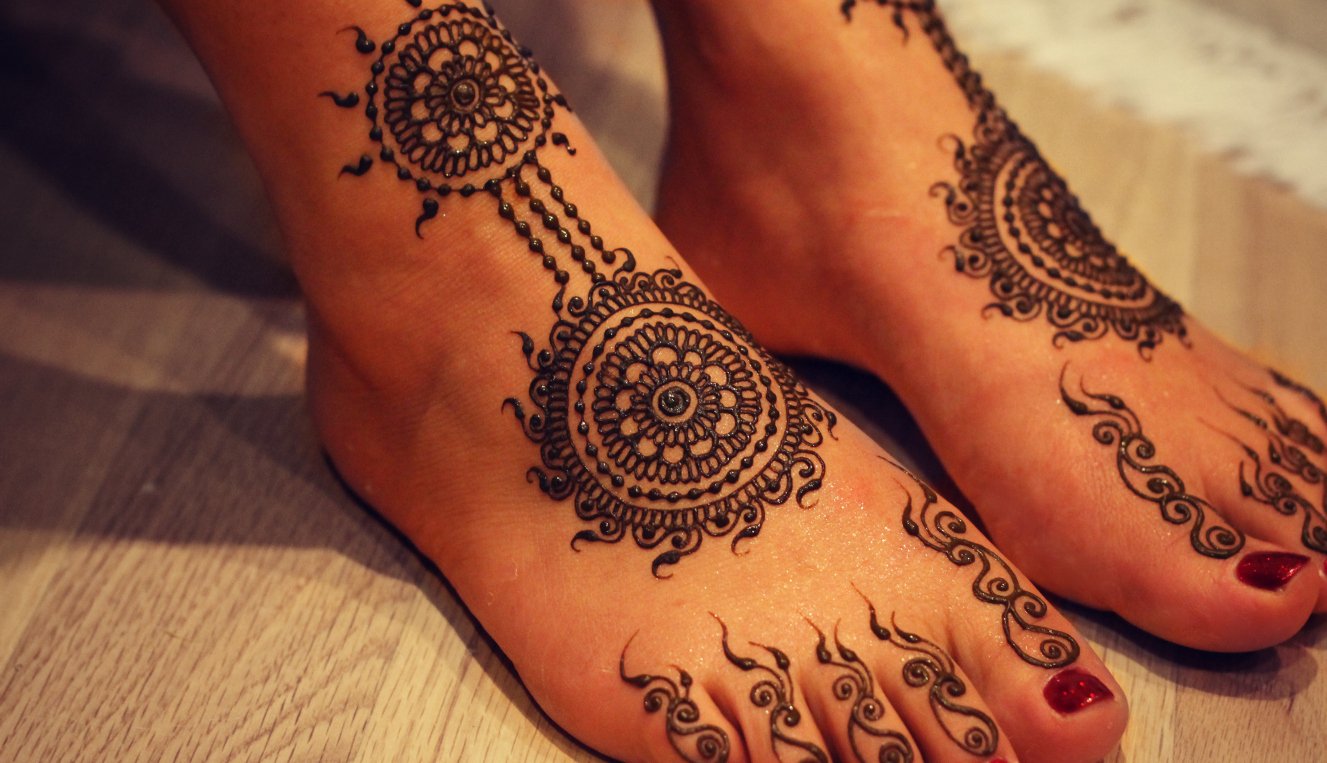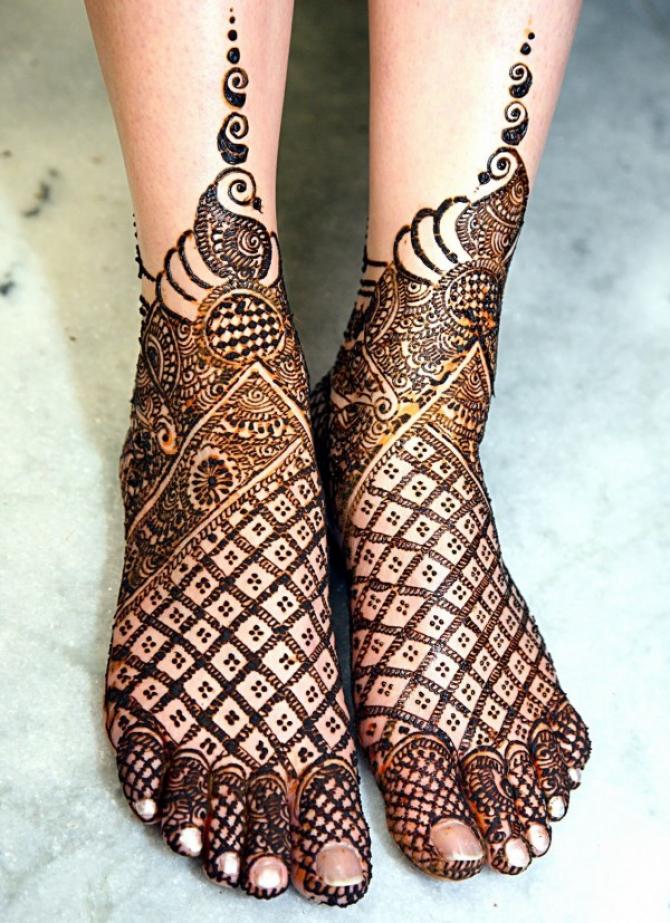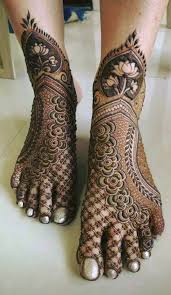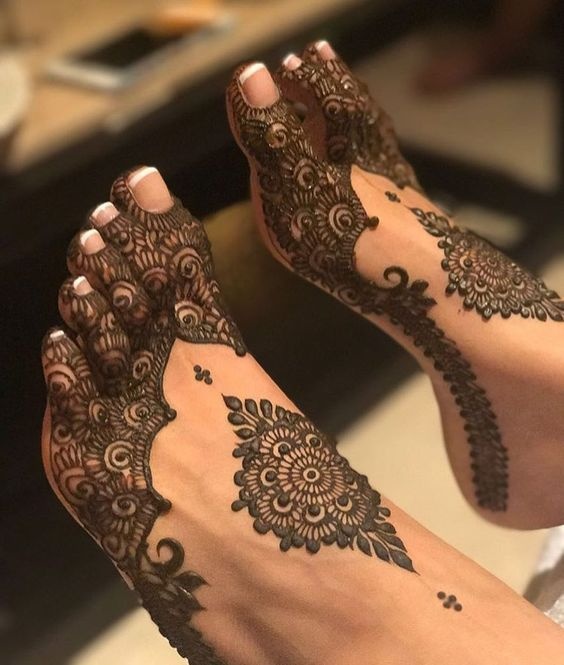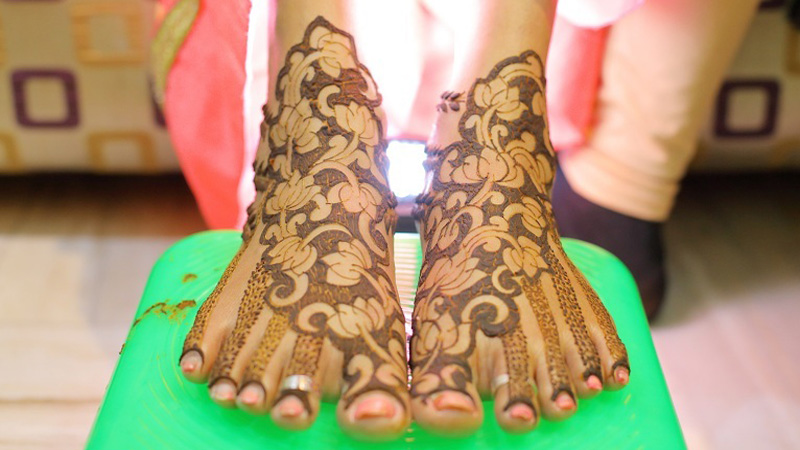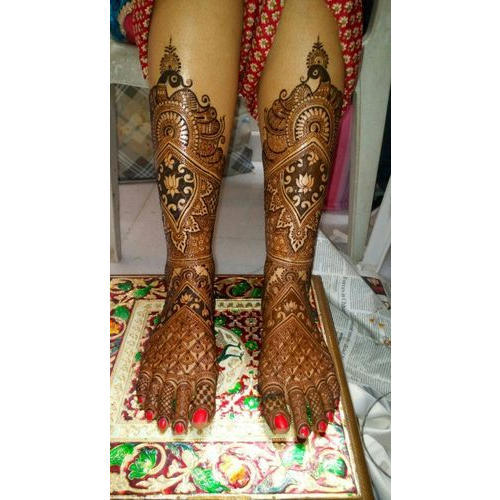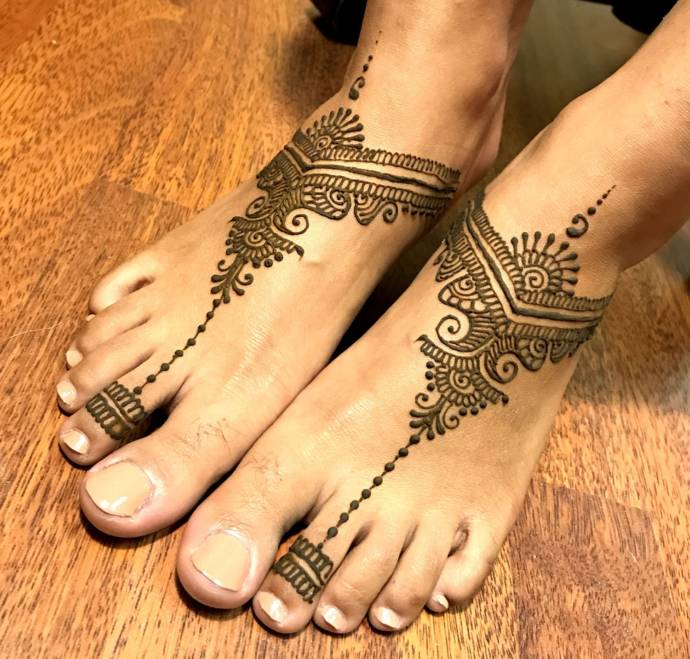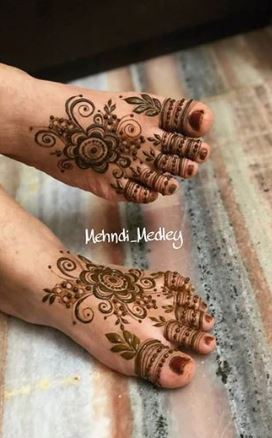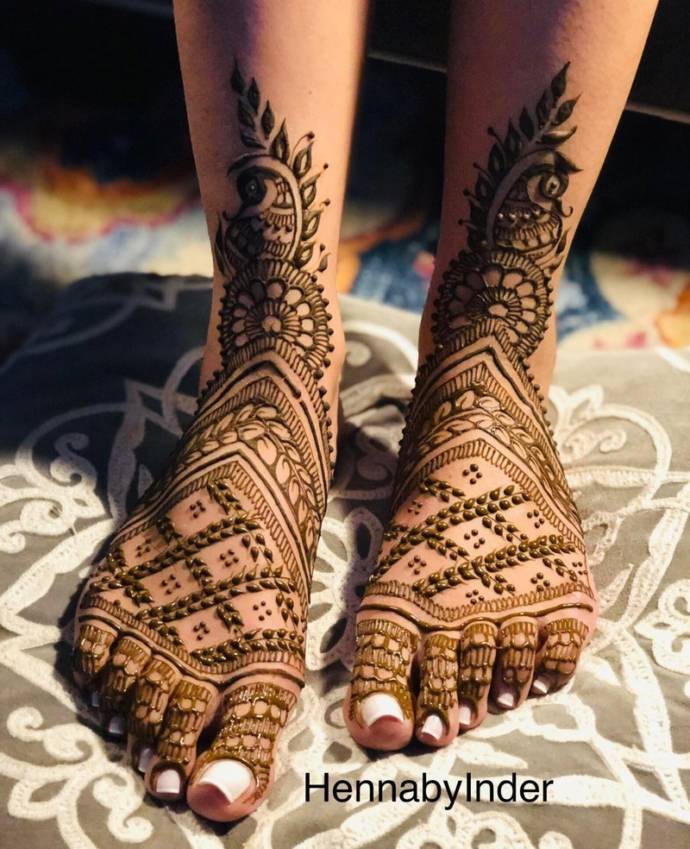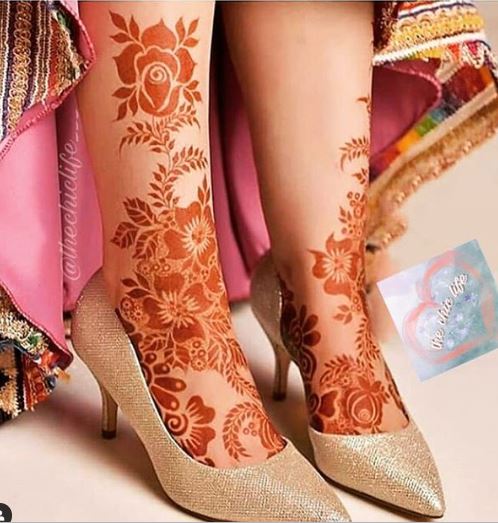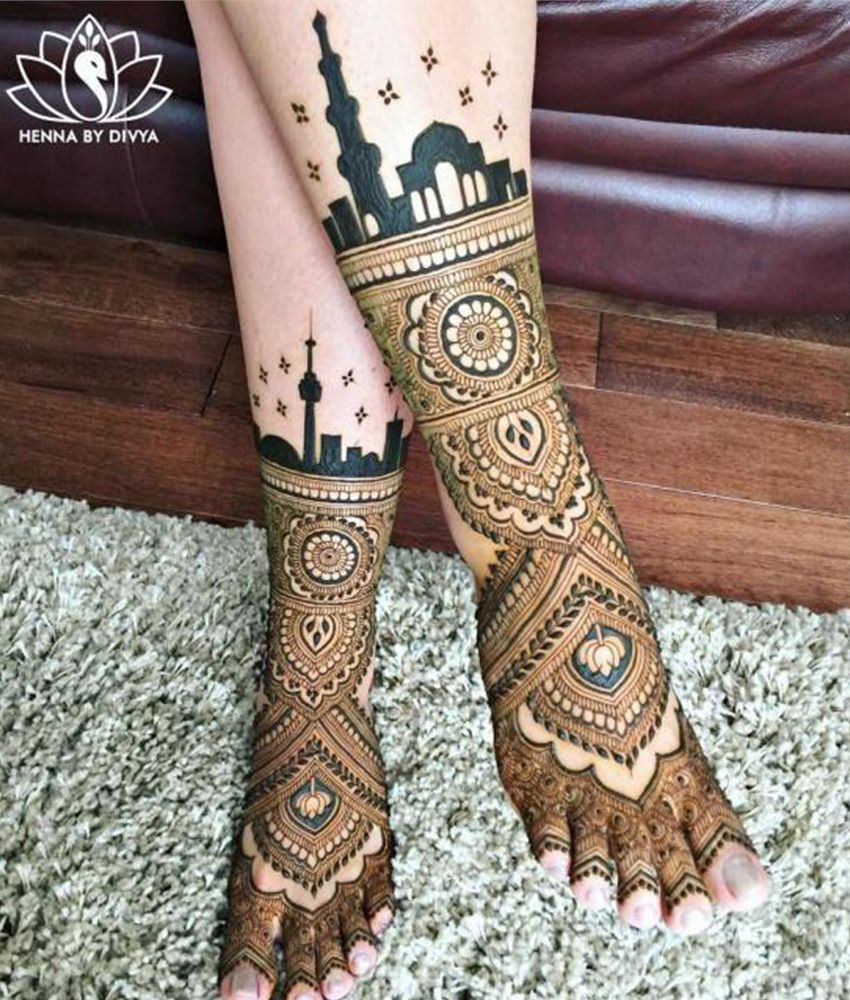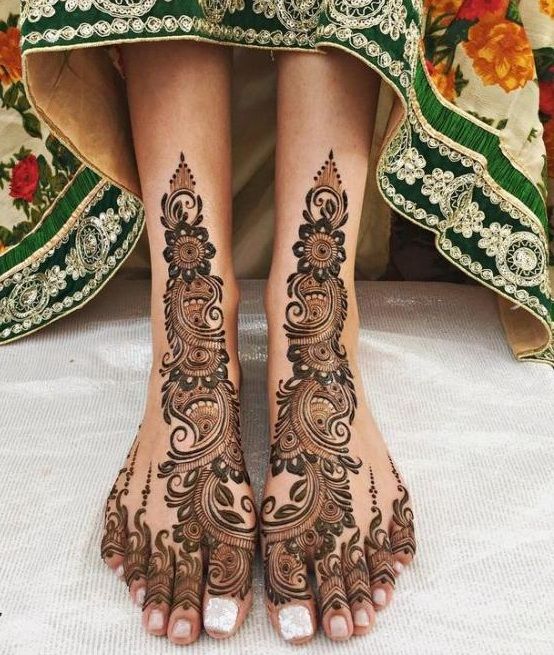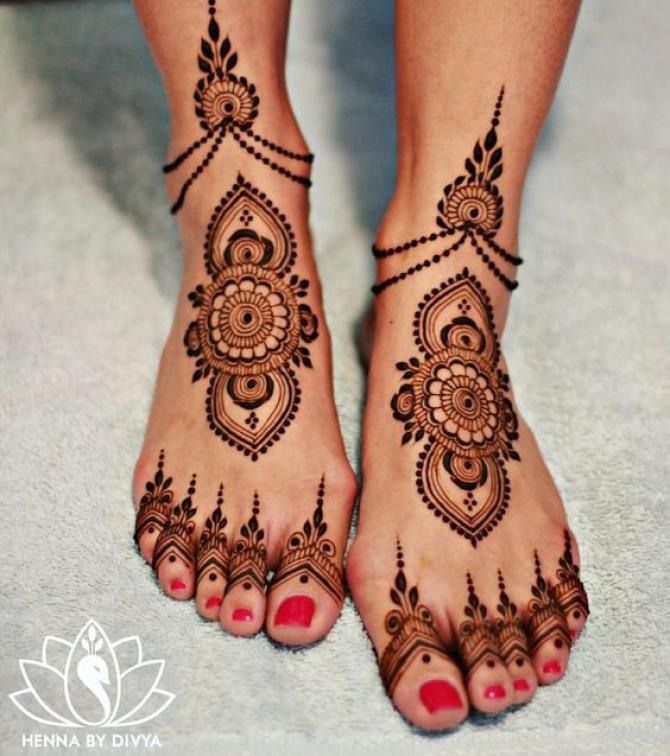 Rosette and Filigree Mehndi Designs:
Roses are a huge part of any mehndi design. Different takes on roses and then the flow along with it makes any design look gorgeous on the hands. However, in recent years, we have seen a trend of rosette mehndi designs, which is formed into delicate tracery like filigree. It is the same pattern that is made on the entire hand and looks nothing less than a beautiful glove of roses. Florals and filigree mehndi designs are one of the most beautiful mehndi designs.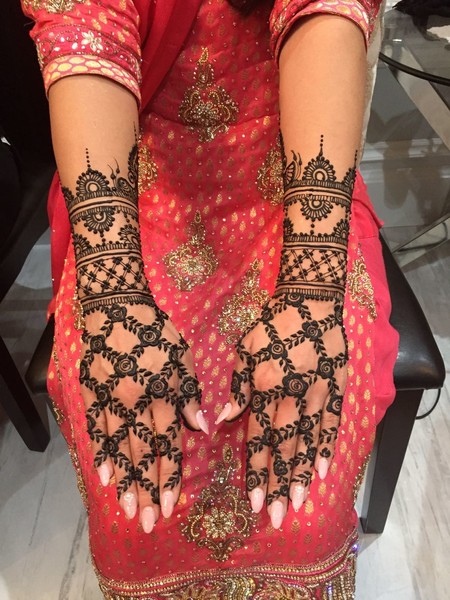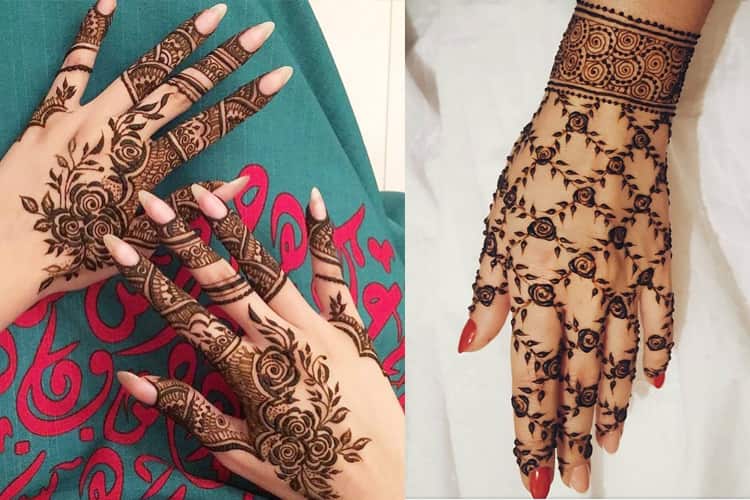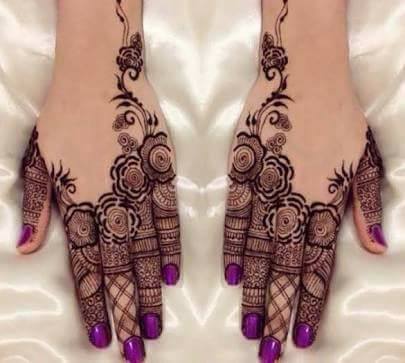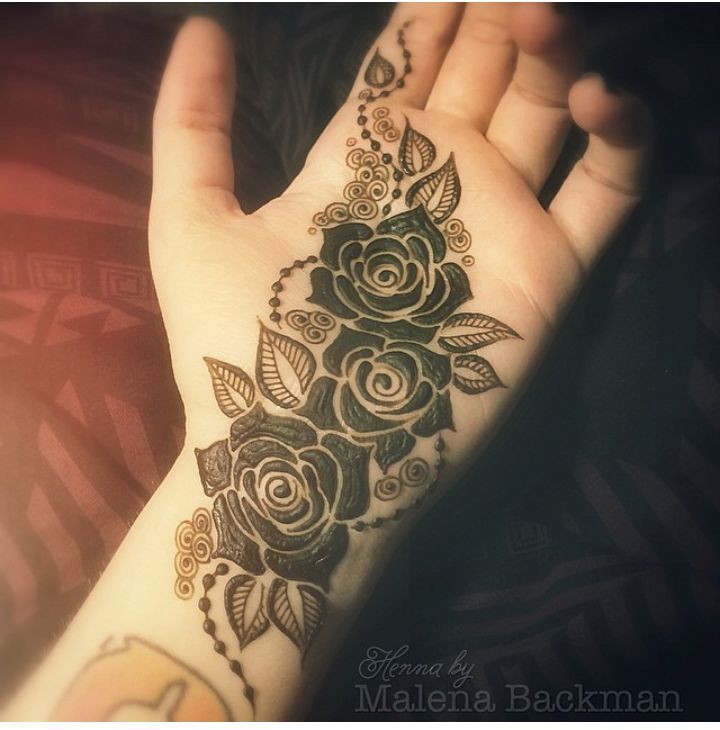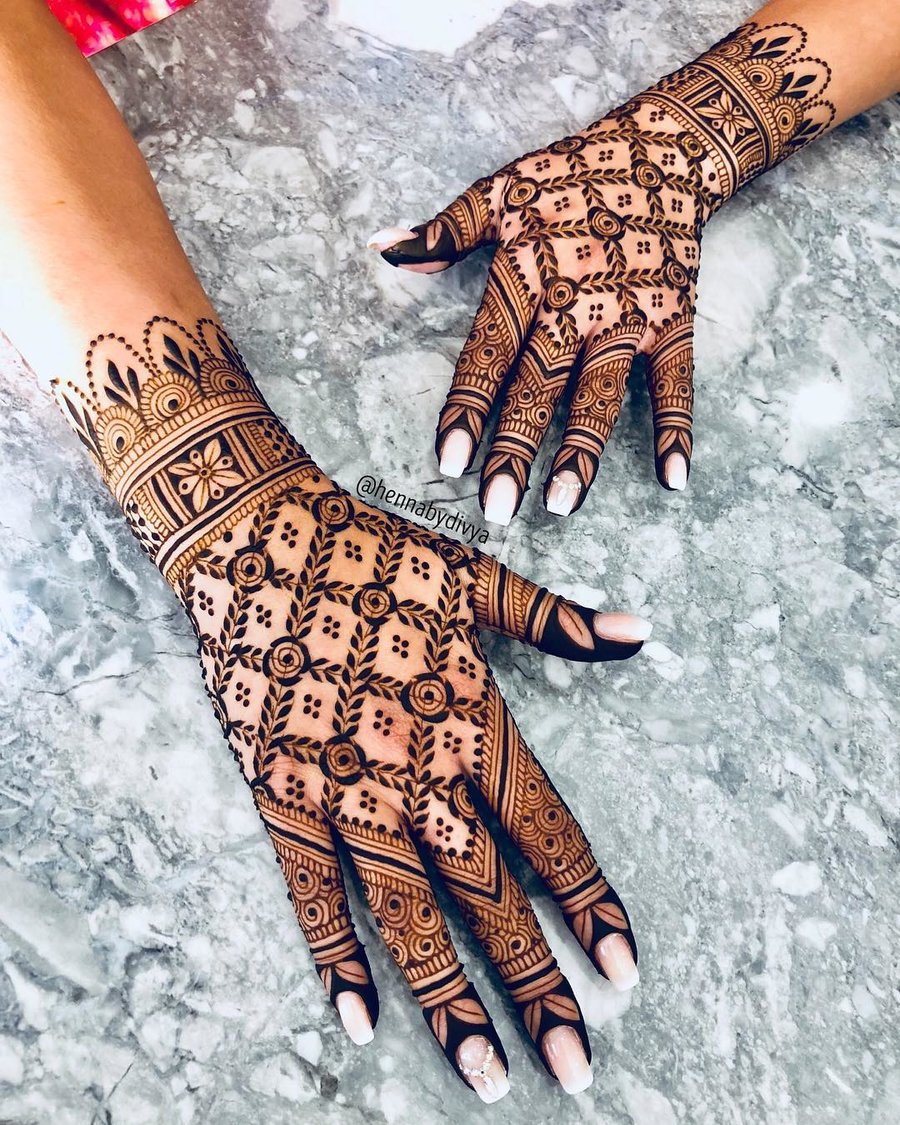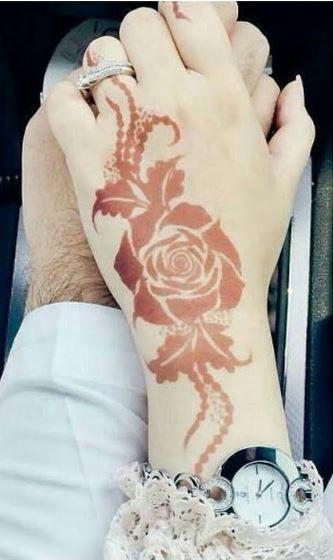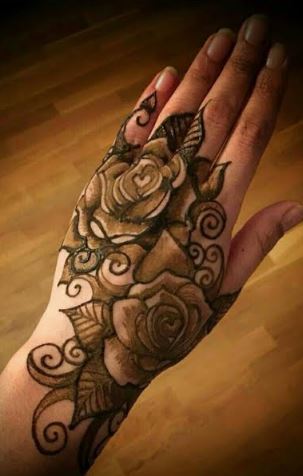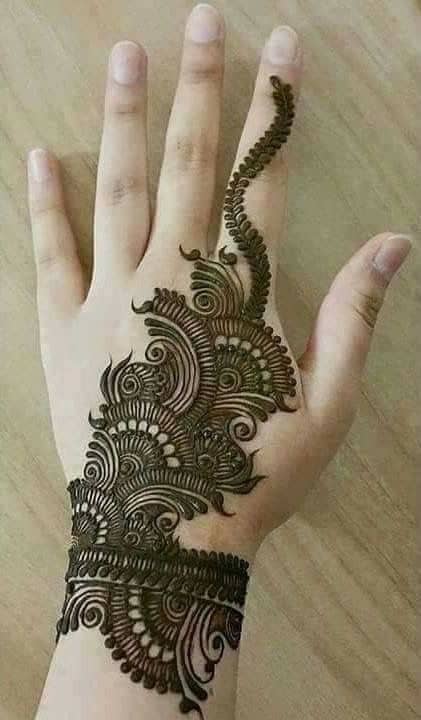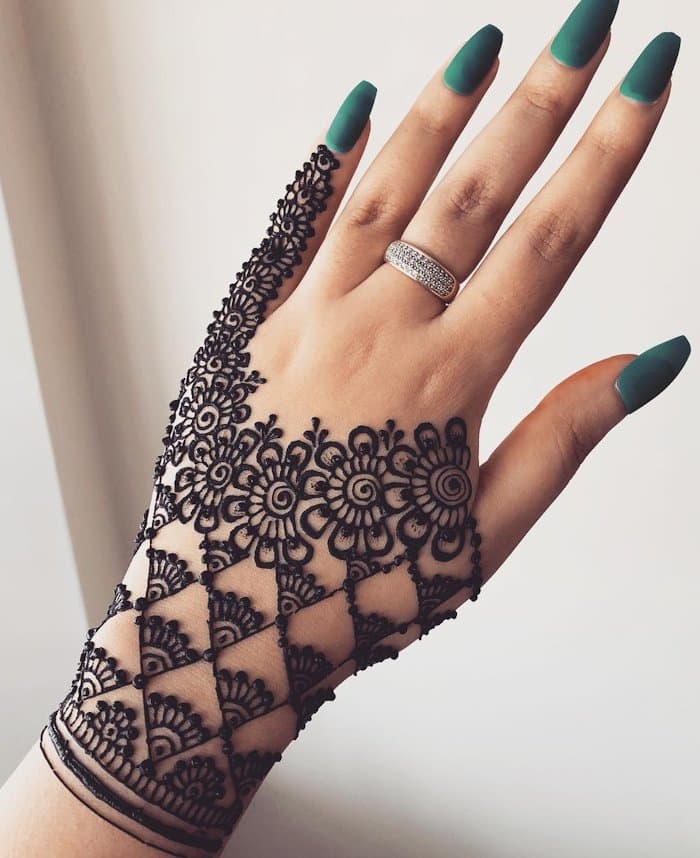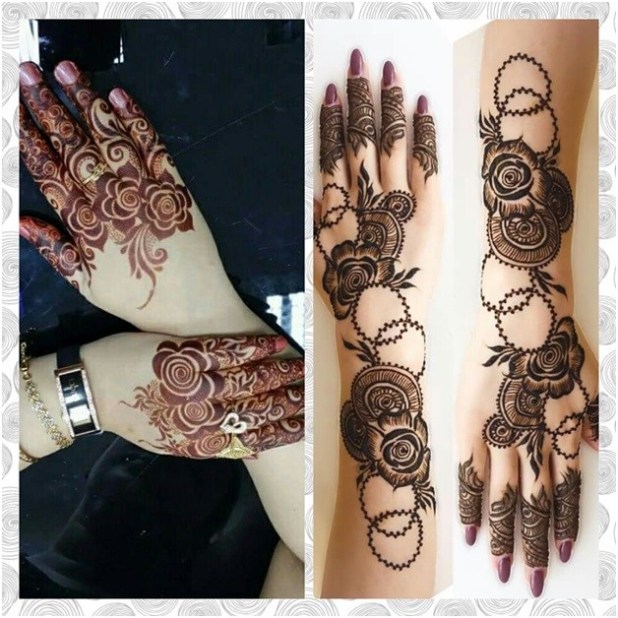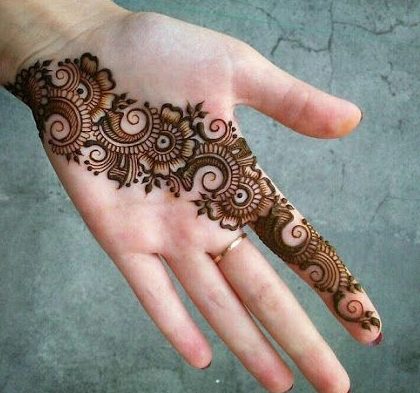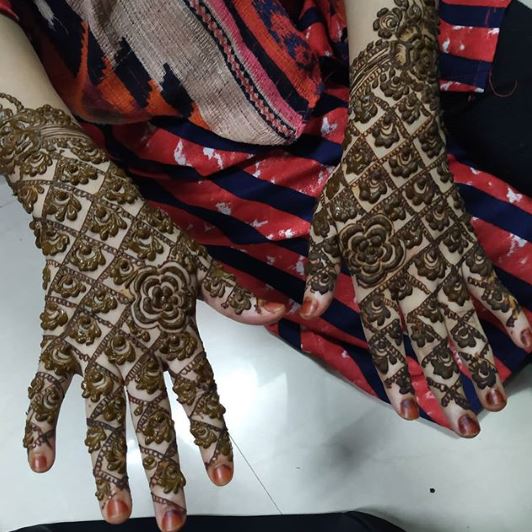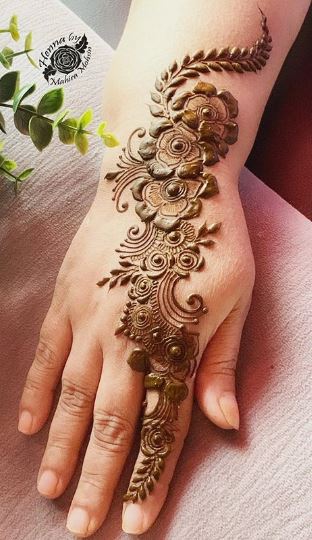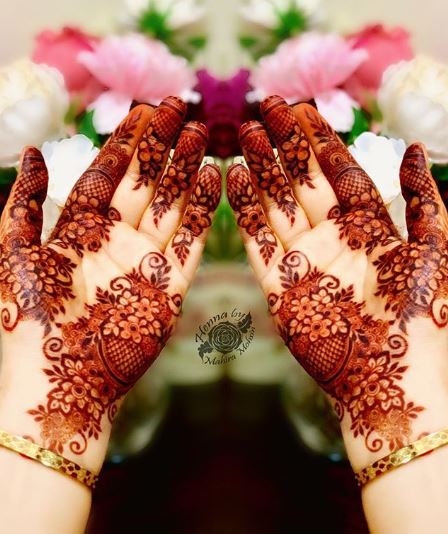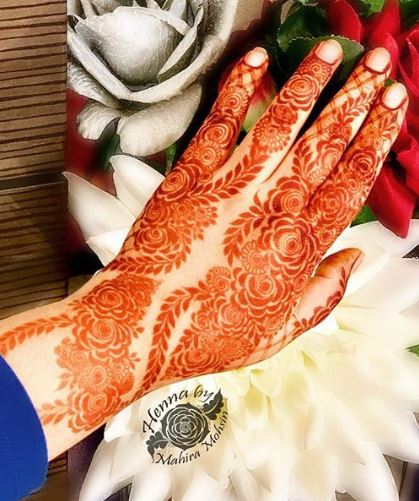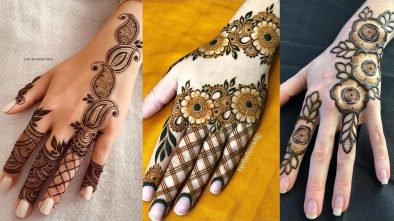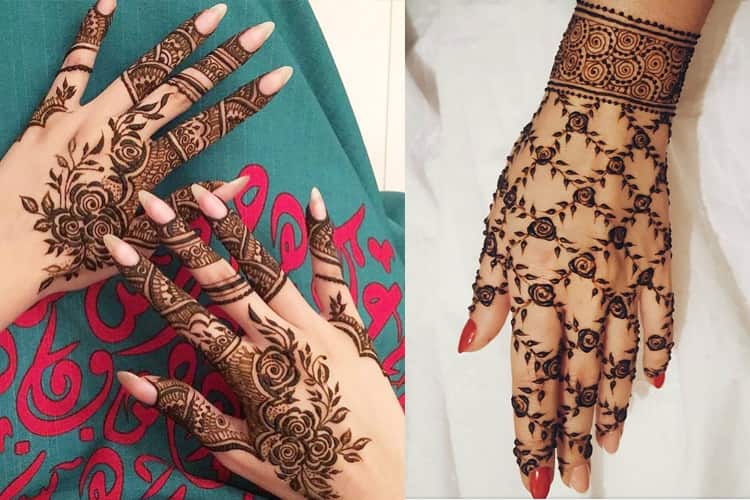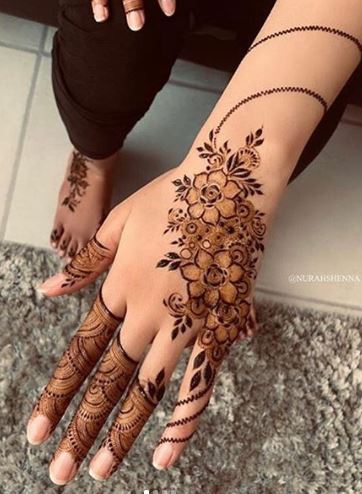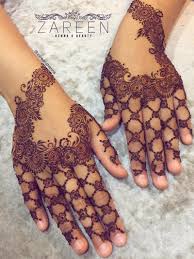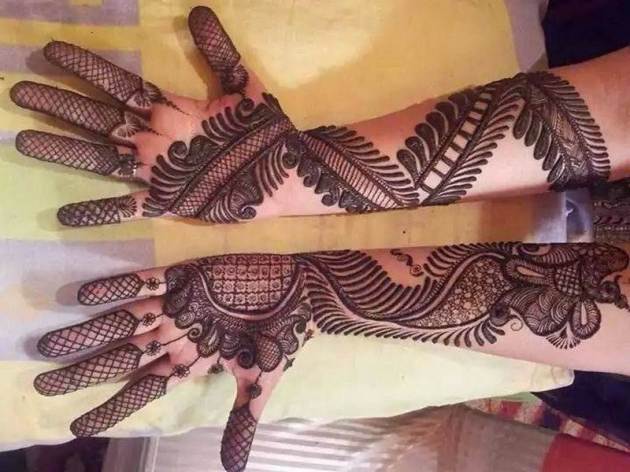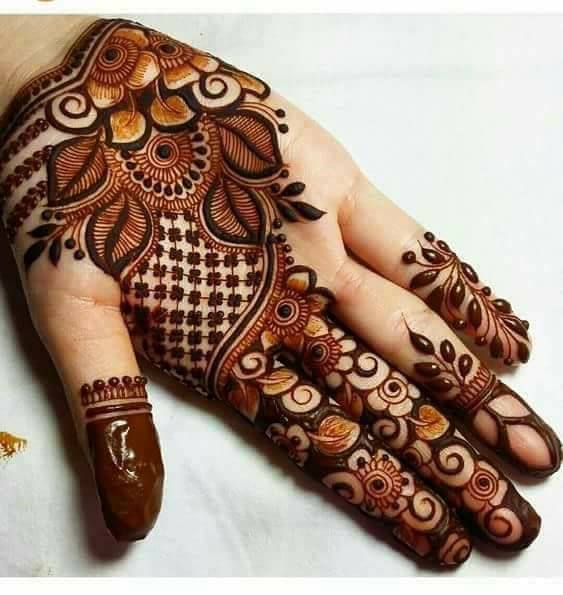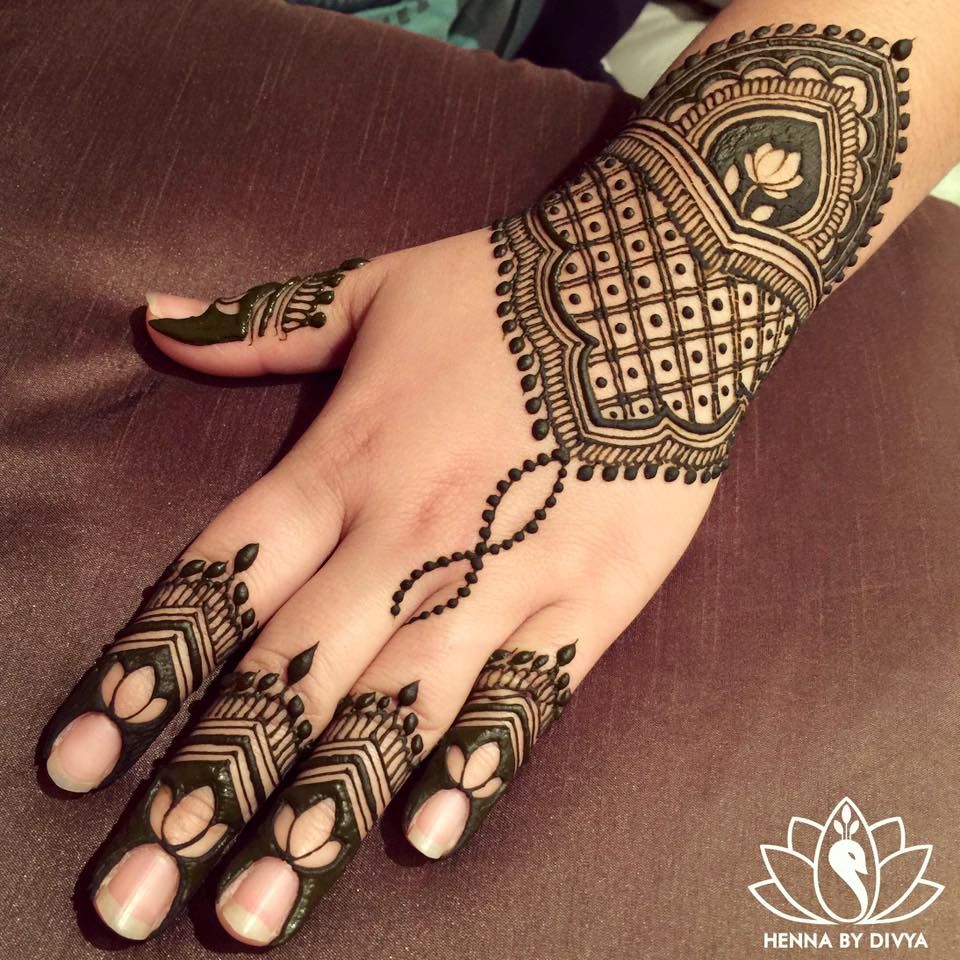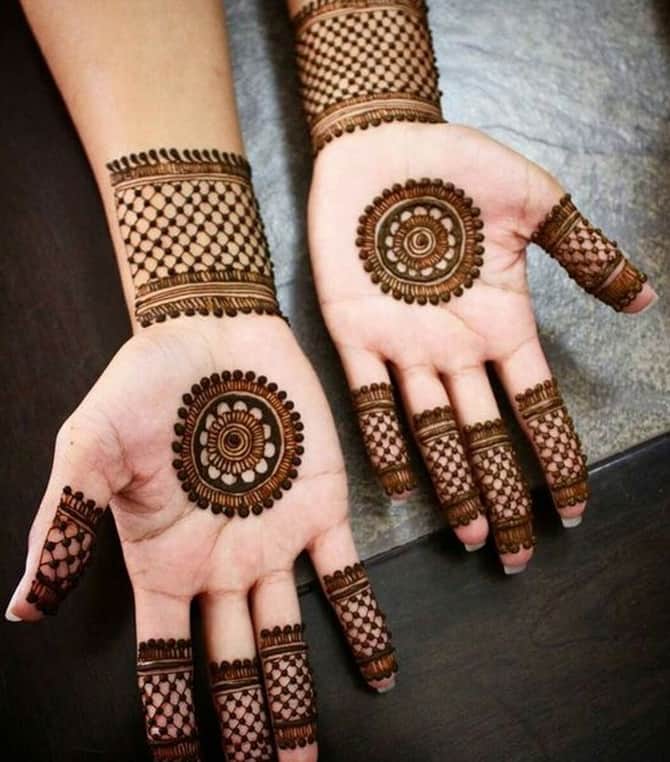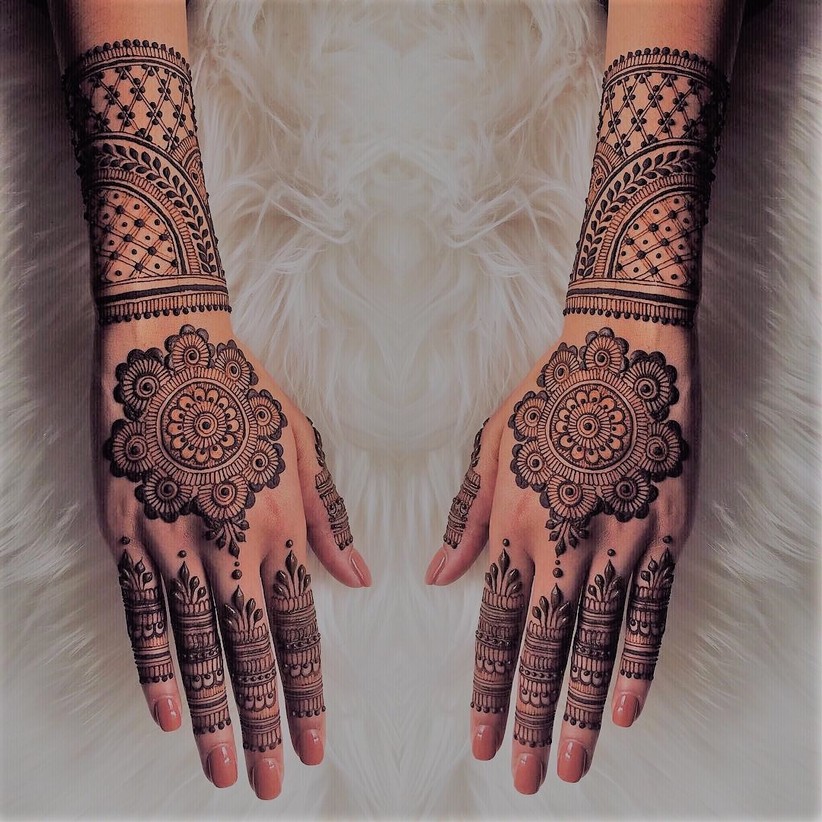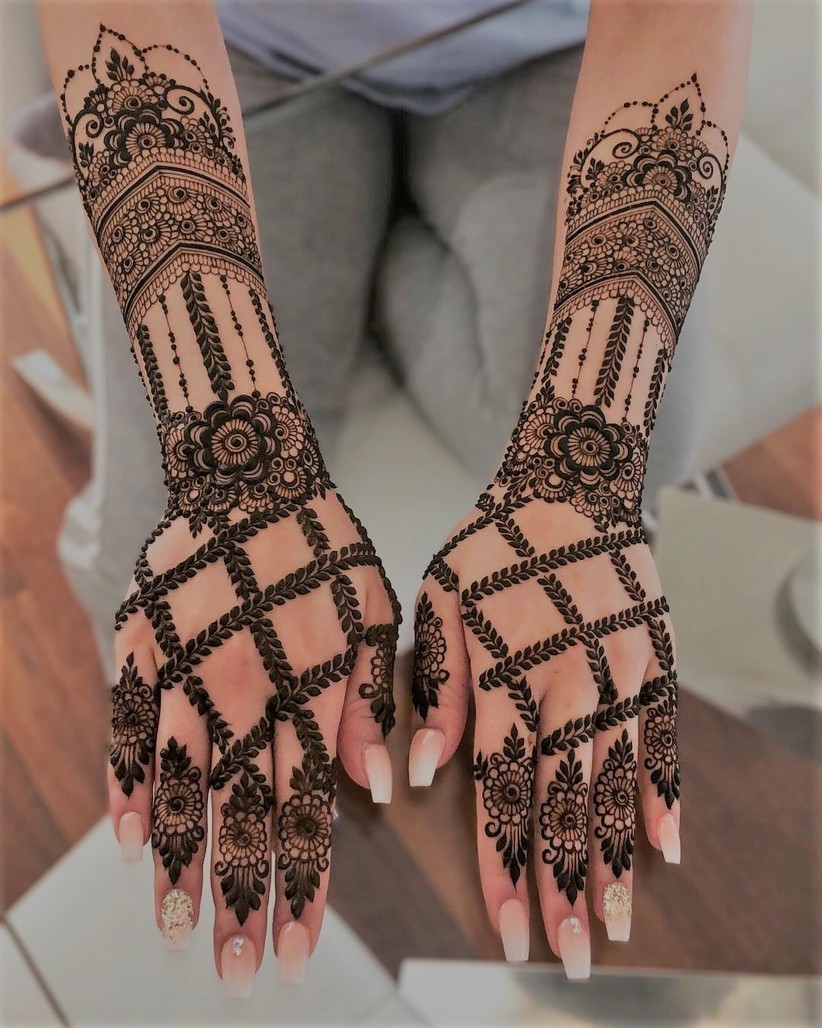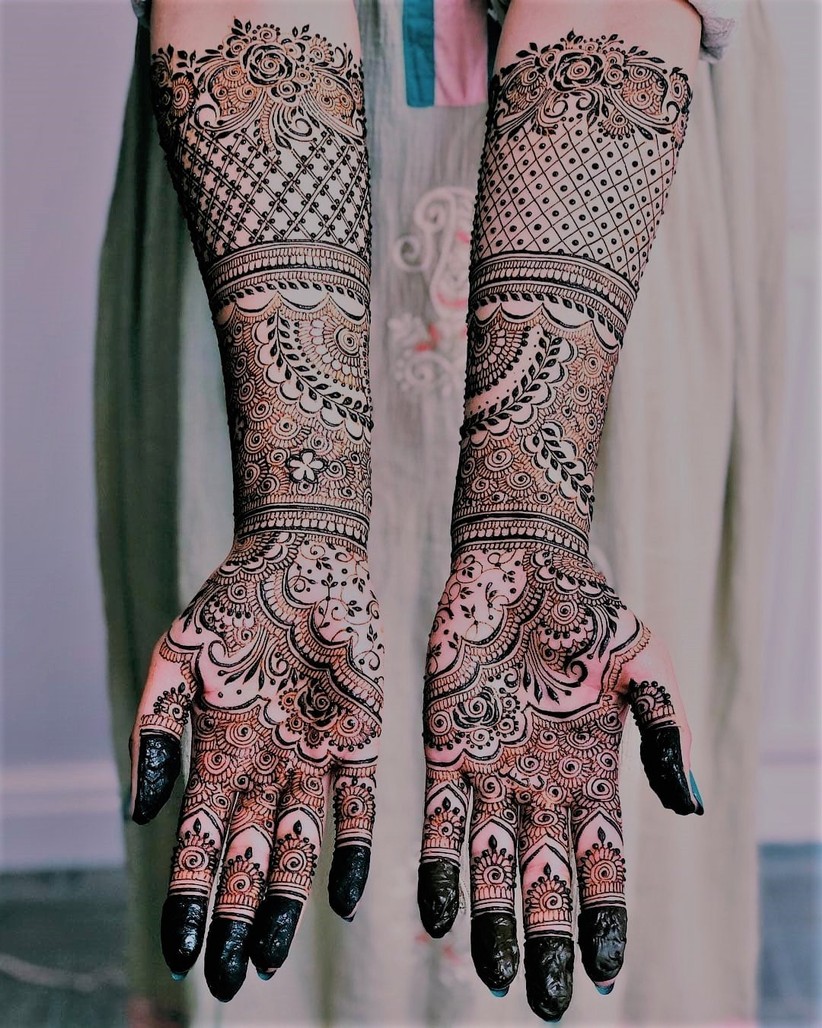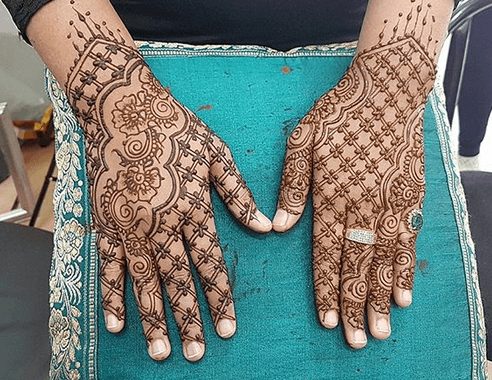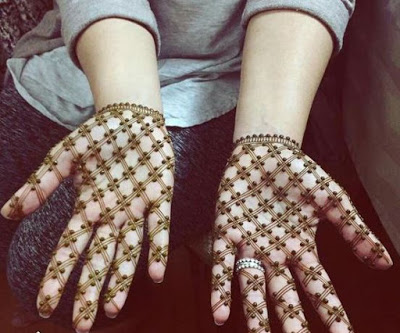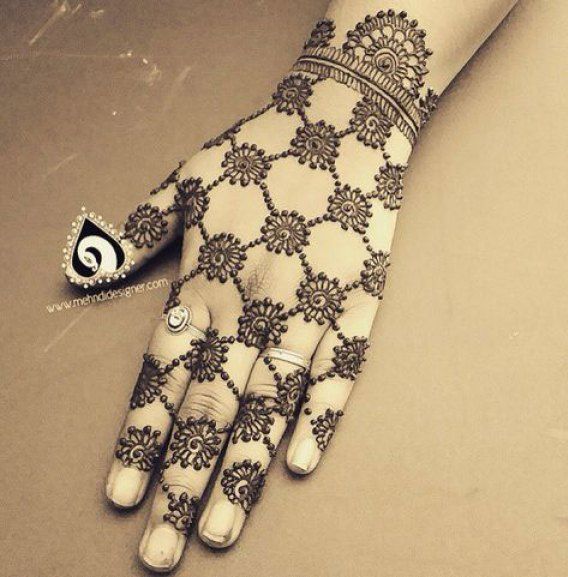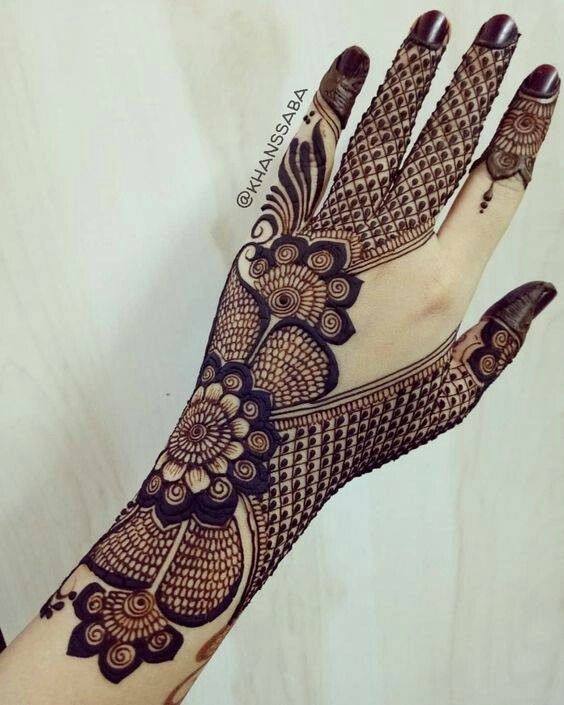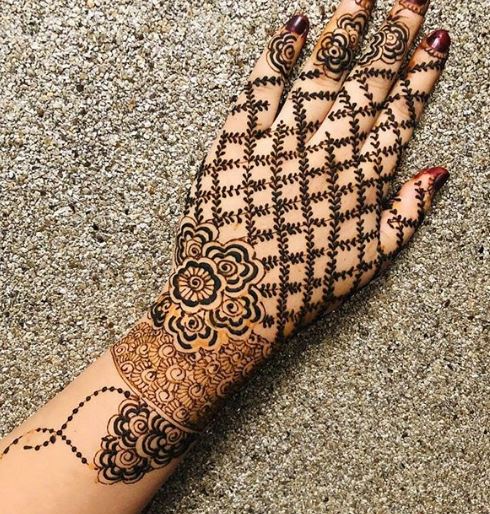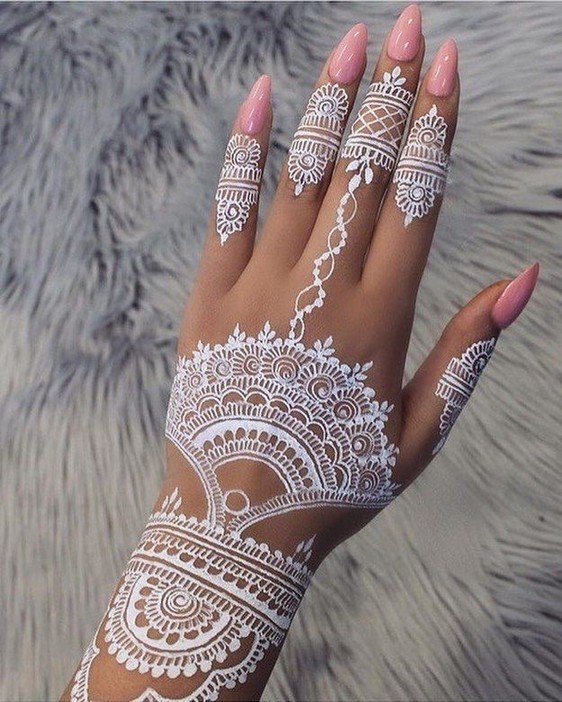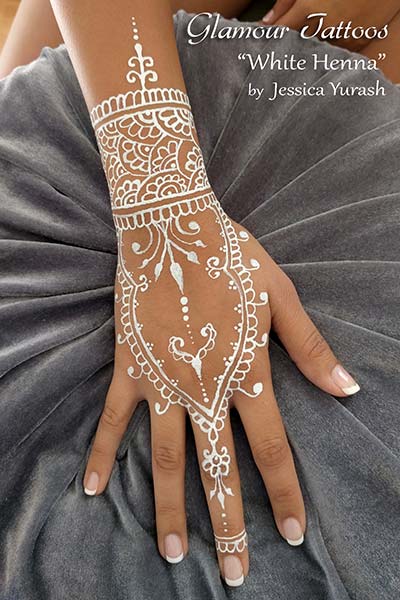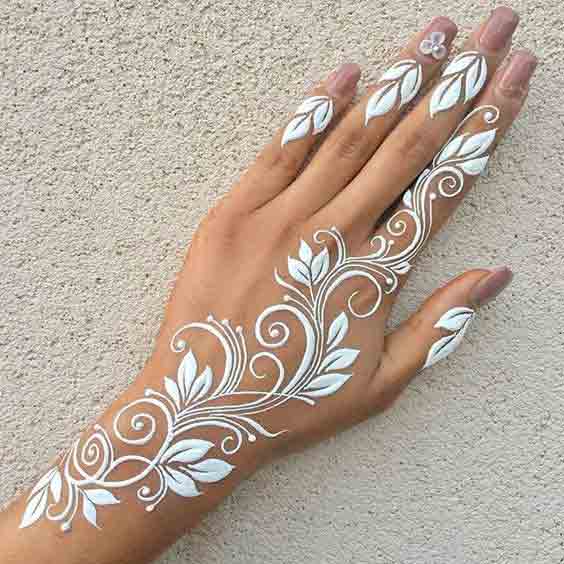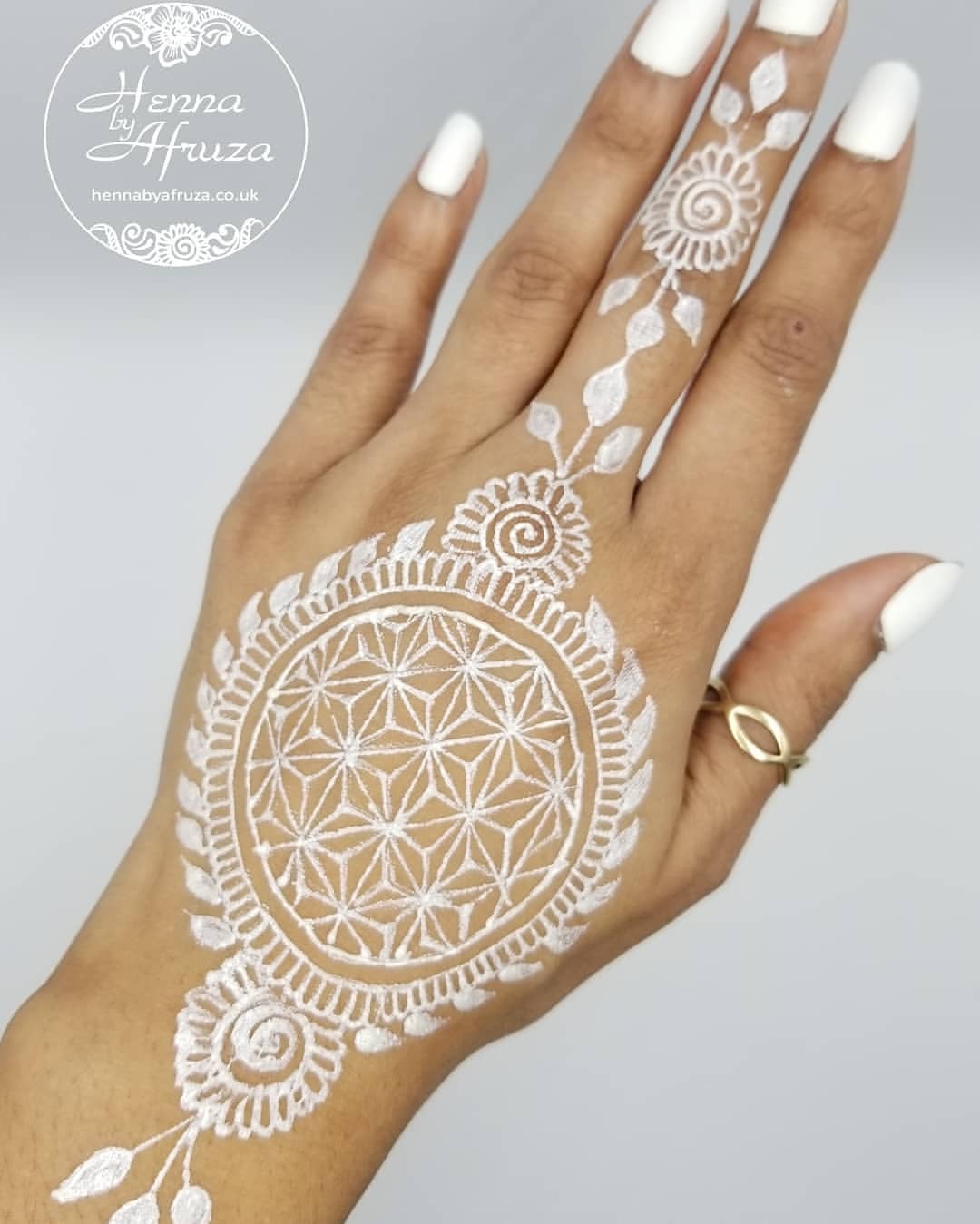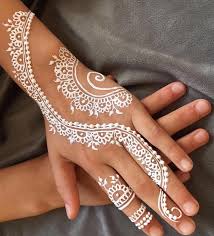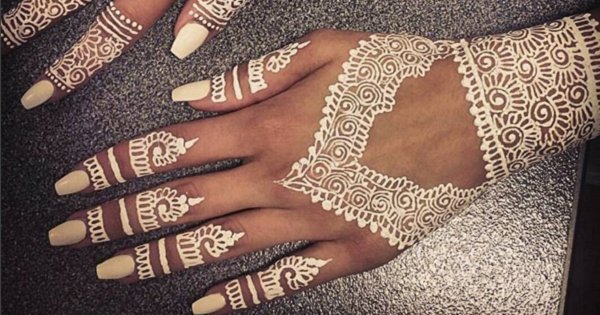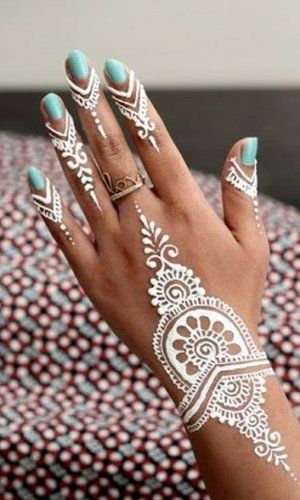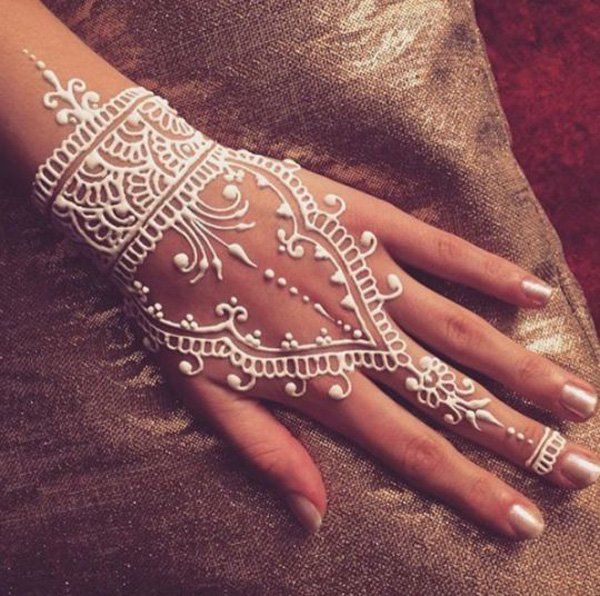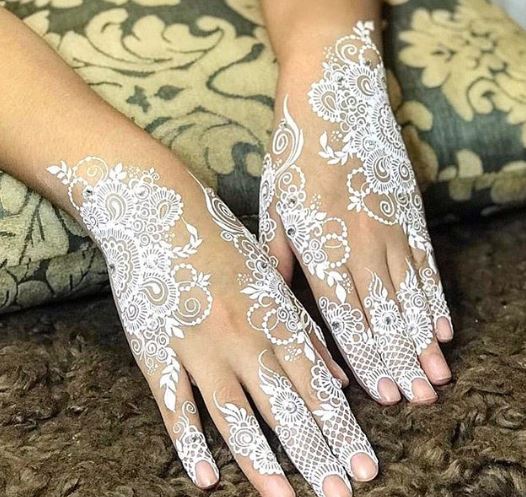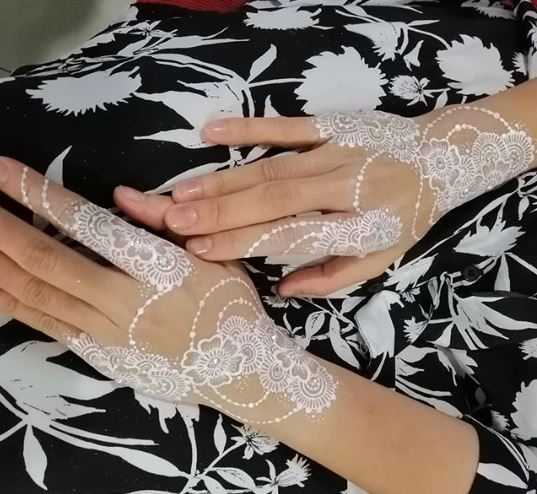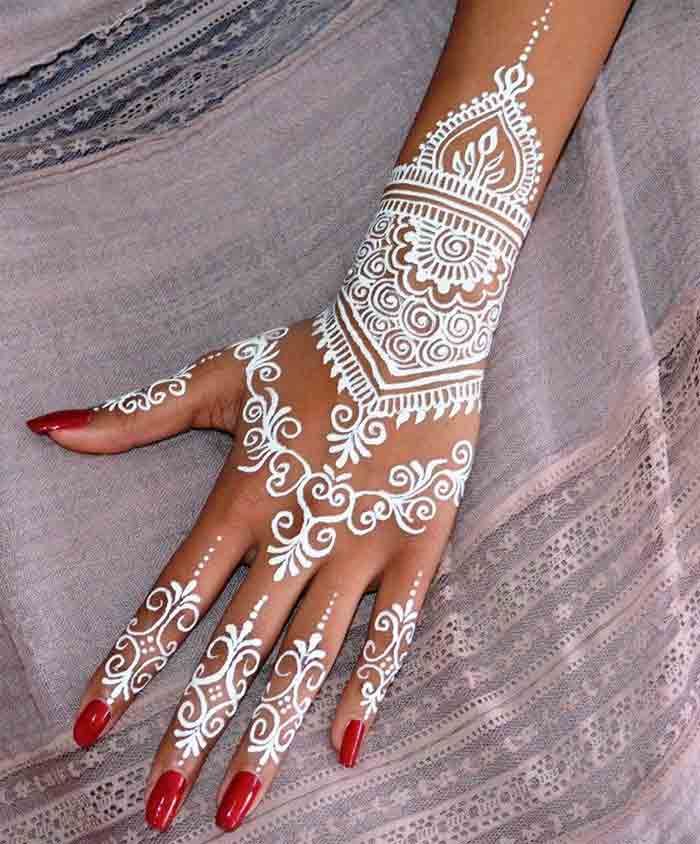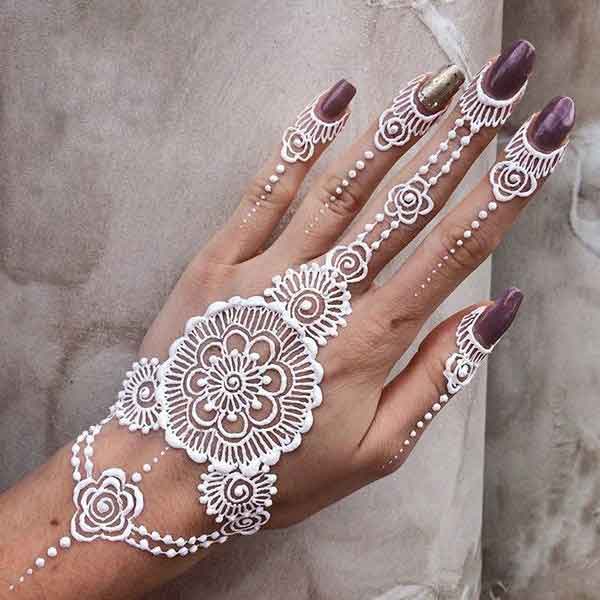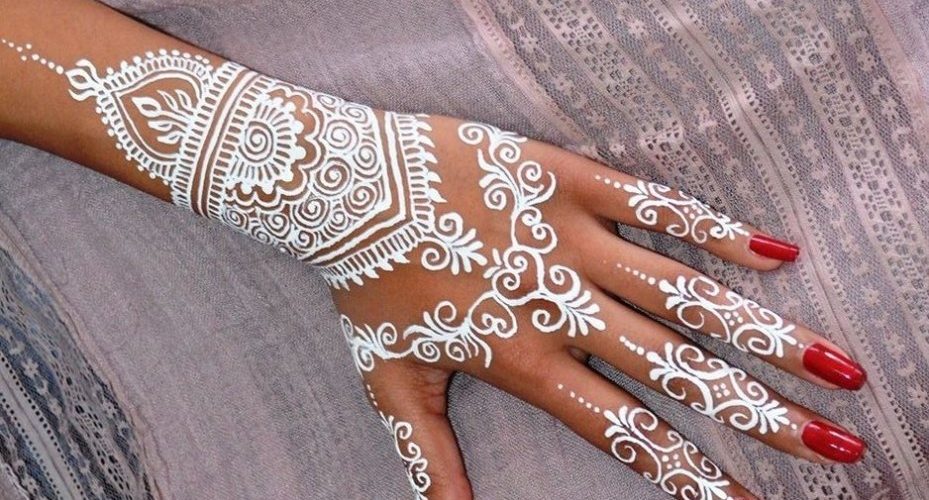 Black Mehndi Designs:
Black mehndi is widely used in African countries and it has made its way into Arab countries too. Black mehndi designs look the best when they are not covering the hands completely. Due to the black color, the less is more approach is the best way to go about it. Black mehndi designs are usually floral and look incredible.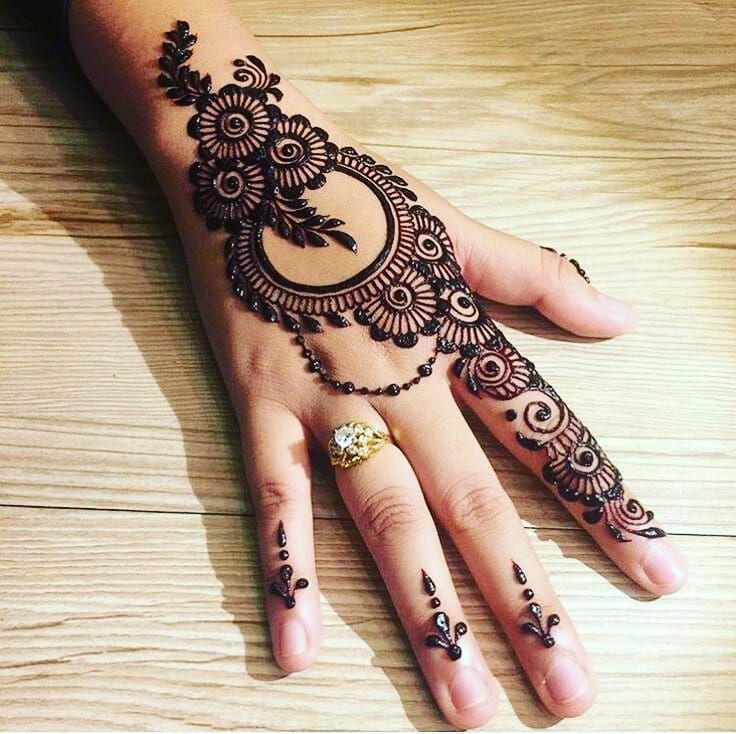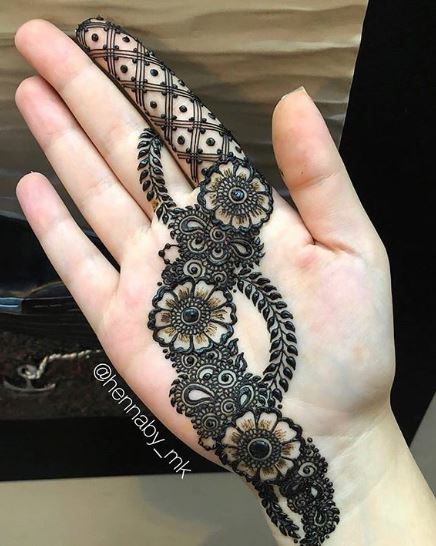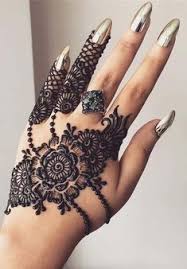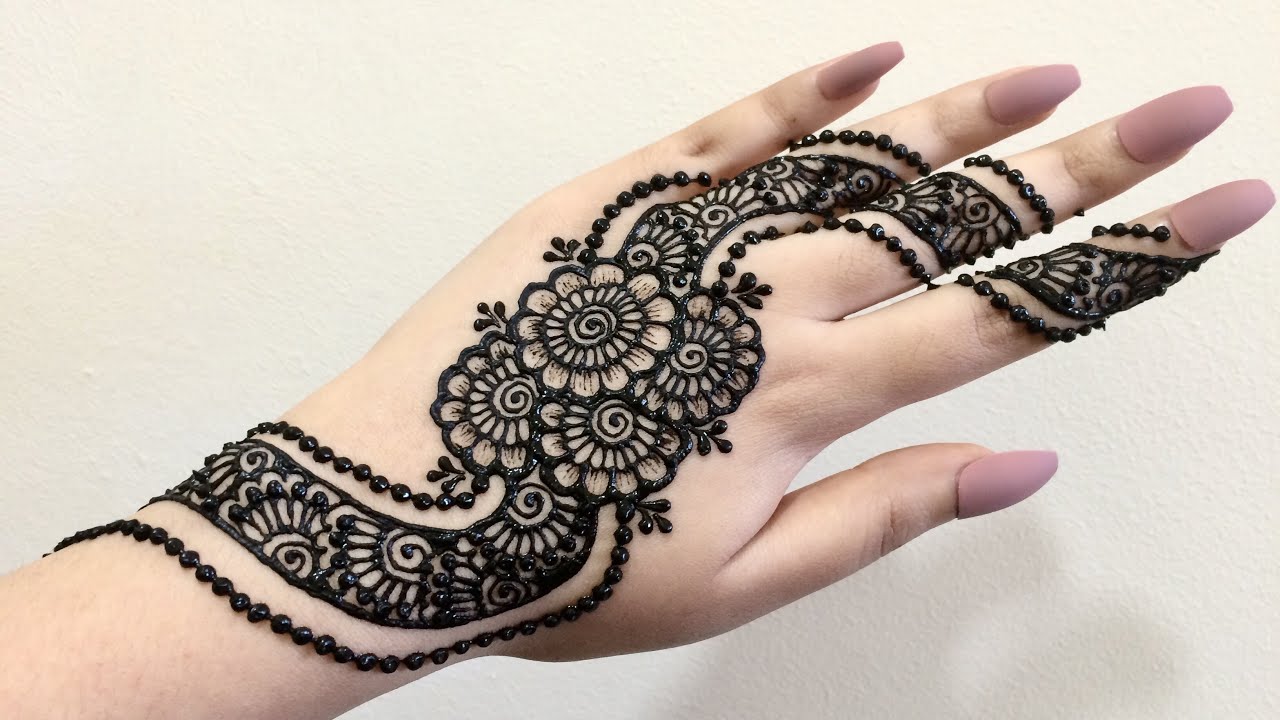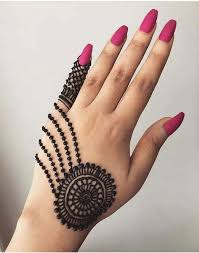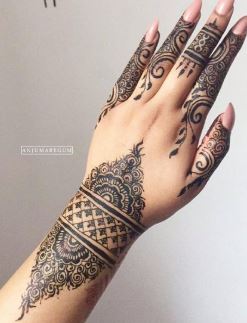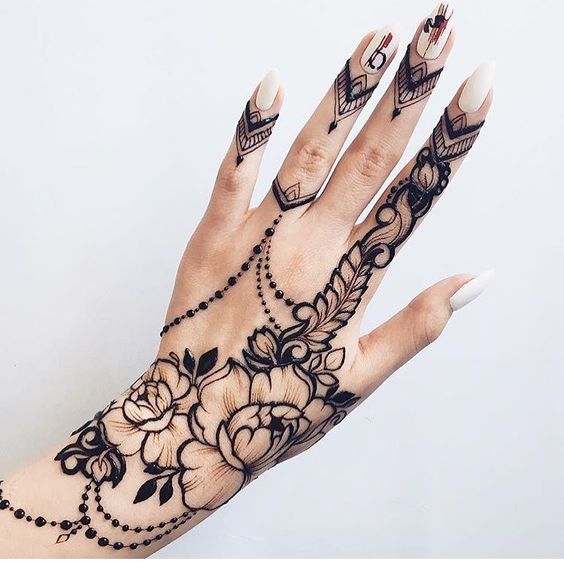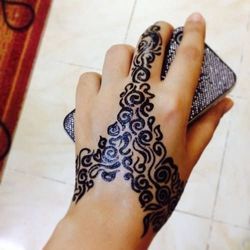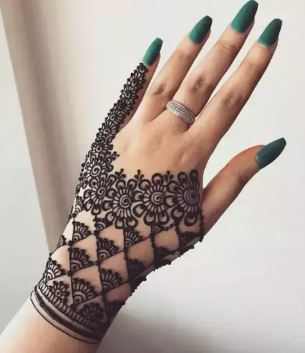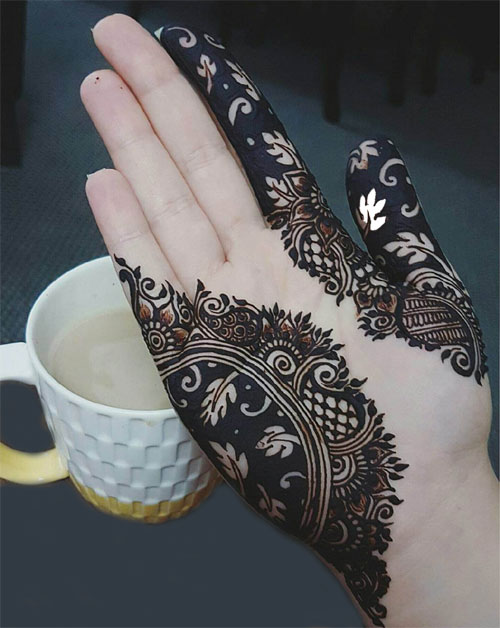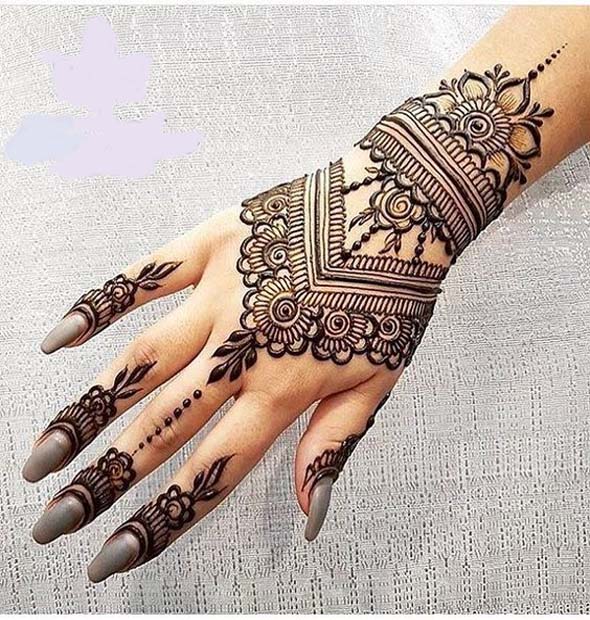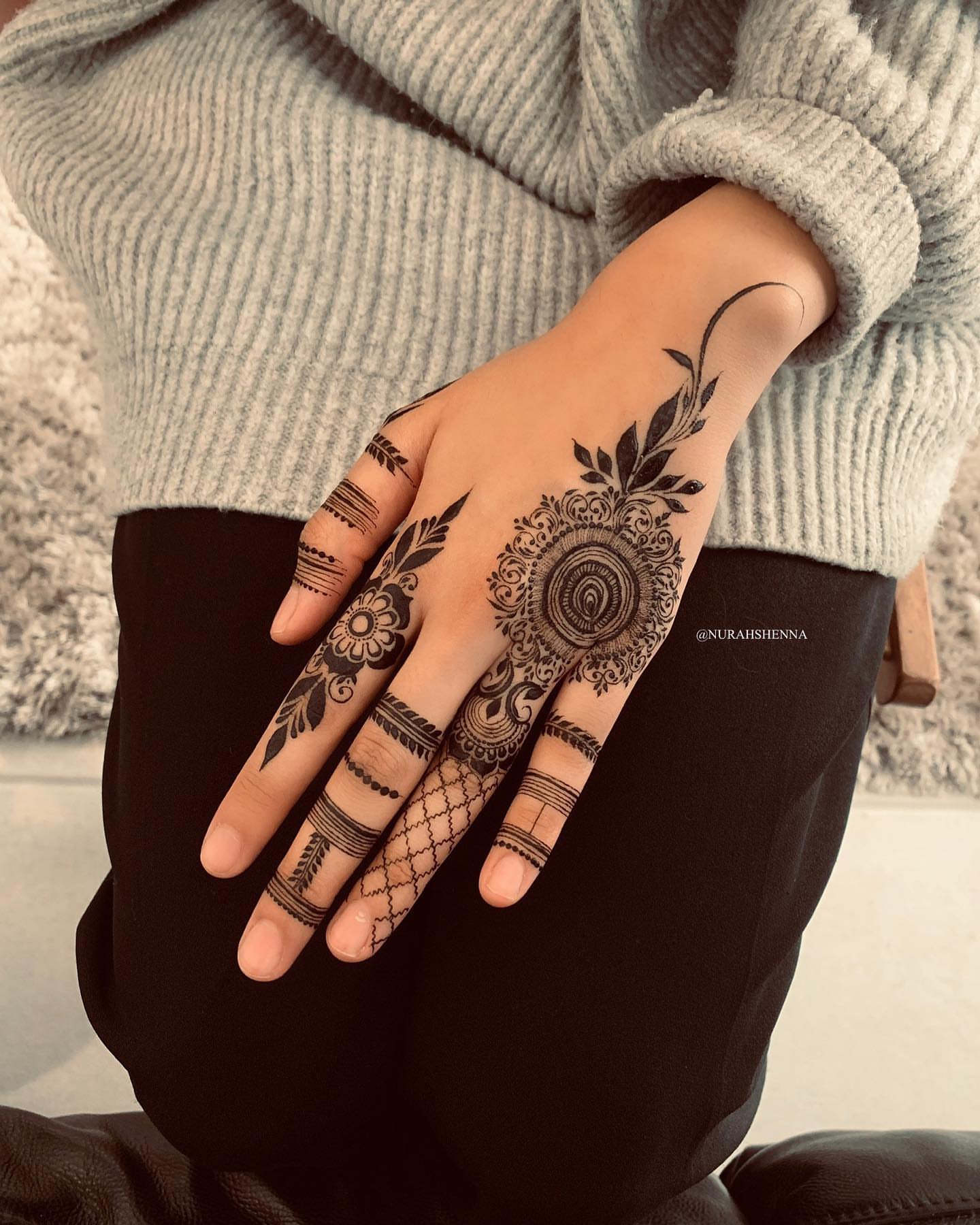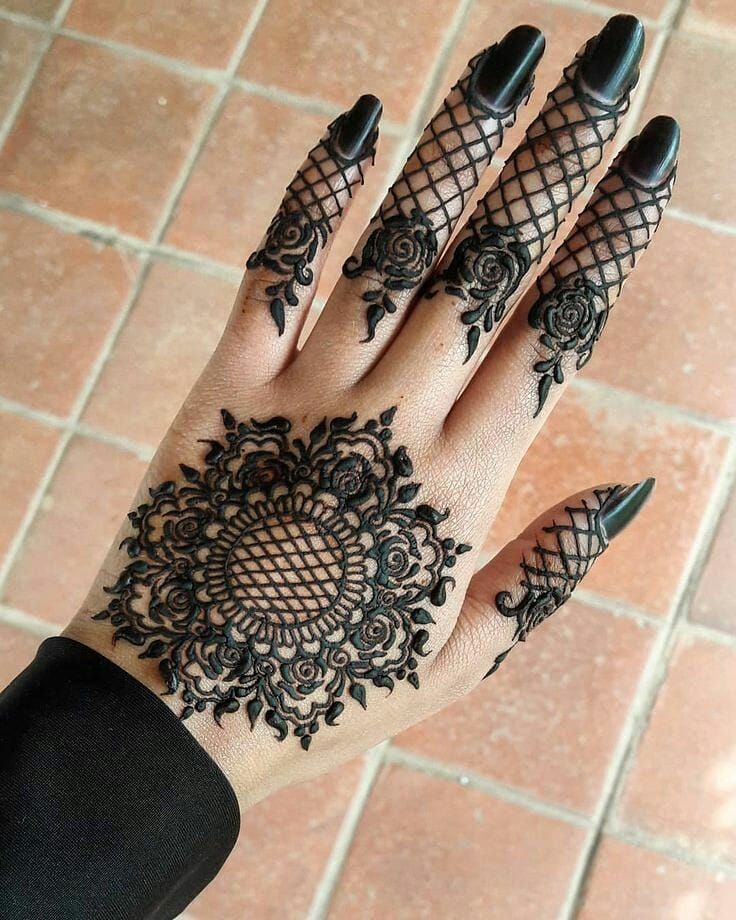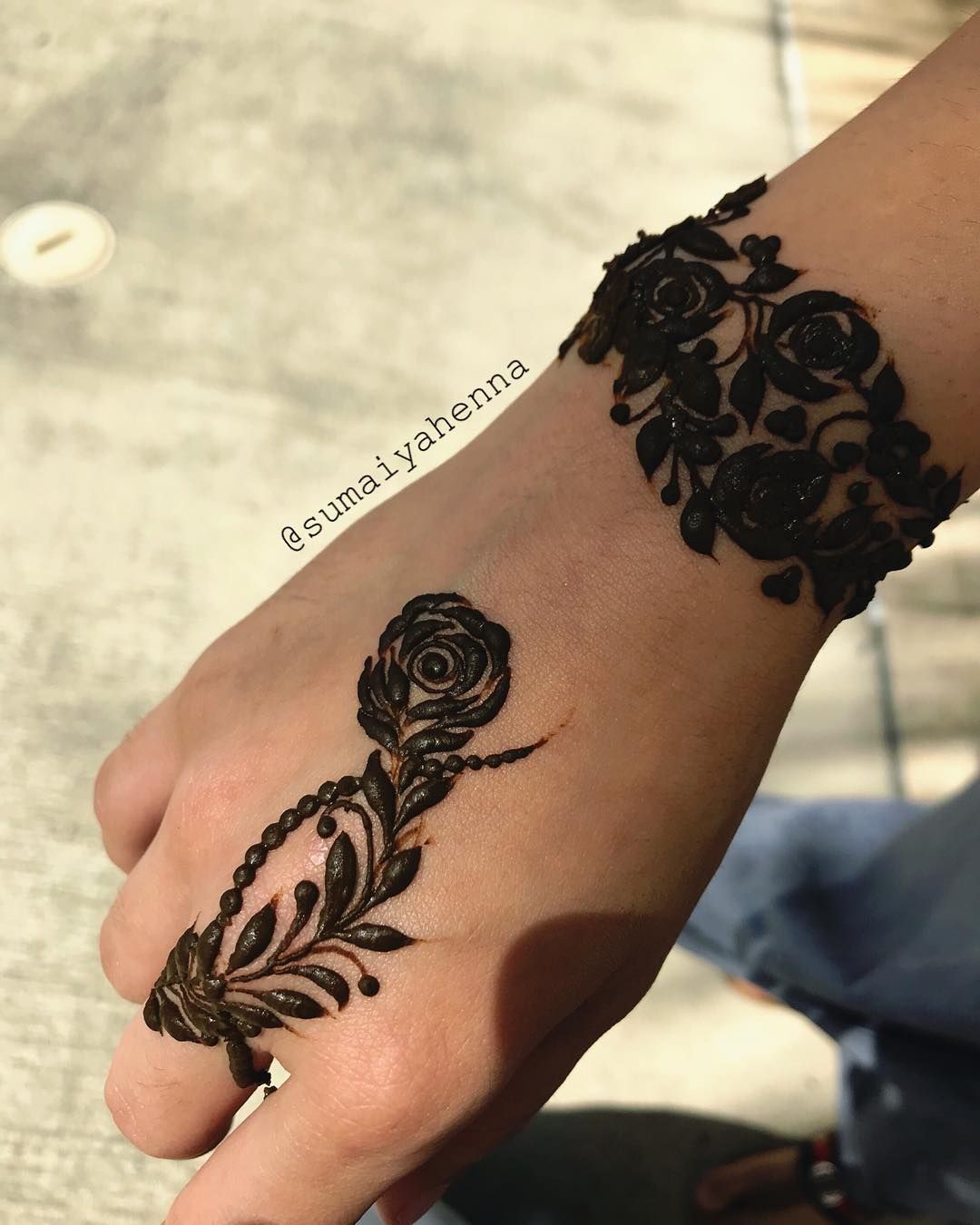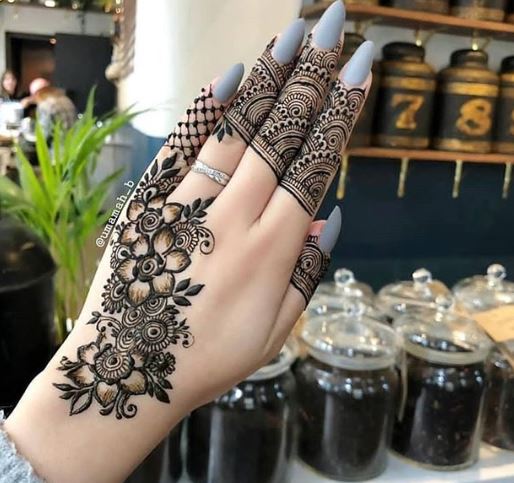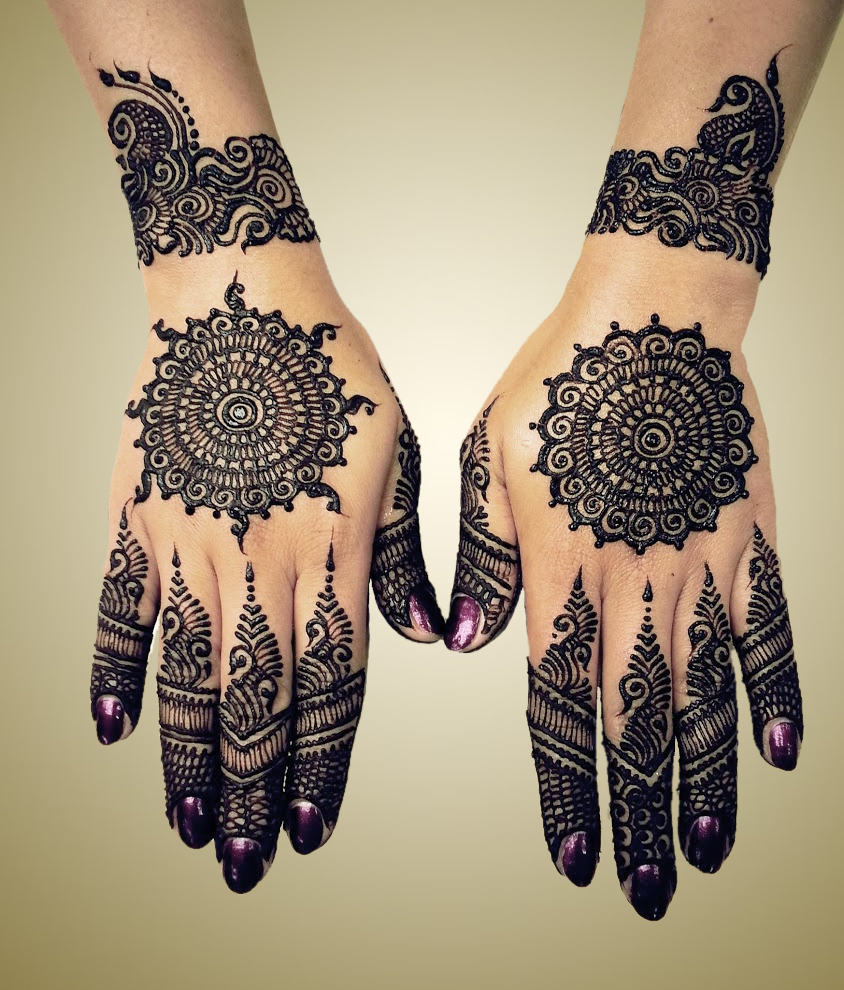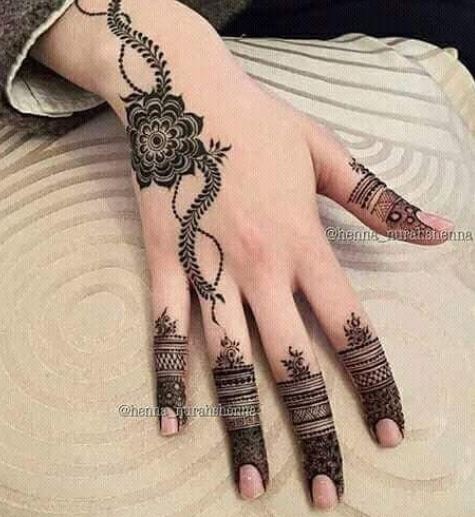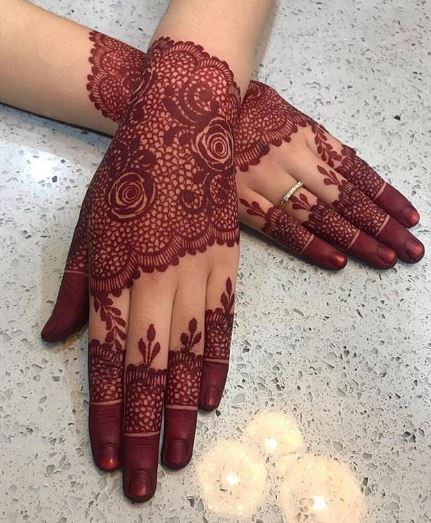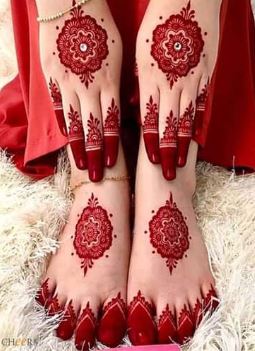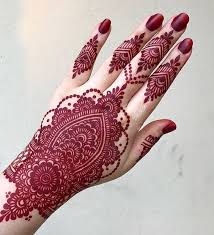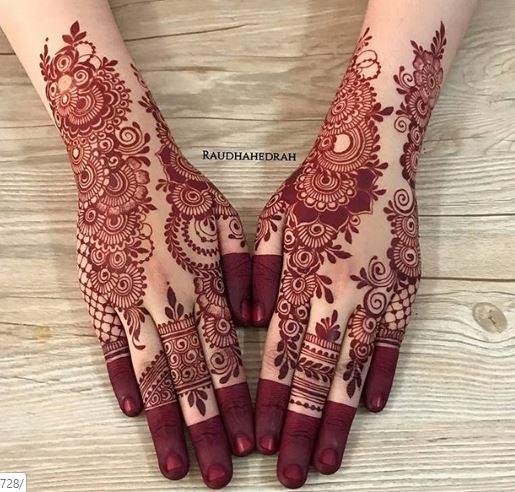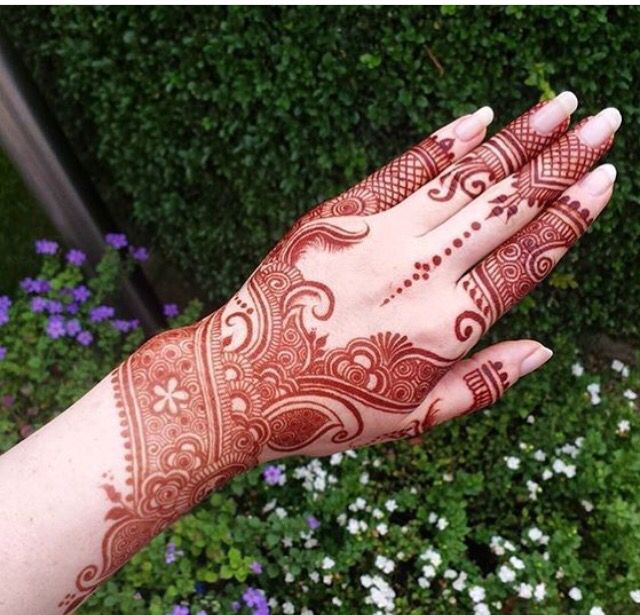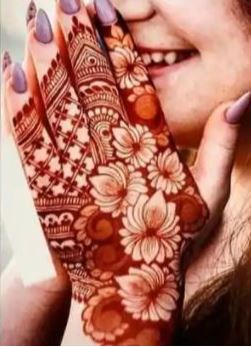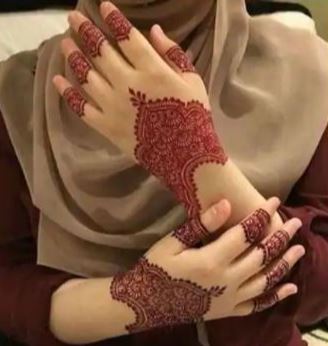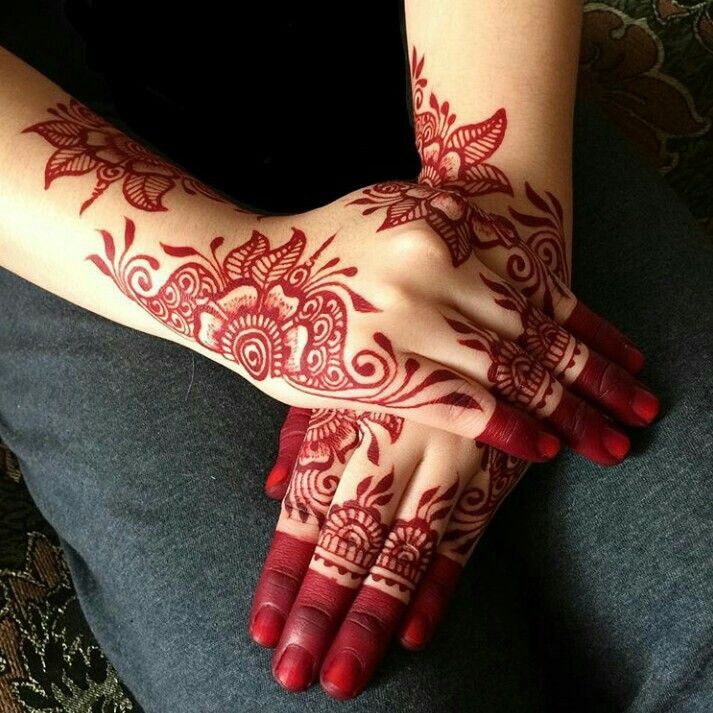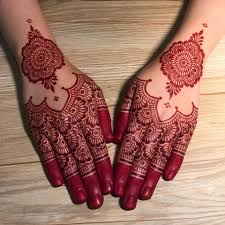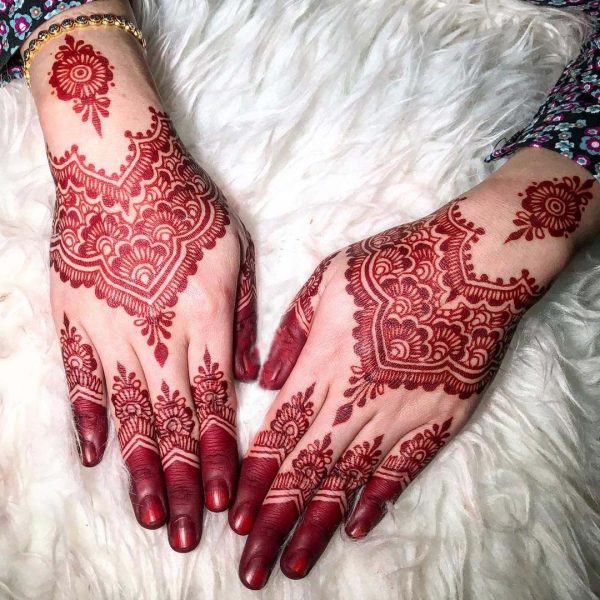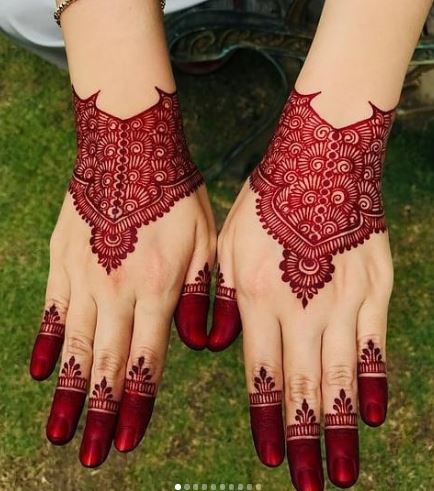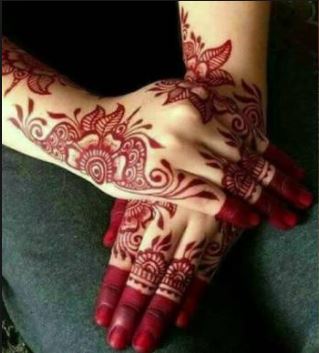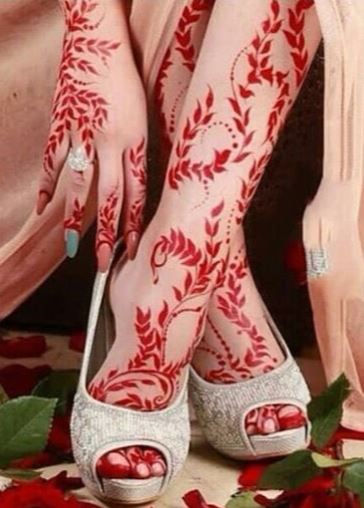 Ornamental Mehndi Designs:
This is a comparatively recent trend in the world of mehndi design too. It is a break from the traditional and typical mehndi designs that we have seen over the years. Ornamental mehndi designs include a lot of motifs, chains and dotted patterns. Ornamental mehndi designs make it look like one is wearing a jewellery of some sort on the hands and it looks beautiful.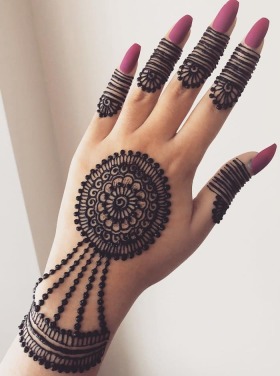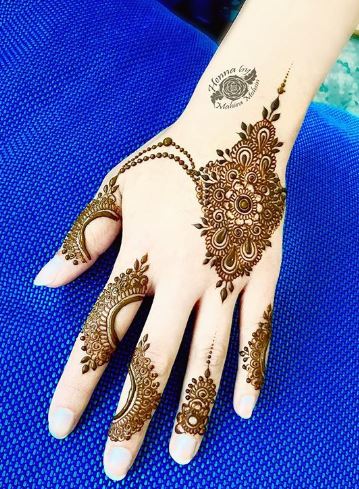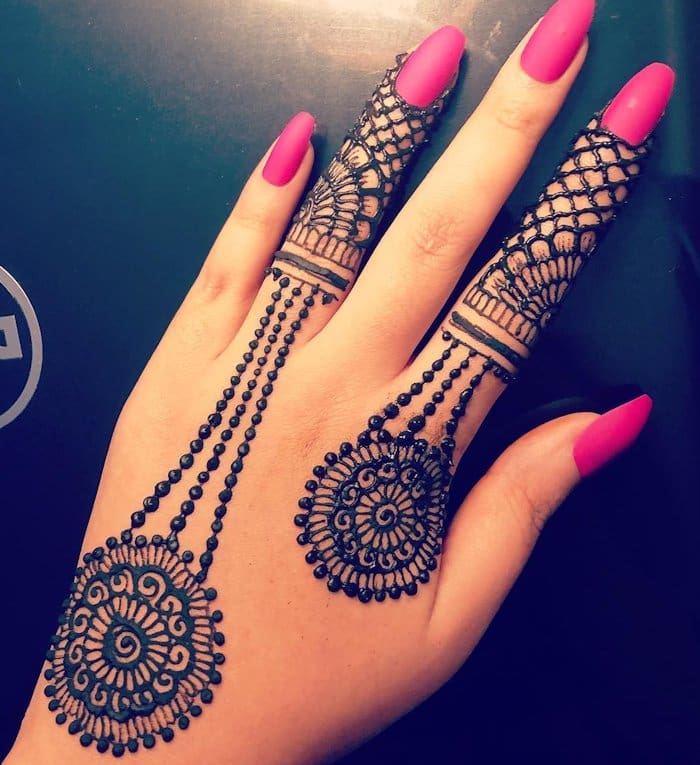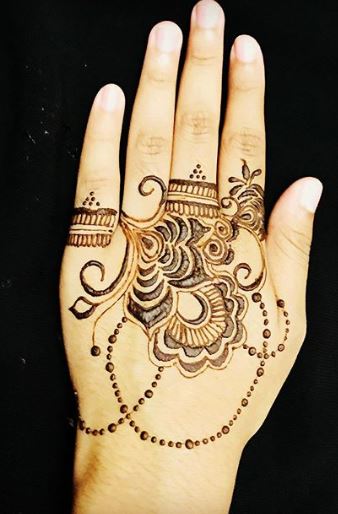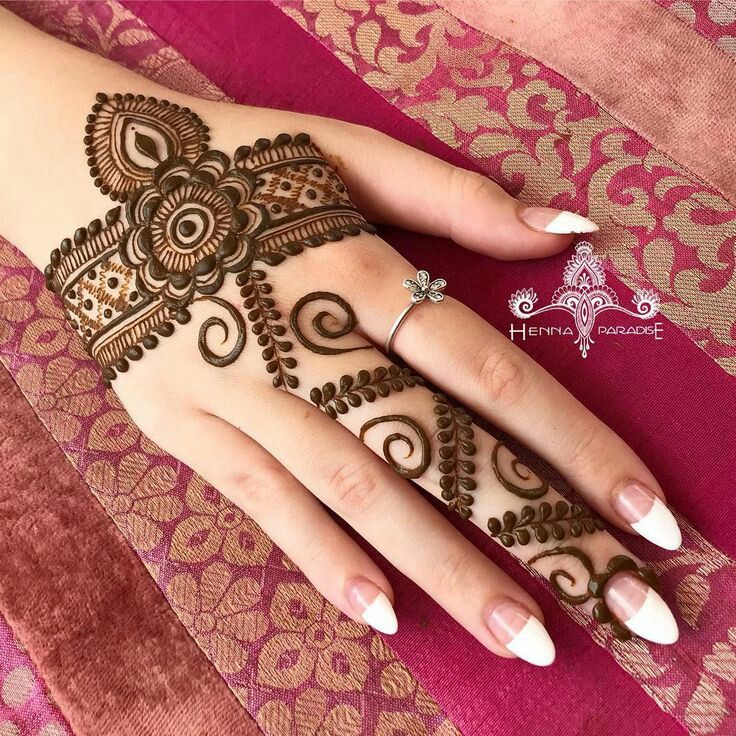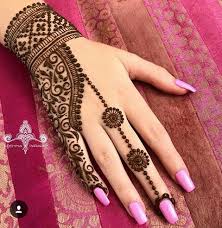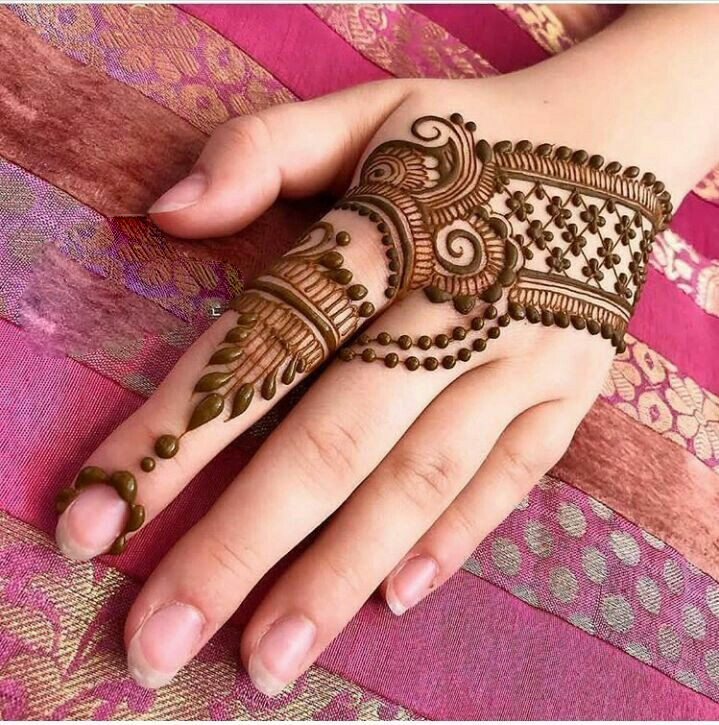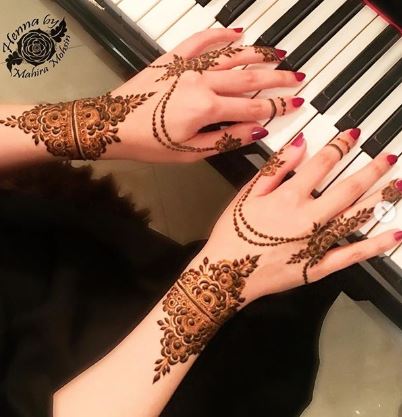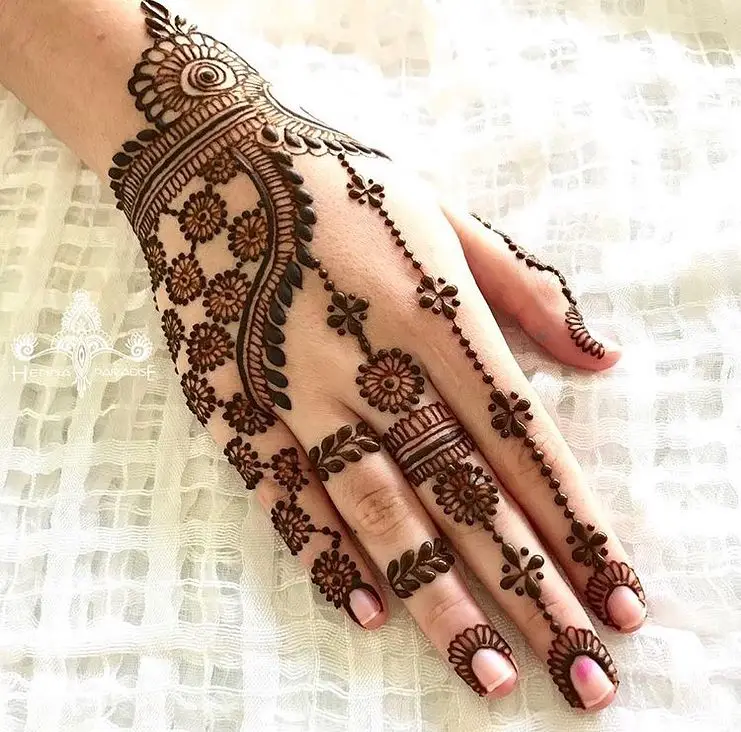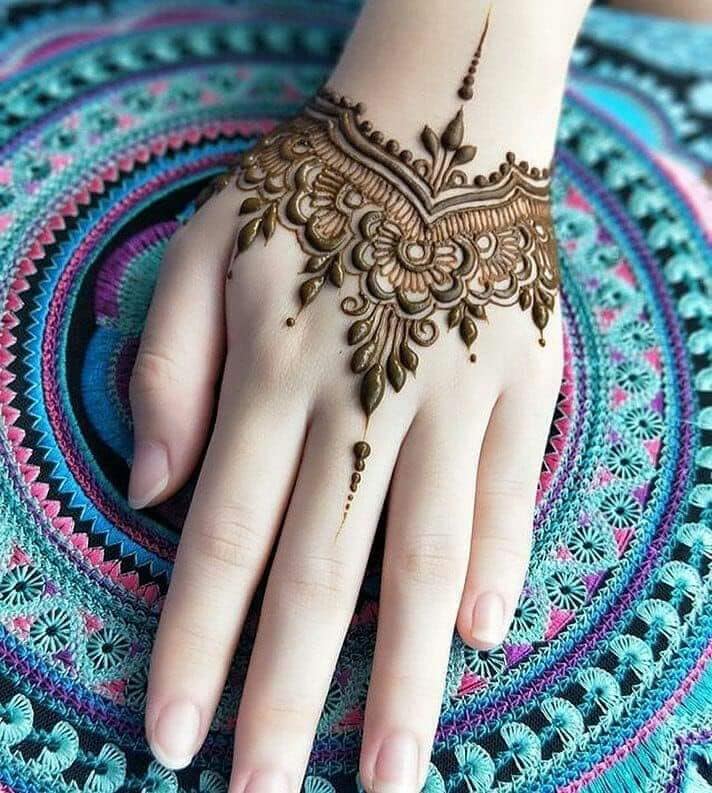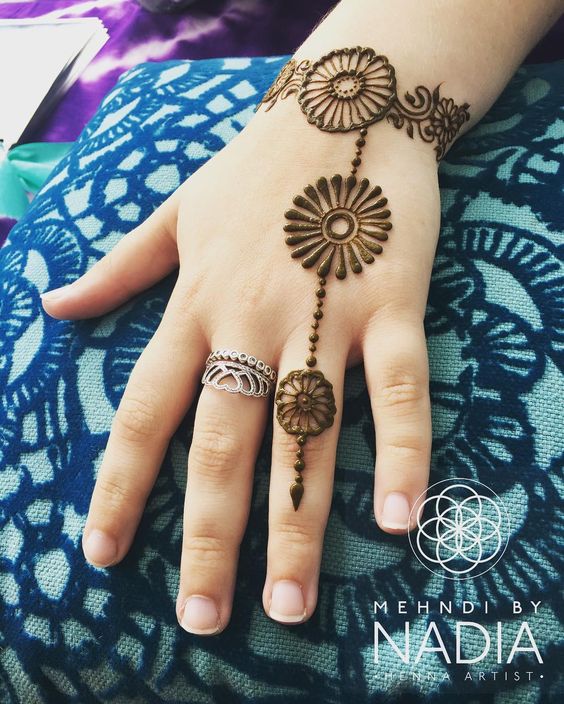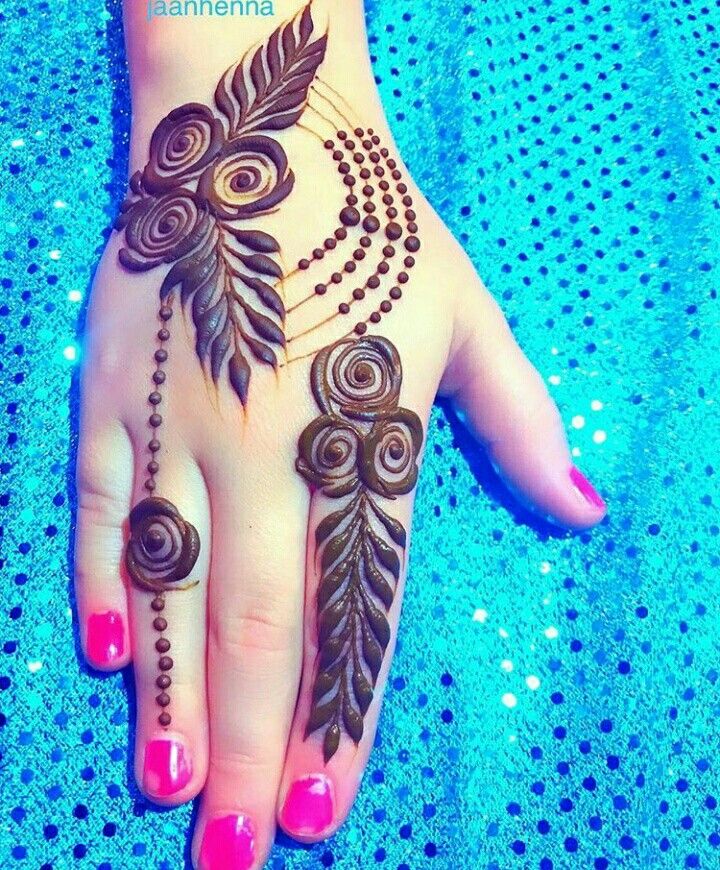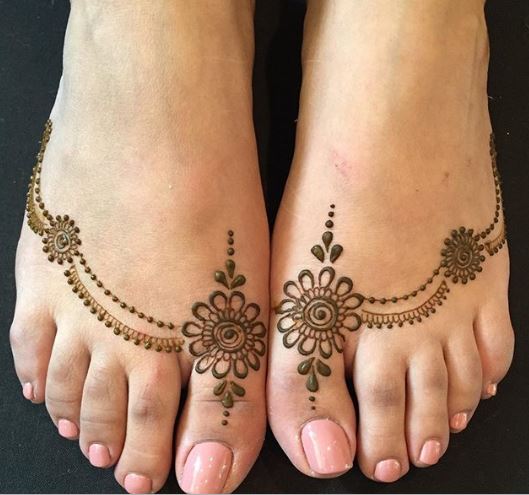 Arabic Mehndi
Indian Mehndi
So the fun fact here is that Arabic Heena has a lot of negative space while the Indian designs of Heena are packed without extra space. Its like artwork with detailed working and a lot of visual elements with no extra space.
Pakistani Mehndi Designs
The Pakistani adaptation of Heena design is a little different from Arabic or Indian design since Pakistani Mehndi designs have different applying positions and the overall look and feel are different.
Hand Mehndi Designs
Finger Mehndi Designs
This particular category is for those who are not looking for a packed hand with Mehndi but just a little for socializing during the wedding season..
Palm Mehndi Designs
These are typical traditional designs for those who want to go the extra mile with Heena but these designs are little smudgy too.
Feet Mehndi Designs
You must have wondered why people apply heena on feet but its true and especially Pakistani and Indian women love to do it and with these, they go an extra mile with a really smudgy look and feel
Leg Mehndi Designs
For those of us who like to go extra, there are leg Mehndi designs. Most designs are for legs and foot
Eid Mehndi Designs
The above designs are for festivities like Eid. These Mehndi designs are not to heavy or filled but on a lighter side as compared to bridal designs. Sometimes little glitter is also added to these designs to make them look more attractive.
Bridal Mehndi Designs
The most common occasion for applying Heena on hands is when someone (women) is getting married. heena is often related to a celebration so what bigger events than weddings for them to come out in force. T
Kids Mehndi Designs
How can you hold the little kids back from Mehndi? Now a days little kids take a lot of interest in applying heena so here we have shared some Designs for kids.
Black Henna Designs
The recent trend of applying Heena is to mix both of the natural color, red and brown.
Simple Mehndi Designs
Ever thought of your hand as a canvas and let an artist paint the picture with Mehndi?
Jewelry Mehndi Designs
Honorable Mentions
Here are the top Mehendi designs that we have selected for a round-up since you must be confused after watching all those crazy designs above.
Artcile update on November, 13, 2020