Todd Chrisley's Net Worth along Bankruptcy, Wife, House, Car
Todd and Julie Chrisley were sentenced to 12 and 7 years in prison for fraud and tax evasion.
Success doesn't come easy; it requires untiring efforts and persistence in someone's approach to seeking a luxurious life. It would be even further harder for a person born without a silver spoon in his mouth. Additionally, success and controversies somehow go side by side as anyone gets fame and money; he is highly likely to wrestle with controversies swirling around him. Now Let's have a look at Todd Chrisley's Net Worth in 2022
Born in Georgia in April 1969, Todd Chrisley worked tirelessly over the years. He established a real estate business, set up his company 'Chrisley & Company', and ran a famous reality TV Show 'Chrisley Knows Best' on the USA Network. He estimates that his net worth will be US$ 1.5 million in 2022. The life of 53-year-old Todd Chrisley is no exception. He is a self-made person who took off from nowhere and ultimately earned a name worldwide, especially in the US.
Todd Chrisley's personal life
Todd was born in Georgia but raised in Westminster City of US South Carolina State. Todd was born to a middle-class family with parents, namely Gene Raymond Chrisley and Faye Chrisley, and two brothers, Derrick Chrisley and Randy Chrisley. Earlier, he married Teresa Terry, his high school sweetheart, and they became parents of two, but their marriage ended up in divorce in 1996. Later, Todd tied the knot with Julie Chrisley and got blessed with three children, including Grayson, Savannah and Chase.
Todd Chrisley's professional life
To ensure a lavish lifestyle for himself and his family, Todd Chrisley tried his luck in multiple professions and undoubtedly yielded the fruits. In the real estate sector, he initially invested in the Executive Asset Management LLC Company in 2004. Still, in 2008, the housing market collapsed, and the Company was forced to shut down, leaving a default of US$ 49 million and moving Todd to file for bankruptcy in 2012. Simultaneously, he is a real estate businessman, an entrepreneur, an actor, a host and a TV producer.
Todd also founded a real estate management company Chrisley Asset Management (CAM). Reportedly, in 2013 he owned a debt of US$ 49 million but had merely US$ 4.2 million in assets, including US$ 100 cash amount. Hence, his professional life in the real estate remained stuck in financial troubles.
Chrisley Knows Best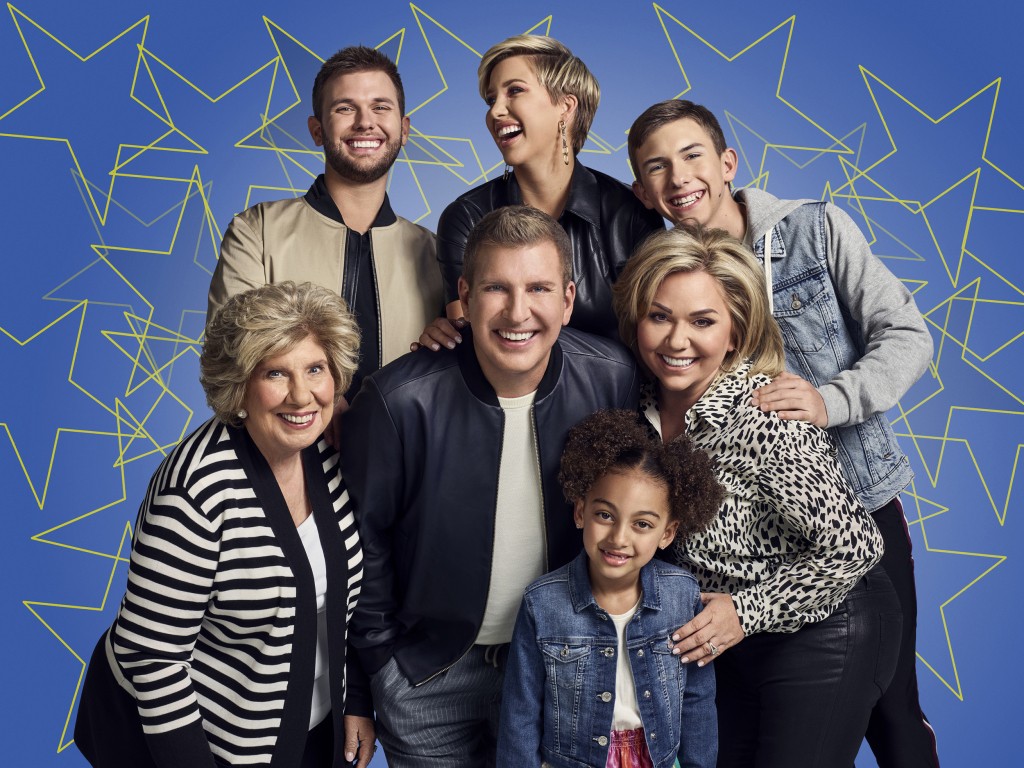 Contrary to the financial severe issues he faced in the real estate sector; Todd tasted his best fortune when he tried his luck in the TV industry. In March 2014, he, along with his wife Julie Chrisley, launched his TV reality show 'Chrisley Knows Best'; by June 2022, the show aired on the USA Network with 10 seasons.
Initially, the show took place in Georgia Cities Roswell and Alpharetta but later it moved to Nashville, the Capital of the US Tennessee State.
Following the success of 'Chrisley Knows Best', Todd created Chrisley & Company.
Todd Chrisley also made a cameo appearance in 'Sharknado: The 4th Awakens', a 2016 disaster science fiction comedy film and the fourth instalment in the Sharknado film series.
Charges against Todd for fraud 
Over the years, the couple was charged unjustifiably with tax evasion, bank fraud, and taking loans from banks.

In June 2022, Todd and Julie were found guilty on federal charges of bank fraud, tax evasion, and submitting false documents to banks to take out loans.
Todd Chrisley's assets and net worth declined
He has not ascertained yet but multiple, as well as conflicting reports, suggest that Todd enjoys a lavish lifestyle. In June 2019, he bought a house worth US$ 3.4 million near Nashville. However, as he was alleged for financial fraud, just two months later the house was offered for sale in return of US$ 4.7 million.
His collection of cars includes an Audi, a Range Rover, and a Mercedes Benz.
The reports suggest that Todd Chrisley's net worth, as of 2022, is US$ 1.5 million, while he earns over US$ 300,000 as annual income. Click here if you are curious to know the net worth of Scott Peterson too!