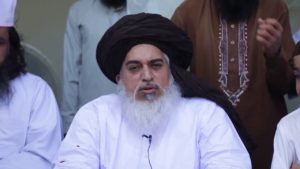 LAHORE, Pakistan: The Tehreek-e-Labbaik Pakistan (TLP) leader Khadim Hussain Rizvi passed away in Lahore on Thursday, days after he held successful negotiations with the government resulting in an end to the Faizabad sit-in staged to protest against blasphemous caricatures in France.
Sources said that Khadim Rizvi had been suffering from illness for quite a few days.
His funeral prayers will be offered at 10:00 am on Saturday at Minar-e-Pakistan in Lahore.
"عالم اسلام کے لیے عظیم سانحہ"
کروڑوں عاشقان رسول کے دل کی دھڑکن، محافظ ختم نبوت و ناموس رسالت، شیخ الحدیث والتفسیر امیر المجاہدین قائد عالم اسلام علامہ حافظ خادم حسین رضوی دنیا فانی سے وصال فرما گئے،
آپ کی نماز جنازہ 21 نومبر بروز ہفتہ صبح 10 بجے "مینارِ پاکستان" ادا کی جائے گی pic.twitter.com/wNEu1uvW3M

— Tehreek Labbaik Pakistan (@MarkazTLP) November 19, 2020
Born on June 22, 1966 in Punjab's Attock District, Khadim Rizvi was an Islamic Scholar of the Barelvi School of Thought.
Khadim Hussain Rizvi came to the limelight in November 2017 when his religious-cum-political party Tehreek Labbaik Pakistan (TLP) staged a 21-day long sit-in at Faizabad Interchange against controversial amendments in the Khatm-i-Nabuwwat Clauses in Election Act.
Later in 2018, he again marched towards Islamabad and held another sit-in at Faisalabad.
In the 2018 general elections, Khadim Hussain Rizvi–led TLP contested the polls for the first time but yet received 21,91,679 votes across the Country becoming the sixth largest party in terms of highest number of votes bagged in polls.
On the passing of Maulana Khadim Hussain Rizvi my condolences go to his family. Inna lillahi wa inna ilayhi raji'un.

— Imran Khan (@ImranKhanPTI) November 19, 2020
General Qamar Javed Bajwa,#COAS, expresses heartfelt condolence on the sad demise of Allama Khadim Hussain Rizvi. "May Allah Almighty bless the departed soul in eternal peace, Ameen" COAS.

— DG ISPR (@OfficialDGISPR) November 19, 2020
وفاقی وزیر مذہبی امور پیر نورالحق قادری نے تحریک لبیک کے سربراہ مولانا خادم حسین رضوی کے انتقال پرگہرے دکھ اور رنج کا اظہار کیا ھے انہوں نے کہا ھے کہ پاکستان ایک بڑے عالم دین اور سچے عاشق رسول سے محروم ہو گیا۔ دین اسلام کیلئے انکی خدمات کو تادیر یاد رکھا جائے گا۔ pic.twitter.com/02OeJnUinj

— MORA (Official) (@MORAisbOfficial) November 19, 2020