Islamabad, Pakistan: The incident of throwing a shoe at former Prime Minister Nawaz Sharif at Jamia Naeemia in Lahore on Sunday after the incident of throwing ink on the face of Foreign Minister Kh Asif and the incident of throwing shoe over Interior Minister Ahsan Iqbal took place in their respective constituencies when they were visiting their hometowns indicates that those who do not believe in Parliament are now in top gear to erode respect of parliamentarians and the parliament itself well before forthcoming 2018 General Elections in Pakistan.
Is it not a systematic move to abuse, malign and slender political figures whosoever are standing with former Prime Minister Nawaz Sharif? Will it will happen with Kh Saad Rafique soon? Or with anybody else who talks about supremacy of parliamentarians and parliament. Is it not a move to tell that parliamentarians can publicly be humiliated in their own constituencies?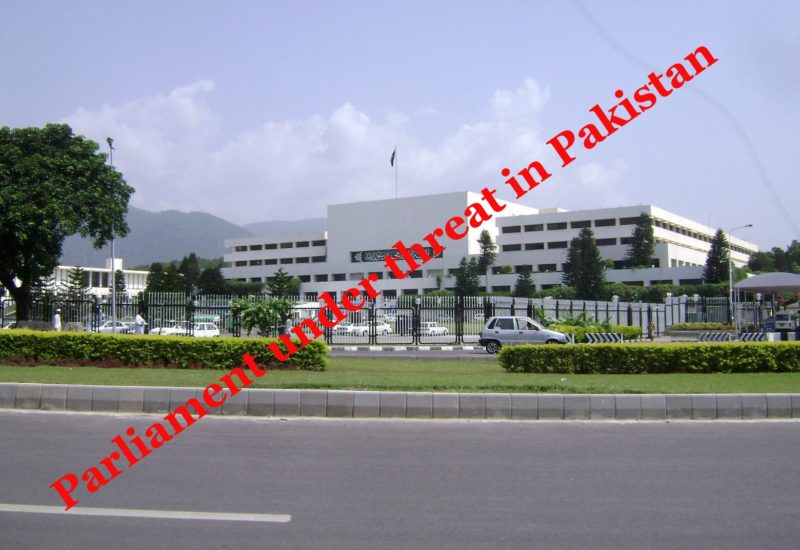 Political analysts believe that 2018 elections would hot and rough for PMLN and it would at target of many forces who do not believe in supremacy of parliament.
election 2018 will be rough ………………………

— Iftikhar Ahmad (@jawabdeyh) March 10, 2018
Mark my words.The person who was used to throw ink on Kh Asif in Sialkot belong to a newly created religious outfit and this outfit will not spare any clean shaved politician

— Hamid Mir (@HamidMirPAK) March 10, 2018
وزیر خارجہ خواجہ آصف کے منہ پر پھینکی جانے والی سیاہی دراصل اس معاشرے کی سوچ کا گند ہے۔۔ جتنی مذمت کی جائے کم ہے، اور اس شخص کو قرار واقعی سزا دی جانی چاہئے تاکہ آئندہ یہ گند کسی اور کے منہ پر چاہے وہ کسی سیاسی جماعت سے ہو، نہ پھینکا جا سکے۔ یہ رحجان انتہائی خطرناک ہے۔

— Asma Shirazi (@asmashirazi) March 10, 2018
مسلم لیگ ن کی بڑھتی مقبولیت سے خائف عناصر کا ایک اور حملہ

احسن اقبال خواجہ آصف اور میاں نواز شریف پر تضحیک آمیز حملے ایک ھی سلسلے کی لڑی ھیں

ملک کو چلنے دو
دشمن کا کام آسان نہ کرو

— Khawaja Saad Rafique (@KhSaad_Rafique) March 11, 2018
پھانسیاں جلاوطنیاں قتل نااھلیاں جیلیں تشدد بہتان دشنام الزام ڈنڈے جوتے – چور اور غدار کے لقب

ملکی استحکام کیلئےکام کرنے اور جمہور کی حکمرانی مانگنے کا صِلہ یہاں ھمیشہ یہی رھا

— Khawaja Saad Rafique (@KhSaad_Rafique) March 11, 2018
He represents Pakistan 🇵🇰 among the countries as Forien Minister. This black ink is spilled on Pakistan's face if we see his current portfolio. Must be condemned and discouraged on every level. #KhawajaAsif

— Imran Hassan (@imranhworld) March 10, 2018
I strongly condemn the shoe hurling on NawazSharif. Whatever He did with this country, He'll has to give answer in front of Allah but this is the wrong way!
We as a nation have lost all the morality and tolerance.#NawazSharif pic.twitter.com/zLtLiugbL4

— Senator Aitzaz Ahsan (@SenatorAitzaz) March 11, 2018
This is too much, Someone thrown a shoe at #NawazSharif this is a cheap act.
After #KhuwajaAsif it comes Nawaz turn. Seems that its revolving for N leaguian and everyone's turn has to come.pic.twitter.com/U0urJnQcwg

— Mir Illyas Khan Brohi (@illyas_brohi) March 11, 2018
Shoe thrown at ousted Prime Minister Nawaz Sharif during a visit to a madrassa in Lahore pic.twitter.com/D3ogaQCTUr

— omar r quraishi (@omar_quraishi) March 11, 2018
Incidents of humiliating parliamentarians have not received support from civil society and thousands of persons having no links with politics condemn this new kind of behavior emerging into Pakistani politics.
جوتا اُچھالنا، سیاہی پھینکنا، مغلظات بَکنا۔۔۔ پاکستانی معاشرہ ایک عجیب ڈگر پر چل پڑا ہے۔۔۔ یہ سب کوئی بھی کرے، کسی کے بھی ساتھ ہو، قابلِ مذمت بھی ہے اور قابلِ نفرین بھی !! #KhawajaAsif pic.twitter.com/kt3S2JfN0d

— Kaiser Mahmood (@kaisermahmoodpu) March 11, 2018
Throwing ink on Khawaja Asif is highly condemnable
who fought Pakistan's case bravely on every International forum's
I'm proud of you sir #StayStrongKhawajaAsif#IstandWithKhawajaAsif @KhawajaMAsif pic.twitter.com/slqPoZtPaX

— Sabir Mehmood Hashmi (@SabirMehmood26) March 11, 2018
Shoe thrown at Nawaz Sharif. This cannot be condoned. Highly condemnable. pic.twitter.com/TfqOu6rfs4

— Yasmeen Ali (@yasmeen_9) March 11, 2018
Parliamentarians and parliament is already under fire in Pakistan since last four years but the factor of physical humiliation is now entering into scene when General elections of 2018 are not far and politicians will have to go to public for their election campaigning.