By Shazia Anwer Cheema
In recent days Pakistan has witnessed the euphoria of a cult, individuals with numb sense-perception got involved in massive-scale destruction and looting and as the situation is simmering down and all those pretentious warriors are being caught one by one, many of them while returning the loot, admitting the fact that they had no clue what they did. Moreover, destroyers are admitting the guilt of not being in control of themselves, exclaiming that it was done by so and so reasons.
Why all the volunteers of looting and destruction are admitting to the one fact only; that their free will was not involved, and they didn't want to do what they did plus they regret it. Are they substance abusers because these symptoms are of an addict, my answer is no they are not, but they are all members of a cult.
Almost a year ago I wrote in one of my articles that I am looking at a communication corps in our military. A full fledge corps working solely to fight against communication warfare, what I fear was that a hybrid slur brigade will emerge and tarnish the entire fabric of our society
Historically the dominant characteristic in cult formation is being a functional addict for the reason that substance use, deprives the human cognitive system of existent reality and transfers the human brain into a subjective reality, construed by the cult leader, another astonishing resemblance between all the cults are dependence on illusive hopes based on human vulnerabilities.
However, it is also observed that all cult followers are not practically addicted to any substance but sing the same tune as their cult orchestra is playing with extensive repetition. Cult followers mainly get detached from ideas, and information that contradicts their preaching. This phenomenon can be studied as a trance; a state of mind in which followers keep themselves in a contrived situation and nurture the imposed illusions.
Cult leaders are not dependent on leadership qualities, on the contrary, they rely on fan following. A liking without question, followership with no reason and logic. That's why we have experienced different cults throughout history following the same parameters of inclusion, exclusion, and repetition. Substances like hash, magic mushrooms, magic honey, and many other things become norms for the followers. It is also observed that detachment from reality does not primarily require substance use or abuse, it could be a state of mind and can be imposed upon oneself which we have experienced during recent riots.
The reason I am digging deep into the mechanism of cult formation is an obvious situation we are facing today. We are experiencing cult traits all over social media, a highly polarized intolerant breed, not conversant with logic.
I am sure in my capacity that they are not abusing any substance but ironically showing all signs of a functional addict. The blind following of their leader is a mystery that needs to be solved. What their cult leader is offering them is that they become numb to the objective reality.
I personally believe the illusion of utopia is a key factor, the idea of a land with no evil in it is an ancient idea and hence unachievable, the promise of all good will prevail sounds tempting but states do not function like that. A state is a combination of good and bad as we all human beings are, the state is run on short-term and long-term agendas, and the state needs time to process these hidden and open agendas. The sovereignty of a state depends upon trust in state pillars.
In pursuit of unreachable fairy land Imran Khan's followers are bulldozing all diplomatic and strategic state norms. Pakistan is on the verge of being isolated from the rest of the world. A bombardment of propaganda against the sovereignty of our country is staring right at our faces. The idea Imran Khan manifesting rather than infusing his followers via repeated lies is that this is the fight between good vs evil and in this ruthless quest he is targeting the very core of our country. His followers as I have mentioned above are numb to objective reality mainly, they are continuously detached from their existing realities by living in an echo chamber. An echo chamber engineered by Imran Khan where similar ideas float in the vacuum and reach the ears again and again with intensified density. The semiotic noise of Imran Khan's Echo Chamber is so high that it engulfed the sanest minds even. The minds are seasoned and serve the sovereignty of their country.
Almost a year ago I wrote in one of my articles that I am looking at a communication corps in our military. A full fledge corps working solely to fight against communication warfare, what I fear was that a hybrid slur brigade will emerge and tarnish the entire fabric of our society. And look that is what's happening, Imran Khans Slur Brigade is slaying anyone and anything coming in his quest of being an ultimate savior.
Our young generation suffering from echoes of false hope and mystified promises targeting our real saviors. The slur brigade is cursing our judiciary, our diplomats, our soldiers among all other functional tools. This is catastrophic and needs a military-grade strafing, to curb this anti-state narrative. In the trance of being immortal, Imran Khan is playing havoc with this country, and this is the right time to unclutched our population from this cult.
The social media echo chambers must be dismantled, and the state narrative must replace the abuse and curses of the numb PTI cult. They act like zombies lurking from the shadows, they attack any sane voice with sheer disgrace and a normal human being find it wise to retreat, but the state machinery must occupy maximum social media space and create echo chambers where state narrative bypasses the hate narrative of the PTI cult. I would like to share my personal experience that if one tries to reason out, PTI's stoned cult attacks personally and there is no other rescue support available as the state has left all the place for high-headed vigilantes.
A few hundred social media warmongers are the source of chaos in society, there must be a counter strategy to unveil the mechanism of their function, it is time to tell the difference between a cult holder and a true self-less leader, it is not late to expose that problem cannot be solved by lucid dreaming, they need time and effort above all patience to achieve.
The greatest threat to Pakistan is actually not from outside, neither from a single person or a party rather it is the mechanisms of a destructive force that has converted into a cult formation and has taken over the entire social media space. This is a critical time to diffuse their anti-state social media web and replace it with minds who are hesitant to express their opinion because the PTI slur brigade attacks them with verbal social and psychological abuse.
This cult does not represent even 5 percent of the total population of 230 million people this cult's appearance in the international scenario looks huge because of the absence of opponents. In fact, there is no level playing physical and virtual fields available at the national as well as international levels. The "absence of the opponents" leaves a vacuum to be filled by a virtual hate-driven anti-state narrative.
It gives the impression the entire Pakistan is a member of Imran Khan's cult, although it is contradictory to fact. Mostly, the state mindset is firefighting while enemies are well-equipped and funded.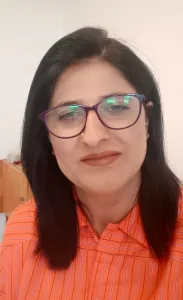 Note: Writer Shazia Anwer Cheema is an author, columnist, and foreign affairs expert who writes for national and international media. She is a doctoral student and researcher in semiotics and philosophy of communication at Charles University in Prague. She can be reached at her: Twitter @ShaziaAnwerCh Email: shaziaanwer@yahoo.com
Disclaimer:
The views and opinions expressed in this article/Opinion/Comment are those of the author and do not necessarily reflect the official policy or position of the DND Thought Center and Dispatch News Desk (DND). Assumptions made within the analysis are not reflective of the position of the DND Thought Center and Dispatch News Desk News Agency.