By Shazia Cheema
Islamabad, Pakistan: Today I got an opportunity provided by Kazakhstan Embassy to attend an international forum dedicated to Abu Nasr al Farabi.
Al-Farabi's philosophy of Society (and religion) can be labeled as an intellectual and original blend, of Aristotle and Plato's philosophy and turns out to be a clever adaptation of Greek ethical-political thought to the needs and demands of its new context, the Islamic world of the 10th century.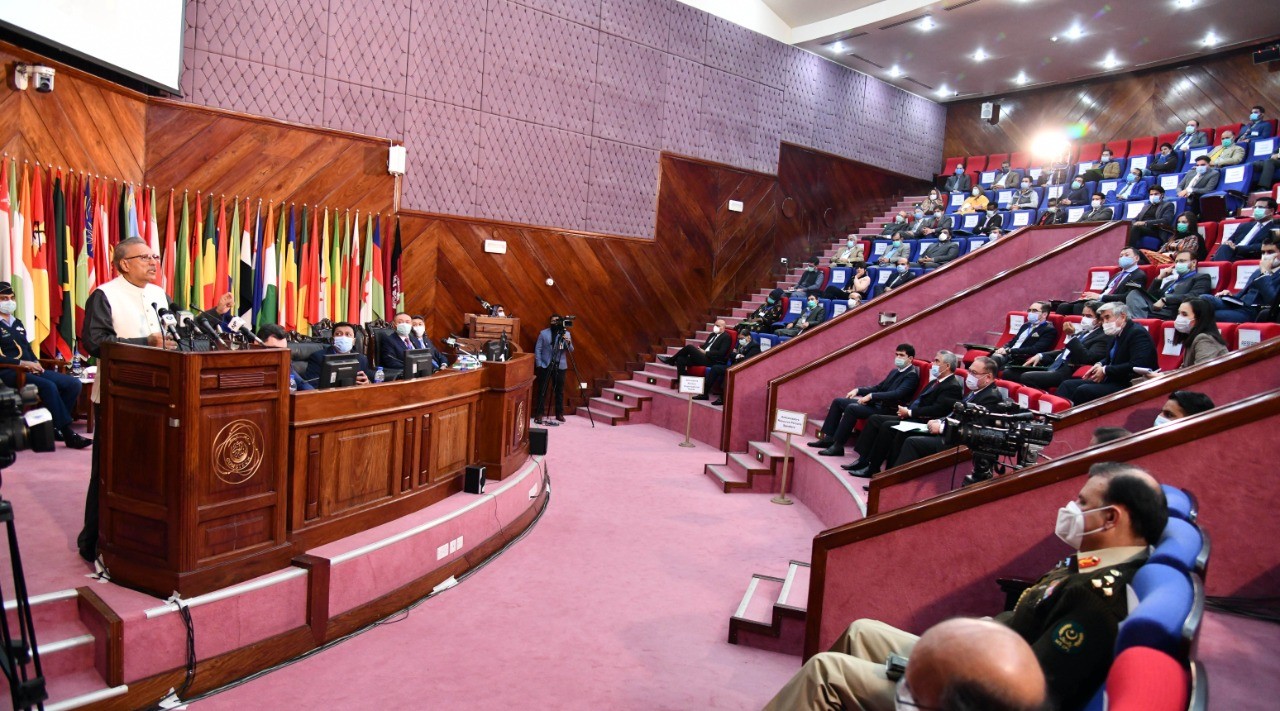 Al-Farabi's Greek heritage is already visible on the most basic conceptual level. A Society, on his account, is an association of human beings collaborating to preserver themselves to attain ultimate perfection. He advocates that human nature and nurture need perfection in time and space. Thus, the smallest unit required to perpetuate a perfect society, is a city which, he resembled Madina. On the micro, to macro-level, a human habitat must be perfect in order to attain ultimate human perfection.
Today's (December 21, 2020) "The Global Al-Farabi Forum" was organized by Comstech International Pakistan in collaboration with Kazakhstan Embassy Islamabad. Ambassador of Kazakhstan Akan Rakhmetullin, Assistant Secretary-General of the OIC Mr.Askar Mussinov, and Permanent Representative of Kazakhstan to TGE OIC Berik Aryn were also present for addressing the opening session while the President of Pakistan Dr Arif Alvi chaired the session.
Al-Farabi was the first philosopher in the Islamic world who not only displayed a serious interest in the philosophy of society but also developed a highly differentiated account. He did not, however, start from scratch. At his time, many of those philosophical texts which were translated from Greek into Arabic were available, and al-Farabi was obviously an avid reader of his predecessors.
President of Pakistan Dr. Arif Alvi in his usual engaging manner explained this notion and emphasized on self-realization to acquire self-fulfillment. I was amazed to listen to Dr. Alvi's speech when he masterfully explained the idea of semantics. He said life is as challenging as the Semantic for linguistics purpose, men have uncountable information, ideas, and experiences but the point when they are required to articulate all that, the limitation of Semantic comes as a hurdle. The rule-governed language systems are still not capable to encompass whatever we have in terms of living experience.
Dr Alvi further added that action is a far greater way to perfect our habitat and our youth must fasten their seat belts to cope with the ever-growing pace of science and technology. As Al-Farabi said one thousand and fifty years ago;
The things in common which all the people of the excellent city ought to know are: (1) In the first place to know the First Cause and all its qualities; (2) then the immaterial existents [including the above mentioned active intellect] …; (3) the celestial substances …; (4) [without number in Walzer's translation] then the natural bodies which are beneath them, and how they come to be and pass away …; (5) then the generation of man; (6) then the first ruler …; (7) then the rulers who have to take his place …; (8) then the excellent city and its people and the felicity which their souls ultimately reach …. (Perfect State V, 17, 1: 277–9)
He endorsed that an excellent city is synonymous to a functional healthy body, all of whose units co-operate, ironically the limbs and organs of the body are different and their natural capacity to operate are unequal in brilliance, among them one ruling organ, namely the heart, and organs which are close in rank to that ruling organ. The same can replicate in the case of the city. Its parts are different by nature, and their natural dispositions are unequal in excellence.
The people of the welfare city have things in common which they all operate and comprehend, and other things which each class knows and does on its own like self-consciousness. No malice no competition no grudge. Every member of society requires an intact moral compass and need to play an active role in the harmony of body and soul. He said this is the idea of real Madina, propagated by Al-Farabi in his political philosophy.
Assistant Secretary-General of the OIC Mr.Askar Mussinov profoundly expressed his full confidence while elaborating Al-Farabi as a cosmologist and physicist.
Kazakhstan Embassy in Pakistan deserves a huge appreciation for the effort and support it provides to Pakistani youth. Intra country collaborations of such nature are the true essence of Al Farabi's philosophy. The idea of a perfect habitat needs effort in all spheres of life, science, social science, and humanities.
No one nation can become faultless until and unless it adheres the idea of sharing the acquired knowledge to expand and broaden it. Kazakhstan Embassy's effort is an opportunity for our youth to share and expand their horizon.
I must say Ambassador Akan Rakhmetullin is a true champion of Al- Farabi's philosophy of happiness that, happiness is cooperation and collaboration.