By Dr Olena Bordilovska
January 15 marks the 150th anniversary of the birth of Ahatanhel Krymsky, an outstanding Ukrainian scholar – orientalist, philologist, writer, and translator, one of the founders of the first Ukrainian Academy of Sciences. He is a personality, which tops many of his colleagues, as his wide range of interests is amazing. He graduated from the Ostroh Gymnasium (1884), the 2nd Kyiv Gymnasium (1885), the Kyiv Collegium of Pavlo Halahan (1889), the Lazarev Institute of Oriental Languages ​​(1892), and the Moscow University (1896).
Ahatanhel Krymsky is known as one of the world's most prominent researchers of the Orient, first. Author of numerous scientific papers on the history of the culture of Arab countries, Iran and Turkey he thoroughly studied the history of Islam, Muslim culture and literature, traditions of the Oriental countries, personally translated a lot of classic texts as well as poetry. He was the first one, who introduced Sufi teaching and works of Maulana Jalal ad-Din Rumi to Ukrainian and Russian researchers. In 1905, A. Krymsky published a translation of the Holy Quran into Russian and provided it with numerous scientific commentaries. Among the intellectuals of that time, it was prestigious to study the Quran in the Crimean version.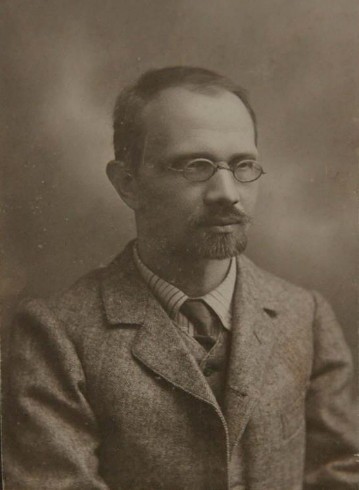 Omelyan Prytsak, A. Krymsky's last student, once said that his teacher,  was "the best Crimean gift to Ukraine: "Interesting facts from his biography: According to one version (which, by the way, was supported by Krymsky himself), his family came from Crimean Bakhchisaray and was related to the Crimean Khan. In 1696, after a conflict with the Khan, Krymsky's great-grandfather was forced to flee Bakhchisaray and settle on the territory of modern Belarus. There he converted to Orthodoxy and became "christened" Crimean (it is the meaning of his family name – Krymsky).
Despite the fact, that A. Krymsky did not have a drop of Ukrainian blood, (he wrote about himself: "…my father is from a Belarusian bourgeois family, my mother is a Polish Lithuanian – I, the badge, do not have a single Ukrainian blood, just was born and raised in Ukraine "), a famous polyglot and orientalist still felt himself a Ukrainian. Later on in his career, he made a tremendous effort to maintain the national language. A. Krymsky believed that the Ukrainian language was formed not in the fourteenth century, as it was promoted by Soviet science, but in the eleventh, directly from the All-Slavic, declaring itself already "as a full relief, fully defined brightly individual unit." A. Krymsky always consciously chooses the Ukrainian language not only as the language of his communication but also in his scientific and creative work. In the days of the Russian Empire and the Soviet Union, this was unacceptable; still he spoke Ukrainian and French mostly.
In 1930, he was subjected to political persecution by the communist Stalin regime and was not allowed to perform his job perfectly.
Researchers are still fighting over how many languages ​​A. Krymsky spoke. "It will be easier to say which languages ​​I do not know," – once he jokingly replied himself. The figure ranges from 60 to 100. A.Krymsky complained, that "he can't forget anything." Perhaps this was also the big secret of his phenomenal performance. In 1896-98, he was on a research trip to Syria and Lebanon. In 1898–1918, he worked at the Department of Arabic Literature at the Lazarev Institute, and since 1900, he served as a Professor there. He taught the history and literature of the peoples of the Muslim East, Semitic languages, literature, Islam and its influence on the spiritual life of Oriental societies. He collaborated with editors of "Encyclopedic Dictionaries" by Brockhaus and Ephron.
In 1918 shifted to Kyiv and became one of the founders of the Ukrainian Academy of Sciences, 1918–28, he was an indispensable secretary of the Academy. Until 1929, he headed the East Philology department, was a founder and head of all oriental studies commissions of the Academy of Sciences; 1921–29 – director of the Institute of Ukrainian Scientific Language, in 1918–29 (with breaks) – Professor of Kyiv University. Author of numerous monographs, textbooks, separate investigations, and articles, as well as translations of works by oriental authors into Ukrainian and Russian. In the 1920s – early 30s, a number of A. Krymsky's scientific works have been published in Kyiv in Ukrainian, among them: "History of Persia and Its Writing" (1923), "History of Turkey" (1924); "Hafiz and his songs in his native Persia in the 16th century and in the new Europe" (1924); "Persian theater, where it came from and how it developed"(1925); "History of Turkey and its writings", vol. 2 (1927).
In 1930, he was subjected to political persecution by the communist Stalin regime and was not allowed to perform his job perfectly. Since 1939, he was again admitted to scientific and teaching work at the Institute of Linguistics of the USSR Academy of Sciences. He was arrested in July 1941 and died in imprisonment in Kustanay, Kazakhstan. Rehabilitated in 1957. In 2007–2010, the Institute of Oriental Studies of the Academy of Science of independent Ukraine, named after A. Krymsky, republished the oriental studies of a great scholar: "Selected Oriental Studies Works in Five Volumes": Vol. I. Arabistics. (2007); Vol. II. Turk ology. (2007); Vol. III. Turkology (2010); Vol. IV. Iranian Studies (2008); Vol. V. Iranian Studies (2010).