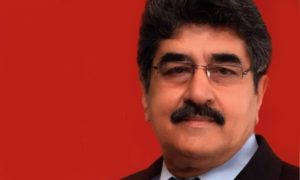 LAHORE, Pakistan: The family of the senior anchorperson and journalist Iftikhar Ahmad plunged into deep sorrow and grief when his sister Mrs Durrani breathed her last in Islamabad on Friday.
Her funeral prayer will be held at Venus Housing Scheme on Ferozpur Road in Lahore on Saturday (March 21) after Zuhr Prayer.
It's worth noting that Iftikhar Ahmad's younger brother Agha Iqrar Haroon and son Hassan Iftikhar are also affiliated with the media industry as journalists. She was also the Mother-In-Law of Hussain Javed Afroz of Geo TV.
میری بہن رضائے الہی سے انتقال کر گئی ہیں۔ آپ سب سے درخواست ہے کہ انکی مغفرت کے لیئے دعا کریں۔ اللہ انہیں جنت الفردوس میں جگہ عطا فرمائے۔ آمین۔

— Iftikhar Ahmad (@jawabdeyh) March 20, 2020
Agha Iqrar Haroon has been pursuing the profession of journalism for nearly 30 years, and is currently the Chief Editor of Islamabad-based Dispatch News Desk (DND) News Agency.
Sharing his grief over the demise of his sister, Agha Iqrar Haroon said that she didn't have genuine health issues except the weakness which was supposed to be with growing age.
The Chief Editor DND told that Mrs Durrani's health deteriorated today after her hypertension soared substantially. He told that her son rushed her to a hospital in Islamabad but she couldn't survive.
In her condolence message on Twitter, the Prime Minister's Special Assistant on Information and Broadcasting Dr Firdous Ashiq Awan expressed deep grief and sorrow over the sad demise of journalist Iftikhar Ahmad's sister.
Dr Firdous Ashiq Awan prayed to Allah Almighty to rest the departed soul in eternal peace and grant courage to the bereaved family.
اللہ تعالی مرحومہ کو جوار رحمت میں جگہ عطا فرمائے اور لواحقین کو صبر جمیل عطا فرمائے۔۔ آمین https://t.co/8B1u2IHuTo

— Dr. Firdous Ashiq Awan (@Dr_FirdousPTI) March 20, 2020