The healthcare facilities for the general public have always been a point of concern in Pakistan. Majority of the public fail to receive proper healthcare due to the lack of funds as well as facilities. While this may be true, the government of Punjab has taken an initiative worth praising. Now the local public can receive proper healthcare with the launch of Sehat Insaf Card in Pakistan. If you want to know the complete details of the card, and also learn how to apply for Sehat Insaf Card online, we have got you covered. Let's get started!
What is Sehat Insaf Card?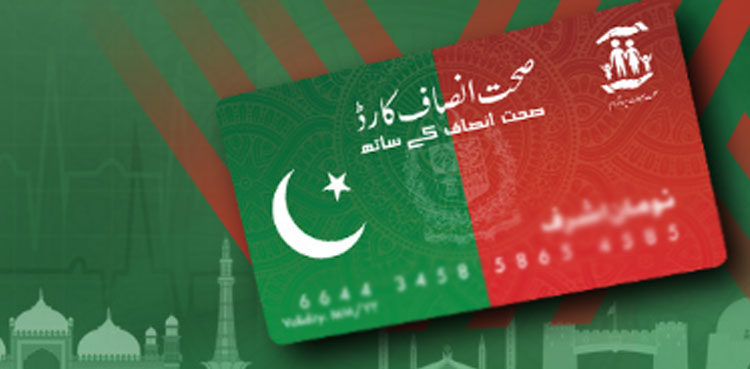 The Sehat Insaf Card is a fine initiative taken by the government of Punjab. It is basically a health card launched to provide free of cost healthcare services to those who have low income or who can not afford to pay. With the help of this card, the poor citizens of Punjab can avail healthcare facilities without having to pay. All the eligible families will be able to receive free medical services for up to PKR 1 million (10 lacs) per year.
Official Launch
The Sehat Insaf Card was launched by the Prime Minister of Pakistan Imran Khan for the people of Punjab on December 13, 2021. According to the declared plan of action, the Sehat Sahulat Program covers about 29 districts of Punjab currently. The program also covers 7 districts of Dera Ghazi Khan and Sahiwal division.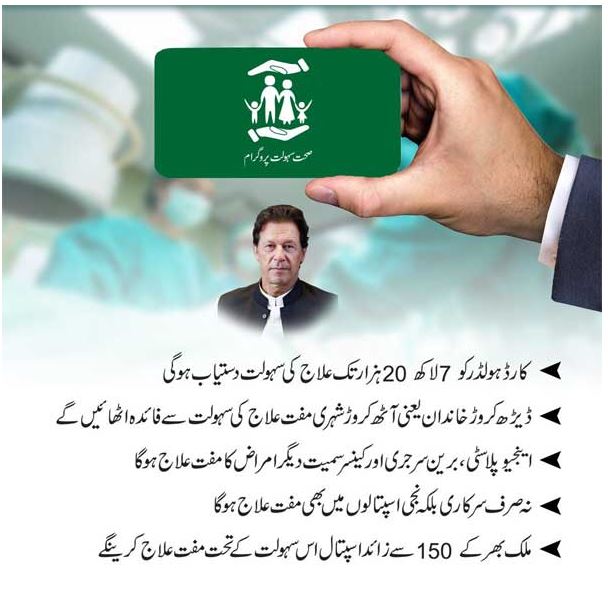 The Prime Minister spoke in the launching ceremony and also said that a budget of nearly 440 billion rupees has been allocated for this purpose. As per the PM's statement, the eligible families will be able to receive the Sehat Insaf Card by March 2022.
How to Apply for Sehat Insaf Card Online?
If you want to apply for Sehat Insaf Card online, we have got you covered with the step-by-step guide to start your process. Let's have a look at the details below.
First, you need to check your eligibility by sending your National Identity Card Number (NIC) to 8500 via SMS. (You can also register yourself for the card by downloading the Naya Pakistan Qaumi Sehat Card App.)
If you are eligible, you can get your Sehat Insaf Card from the respective official distribution centre in your district.
You need to have all the required documents in hand with you at the time of visiting any hospital (on panel) including Sehat Card, Original CNIC, and B-Form (for children).
Once you are in the hospital, you need to go to the ehat Sahulat Programme (SSP) counter to get your Sehat Card verified.
Key Benefits of Sehat Insaf Card
The Sehat Card can prove to be highly beneficial for those in need. With the help of this card, the needy citizens of Punjab can expect:
Free emergency services
Free maternity health service
Free surgical procedures
Free hospitalization
Free consultation and follow up visits
Transportation cost coverage
Different Treatment Packages Under Sehat Sahulat Program

The treatment packages for Sehat Card holders are into two types.
Priority Treatment Package
Under the priority treatment package, all cardholders are allotted PKR 300,000 per family initially. The families can also receive an additional coverage of PKR 300,000 if necessary. The list of treatments that fall under this package include:
Heart disease treatment
Chronic diseases (TB, Hepatitis B and C, HIV, Liver Disease)
Dialysis
Accident and Burn cases
Cancer treatment including chemotherapy, surgery, and radiotherapy
Neurosurgical procedures
Organ failure cases
Secondary Treatment Package
The secondary treatment package under the Sehat Sahulat Program allows the citizens of Punjab to receive secondary healthcare services for up to PKR 60,000 per family. However, the families can get an additional PKR 60,000 coverage if necessary. This packages covers the following healthcare services.
Illnesses (all types)
Surgical illnesses (all types)
Maternity services including C-section and normal delivery cases
List of Hospitals On Sehat Card Panel
The Sehat Insaf Card is currently valid for the districts in Punjab. This means that you can find a list of hospitals in each main city or district to receive the healthcare services. For your ease, we have listed the hospitals on the panel of Sehat Sahulat Program in the major cities to help you. Please note that there are many hospitals on the panel for each city. We have covered a few important ones below.
Lahore
Surgimed Hospital
Aadil Hospital
Fatima Memorial Hospital Lahore
Gulab Devi Hospital
Sharif Hospital
Punjab Institute Of Cardiology
Orthopedic Medical Complex
Arif Memorial Hospital
Avicenna Hospital
Bahria Orchard Hospital Lahore
Rawalpindi
Al-Khidmat Razi Hospital Syed Pur
Islamic Internation Medical College Trust
Bahria International Hospital
Christian Hospital
Minsa Medical Center
Sadaqat International Hospital Kahuta
Rawalpindi Institute Of Cardiology
Al-Syed Hospital
Al Shahbaz Medical Complex Hospital
Islamic Internation Medical College Trust
Multan
Ali General Hospital Multan
South Punjab Chest Clinic
Ibn-E-Sina Hospital And Research Institute
Bakhtawar Amin Hospital
Aziz Hospital
Shahzad Surgical Hospital
Al Khaliq Patients Care
Khurshid Rafique Hospital
Al-Rehman Surgical Hospital
Multan Surgical Hospital
Faisalabad
Mujahid Hospital Faisalabad
Rathore Hospital
Khair Un Nisa Hospital
Fazal Ellahi Chatta Hospital
Sughran Siddique Hospital
Aslam Memorial Zakria Hospital
Pinum Hospital
Abu Bakar Clinic
Maqsooda Zia Hospital
Faisalabad International Hospital
Gujranwala
Fatima Bashir Hospital
Iqra Medical Complex
Butt Eye Hospital
Muhammad Islam Teaching Hospital
Salamat Hospital And Health Care Center
Abdullah Medical Complex
Rathore Institute Of Eye And Medical Complex
Wazirabad Institute Of Cardiology
FAQs:
How to check eligibility for Sehat Insaf Card?
To check your eligibility status, you can call 0800-09009 to check your eligibility status for Sehat Insaf Card.
Can I use Sehat Insaf Card on my parent's name?
You can use Sehat card issued to your parents' name only if you are unmarried.
How to register for Sehat Card?
To register yourself, you need to send your CNIC number to 8500 via SMS.