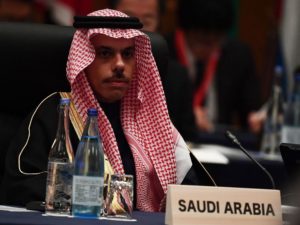 ISLAMABAD, Pakistan: The Foreign Minister of Saudi Arabia His Highness Prince Faisal bin Farhan Al-Saud will arrive in Islamabad on December 26, 2019 on his maiden visit to Pakistan, the Foreign Office said on Wednesday.
In a statement, the Foreign Office Spokesperson Aisha Farooqui said that the Saudi foreign minister will hold meetings with his Pakistani Counterpart Shah Mahmood Qureshi and Prime Minister Imran Khan.
The Spokesperson said that the visiting dignitary will exchange views covering Pakistan-Saudi Arabia bilateral matters and regional issues of mutual interest.
Pakistan & Saudi Arabia committed to further strengthening bilateral cooperation: FO
"Pakistan and Saudi Arabia enjoy a deep-rooted and longstanding fraternal relationship," Aisha Farooqui said.
The Foreign Office Spokesperson further said that both Pakistan and Saudi Arabia are committed to further strengthening the bilateral cooperation in all fields. She said that frequent high-level visits are a key feature of the relationship and serve to further deepen and broaden mutual collaboration.
His visit comes in the background of Pakistan bowing out of the Kuala Lumpur Summit 2019 amidst reports that it was Saudi Arabia which pressurized Pakistan to refrain from participating in the three-day Summit held from December 18-21 in the Malaysian Capital, and hurled threats of financial consequences.
However, Saudi Arabia described such reports as baseless and fake, and said that its relations with Pakistan are superior to language of threat.